PagerDuty and Logsene Integration
sematext on
Great news for for those of us who use PagerDuty and manage — or are considering managing — logs with Logsene: PagerDuty and Logsene are now integrated!
This integration is a huge time- and aggravation-saver for DevOps professionals who wouldn't mind dramatically reducing the frequent "noise" from log-generated monitoring alarms.
In case you're not familiar, Logsene is an enterprise-class log management solution. Logsene can receive logs from a wide array of logs shippers, such as Fluentd, Logstash, and Syslog, and supports many logging frameworks for programming languages such as: Java, Scala, Go, Node.js, Ruby, Python, .Net, Perl, and more.  Among other capabilities, Logsene exposes the Elasticsearch API, works with Kibana and with Grafana (video), and has built-in alerts and anomaly detection.  It is available both in the Cloud (SaaS) and On Premises.
Logsene also integrates with SPM Performance Monitoring to correlate metrics, events, and logs in a single UI (check out Integrate PagerDuty with SPM Performance Monitoring for those instructions, which are very similar to what you will see here).
In PagerDuty:
Create a new service:
1) In your account, go to Services click +Add New Service
2) Enter in a name for your new service
3) Start typing "Sematext" for the Integration Type, which will narrow your filtering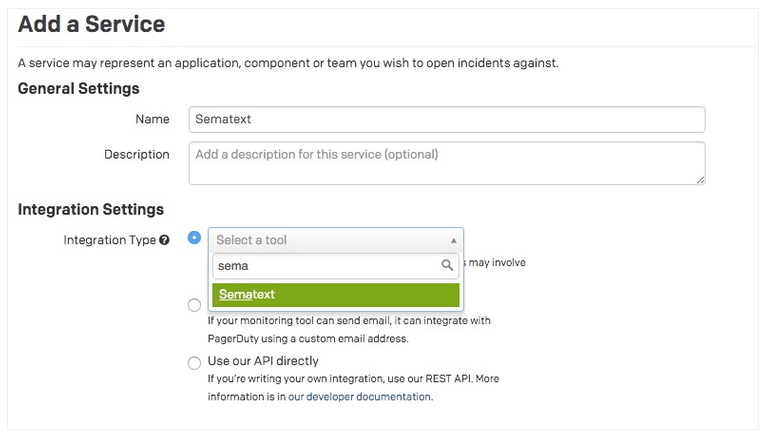 4) Select an escalation policy. Then, adjust the incident settings to your liking, then click Add Service.
5) Once the service is created, you'll be taken to the service page. On this page, you'll see the Service Integration Key​, which you will need when you configure Sematext products to send events to PagerDuty. Copy the Service Integration Key to the clipboard.

In Logsene
1) Navigate to App Actions of your Logsene App by clicking the App Settings menu item.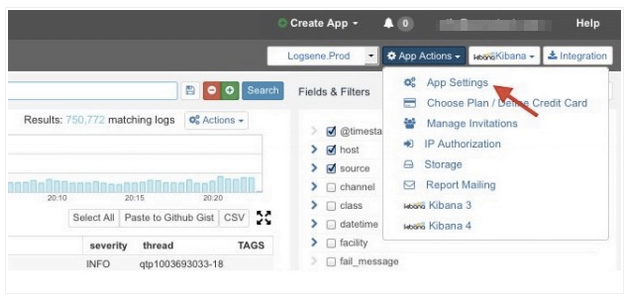 2) Navigate to Alerts / PagerDuty
3) Enter the API key from PagerDuty in the field Service API key.
4) Press Save

5) To enable PagerDuty Notifications, navigate to Alerts /Notification Transports
6) Select PagerDuty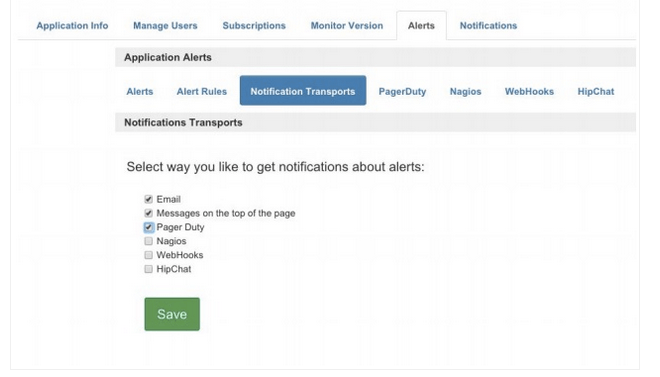 Done. Every alert from your Logsene app will be forwarded to PagerDuty, where you can manage escalation policies and configure notifications to other services like HipChat, Slack, Zapier, Flowdock, and more.
Like what you saw here? To integrate PagerDuty with Logsene just get a free account here!  And drop us an email or hit us on Twitter with suggestions, questions or comments.