Alerts
Keep tabs on your environments by utilizing different types of Alerts or Anomaly Detection
and connecting them to Slack, PagerDuty, and other ChatOps tools, email, mobile push notifications, etc.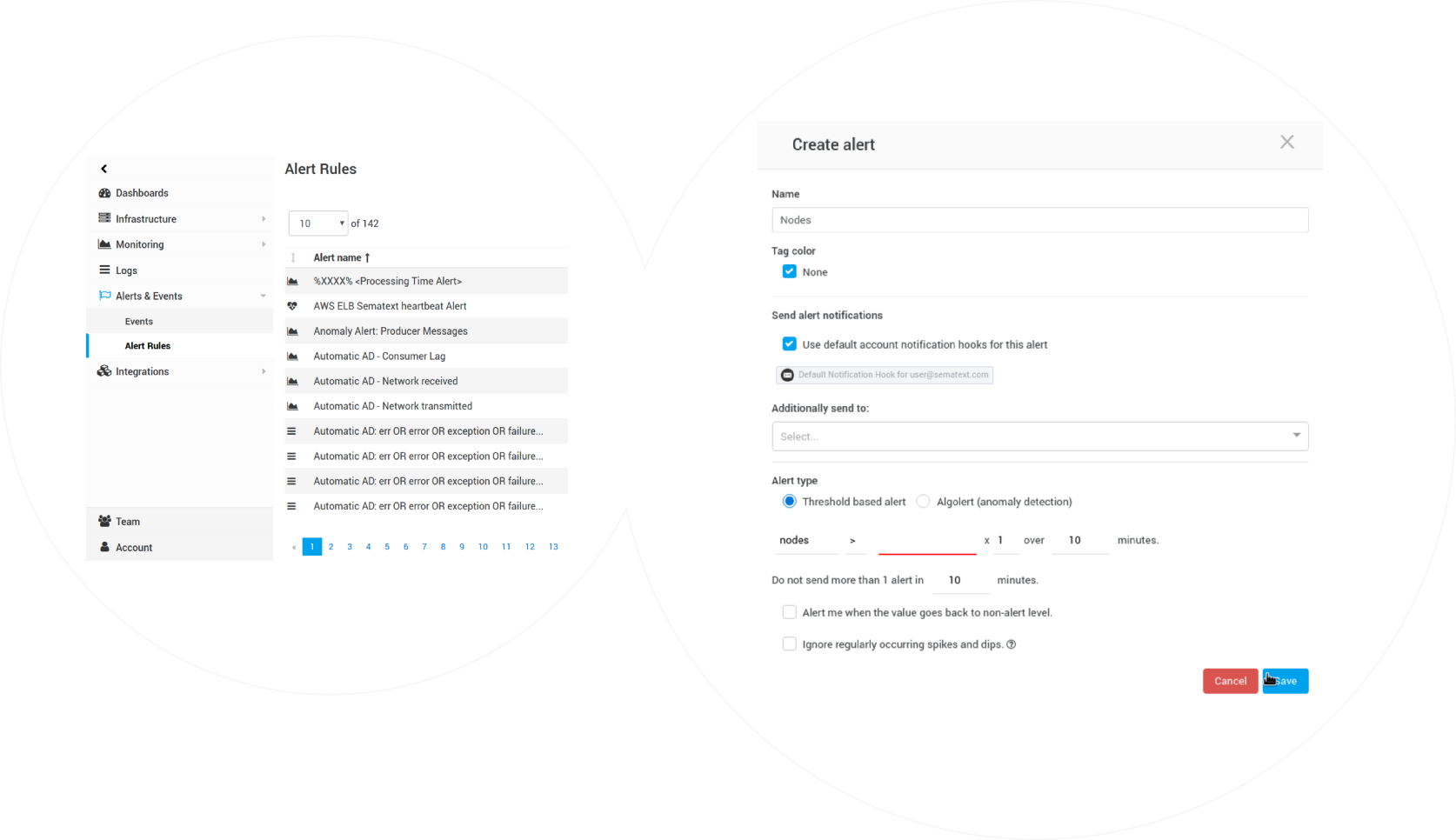 Metrics & Log Alerts: Anomalies, Thresholds, and Heartbeats
Create an alert rule on any metric or any log stream
Use metric filters to narrow down alert rules (e.g., alert when any host tagged with "type:elasticsearch" and "role:datanode" has cpu > 80%), requiring no reconfiguration as new nodes join and are tagged
Choose between threshold-based alerts and anomaly detection underpinned by a number of statistical algorithms trained to detect when data deviates from the norm
Get notified when application fails to report metrics or logs within a given time frame, set by you, giving you full control over notification speed and sensitivity
Turn an y log search into an alert query (e.g., alert when count of logs matching "severity:ERROR or exception" > 100/min)
Just like when you use
Infrastructure Monitoring
you get charts and dashboards out of the box, we also give you smart default alerts so you don't have to create them
.
Alert Notification Hooks
You can ship your Sematext alerts wherever you need to:
Use existing integrations with Slack, PagerDuty, VictorOps, OpsGenie, etc.
Have a custom WebHook you'd like to call? No problem – define the endpoint, format (JSON, HTTP params, form-encoded), optional URL parameters and optional HTTP request headers.
Want alerts via email?  That's the default, of course. Email notifications include embedded charts, so you can quickly assess the situation.
Like to get your alert notifications via your mobile device?  Use Pushover integration!
Still using Nagios?  Yes, you can get your Sematext alerts sent to Nagios.
Need to ship your Sematext alerts somewhere else? Use Zapier integration.