Sematext Experience
Give your customers the experience they deserve
Increase customer satisfaction by analyzing data from real user sessions. We detect anomalies and send you alerts in real-time. Enhance your front-end performance with Real User Monitoring.
Top-rated solutions in the industry
Trusted by the world's best companies
Half of the users that visit your website leave if it takes more than 3 seconds to load
Optimizing your website or webapp for stellar performance is always a crucial goal for any software-based business.
Here's how we can help you:
Reduce performance-related issues by having 100% visibility into what areas are affecting UX
Connect your DevOps and BizOps teams to manage and improve your customers' experience with real-time data and metrics
Get alerts in real-time when a bug is affecting performance or user satisfaction
Track page loads, HTTP requests, resources, UI interactions, and more!
Compared to Synthetic Monitoring, Real User Monitoring lets you inspect individual user sessions and page-level specifics
Combine the power of Logs, Metrics, and Real User Monitoring under one roof with Sematext Cloud
Free for 14 days. No credit card required.
Find slow-loading pages
Get a full resource waterfall view showing assets that are slowing down your pages including detailed load time analysis.
Each page-load event is recorded and displayed on charts with user activity monitoring thus giving you insight into the time spent on the back end and in the browser
Inspect resources, such as images, fonts, stylesheets, JavaScript files and dive into associated load times
Drill down into filterable data by URL, browser type, version, operating system, and geolocation
Benefit from URL grouping for both page-load events and HTTP requests
Support for Single Page Applications
With real user measurement, you can monitor page performance and resource usage of your single-page applications.
Support for major SPA frameworks such as React, Ember.js, Angular, Vue.js and many more
Web application monitoring for all fired HTTP requests and resources
Dive into page-load time and get a headstart on application performance-related issues
Support for Micro Frontend based Applications
Monitor performance and the user satisfaction scores from independent micro frontend apps in one place, see everything together without switching context.
Track page loads and HTTP requests
See performance metrics for each individual application part
Combine and correlate performance metrics from application parts spread across multiple servers
Get alerts in real-time when an application part is affecting performance or user satisfaction
Set team based notifications when creating alert rules
Get started in seconds with quick installation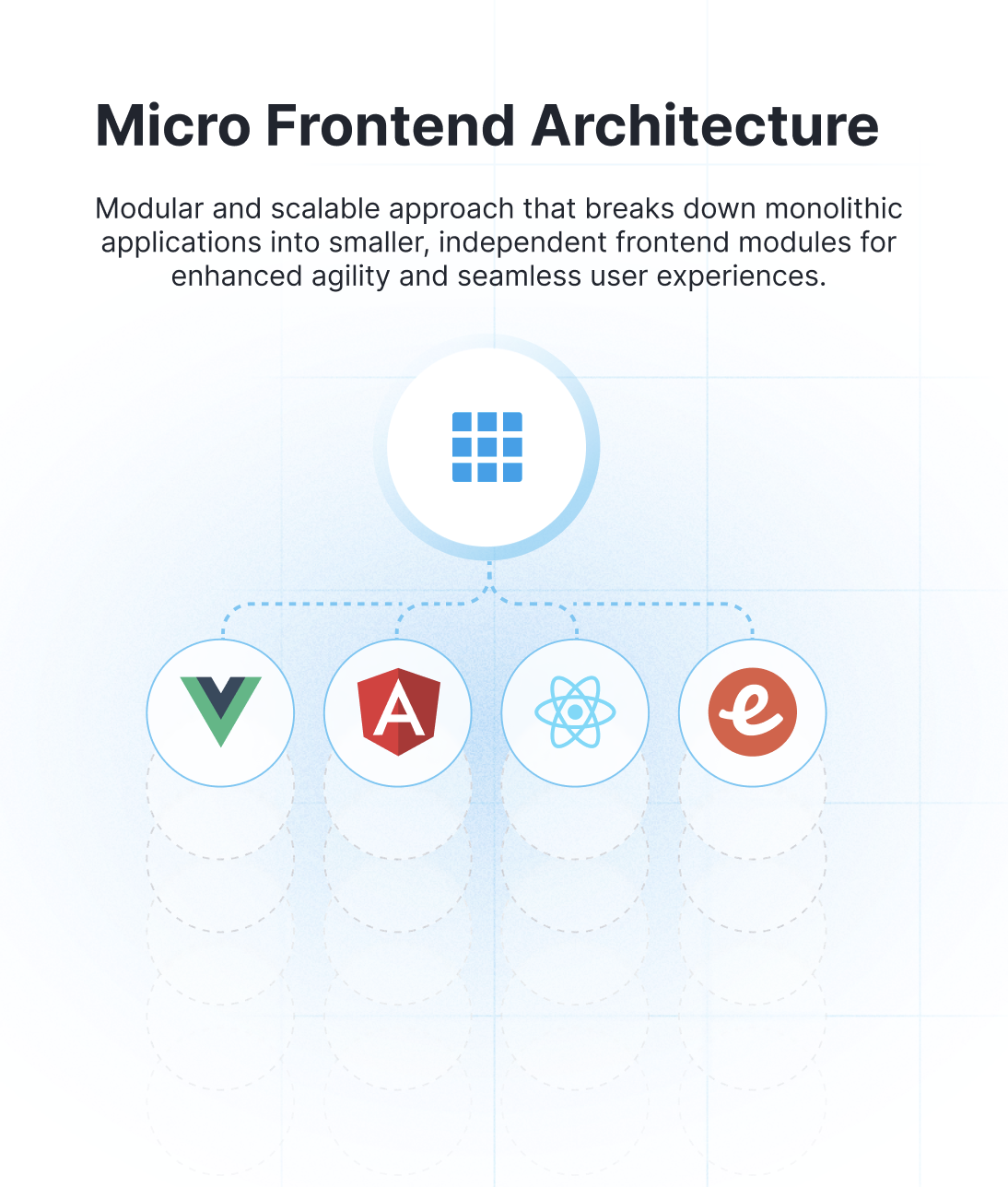 Monitor Your Apdex Score
Identify performance bottlenecks to ensure high user satisfaction by measuring the page load speeds of your website or webapp.
Know if an HTTP request succeeded or failed and how that affected your Apdex Score
Analyze what your Apdex Score is and what is affecting it
Define threshold time for page-load responses, HTTP requests, and individual on-page transactions
Sort through the pages or transactions that have the lowest or highest satisfaction score
Get Real-time Automatic Alerts
Be the first to know when your customers encounter website performance issues with automatic alerting.
Detect anomalies and receive real-time alerts when end-user experience is affected by page speed
Set up alerts for Apdex score and page load times
Map Out Business Journeys in Real-Time
Retrace real user journeys and see where and why they encountered performance issues such as slow page loading or errors.
Get individual visit reporting to discover user satisfaction and prevent customer loss due to poor performance
See the timeline of page load events, on-page transactions and HTTP requests made during the session
Troubleshoot user-reported issues faster
Get an overview of the percentage of error-free users and detailed crash reporting
Combine the Power of Metrics, Logs, and Real User Monitoring Under One Roof
Stop monitoring software, start monitoring real customer satisfaction. Troubleshoot performance issues proactively and detect potential business impact and opportunities with real-time data.
End-user experience monitoring integrated with Logs, Application Performance Monitoring (APM), and Infrastructure Monitoring tools
Sematext Experience combines the power of your DevOps and BizOps team with rich out-of-the-box dashboards
Go from metric spikes to your apps' and servers' logs in seconds
See any performance metrics and logs in a single unified view
Find similar metric patterns with built-in metric correlation
Intuitive Insight into Web Vitals
Monitor Core Web Vitals out-of-the-box. Gain insight into LCP, FID, CLS, FCP, and many more.
Largest Contentful Paint (LCP) measures page-load performance
First Input Delay (FID) measures website interactivity
Cumulative Layout Shift (CLS) measures visual stability of the web page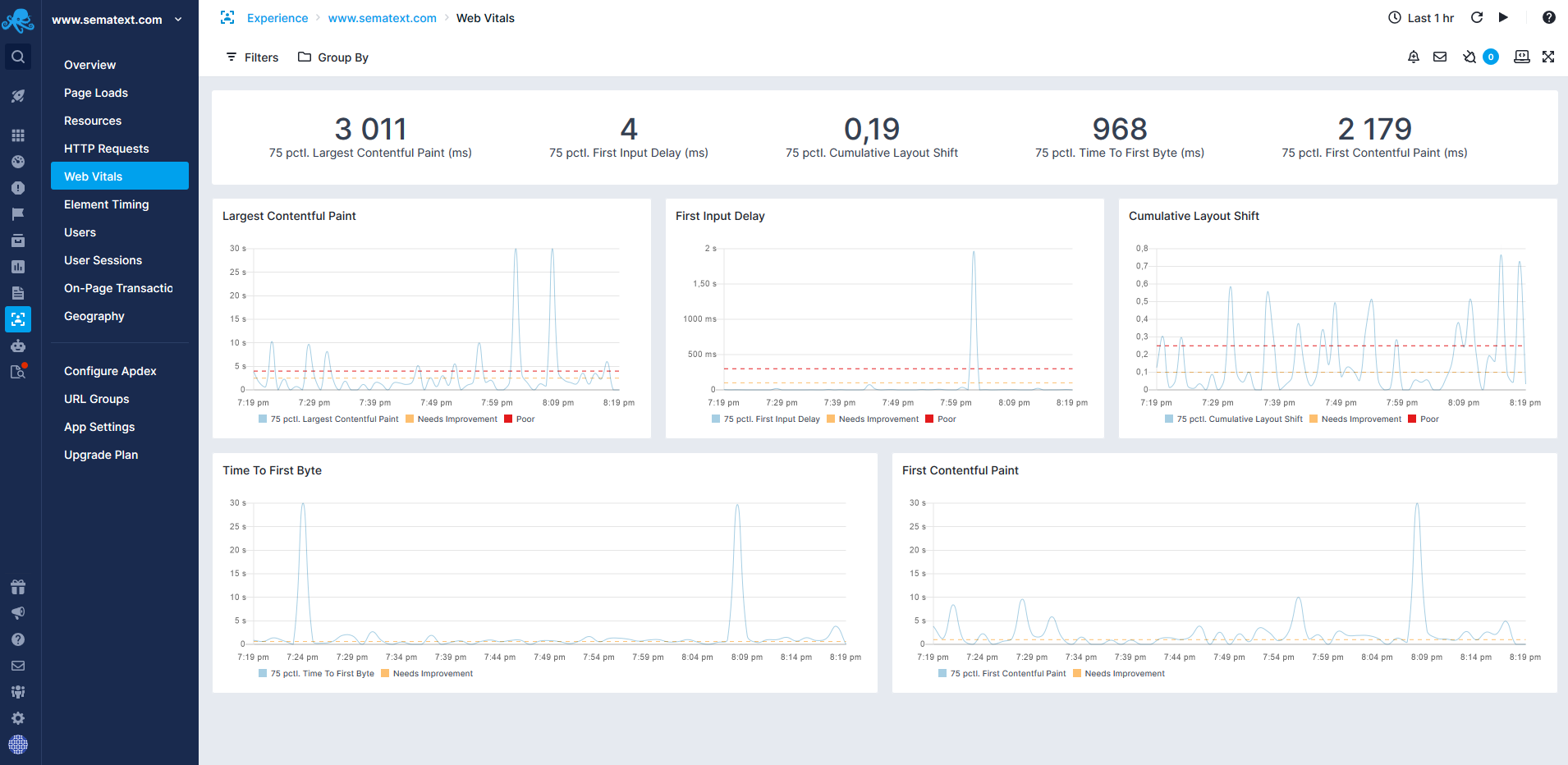 Plans and Pricing
Pricing depends on the plan, the number of page views per day, and retention days you need.