HAProxy Monitoring
Use powerful monitoring tools to perform insightful HAProxy health checks. Get built-in performance dashboards for real-time visibility into the metrics, logs, and events of your TCP/HTTP load balancer.
monitoringservercacheproxy
Already have an account?
Sign in to get started.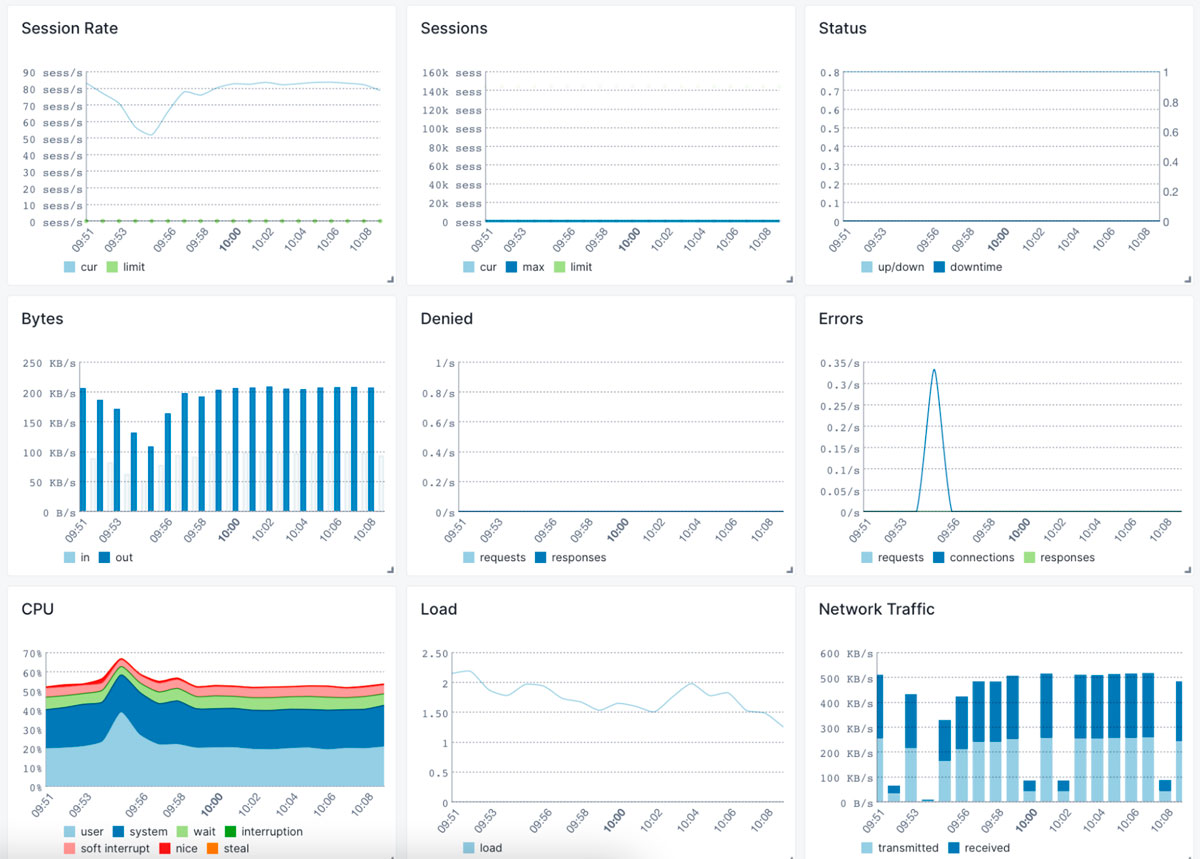 What is HAProxy
What Is HAProxy?
HAProxy is a popular, open-source software load balancer. You'd put it in front of web servers or any other services that work over HTTP or TCP, so they can be reached in a round robin or a least-used fashion. HAProxy has other features useful in this context, such as rate limiting or handling authentication.

Since HAProxy is often the gateway to important services, you'll want to know it's healthy and performing well. With its wide collection of HAProxy metrics, Sematext Monitoring makes this easy and efficient.
What you get
Spot and Eliminate HAProxy Performance Issues Easily
Sematext's HAProxy monitoring tools allow you to troubleshoot errors and slowdowns faster. With a single, central dashboard for all your logs, metrics, and alerts, you can stay on top of potential bottlenecks and perform root cause analysis.
Get alerted before the number of sessions gets close to the limit
Notice when CPU, network or swap get in the way of your service performance
Get notified on abnormal number of errors or denied access
Break down traffic, sessions and failures by frontends or backends to get to the source of errors/slowdowns faster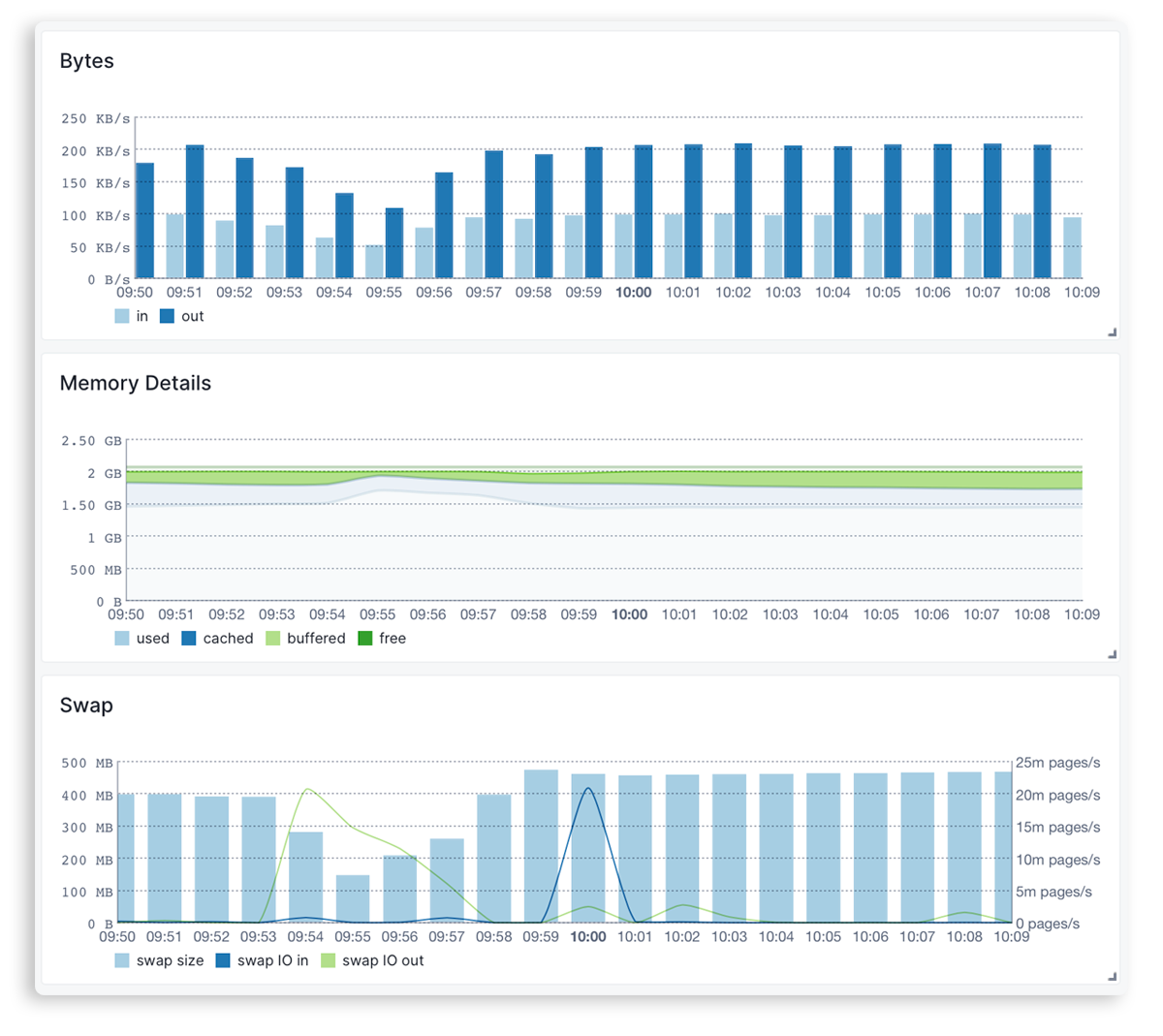 Metrics
Check HAProxy Backend and Frontend Metrics
Monitor all the key HAProxy metrics needed to efficiently run an HAProxy server and ensure performant and responsive web applications. Sematext's HAProxy monitoring tool gives you access to manage system as well as load balancing frontend and backend stats, including:
Session rates and number of sessions
Bytes in and out of each frontend and backend, including individual servers
Errors, warnings and access denied events
Backend server states: active/backup, downtime, weights, etc.
CPU metrics broken down by type: user, system, IOwait, etc.
Memory, disk and network metrics
Check the HAProxy monitoring documentation for a detailed list of the HAProxy metrics provided!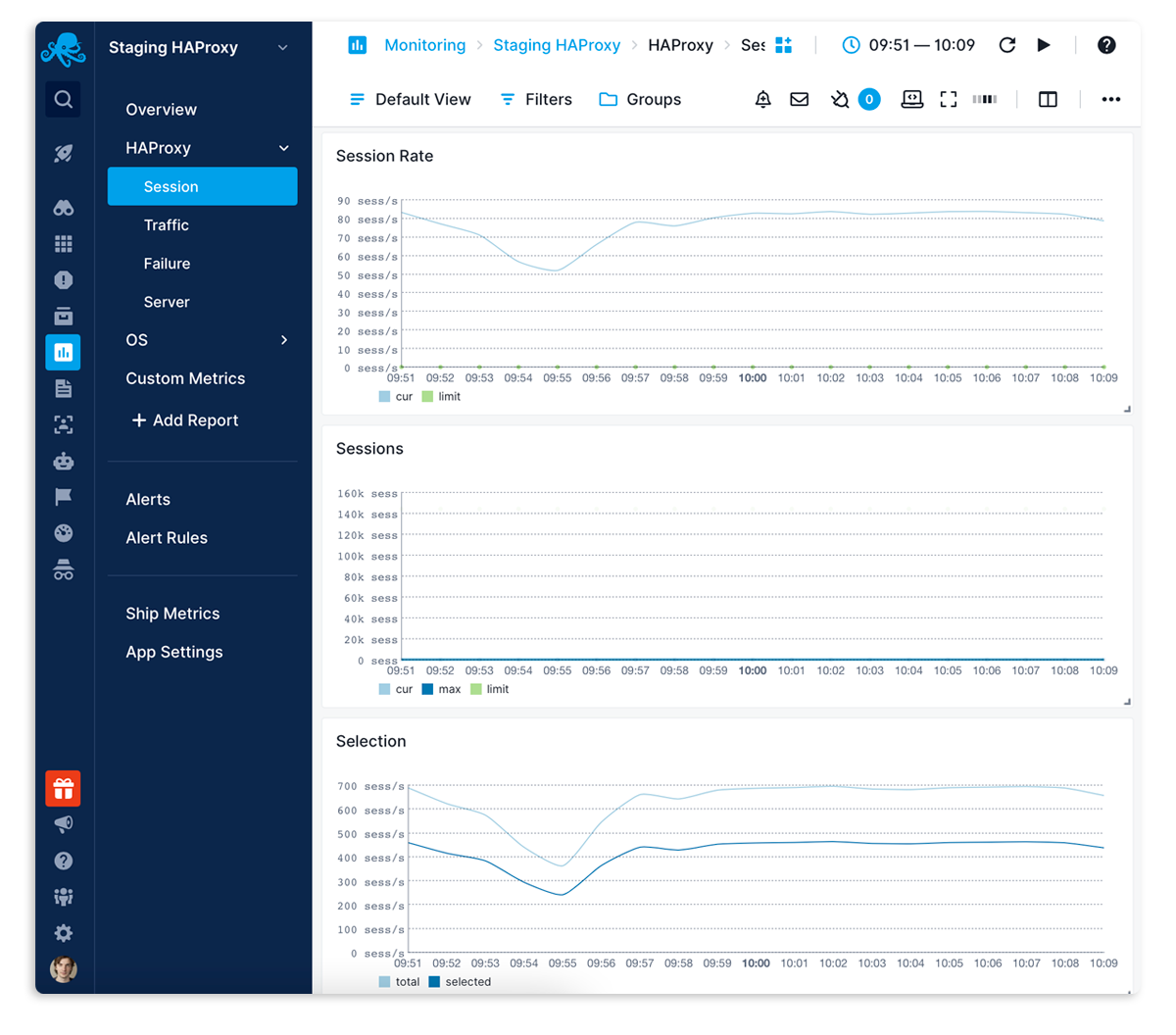 Logs
Enhance Troubleshooting with Enriched HAProxy Logs
With Sematext's HAProxy dashboard you can easily correlate logs and metrics to understand better why errors and latency occur. Monitored and analyzed together, they help optimize resource usage, ensure continuous service availability, and strengthen security.
Collect HAProxy access logs to analyze patterns in traffic sources and destinations
Further debug performance issues by analyzing HAProxy profiling logs
Get alerted on critical events, such as a HAProxy crash or an unexpected restart
Send HAProxy logs directly to Sematext via syslog, or with your favorite syslog daemon, or even other log shippers such as Logstash
Dashboards
Benefit from Pre-Built Monitoring Dashboards
Sematext gives you out-of-the-box dashboards to continuously monitor the availability, health, and performance of your system.
Get out-of-the-box monitoring charts
Add or remove components and charts in existing reports to customize dashboards
Add a new report page with your favorite metrics, charts, components, and filters
Combine metrics and logs to cut troubleshooting time in half
Alerts
Notify Your DevOps Team About Critical Issues
Sematext allows you to stay on top of performance issues with customizable monitoring and alerting on any combination of metrics, filters, and logs.
Set up anomaly detection or threshold alerts
Send notifications to Slack, PagerDuty, ServiceNow, custom Webhooks, email, etc.
Invite team members. There is no limit on the number of users!
Share logs and metrics with your team using role-based access control
Correlation
Compare Any Two Reports in a Single View
With Split Screen you can compare any two reports. Split Screen is available across the whole product and you can open any report with events, logs, or metrics for easy correlation.
Installation
Start Monitoring Your System in Seconds
Sematext features a simple monitoring agent setup with extremely low overhead.
Install the Sematext Agent in seconds.
Supported across any environment, Linux, Docker, Kubernetes, and more
Use Discovery to discover and monitor services inside containers
Select which performance metrics and logs to collect from the UI
Plans and pricing
Plans and Pricing
Sematext Monitoring pricing starts at $3.6/host/month. There are no long-term commitments necessary, and the cost is usage-based. Monthly cost estimates for the current month are displayed in Sematext during the free trial to avoid any surprises and 100% transparency.
Insights
Get Meaningful Insights for Effective Monitoring
Get dozens of key metrics and logs at your fingertips. Sematext Monitoring offers robust and reliable tools to ensure the functionality and high availability of your applications and services.
Ensure minimal downtime
Benefit from predictable resource usage
Scale effectively based on load
Starts as low as $3.6/host/month