Kubernetes Monitoring
Monitor, visualize and get out of the box alerts on your complete Kubernetes infrastructure within minutes
monitoringlogscontainerscloud
Monitor Kubernetes metrics, logs, and events in real-time
Centralize visibility for your entire Kubernetes infrastructure
Measure your Kubernetes cluster performance with ease
Quickly identify pods with missing replicas, CrashLoopBackOff, and other common problems
Already have an account?
Sign in to get started.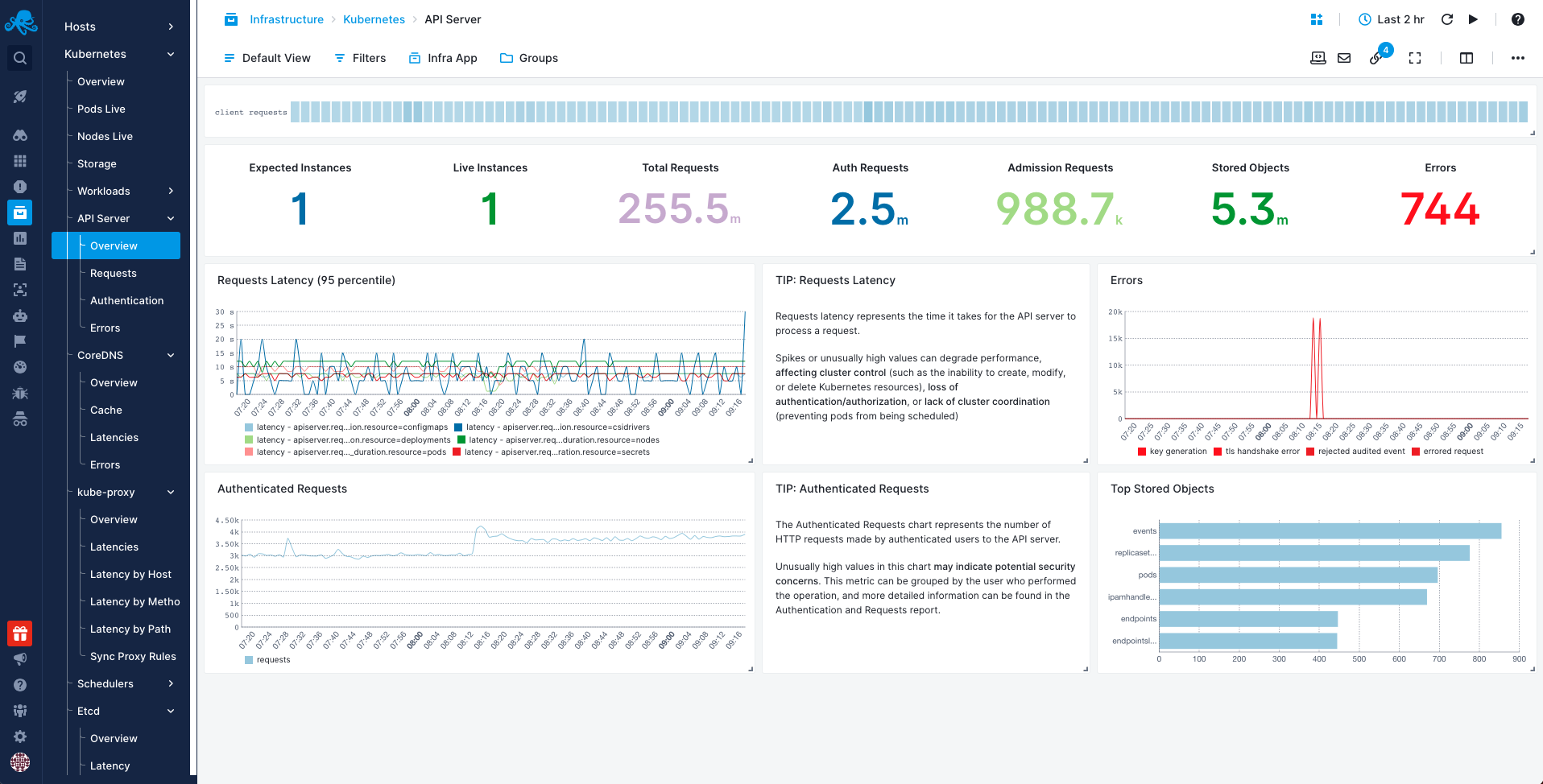 What is kubernetes
What is Kubernetes?
Kubernetes is an open-source container orchestration platform that automates the deployment, scaling, and management of containerized applications across different environments and infrastructures, providing automatic scaling, self-healing, service discovery and load balancing, rollouts and rollbacks, and configuration management.

Sematext's Kubernetes Monitoring tool provides observability into the cluster's control plane, enabling real-time monitoring of various components' operational metrics, including Kubernetes Control Plane and Node components. This visibility into the control plane enables DevOps teams to identify and diagnose proactively, reducing mean time to resolution and increasing the cluster's overall uptime.
What you get
Detect Kubernetes Performance Issues Faster
Sematext agents collect metrics and logs from all key Kubernetes components - API Server, Etcd, kube-proxy, CoreDNS, Scheduler, Kubelet, etc. Metrics and Kubernetes events are automatically structured, and are presented in a number of highly useful dashboards designed with input from our own Kubernetes SREs. Moreover, metrics and logs for both Kubernetes and the underlying infrastructure get evaluated by a set of default Alert Rules, so you can start detecting health and performance issues right away.
Monitor and visualize the health and performance of all your Clusters
Identify CPU throttled Kubernetes Workloads
Properly define resource limits and save costs by monitoring Kubernetes Pod and Node metrics
Discover missing replicas by Workload
Everything you need to monitor Kubernetes comes out of the box
Customize reports, charts, and alerts as you wish
Metrics
Monitor Kubernetes Metrics in Real Time
Sematext gives you visibility into all the components of a Kubernetes environment, such as the Kubernetes Cluster itself, the worker nodes, the Containers, and the Applications. That way, the tool provides all the monitoring metrics that are critical for troubleshooting, including:
Cluster Resources Used (CPU, memory, load, disk I/O, network traffic)
Workload Resources (Deployments, DaemonSets, StatefulSets)
Control Plane and Node (API Server, Etcd, kube-proxy, Scheduler, CoreDNS, Kubelet)
Namespaces per Cluster
Pods by Namespace
Containers by Pod
Container memory usage and limits
Pod status memory usage
Pod and Container restarts
PVC disk usage
Check the Kubernetes Monitoring documentation for the complete list of metrics Sematext provides.
Logs
Troubleshooting Made Easy with Enriched Logs
Container and Pod logs are parsed and structured out of the box. Including or excluding Pods from shipping logs can be done in the UI. You have complete control of your Kubernetes logs to cut troubleshooting time in half.
Correlate Kubernetes metric spikes with error logs for fast root-cause analysis
Easily navigate from events and logs to metrics using ingenious hyperlinking
Correlate Kubernetes Workloads Resources with the relevant logs to quickly locate pending of failed pods
Check for crash loops, OOM containers and platform related issues
Dashboards
Benefit from Pre-Built Monitoring Dashboards
Sematext gives you out-of-the-box dashboards to continuously monitor the availability, health, and performance of your system.
Get out-of-the-box monitoring charts
Add or remove components and charts in existing reports to customize dashboards
Add a new report page with your favorite metrics, charts, components, and filters
Combine metrics and logs to cut troubleshooting time in half
Alerts
Notify Your DevOps Team About Critical Issues
Sematext allows you to stay on top of performance issues with customizable monitoring and alerting on any combination of metrics, filters, and logs.
Set up custom anomaly detection or threshold alerts
Send notifications to Slack, PagerDuty, ServiceNow, custom Webhooks, email, etc.
Invite team members. There is no limit on the number of users!
Share logs and metrics with your team using role-based access control
Correlation
Compare Any Two Reports in a Single View
With Split Screen you can compare any two reports. Split Screen is available across the whole product and you can open any report with events, logs, or metrics for easy correlation.
Installation
Start Monitoring Your System in Seconds
Sematext features a simple monitoring agent setup with extremely low overhead.
Install the Sematext Agent in seconds.
Supported across any environment, Linux, Docker, Kubernetes, and more
Use Discovery to discover and monitor services inside containers
Select which performance metrics and logs to collect from the UI
Plans and pricing
Plans and Pricing
Sematext Monitoring pricing starts at $3.6/host/month. There are no long-term commitments necessary, and the cost is usage-based. Monthly cost estimates for the current month are displayed in Sematext during the free trial to avoid any surprises and 100% transparency.

See Plans and Pricing Start Free Trial