Application Performance Monitoring (APM)
Monitor application performance and user experience with powerful APM software. End-to-end monitoring to optimize customer satisfaction and business operations.
Real User Monitoring
Synthetic API and Website Monitoring
Distributed Transaction Tracing
Infrastructure Performance and Logs Monitoring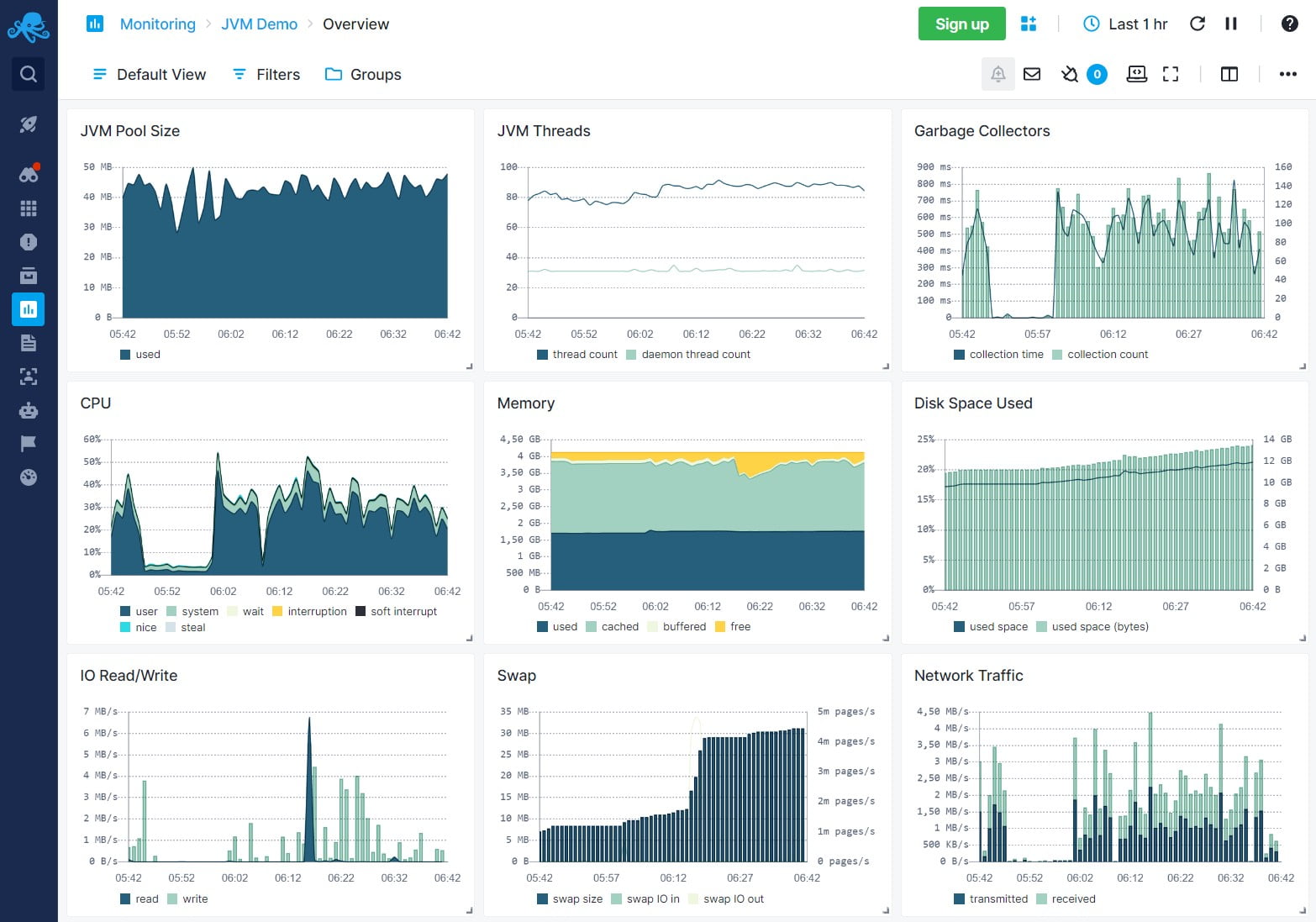 10,000+ Companies trust Sematext
Get Actionable Insights Faster with Sematext Cloud
Distributed Transaction Tracing
Get full application performance visibility with Transaction Tracing by monitoring end-to-end request execution across multiple applications, tiers, servers, microservices, and processes.
Pinpoint root causes of poor application performance with deep-dive analysis
Find the slow and suboptimal parts of your application
Trace requests across networks and apps all the way down to databases
Expose slow SQL statements
Currently, only Java and Scala applications can be traced.
Real User Monitoring
Increase customer satisfaction by analyzing data from real user sessions. We detect anomalies and send you alerts in real time. Enhance your front-end application performance with Real User Monitoring insights.
Get a full resource waterfall view showing assets that are slowing down your pages including detailed load time analysis
Monitor page performance and resource usage of your single-page applications
Monitor your Apdex Score to identify application performance bottlenecks and ensure high user satisfaction
Be the first to know when your customers encounter website performance issues with automatic alerting
Retrace real user journeys and see where and why they encountered performance issues such as slow page loading or errors
Synthetic Monitoring
Monitor the availability and performance of your web applications and APIs. Simulate business-critical user journeys. Get alerted when checks fail. Nothing to install, nothing to maintain.
Monitor availability of your APIs and website from multiple locations
Identify business-critical web application performance metrics
Monitor & identify issues with third-party resources
Waterfall chart to visualize individual resource timings and identify resources that impact page load time
Monitor APIs & websites behind the firewall using private agent deployed in your network
Proactive real-time alerting
Create public status page showing the availability of your selected web services and share it with your customers
Custom Pointcuts (for JVM)
While identifying slow transactions is key to performance tuning, there are times when one needs more information about specific transactions that are not necessarily slow. Want to capture timing information for a specific method? Or measure how many times a specific method is called? Maybe you want to exclude all calls to a recursive method from a transaction trace? Sematext Cloud provides such capabilities through custom instrumentation, letting you easily create your own custom pointcuts. The built-in extension mechanism can be used to instrument custom method calls that are not handled by the Sematext tracing agent out of the box.
Application Performance & Dependencies Visualization
Sematext APM offers a map-like representation of your complete application architecture. See inter-component communication and their throughput, latency, errors rates, etc., connections to external services and databases, and more.
Visualize your whole architecture and its operational state and health in real time
Discover chatty, network-heavy components
Discover components whose communication contains errors
Keep the whole team up to date with the actual, live application performance and architecture
Speed up the onboarding process for new team members by showing them the current architecture instead of outdated architecture diagrams
Database Operations & Slow SQL Monitoring
Sematext's application performance monitoring tool tracks database operations and slow SQL. You can detect and fix issues that affect application performance.
Find the slowest database operation types
View detailed performance metrics for each SQL statement
See end-to-end HTTP transaction context, through multiple tiers, including full call trace
Get top 10 database operations by throughput, latency, or time consumed
Filter database operations by type
Full-Stack Observability
Application performance monitoring, infrastructure monitoring, real user monitoring, and synthetic monitoring in a single solution with the option to add log management functionality.
Combine the power of logs, metrics, traces, and real user data for faster troubleshooting
Troubleshoot performance issues proactively and detect potential business impact and opportunities with real-time data
Go from metric spikes to your apps' and servers' logs in seconds
See any application performance metrics and logs in a single unified view
Find similar metric patterns with built-in metric correlation