Bring it Together
Your Servers, Apps, Metrics, Logs, Events, Alerts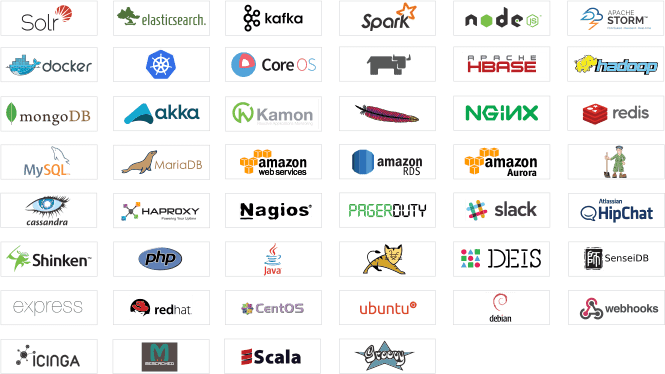 …and just about any other app you need to monitor
Integrations
SPM's over 40 integrations let you
collect metrics and events
across your whole stack.
Get started in minutes with out-of-the-box dashboards, alerts and anomaly detection rules
Slice and dice by a number of context-aware filters
Solr & SolrCloud, Elasticsearch, Spark, Storm, Kafka, Cassandra, HBase, MongoDB, Hadoop MapReduce, HDFS, YARN, Docker, CoreOS, Node.js, Express, Apache, Nginx (Plus), HAProxy, Redis, Memcached, MySQL, MariaDB, AWS EC2 ELB EBS RDS…
Compare
App & Database Monitoring
SPM goes beyond just collecting metrics and
uncovers your slowest database transactions
.
Find the slowest DB operation types
View full SQL statements
See end-to-end HTTP transaction context, through multiple tiers, including full call trace
Get top 10 operations by throughput, latency, or time consumed
Filter DB operations by type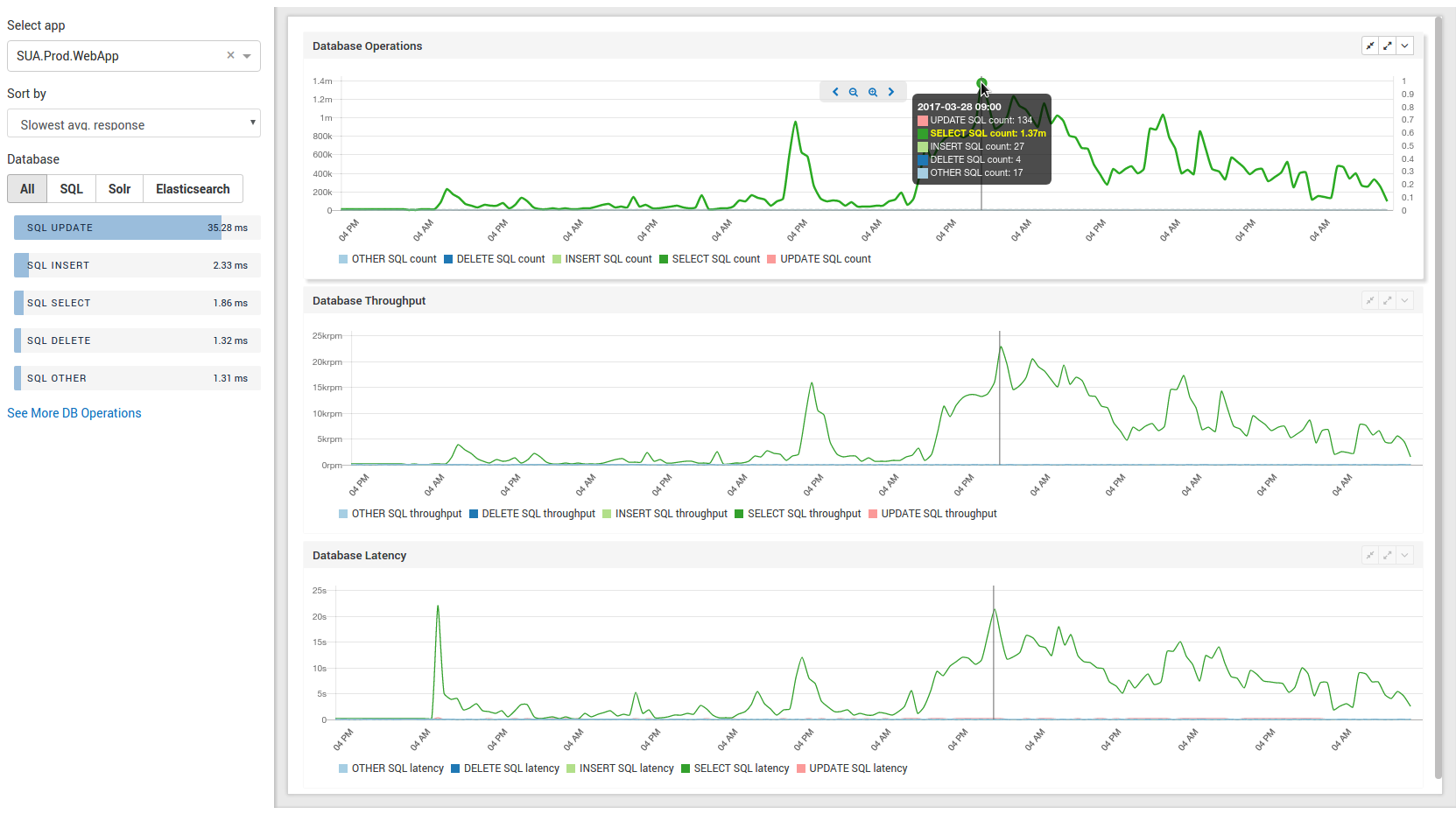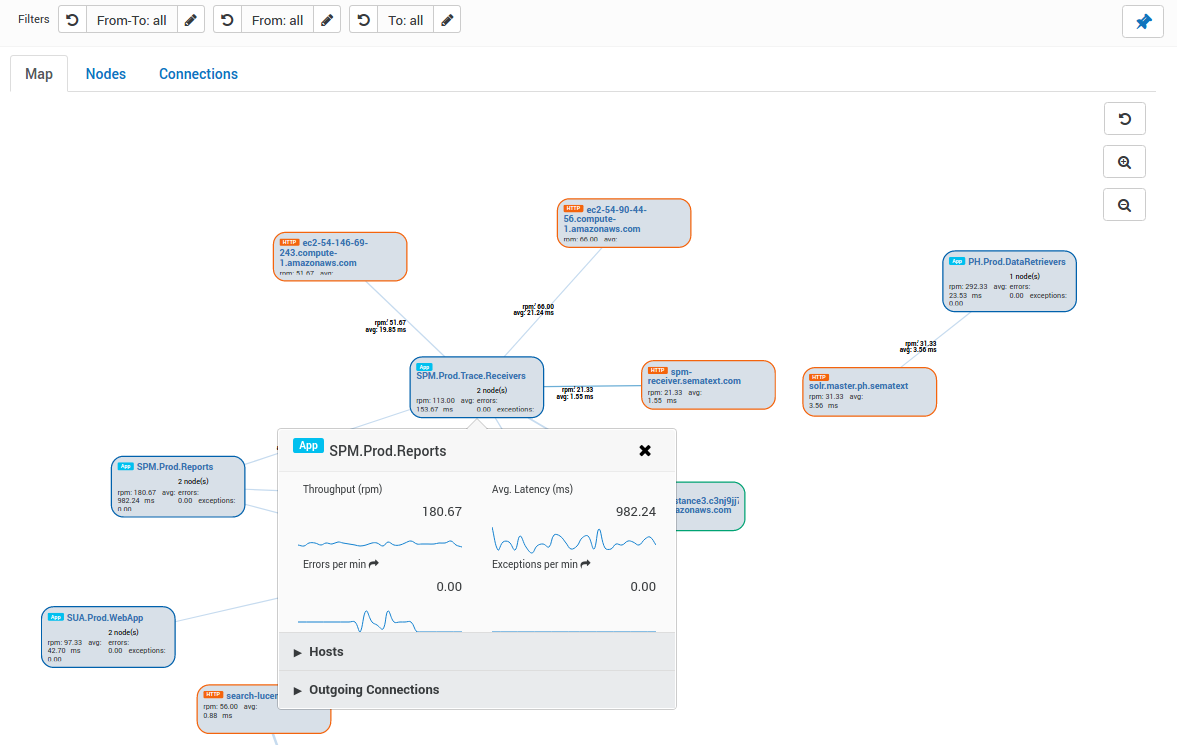 App, Network & Infra Maps
SPM shows
your whole infrastructure
and how it's all connected, in real-time.
View complete, self-organizing infrastructure & network maps
See throughput, latency, and error rates for all apps and servers
Get detailed info about incoming and outgoing connections and receive/transmit rates
Multiple map views with zooming, panning, and filtering
Tracing & Profiling
SPM instruments your apps and
captures your slowest transactions
. The on-demand, low impact profiler finds bottlenecks in your code.
See end to end HTTP transactions
Full HTTP call stack with all request parameters
Annotate Java apps for custom method tracing
Find slowest HTTP transaction components
Customize tracing pointcuts
Profile any Java app on demand
Find methods using most CPU or wall-clock time
Get top controllers by latency, throughput, or total time used
See aggregate throughput, latency, errors/exception rates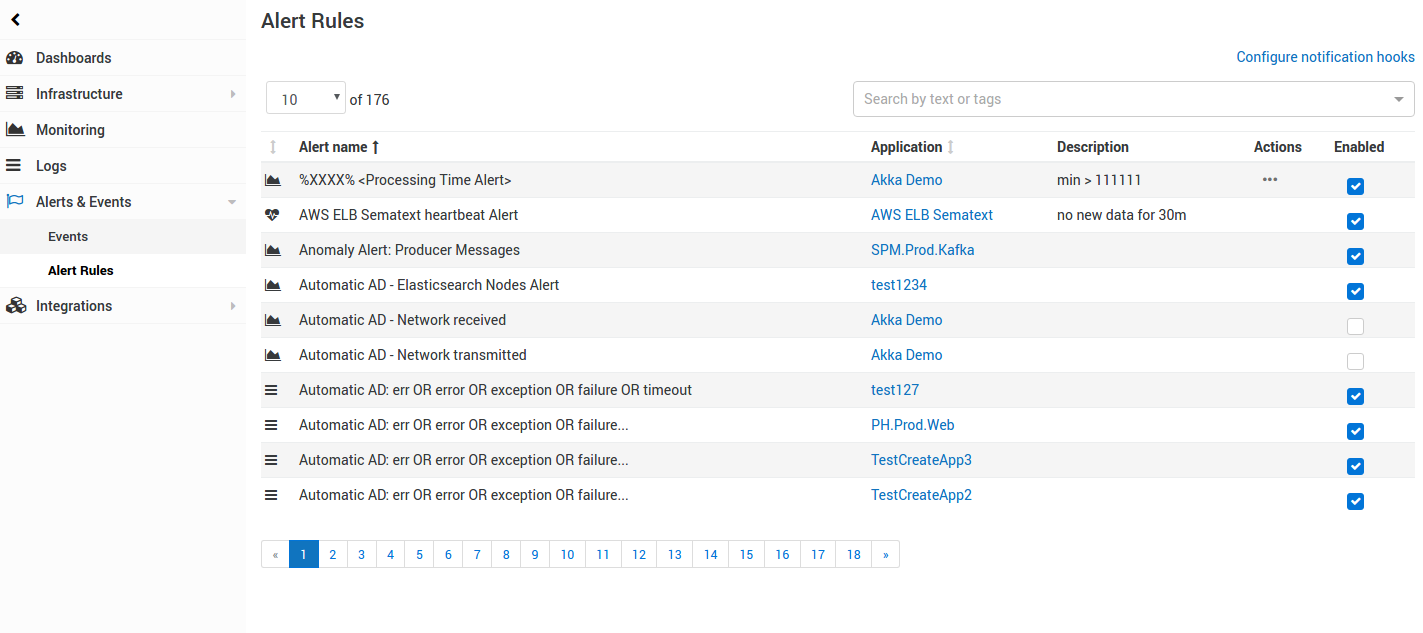 Alerting & ChatOps
SPM alerting
integrates with ChatOps
services and WebHooks.
Alert on any metric and any filter combination
Alerts based on: thresholds, anomaly detection, app heartbeat
Get notified via email, ChatOps, or WebHooks
Built-in integrations for PagerDuty, Slack, HipChat, and Nagios
Works with VictorOps, OpsGenie, BigPanda, etc.
Send Alerts events to any WebHook
Pass custom HTTP parameters and headers to WebHooks
Correlate Metrics & Logs
Metrics are not enough! SPM
correlates metrics with application and server logs, events, alerts, anomalies
, and more.
Really cool and empowering, and a huge time saver
!
Go from metric spikes to your apps' and servers' logs in seconds!
Get to the root cause in minutes!
Forget about ssh-ing to servers and grepping logs!
See any metric any logs in a single unified same view!
Find similar metric patterns with built-in metric correlation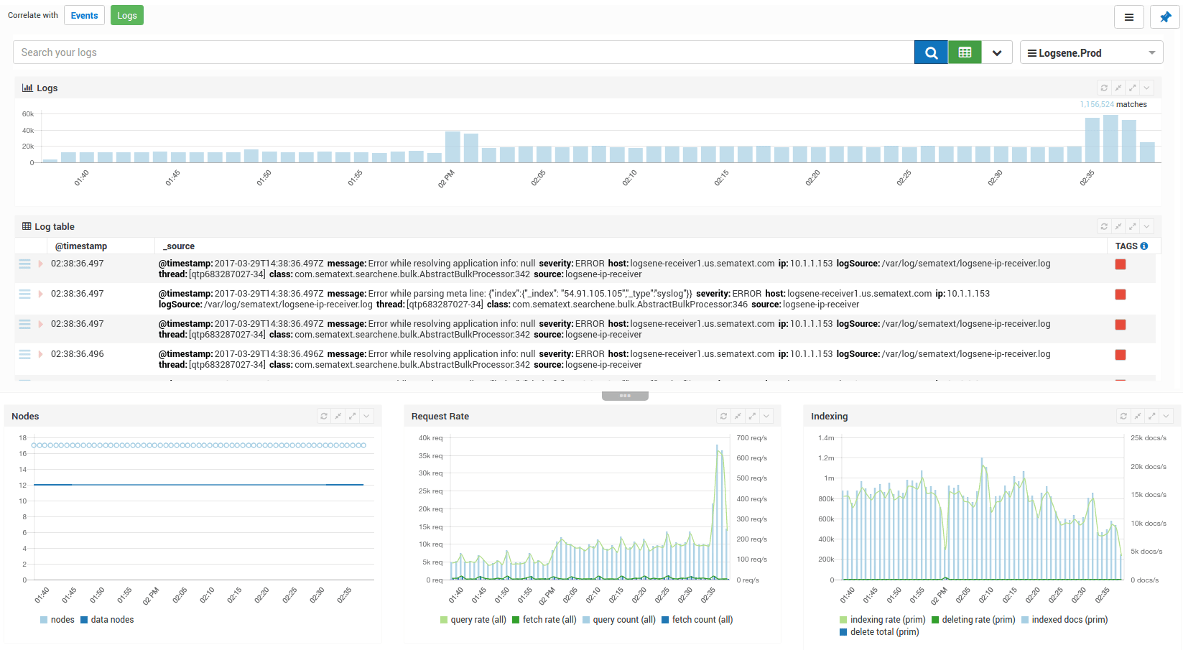 APIs and Custom Metrics
SPM is built
by DevOps for DevOps
. Custom Metrics? APIs? We've got 'em!
Open HTTP APIs let you ship Custom Metrics from your apps
Instrument your apps and send custom metrics
Capture and send app, business, and other events
Open-source metrics libraries for Java, Ruby, and Node.js
Use APIs for alert automation and more
I love SPM because it would usually take an endless amount of time to configure generic JMX-ready monitoring tools to render useful and carefully designed dashboards. With SPM it takes 2-3 minutes from scratch until the data is visible.
Plans and Pricing
Pricing is calculated per agent per hour for App and Server Monitoring and per Docker host per hour for Docker Monitoring.
See Plans and Pricing
SPM On Premises
Can't send your metrics or logs to the Cloud? SPM & Logsene are available for
On Premises, too
!
Enterprise Customers, please contact us:
Custom Daily Volume and Custom Retention are limited to Enterprise Plans. Contact us at
sales@sematext.com
for enterprise plan pricing. No credit card required to sign up!
What happens at the end of my trial?
New users get a 30-days free trial for each new SPM App (existing customers get 2 days free trial for each additional App). At the end of the trial the App is automatically switched to the Basic (free) plan, unless you picked a paid plan. If you pick a paid plan before the trial period ends we will honour the full trial period.
Can I cancel the service?
Of course. You can simply stop sending us metrics, or remove our agents, or switch to the Basic plan.
Hourly pricing, no contract, discounts
There are no contracts and no commitments. You can cancel any time. Price is metered and based on the running time for the app / server being monitored. Note: Docker monitoring is based on the base price and per-container price. The base price includes monitoring of a Docker host and free monitoring of up to N containers. Per-container price is applied only if you run more than N containers per host. The number of containers per host is averaged for the whole account. The base price and the number of containers included in it depends on the plan. We charge at the end of the month. For longer term and large contracts please get in touch.
Can I use multiple different plans?
Yes. Each SPM App is independent and each SPM can have a different plan. Each user account can have any number of SPM Apps. Moreover, each SPM App can use a different payment method (e.g. a different credit card).
Can I run SPM On Premises or in my Cloud?
Yes. Everything you see in the Cloud version of SPM is available in an on Premises version, packaged as an RPM, DEB package, or a VM. Please get in touch for more information.
How many servers can I monitor?
There are no limits to how many servers / instances / nodes / containers you can monitor.
Do I have to create my own charts and reports?
You don't have to, though you can. SPM gives you instant gratification. SPM knows what type of application you are monitoring and gives you a number of charts out of the box, neatly grouped into multiple reports and filterable by a number of dimensions appropriate for each collected metric (or tags you can specify). As soon as you install the SPM agent SPM will become immediately useful and usable by your whole team.
Can I graph my own custom metrics?
Yes. You can send your custom metrics, chart them, alert on them, apply on anomaly detection on them, create custom dashboards with them, correlate them with other metrics, events, and logs.
How does SPM compare to New Relic? Datadog? AppDynamics? Marvel?
SPM is 4-5 times cheaper than New Relic APM. For more information see
SPM vs. New Relic APM
. SPM gives you deeper out of the box metric collection and charting, while Datadog requires you to figure out which metrics to collect, how to chart them, build charts and dashboards from scratch, etc. AppDynamics is rich, but very expensive and focused primarily on large enterprises and on premises deployments. Unlike Marvel, SPM is not limited to monitoring Elasticsearch. For more information see
SPM vs. Marvel
.