Log Management & Analytics
Your Managed ELK Stack in the Cloud or On Premises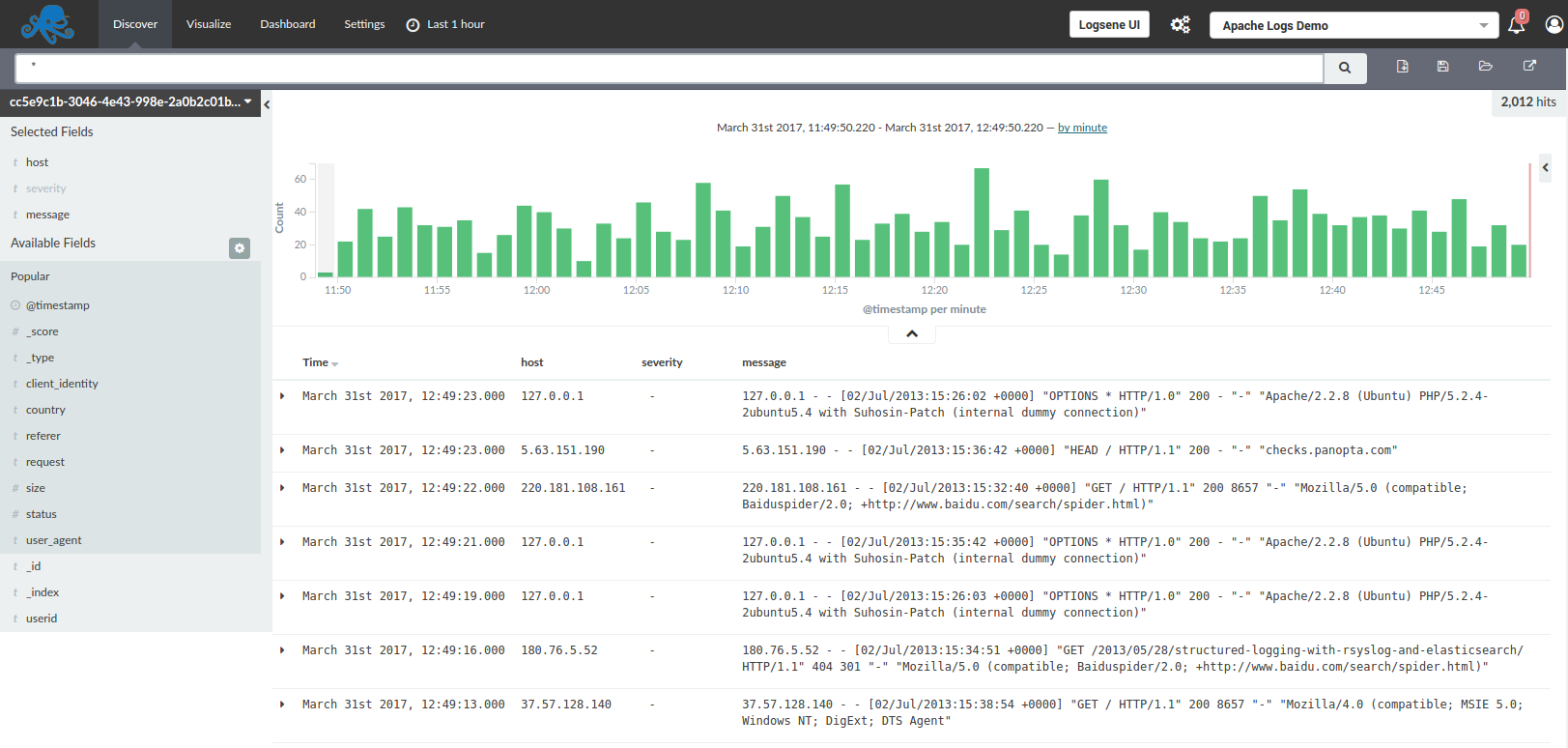 ELK as a Service
With Elasticsearch API and integrated Kibana, Logsene is the first true Hosted ELK Stack. Can't send logs to the Cloud? Ask us about Logsene On Premises.
All your logs accessible in one place. Team support.
Hassle-free managed ELK you don't need to maintain and scale
Use built-in Kibana or use your own Kibana or Grafana with Logsene
Inspect your logs via UI or Elasticsearch API
Correlate logs with performance metrics via SPM
Nothing to install – use any log shipper you want
Need a cheaper-than-Splunk On Premises solution? Get Logsene On Premises!
Alerting & ChatOps
Logsene alerting integrates with ChatOps services and WebHooks.
Convert any query to an Alert
Get notified via email, ChatOps, or WebHooks
Built-in integrations for PagerDuty, Slack, HipChat, and Nagios
Works with VictorOps, OpsGenie, BigPanda, etc.
Send Alerts events to any WebHook
Pass custom HTTP parameters and headers to WebHooks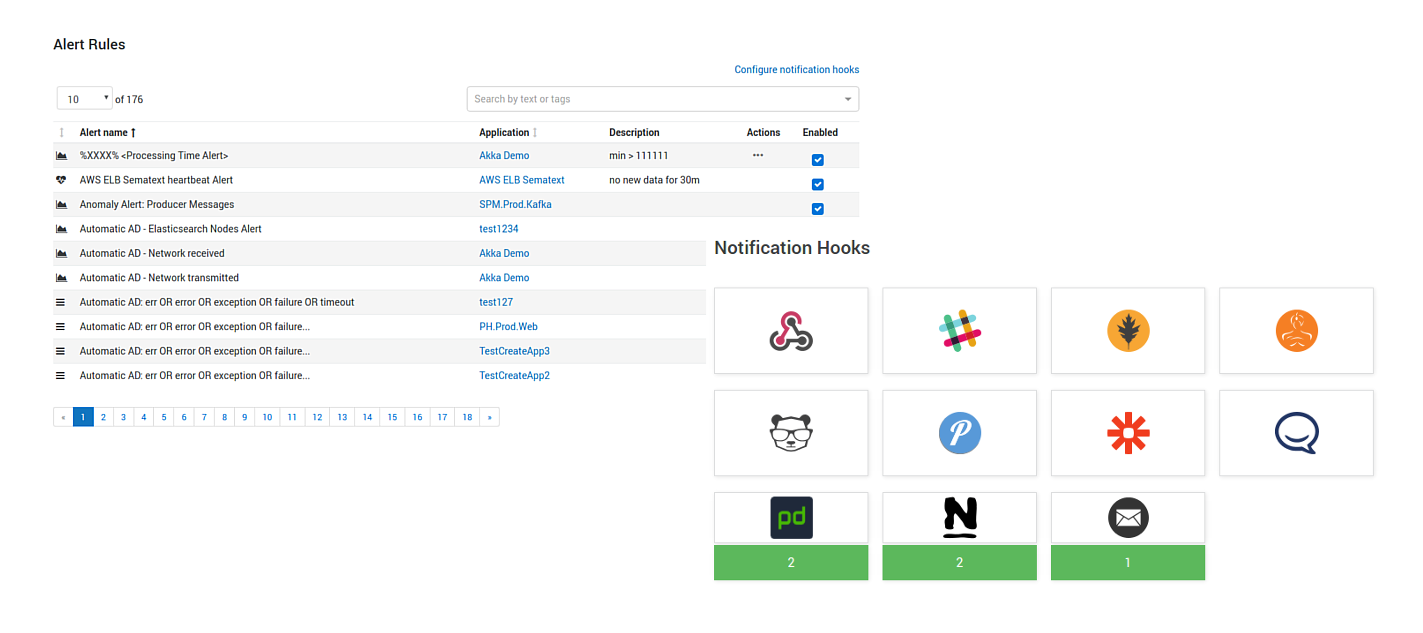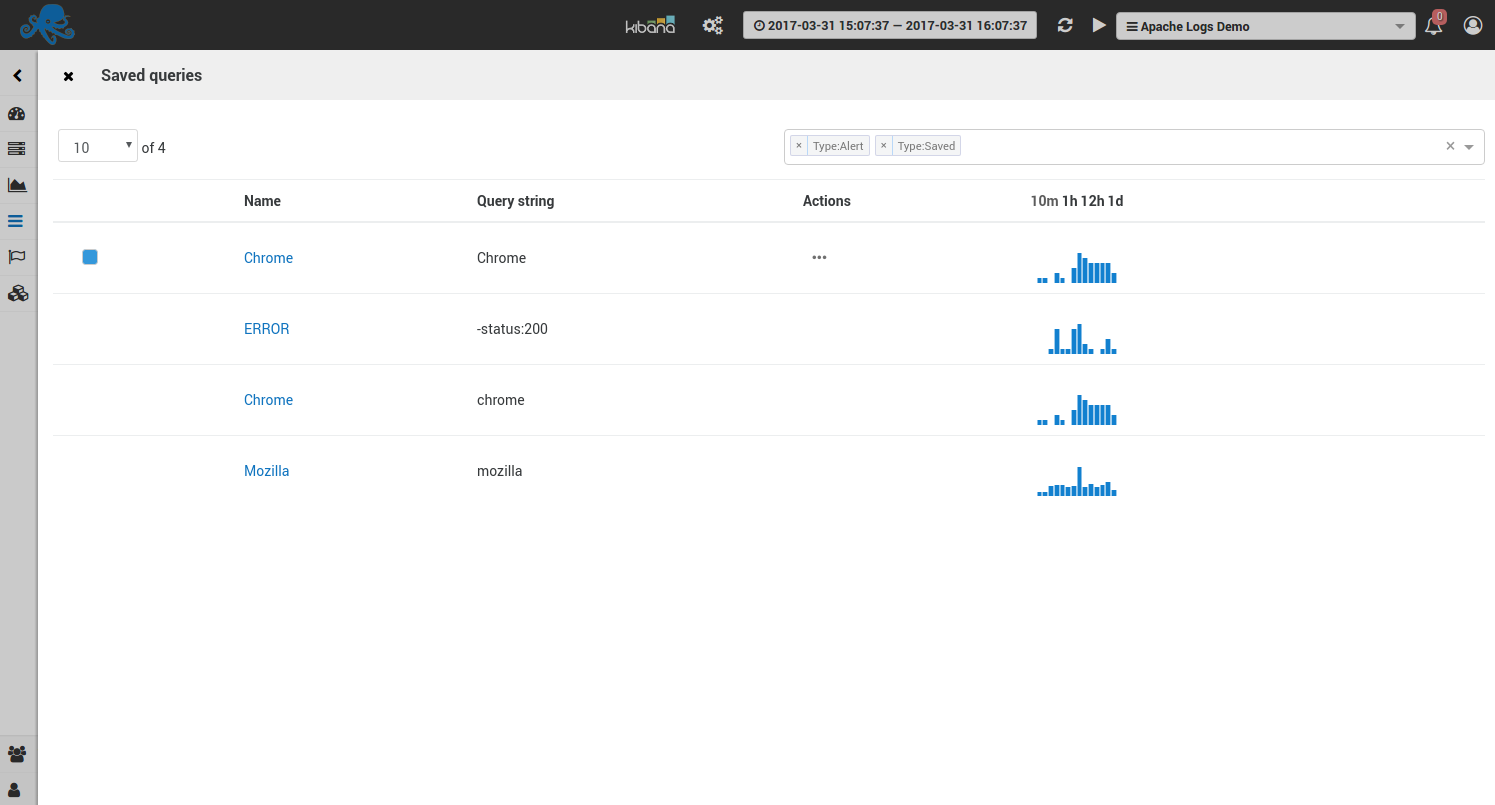 Saved Searches & Log Tagging
Save any query and save yourself some (re)typing. Re-run Recent and Saved Searches without re-typing.
Store any query as Saved Search or Alert Query
See log charts for Saved Searches at a glance, without running them
Run Live Tail for any Saved Searches
Auto-complete Recent and Saved Searches
Tag Saved Searches with custom labels and colors
Log Shipping / Integrations
Use any of the number of compatiable log shippers, logging libraries, platforms, and frameworks.
Works with all standard logging facilities and agents (syslog, Logstash, Fluentd, Flume, nxlog, Filebeat…)
Ship logs via syslog (rsyslog, syslog-ng, syslogd…)
Ship logs from apps via Log4j, Logback, Log4j 2, Log4net, winston-logsene, Python SyslogHandler…
Wide language support – Java, PHP, Perl, GoLang, Python, .Net, Ruby, JavaScript
Ship with anything that can talk to Elasticsearch or syslog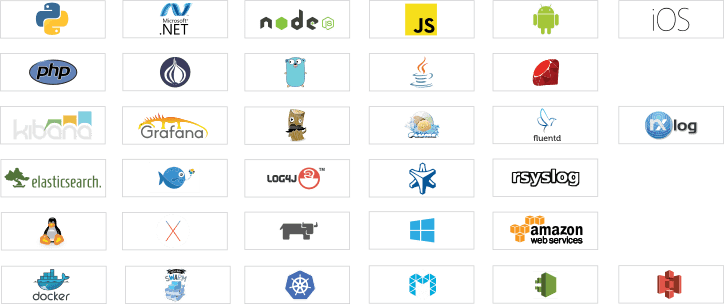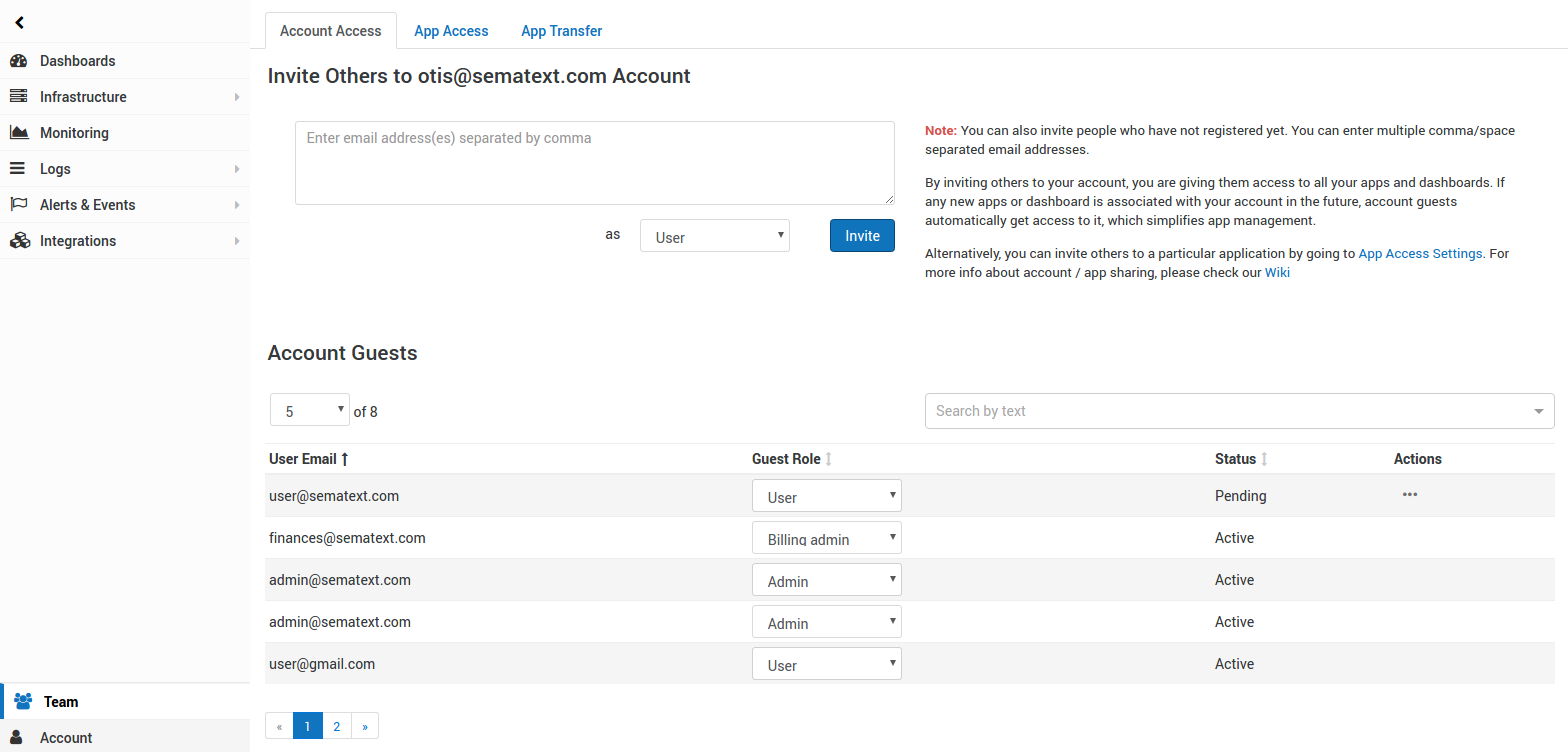 Multi-user RBAC (Role Based Access Control)
Logsene lets you control who can access which log.
All your logs accessible in one place. Team support.
Unlimited number of users with Owner, Admin, and User roles
Invite teammates to individual Logsene apps or whole account
Revoke privileges and change roles at any time
Security
Logsene runs on Amazon AWS, whose infrastructure follows IT security best practices and adheres to a number of compliance standards such as SOC 1/SSAE, SOC 2, SOC 3,16/ISAE 3402 (formerly SAS 70 Type II), FISMA, DIACAP, FedRAMP, and HIPAA.
Can't send logs to the Cloud? Ask us about Logsene On Premises
.
Ship your logs via encrypted channels: TLS/SSL, or HTTPS
Control who can access your logs via an app token and API key
Restrict access to select members of your team
Revoke and change user privileges on demand
Logsene provides us a flexible, extensible and reliable means of monitoring all of our environments in real time.
Plans and Pricing
Pricing depends on the plan as well data transfer rates per day and retention days you need.
See Plans and Pricing
Logsene On Premises
Can't send your logs or metrics to the Cloud? Logsene & SPM are available for
On Premises, too
!
Enterprise Customers, please contact us:
Custom Daily Volume and Custom Retention are limited to Enterprise Plans. Contact us at
sales@sematext.com
for enterprise plan pricing. No credit card required to sign up!
What happens at the end of my trial?
New users get a 30-days free trial for each new Logsene App (existing customers get 2 days free trial for each additional App). At the end of the trial the App is automatically switched to the Basic (free) plan, unless you picked a paid plan. If you pick a paid plan before the trial period ends we will honour the full trial period.
Can I cancel the service?
Of course. You can simply stop sending us your logs or switch to the Basic plan.
Pricing, no contract, discounts
There are no contracts and no commitments. You can cancel any time. Price is metered and based on 3 factors: plan, daily volume, and data retention. You pick a plan based on which features you want. You pick volume based on the volume of logs you produce daily. The higher volume you pick the lower the cost per GB. You pick data retention depending on how long you need to keep your data. We charge at the end of the month. For longer term and large contracts please get in touch.
Can I use multiple different plans, volumes, and retention?
Yes. Each Logsene App is independent and each Logsene can have a different plan. Each user account can have any number of Logsene Apps. Moreover, each Logsene App can use a different payment method (e.g. a different credit card).
Can I run Logsene On Premises or in my Cloud?
Yes. Everything you see in the Cloud version of Logsene is available in an on Premises version, packaged as an RPM, DEB package, or a VM. Please get in touch for more information.
What if I don't know my daily log volume?
Logsene displays your daily log volume. You can use that information to determine which plan best fits your needs.
What happens if I go over the daily volume specified in my plan?
We keep accepting your logs. We keep track of the daily volume and charge based on the actual volume of data sent to us beyond the volume specified. Note that the bigger volume you specify in your plan the lower the price per GB. Thus, if you find that you often go over the volume you've specified you may pay less if you select a higher volume.
How much time does set-up take?
It can take as little as a few minutes, but it depends on how fast you are at configuring log shipping. When you create a Logsene App we provide all needed configs for an array of log shipping tools.
Why is Logsene better than in-house ELK Stack?
Logsene is much more feature rich than ELK Stack. ELK doesn't have alerting. It doesn't have security. It doesn't have multi-user support. It doesn't have Log Tagging. It doesn't have Live Tail. It doesn't integrate with a performance monitoring system like Logsene integrates with SPM. ELK requires infrastructure. It requires maintenance and tuning. It requires time. Running ELK requires one to become at least somewhat knowledgeable with scaling Elasticsearch and to become an expert in it when the data volume grows. All of this adds up and ends up costing more time, money, and resources than using Logsene.