2018
Upgrade to Elasticsearch and Kibana 6.4
We're excited to announce that Sematext Logs has upgraded to Elasticsearch 6.4 and along with it to the shiny, new Kibana 6.4! All your visualizations and dashboards have been migrated to the latest Kibana 6.4 version for you, so you don't have to do anything. Kibana 6.x comes with a number of improvements including:
New colors to improve accessibility
Vega interactive visualizations
Ability to apply Vega filters to dashboard context
Visualization of other and missing terms buckets
Lab visualizations
Improved workflow for inspecting data
Dashboard input controls
And more!
You can find the Kibana button on the menu […] next to the App Switcher in the logs view.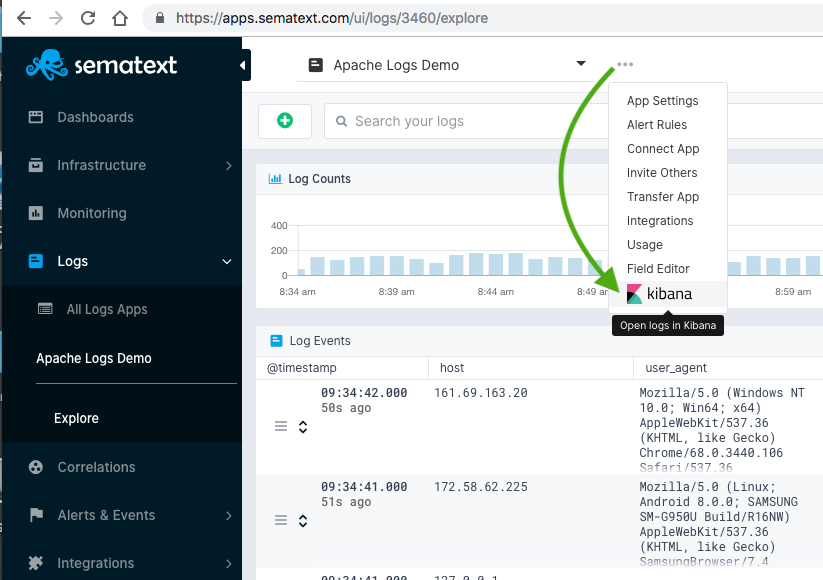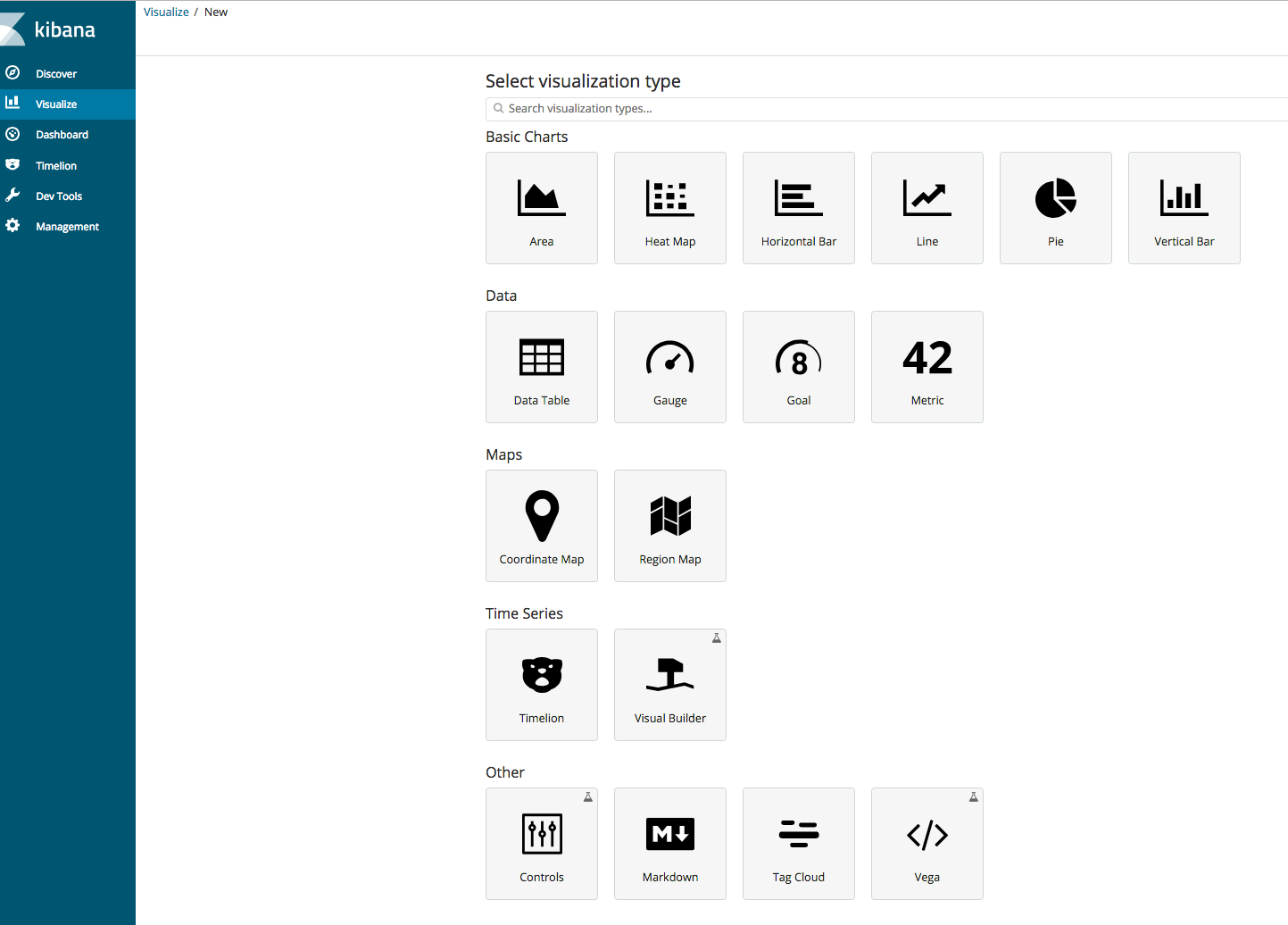 Start Kibana 6.4 in Sematext Cloud and explore new features and visualizations. Enjoy!
New Container View in infrastructure monitoring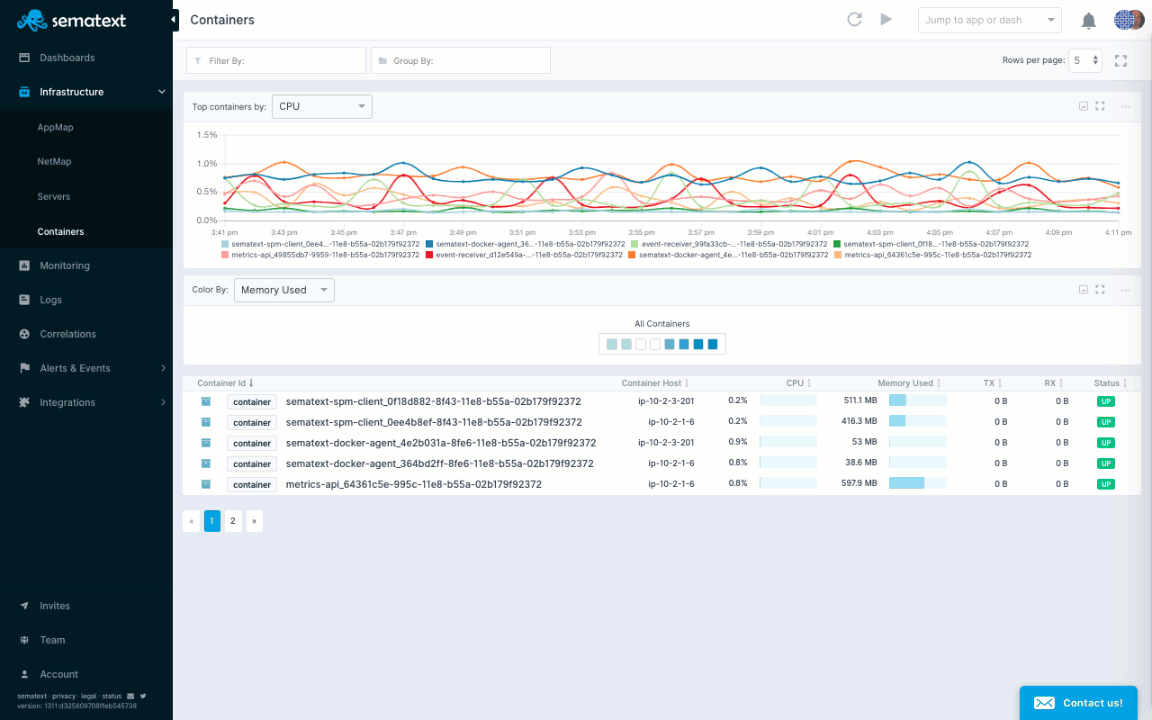 The new Containers view provides you with enhanced visibility into all your containers and their hosts, drawing your attention to the ones that need it the most.
The main view is very much like "top for containers" – applied across all of your containers and their hosts. You can sort containers by memory or CPU usage to find the hottest containers, or simply display the top N containers. The detail view of each container displays container metrics in real-time.
In containers table, the user can see basic information and metrics about each server and by clicking on table row user can expand it to get more details about the container. Thus, for each container user can view metrics, review information about containers grouped by tags like host, image name, pod name …
By using the heatmap, user can get an overview of a large number of containers at once and see if selected metric has a high value on any of the monitored containers or host.
Want to find out more about the new container view? Read our blog post. Can't wait to try the new containers view? Here is the direct link for Sematext Cloud USA or Sematext Cloud Europe.
---
Sematext Logs Elasticsearch API Extra Security
Sematext Logs Elasticsearch API Extra Security | July 2018
The Sematext API for log ingestion log search has always been compatible with the Elasticsearch API. On top of that, the Sematext API has always had additional security in place, for example:
HTTPS encryption on all Sematext data receivers
The API used the App tokens as index name, with the ability to generate multiple read-only or write-only tokens in the App settings. For example, somebody who needs to set up a log shipper really requires only the write-only token and doesn't need to know the read-capable token, which is needed only if you want to query logs via the API.

To further secure access to our customers' data we now require not just the App token, but also the API key for log searches via API. Importantly, note that you do not have to change any of your log shipping.
This change affects only access via read APIs, not write APIs. You can get your API key from https://apps.sematext.com/ui/account/api and, as you can see there, it can be regenerated at any time should it ever get compromised.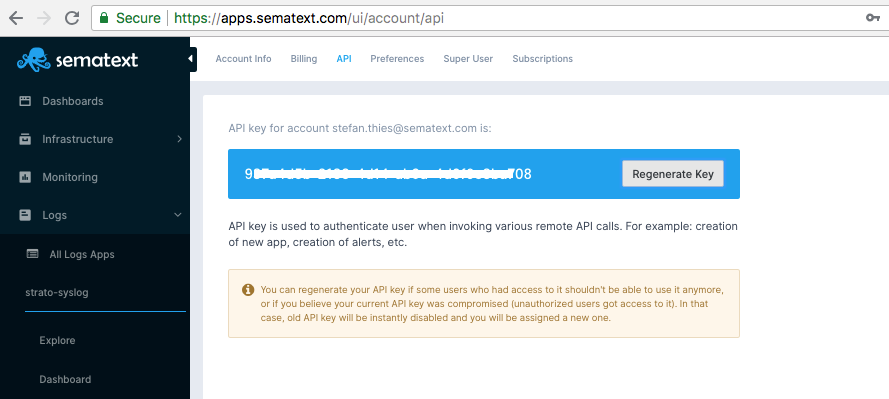 The following example shows a search request with curl using the new authentication header:
curl 'https://logsene-search.sematext.com:443/<APP TOKEN HERE>/_search?size=0&pretty' -H 'Authorization: apiKey <API KEY HERE>'
The API also supports HTTP Basic Authentication. Therefore third-party tools using Elasticsearch client libraries that use Basic Authentication with Elasticsearch can authenticate as well. The username is then the "apiKey" literal, and the password is the actual API key. Here is another example using curl with basic authentication:
curl -v -u apiKey:<API KEY HERE> '

https://logsene-search.sematext.com/

<APP TOKEN HERE>/_search?size=0&pretty'
---
Servers view is giving overview over host servers used by your apps. User can use GroupBy and FilterBy filters to decide which servers or group of servers he wants to monitor. There two main components for monitoring: table-view and heat-map.
In servers table user can see basic informations and metrics about each server and by clicking on table row user can expands it to get more details about server. Thus, for each server user can view metrics, review informations about docker containers on that host and review metrics and informations for apps on that host.
By using heat-map user can get overview over large number of servers at once and see if selected metric has high value on any of monitored servers.
---
Automatic Metrics Correlation
If you work with monitoring or monitoring tools much, you've probably seen the phrase "correlating" here and there. Correlation is what can help you find metrics with similar pattern and see dependencies between metrics even if you don't suspect they are in dependency relation. When troubleshooting, automatic metrics correlation is the easiest way to find root cause.
Automatic metrics correlation in Sematext Cloud work pretty straight forward: you select a metrics of interested, select time range and Correlation mechanism will find all metrics which have similar behaviour in the same time range. Similar spikes, similar trends, similar waves.
---
Dealing with log files or extracting data from various data sources is a daily task in the IT administration. Adding logtrail to Kibana gives users the "terminal experience", that experience of tailing and filtering log files like in the good old terminal that tons of people are used to and that many of us still love – typically black background, new logs appearing at the bottom of the screen instead of the top screen, simply way to filter logs and "jump" to various parts of the log stream.
To summarise this plugin enables you and your team to view, analyze and search log events from a centralised clean & developer friendly interface.
Log in to see for yourself and check it out….. or read our blog post to find out about a few more improvements we've made.
---