2020
We're excited to introduce logs in Chart Builder and hope you'll enjoy using it as much as we've enjoyed developing it!
This gives you new possibilities to draw charts using data from Sematext Logs. We've made Logs charting more powerful and easier to use. You can select counts or any numeric fields to chart data. You can also use mathematical operations and functions to apply transformations. As always you can filter, group, and roll up metrics by various criteria, as well as style them to your heart's content.
With variables, you can now dynamically filter and group charts by tags. This makes it even easier to drill down to issues when troubleshooting!
How do you start using Chart Builder for Logs? Two ways:
1. By editing any chart in your Logs Apps
2. By adding a new component to any dashboard or any report, as shown below
Charts you create with Chart Builder will be added to your dashboards and reports as dashboard components.
Stay tuned for more updates! We're currently developing new types of components for Logs and Metrics in Chart Builder.
Introducing Mobile Application Log Analysis for Android and iOS
With the new mobile application logs integration, you get out of the box insights into what your mobile apps are doing. By using the open-source iOS or Android mobile app SDKs you can collect your mobile apps' logs and use them for troubleshooting, analytics, and more.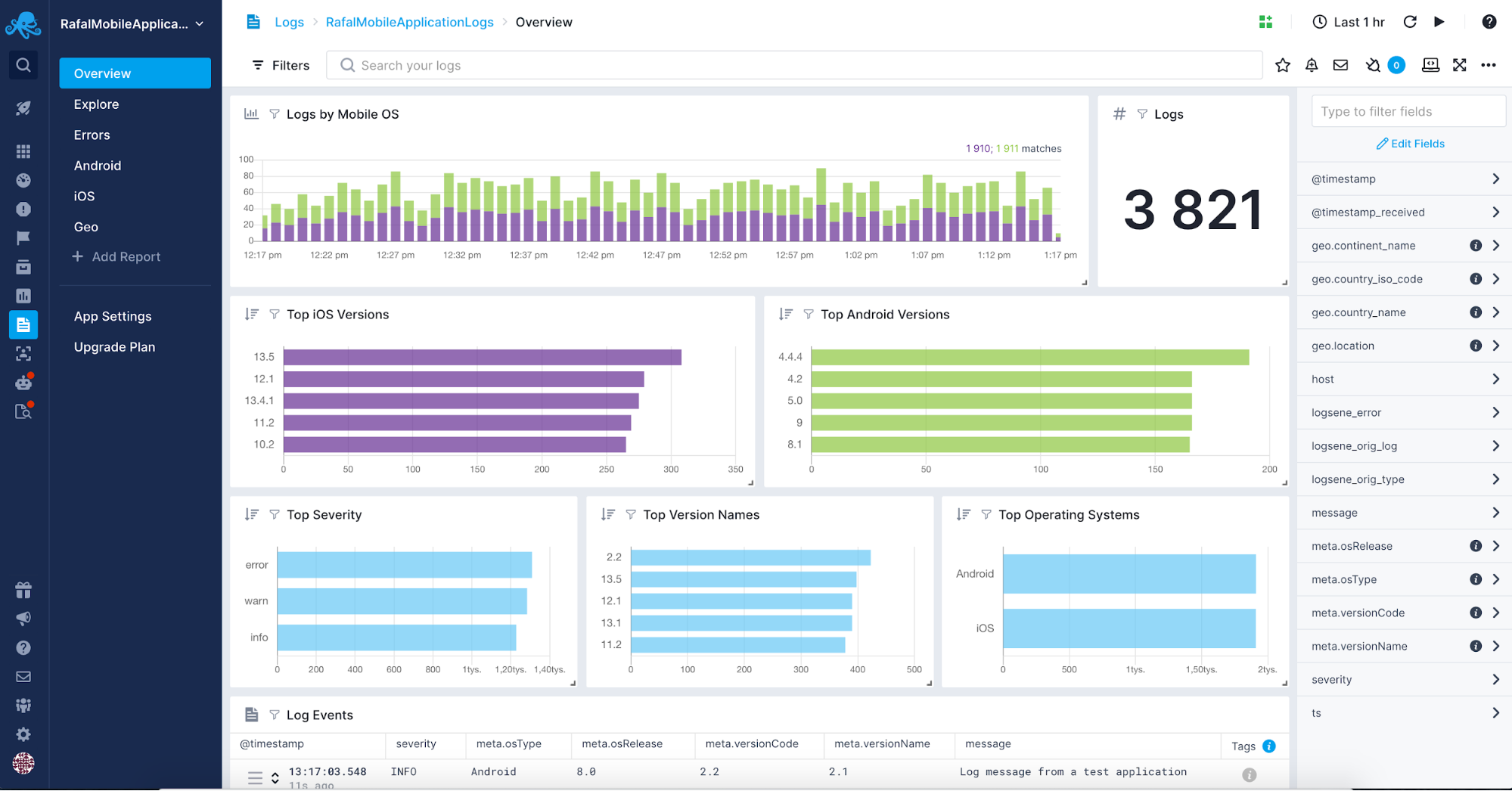 This integration includes a number of out of the box dashboards. There is a dashboard specifically for iOS and another one for Android. There is a dashboard for errors across both Android and iOS with several reports to quickly let you get the sense of error patterns, trends, and numbers. The overview report, which you can see above, is designed to be easily scannable and digestible and give you a birds-eye view of the health of your mobile applications. All data can be filtered and grouped by a number of tags, so you can easily narrow things down to a particular device type, version, geographical region, and more. Note that in Sematext you can create multiple Apps, so if you have more than one mobile app you could ship all their logs to a single App or multiple Apps in Sematext. It's up to you how you like to see and analyze your data!
Once you have your mobile app logs in Sematext you can create alerts on and be notified about unexpected errors and other types of problematic conditions that could otherwise be overlooked and lead to higher customer churn.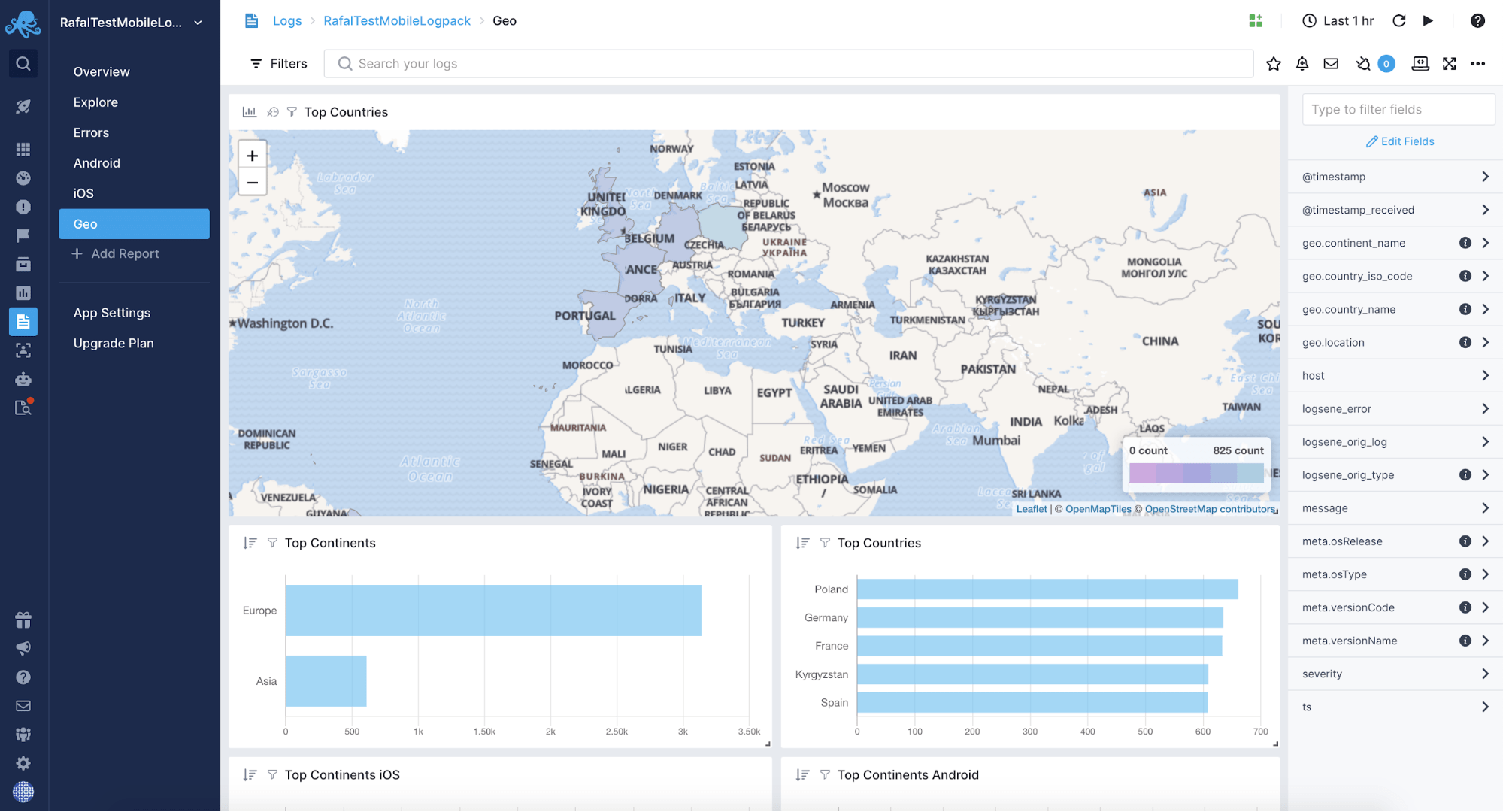 The Geo dashboard shows you where on the planet your mobile users are located. The location data is collected automatically if you enable that via Sematext mobile app SDKs and if users have their location services turned on, of course. The SDKs send latitude and longitude data and Sematext does the rest to show you users by country or continent…
Discovery is here: Automatically monitor discovered services!
Have you ever wished you could monitor your software stacks with zero configuration changes and no service disruptions?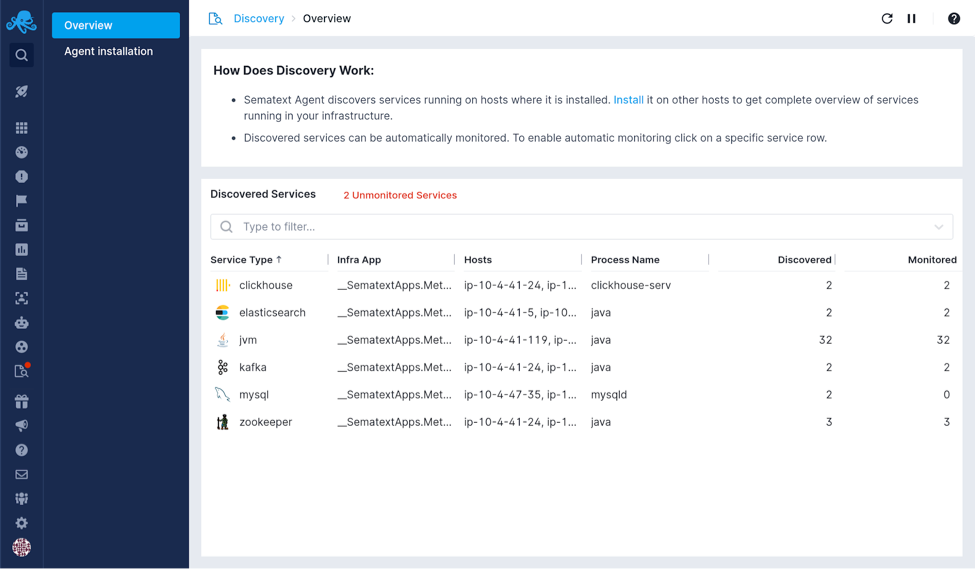 With Discovery, we automate the discovery and monitoring of your services regardless of their runtime target. It works across bare metal and VM environments, Docker containers, including Docker Swarm, and Kubernetes workloads.
We give you a simple way to monitor services with the click of a single button. Even in dynamic environments and with auto-scaling. Our monitoring rules ensure replicas are automatically monitored when you scale them up. Monitoring also stops as soon as those replicas are removed as a side effect of scaling down.
To see what we've discovered for you, make sure you have a
recent Sematext Agent
(or
Sematext Europe
)
and head over to
Discovery in Sematext
(or
Sematext Europe
) or learn about
Discovery
in the docs.