2019
Sematext Experience Anomaly Detection and Alerting
Monitoring the user experience for your website is not a one-time task. While you iterate versions of your website, constantly deploying new changes, you need to monitor the user experience throughout the process. Any new change could lead to a drop in the Apdex Score.
You can now configure alert rules for the Apdex Score in Sematext Experience! Creating an alert rule is easy, click/hover on the Apdex Score emoji, then click Create Alert.
Alert sources can be:
Page Load Apdex
HTTP Requests Apdex
Transaction Apdex
All alerts support filters such as Country, OS, Browser, User, URL, Device Type, or Connection Type. You can set the Apdex value for a threshold-based alert or the time window for anomaly detection. The alert notification is sent by email, or any chat ops integration such as PagerDuty, Slack, Nagios, BigPanda, Victor Ops or arbitrary web-hooks.
Not monitoring your website or web app yet? Try if free for 30 days in either Sematext Cloud US or Sematext Cloud EU.
Data Sampling in Sematext Experience
If you have a high traffic website or web app, we've got good news for you! With high-traffic websites or web apps you often don't need to track 100% of your website traffic. Taking a reasonable sample of the website traffic is often good enough to gather reasonably precise, valuable, and actionable insights. For those using Sematext Experience for monitoring high traffic websites or web apps, sampling may provide a good tradeoff between the loss of precision and cost reduction.
Configure Sampling in Sematext Experience If your Sematext Experience App is on the PRO plan you can now configure the sampling rate from 10 to 100% (default). Here's how:
Not monitoring your website or web app yet? Try if free for 30 days in either Sematext Cloud US or Sematext Cloud EU.
Reactive Grid Layouts for Dashboards
We love dashboards! Our goal is to help you troubleshoot faster and glean valuable insights from charts, counters, log tables, and more on a single screen, without losing track of your data. When you work with dashboards regularly you often find things to improve, often by resizing existing widgets, changing their placement, removing them, or adding new widgets. We had a look into various dashboard layout frameworks, each with a different approach to managing dashboard layouts. Here are the 3 most common ones:
Free placement of widgets.You can place any widget anywhere. When you start adding multiple widgets you start needing to move or resize other widgets. Because the placement and layout is completely up to you this process can be difficult and time-consuming.
Grid layout with rows and columns. You can place widgets by snapping them to grid cells. The layout might be limited to a defined number of rows and columns. Widgets always have the size of one or more grid cells in a row. Due to the fixed size of widgets, such a layout might waste a lot of precious space.
Reactive grid layout. Best of both worlds. You can easily place and resize widgets, while other widgets are adjusted automatically. A preview and automatic size adjustment help you drag and drop widgets quickly and precisely where you want them. The flexible widget sizing helps to create layouts with a higher density of information, using the screen optimally.
This reactive grid layout is exactly what you will now see your dashboards using! You can still save your dashboard layout, or revert any changes you made but don't want to keep. Have a look at the video and give it a try!

Reactive Dashboard in Sematext Cloud
Track User Satisfaction Trends with Sematext Experience
The Apdex score is a great metric for tracking user satisfaction for your website. In the initial release of Sematext Experience, our real user monitoring solution, we displayed a smiling, neutral or sad emoji.

Assuming you took the sad emoji seriously you have probably tuned your website to get more smileys.
Unfortunately, improving web performance is not that easy – many factors influence user experience. Therefore, we've added a new chart so you can see how the Apdex score changes over time. This Apdex score chart gives you much better insights into user satisfaction for your website.
Using the new chart for Apdex score over time, together with the page loads chart, you can discover a clear relationship between spikes in load times and decreased user satisfaction. You can also correlate changes in user satisfaction with your web app deployments or website changes.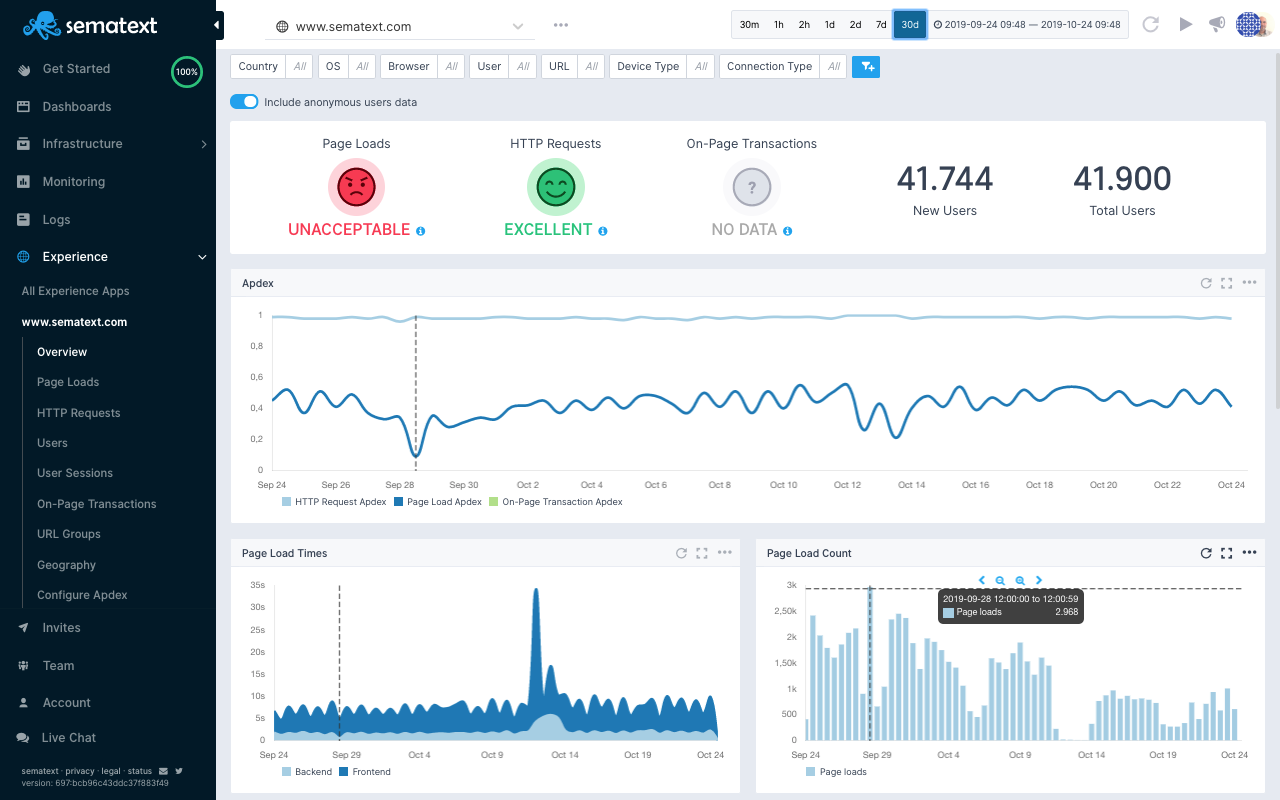 Apdex score chart and page load count in Sematext Experience
Compute, Network, and Storage Reports for Infrastructure Monitoring
Infrastructure monitoring gives you a complete overview of the storage, network, and compute metrics of your resources.
You can find network, storage and compute reports in the Infrastructure section. All new reports include event histograms and a sorted grid view displaying servers with the highest resource usage. Another addition is the ability to group and filter metrics by relevant tags.
Following metrics are available in the new reports:
Compute: CPU, memory, system load
Network: send and receive transmission rates
Storage: IO read, IO write, disk space used
Autodiscovery for Kubernetes and Docker Enterprise
Do you run Elasticsearch, Solr, Zookeeper, Apache Kafka, or any other App in Kubernetes, Docker Enterprise or Swarm?
Then you know that it could be challenging to set up monitoring agents to scale with your dynamic applications. Some challenges are configuring and discovering dynamic IP addresses, port numbers, DNS resolutions, JMX access options or database credentials.
If you've ever wondered how to use Sematext for monitoring services running in containers, we've just made that incredibly simple. We've completely revamped the agent instructions to make them easier to follow with copy-paste-execute commands for all popular Sematext monitoring integrations. Instructions for running services in plain containers, Kubernetes, or Docker Swarm are all available.
The new autodiscovery feature in the Sematext Agent automates the deployment of application monitoring agents completely.
The first time you set up monitoring for an App, you add labels or annotations to your App containers with the monitoring token and any other optional properties for configuring the Agent.
The Sematext UI displays the copy/paste instructions for your App containers and Sematext Agent covering:
Docker
Docker Enterprise / Swarm
Kubernetes / OpenShift
Helm
Real User Monitoring with Sematext Experience
You can now use Sematext Cloud for user experience monitoring as well. New Experience Apps collect data directly from your website or webapp visitors and give you a complete picture of their experience and satisfaction. Monitoring your infrastructure and processes that run on your side gives you only half the story about how users perceive the performance of your website or single page app when they access it through their browser or mobile device.
Do you use your website to sell products or services? Website visitors are more likely to leave if your site is performing poorly.
Do you have a SaaS product? Your web app performance will directly impact your customers' satisfaction, and therefore the adoption of your service.
Maybe your customers from North America are happy with the website performance, but customers from EU or Asia might have a completely different experience.
Browsers, network connectivity, operating systems, geographical location all influence your website performance and by getting the measurements directly from your visitors you can be sure that you are not missing any data you need to make your website perform better.
Experience Apps have support for both websites and single-page apps built with React, Angular, Ember.js, Vue.js and other frameworks. We track page loads, HTTP requests, user profiles, and sessions, and very soon crash reports as well. You can read the announcement or the documentation for more information, as well as start using Experience in Sematext Cloud US or in Sematext Cloud EU.
For more information, take a look at the Sematext Experience demo and dive into some of the features we offer in our new real user monitoring.
Visualize Any Metric with New Custom Charts
Monitoring integrations come with a predefined set of charts and dashboards. Great if you want to get started quickly and don't really know which metrics you should be monitoring or don't want to spend time building charts and dashboards from scratch. Now, in addition to these out of the box charts and dashboards you can also craft completely custom charts for monitoring your applications using all available metrics. These charts can be added to dashboards to visualize your infrastructure and application behavior.
Custom charts give you full control over how you want to visualize your data. Some data series are easier to analyze when presented as bar charts, others are better rendered as line charts. You can also customize colors, line styles, stacking, and more. It's all to make your monitoring easier. You decide which presentation method gives you the most power. Ship metrics to Sematext with input format compatible with Influx and build your own dashboards with any metrics by its name. Imagine you want to correlate CPU and memory usage. The easiest way to see the correlation is to draw CPU and memory usage on the same chart/ CPU usage is expressed in percentages while memory is measured in bytes. No worries – just configure two Y-axes units and assign CPU usage to one and memory usage to the other Y-axis, as shown in this short video:
Do you want to group data series by hostname and sum them up to get total memory usage in your cluster? Just pick the tag to group by and the aggregation function. Do you want to see memory usage of each host separately? That's just as easy: pick a grouping tag and no aggregation function ('all separately').
Custom charts are a beta feature for now. Over the coming weeks you'll be able to:
Perform math operations on your data. For example, you'll be able to create a data series derived from two or more metrics.
Use filter variables, so all charts on the dashboard can be controlled interactively with a single click without the need to change each chart configuration separately.
Use the query editor if you prefer typing over clicking to create your charts.
Building charts that combine logs counts and metrics on a single chart.
…
Introducing Core Infrastructure Monitoring
Core infrastructure monitoring with Sematext just got better. How? The new agent collects container metrics and events just like the old agent, but it also collects Kubernetes metrics and events. As a result, you can now see a number of Kubernetes dashboards out of the box.
You can now
identify processes that use the most resources
, whether CPU or memory, across your entire infrastructure. Forget about ssh-ing to machines and running top. In Sematext you can see the hungriest processes right now, but also their behavior over time. Processes running in containers are also monitored, giving you visibility inside containers as well. The new
inventory monitoring
captures information about installed packages, their versions, operating system information, Linux distributions, and many other useful bits. Package install and uninstall events details are also captured, so you can always trace who changes what, where, and when. Using Sematext you now have a place where you can identify outdated packages, packages with vulnerabilities, groups of servers with identical sets of packages as well as those machines that you thought have the same setup but in fact don't, and more. Network monitoring was rewritten to utilize eBPF whenever possible instead of relying on network packets. This new implementation has almost no overhead. The agent was rewritten in Go, shedding the need for the JVM, resulting in smaller CPU and memory footprint. All of the above-mentioned reports are a part of
the new type of Monitoring App we are calling Infra App
. You can have any number of Infra Apps in your Sematext account, though most people will have one Infra App per monitored environment. For example, you might create one Infra App for monitoring all of your production applications and infrastructure and another for monitoring your staging environment. Learn more about
infrastructure monitoring
.
Introducing Sematext Operator for Kubernetes Monitoring
Do you know how many different Linux distros you are running in production? Do you know which ones you are running and their versions? How can you tell which version of openssh is installed on your servers? Or maybe you are running several different versions and you can't really easily check that? Do you know if you are running any software with known vulnerabilities?
With Sematext's new
Inventory Monitoring
you can now answer such questions with ease. The new infrastructure Inventory gives you information about your operating systems, Linux distributions, hardware specs, installed packages, log files, and more. The agent also detects package installation and removal events. Your
event stream
shows which packages were installed, removed, or updated, by who, where, and when. All inventory data is collected by the Sematext Agent and is part of core infrastructure monitoring. To start seeing your inventory information in Sematext be sure you are running a recent version of
Sematext Agent
. For more info check out
inventory monitoring documentation
and the
official announcement
.
Real-time Process Monitoring
You can now use Sematext for real-time process monitoring. With process monitoring you gain real-time visibility into which processes use the most CPU or memory, whether they are running inside containers, in cloud instances, your own VMs, or bare-metal servers. To start collecting information about processes make sure you are using a recent Sematext Agent. For more information see process monitoring documentation and the official announcement.
You can now control during which times of the day and which days of the week alert rules are active or inactive. By default an alert rule is active all day, every day. The new alert scheduling lets you pick, for each day of the week, one or more time slots when the alert rule is active. Each alert rule can have its own schedule. Each day of the week can have different times when an alert rule is active. You can have different schedule Monday to Friday vs. Weekend, for example. The alert schedule can be modified at any time and it comes into effect immediately. Have a look!