2022
Multiple Device Types for Synthetics Browser Monitors
Thus far, you could use our Synthetics Browser monitors to see how your website would look and perform from a Desktop user's point of view. We are happy to announce that you can now simulate Browser monitor runs from a bunch of other devices, such as various mobile devices (e.g., Apple's iPhones and Samsung's Galaxy series) and tablets (e.g., iPads and Kindle Fire). The screen where you create Browser monitors has also been overhauled – it now includes the dropdown which lets you pick the device type for your monitors, and it also gives you the option to create multiple monitors with different names, devices and run intervals at once. This lets you quickly set up multiple monitors which will monitor the look and performance of the same URL or User Journey Script using different device types, which in turn lets you see how your website will look and feel for your users on different devices.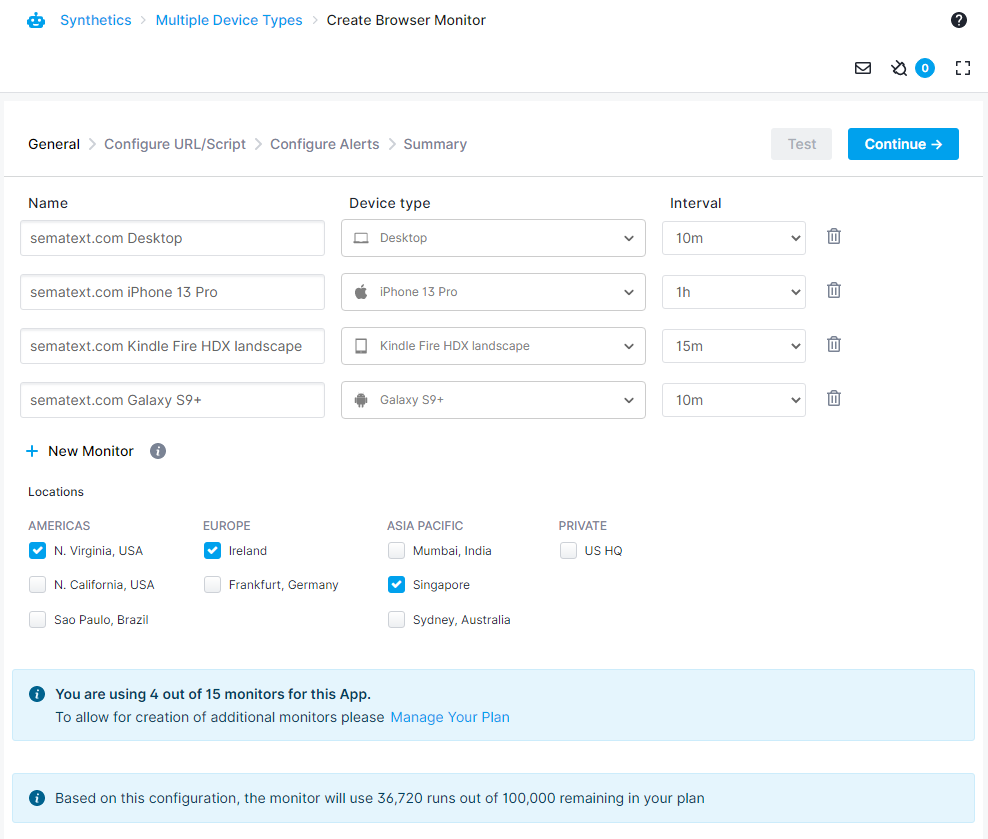 Once you configure the URL or User Journey Script and the Alerts for the monitors, the new monitors will be created and displayed in the monitor overview screen. To help you quickly identify which device a monitor is using, we've added icons in front of the Browser monitor names which correlate to their chosen device type (such as Android or iOS), while the exact device name can be seen by hovering over the device type icon.

ServiceNow notifications are here!
ServiceNow has been added to the list of available alert notifications hooks. The new notification hook enables you to connect your ServiceNow Scripted REST API with Sematext Cloud notifications so you receive alert notifications originating from Sematext in your ServiceNow app.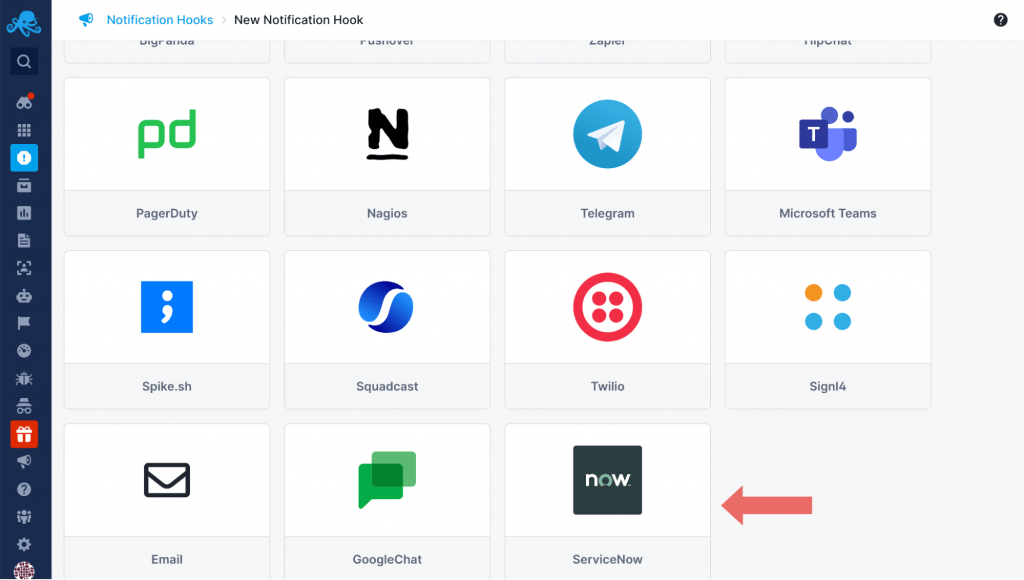 For more information about how to configure ServiceNow notifications have a look at our docs.
Github <> Sematext Sync for User Journey Scripts
Up until now you could add User Journey Scripts to Sematext directly, via the Sematext Synthetics UI. But we are happy to report that you can now also synchronize your GitHub repositories with Sematext and get your User Journey Script in without any manual work once you set it up. This new functionality lets you manage your scripts with GitHub, author and modify them with your preferred editors, benefit from version control, and automate their publishing to Sematext without doing any extra manual work, like typing or pasting them in.
How do you do this? It's super simple, and outlined in Sync User Journey scripts from GitHub to Sematext docs. Enjoy!
Converting to a Team Account
Ever created the perfect monitoring setup on Sematext Cloud with a trial account? Was the setup so good you wanted to use it for work but unfortunately all the Apps and dashboards were set up with your personal account? Or perhaps you used your work email, but now wanted to share everything with your teammates so they, too, can not just look at what you've done, but also contribute with their dashboards, alert rules, and everything else that you need to have access to as a team. Well, we have some good news – the new team account conversion functionality solves these issues.
Simply go to Settings and choose the new Convert to Team Account option.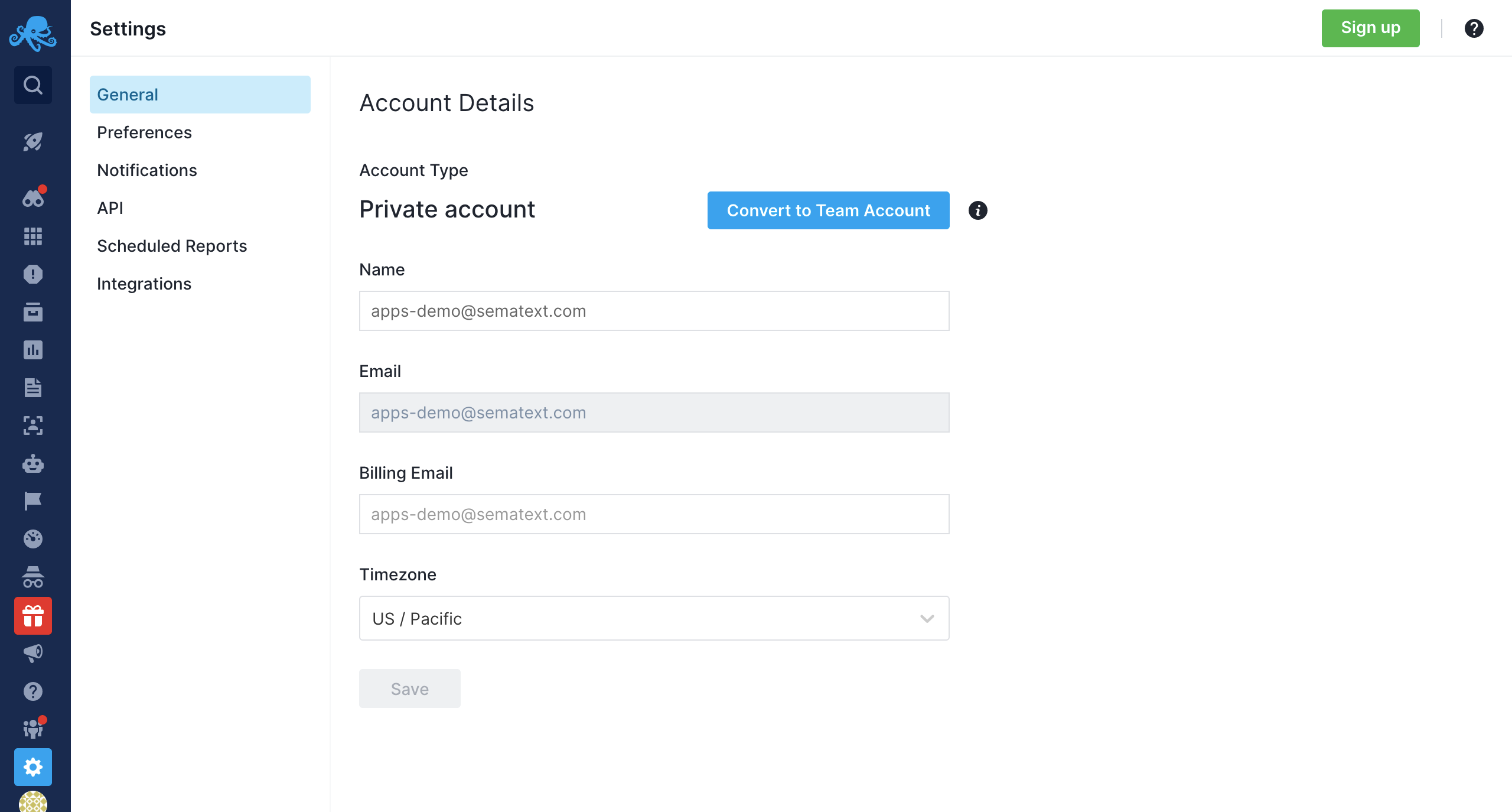 Enter the team account address and follow the steps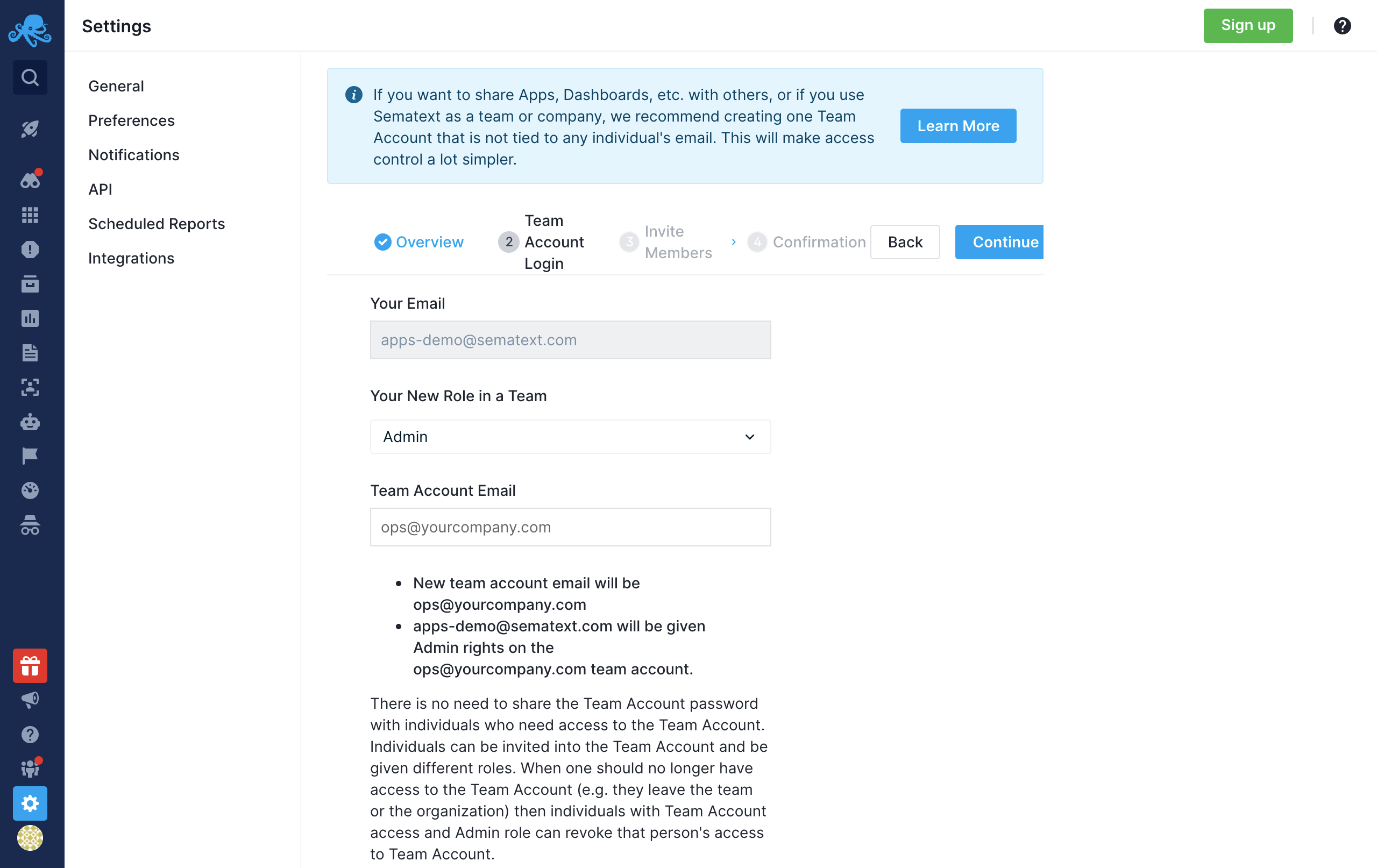 By following the steps and adding information about the new account owner, you can fully transfer the ownership of the account. Your old account automatically gets added as an admin in the new account. It's important to note that all the data from your old account will be transferred to the new one, so remove anything you don't want on the new account before initiating the account conversion.