Network Performance Monitoring
Your whole infrastructure network topology at a glance
6,000+ companies have used Sematext Cloud
Get Actionable Insights Faster with Sematext Cloud Try it free now.
Network Performance Monitoring
Sematext Integrated network monitoring tools provide you with a real-time map of all your servers and containers. In addition to auto-discovery and collection of communication data such as receive and transmit rates, aggregate and segmented by port. Sematext enables you to:
Visualize complete network infrastructure through dynamic network maps
See real-time network receive and transmit rates and ports used
Explore network topology maps with zooming, panning, and filtering
Filter out uninteresting endpoints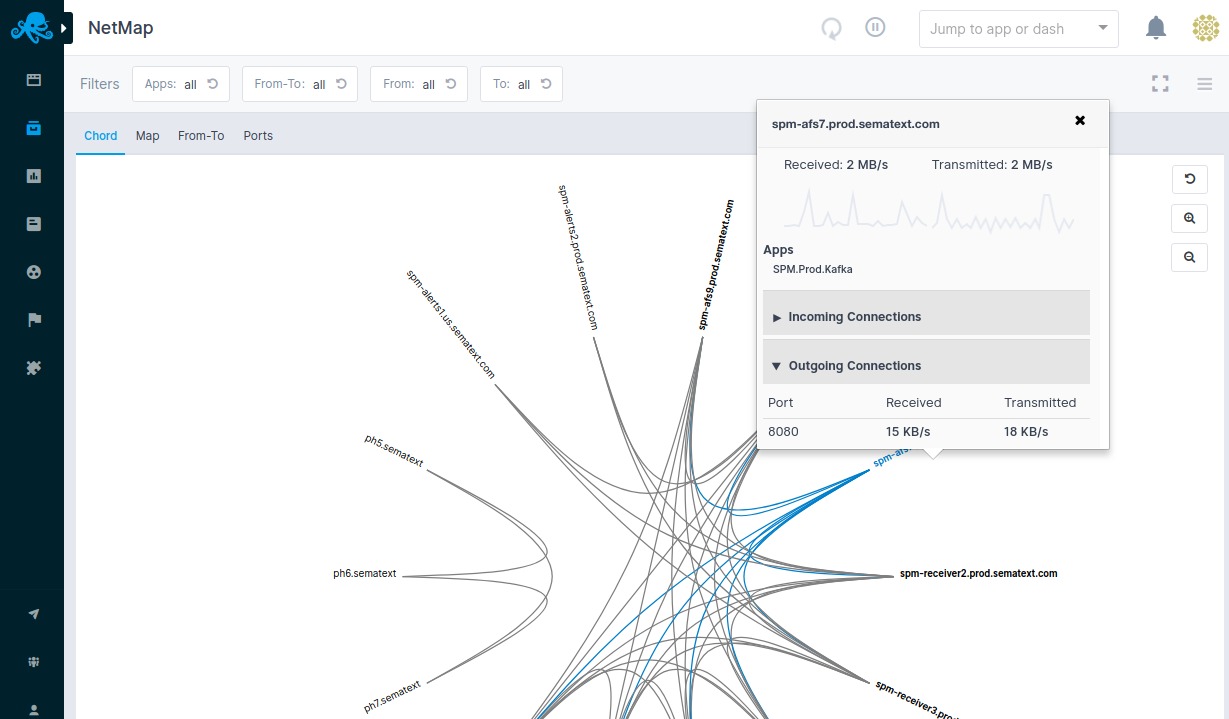 Catch network infrastructure issues before something breaks
Sematext Network Monitoring helps you track bandwidth and asset utilization
---
Monitor and Alert on Network Health
Monitor your network performance metrics and get alerted on key issues before they turn into emergencies.
Discover Hidden Network Dependencies
Find network dependencies in your infrastructure and dependencies on external services.
Find Top Bandwidth Consumers
Find who uses the most incoming or outgoing bandwidth to improve your network performance.
Spot Potential Security Threats
See communication on a per-port basis. Find ports that should not be opened and reduce risk.
Minimal Overhead
Network data is collected extremely efficiently at kernel level and does not involve expensive packet capture or analysis.
Deployment Flexibility
Works whether your infrastructure is set up on premise, in the cloud, or hybrid.
Increase Team Efficiency
Cut out complexity in your monitoring tools and increase your team's efficiency by identifying bottlenecks in real-time with an all-in-one monitoring solution like Sematext Cloud.