Use Case Focused Elasticsearch Online Training Classes to Fit Your Exact Needs
Radu Gheorghe on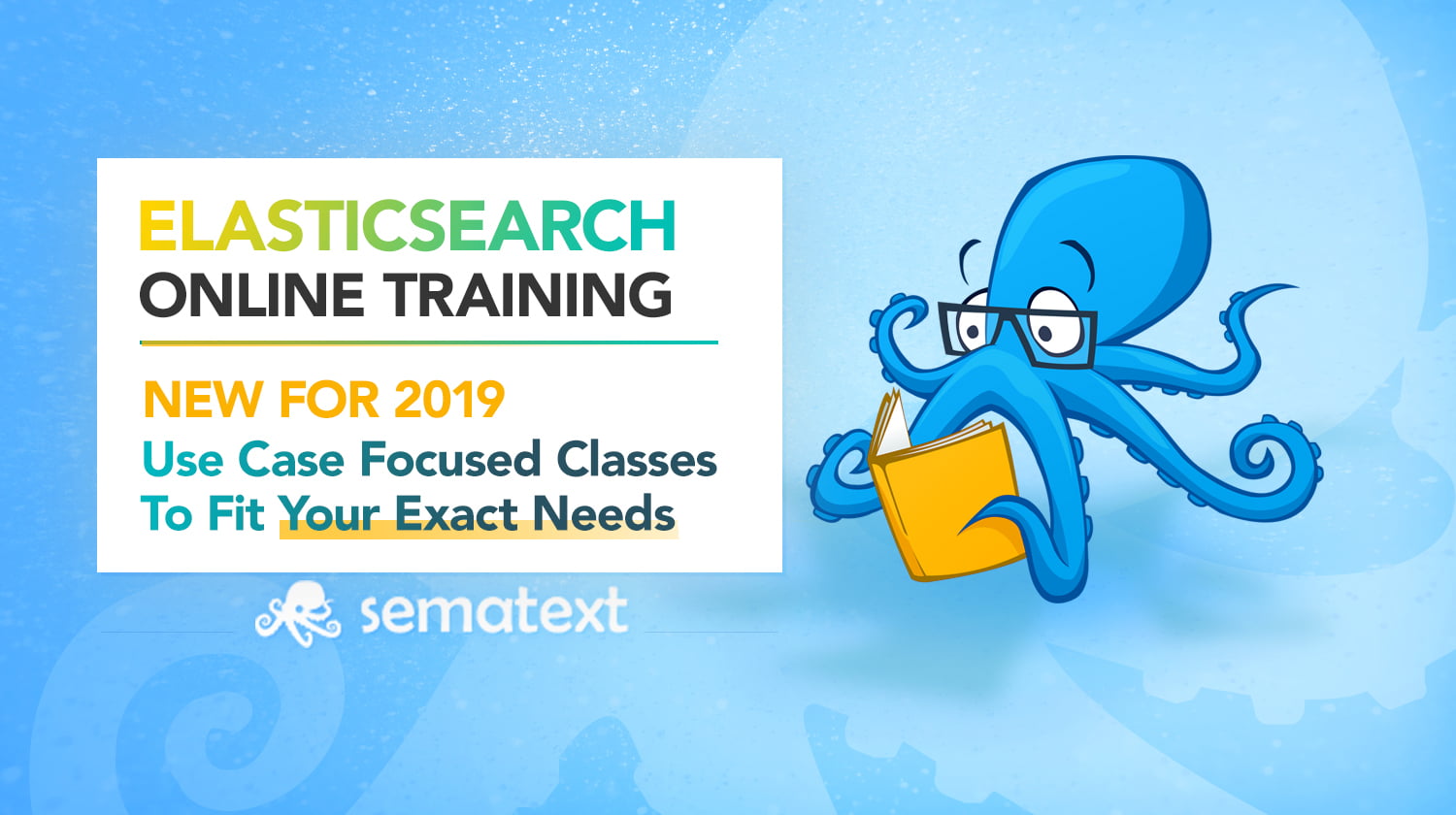 We've been working with Elasticsearch since its inception, either with clients on consulting for Elasticsearch products and Elasticsearch production support, or by building our own hosted log management solution. For the last 4 years, we've also been sharing our knowledge through Elasticsearch training classes. In 2018, we had remote public training classes on a fixed quarterly schedule, so you can more easily plan your learning time and budget.
For 2019, we're introducing something different: à la carte Elasticsearch training classes. You get to pick from a wide range of short (2h), use case focused classes to fit your exact needs. More efficient learning, needing less of your time and making better use of your money. Let me explain how.
The big classes: Intro, Advanced, Ops and Logging Elasticsearch Training
We've been doing the typical 1-day (8h) class for a while now. You'd typically attend those based on your current knowledge and role:
These classes work well for on-site training classes, whether public or for a specific company. For remote classes (public or private), we noticed some differences:
The typical trainee has a different motivation: to solve a specific problem. Even when the declared objective is to "learn more about Elasticsearch", they often already started or joined a specific project with specific needs
Because they come with a specific use case in mind, participants may have trouble absorbing information not relevant to their (current) needs
Similarly, people don't like paying for info not (currently) relevant to them, nor to make room in their schedule for it
Scheduling training time looks different as well: because there's no travel overhead that requires planning and context switching, participants are often expected to continue to perform their daily tasks. With that in mind, training for 4 or 8 hours on consecutive days is difficult, taking a toll on how much information can be absorbed
Introducing smaller, use case focused Elasticsearch training classes
For 2019, on our remote training schedule, we are providing 2h classes. Each of them helps you solve a specific problem rather than provide you with general knowledge. Check out the upcoming ones below:
Upcoming Elasticsearch Classes 2019
* All classes are online
Here are some of the things you'll like about these new classes:
Each class is focused on a specific learning need. Want to learn the fundamental concepts and mechanisms? We have a class for that. Want to set up Logstash and Kibana for centralized logging? One class. You're already advanced and want to scale Elasticsearch like a pro? One class for that, too.
You can pick your own learning path. For example, if you have an Elastic Stack PoC on your laptop and want to move it to production, you'd probably want the Scaling 101, Monitoring and Administering classes. 3 months later, you could be at a larger scale, so you'll benefit from Scaling 202 and Tuning 101. This way, you'll absorb knowledge at your own pace, based on your own needs – a more efficient way to learn
They are more affordable. You can now set up an ELK Stack and have a good foundation with $400: Elasticsearch Fundamentals + Introduction to ELK. Meanwhile, Intro to Elasticsearch and Elasticsearch for Logging add up to $1600. Sure, you get more knowledge for your money, but you may not need that knowledge right now. Smaller classes offer more flexibility and, more importantly, you're done in 4 hours instead of 16. Time is money!
You get the same high-quality training as before: demos, exercises, battlefield-derived tips, materials for further reference. All in a small class that allows you time for questions.
What's next
Are you ready to master your Elasticsearch use case faster? Then have a look at our classes and choose the problems you want to solve. Remember to save your seat, as seats are limited: we leave room so you can get your questions answered!
Got any questions or suggestions regarding our training program? Just drop us a line at training@sematext.com or hit us @sematext! We hope to see you in the virtual classroom this year!