Uptime is the metric that measures perhaps the most critical aspect of your business, its availability. If you think about it, having a website that does many really cool things, paying tons of money on ads to bring people to it, and even spending all those hours on making your website look great won't amount to anything if it doesn't work. Furthermore, according to a study made by Google, even a one-second delay in loading your site can cause conversions to go down by 20 percent. Luckily there are many ways to track your uptime, from open-source to closed-source, free to enterprise-grade, and pretty much anything in between. To help you get started, in this post, I'll review some of the best uptime monitoring tools available today.
1. Sematext Synthetics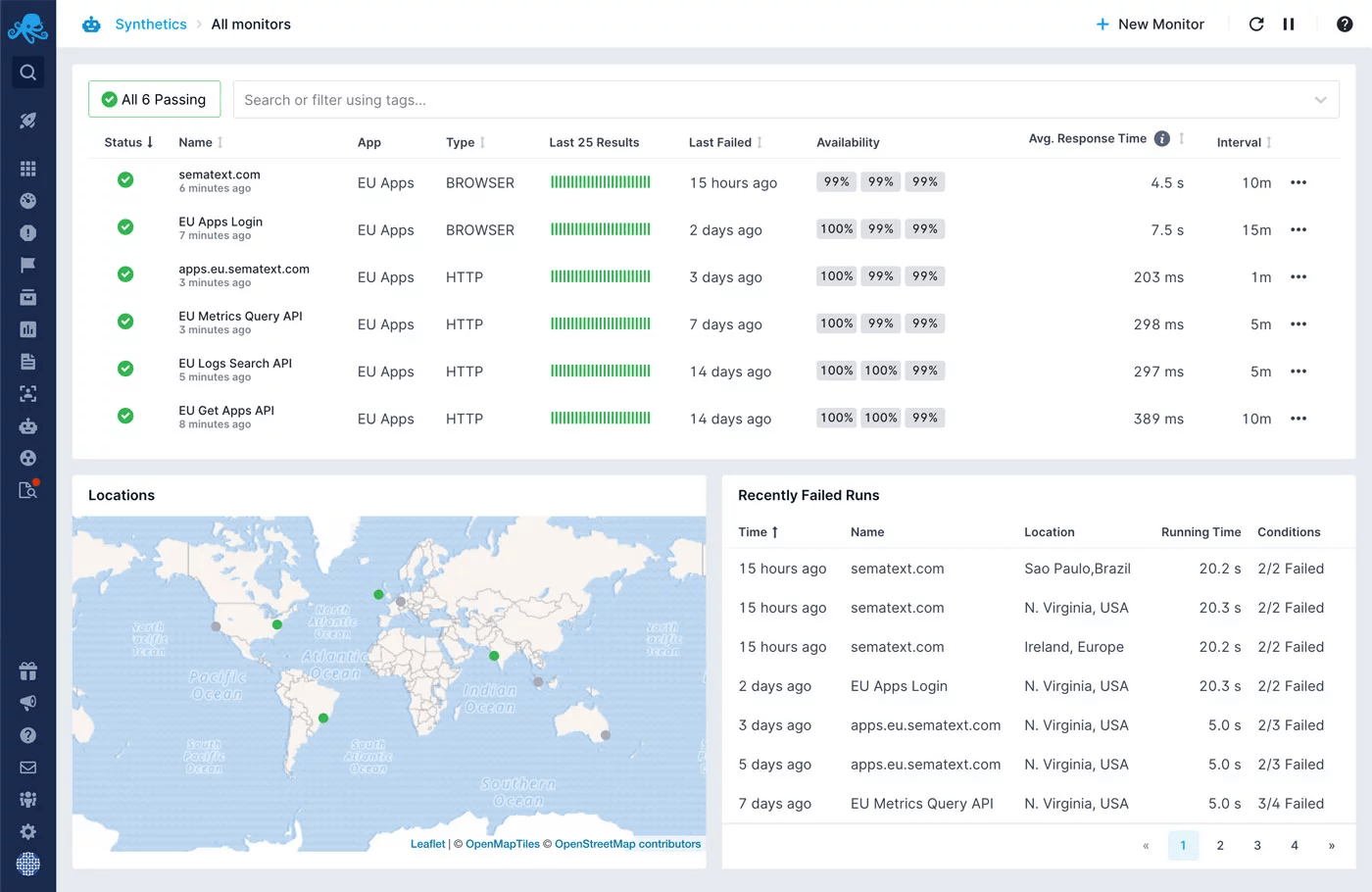 Sematext Synthetics offers a powerful website uptime monitoring tool that allows you to track resources from multiple locations, track network timings across all layers, monitor APIs and private networks behind firewalls. With an intuitive UI and customizable alerts, Synthetics features advanced capabilities covering SSL monitoring, customizable status pages, alerting, detailed incident reports, among many others. With a competitive price that starts at just $2/month with the Pay-as-you-go plan and a commitment-free, 14-day trial, Sematext is one of the tools that you will definitely want to try out. Check out this video to learn more about how Sematext Synthetics can help avoid site downtime:
2. Uptrends
Uptrends gives you a straightforward method of monitoring your uptime, performance, and accuracy of your websites and APIs while performing tests from 226 checkpoints worldwide. You'll be alerted whenever there's an issue with your availability and, to add a little more transparency, Uptrends offers a public status page that you can customize with your logo and color scheme to keep your users informed. You can choose between 3 simple plans that start at $17/month, and you get 10 monitors, RUM and synthetics, uptime monitoring, status pages, and SMS, email, and push alerts.
3. Uptime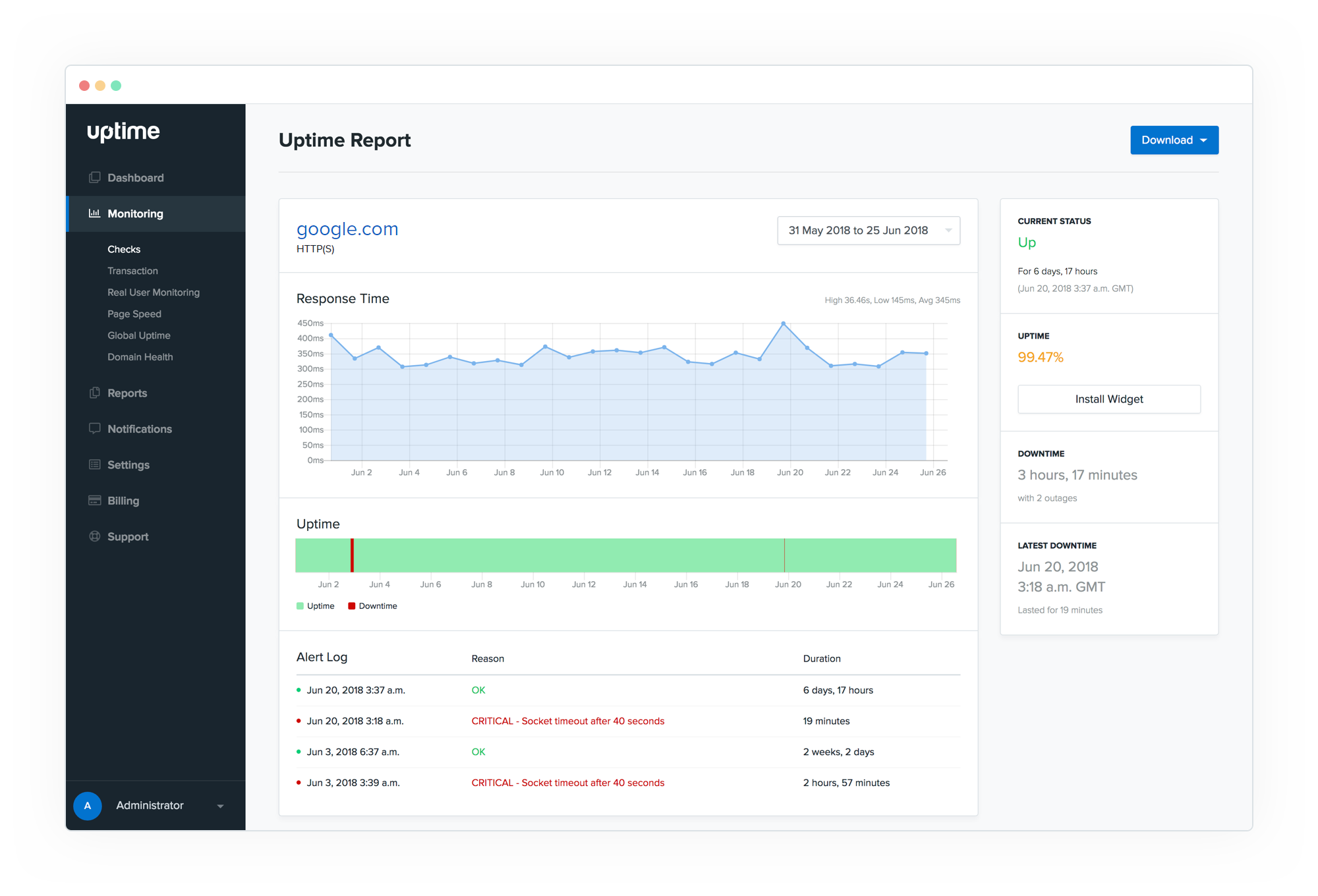 Uptime, not to be mixed with uptimerobot.com (which I'll cover a little later), is a monitoring tool that lets you check your website, server, and APIs. Their suite of products includes synthetic monitoring, page speed monitoring, real user monitoring, server monitoring, and many other services. Uptime enables you to run 1-minute intervals checks from locations across 30 different locations. Their plans start at $16/month, and you get 10 checks included with 60 monthly SMS credits.
4. Site 24×7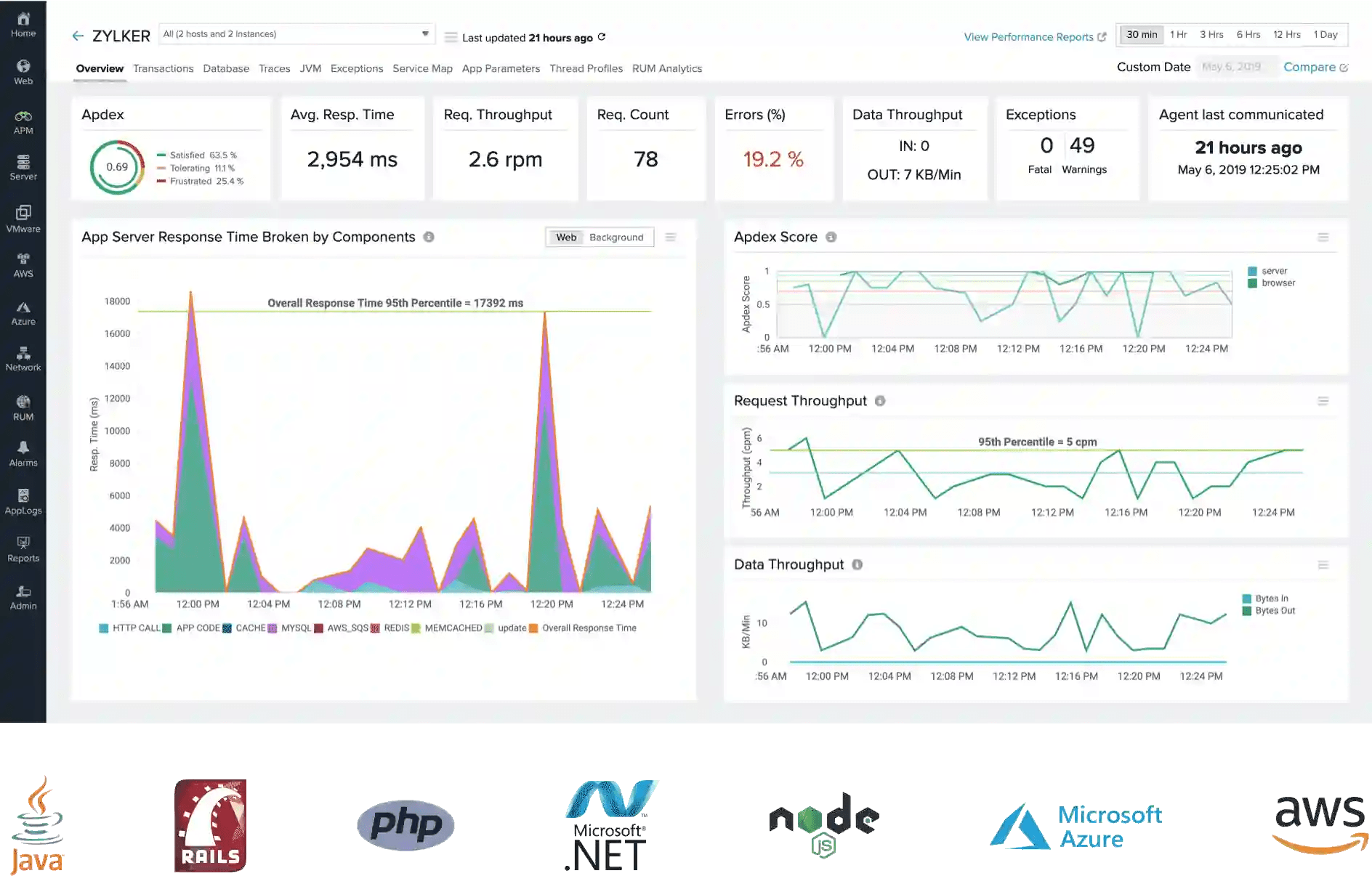 Site24x7 is an all-in-one monitoring solution offering a suite of products that can help you monitor your website, server, and application. Their uptime monitor will run checks on your website at 1-minute intervals from over 110 locations around the world. Besides the regular uptime and availability report, you'll also gain access to a "busy hours" report. Based on it, you can prepare your backend and infrastructure to handle the traffic better. Site24x7 has simple pricing that starts at $9 a month, for which you get 10 website or server monitors, 3 status pages, 500mb logs, and more. They also offer a generous 30-day free trial without asking for a credit card.
Want to see how Sematext stacks up? Check out our page on Sematext vs Site24x7.
5. Uptime Robot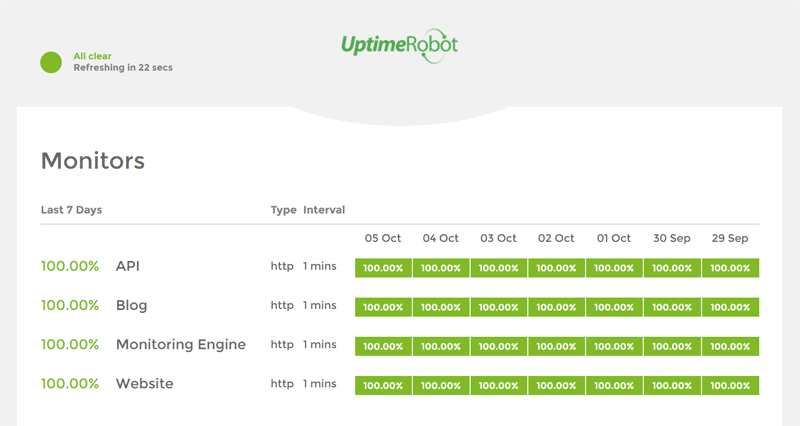 Uptime Robot offers an uptime monitoring solution that comes with response time monitoring, ping monitoring, port monitoring, among many others. It shouldn't be confused with uptime.com. While they are different services altogether, they have some similarities besides the name, like the almost identical pricing. Uptime Robot has a free plan that gets you 5-min checks for 50 monitors. Their Pro plans start at $15/month and offer SMS alerts, SSL certificate monitoring, cron job monitoring, and a hefty 24-month log retention period. Want to see how Sematext stacks up? Check out our page on Sematext vs Uptime Robot.
6. Pingdom Speed Test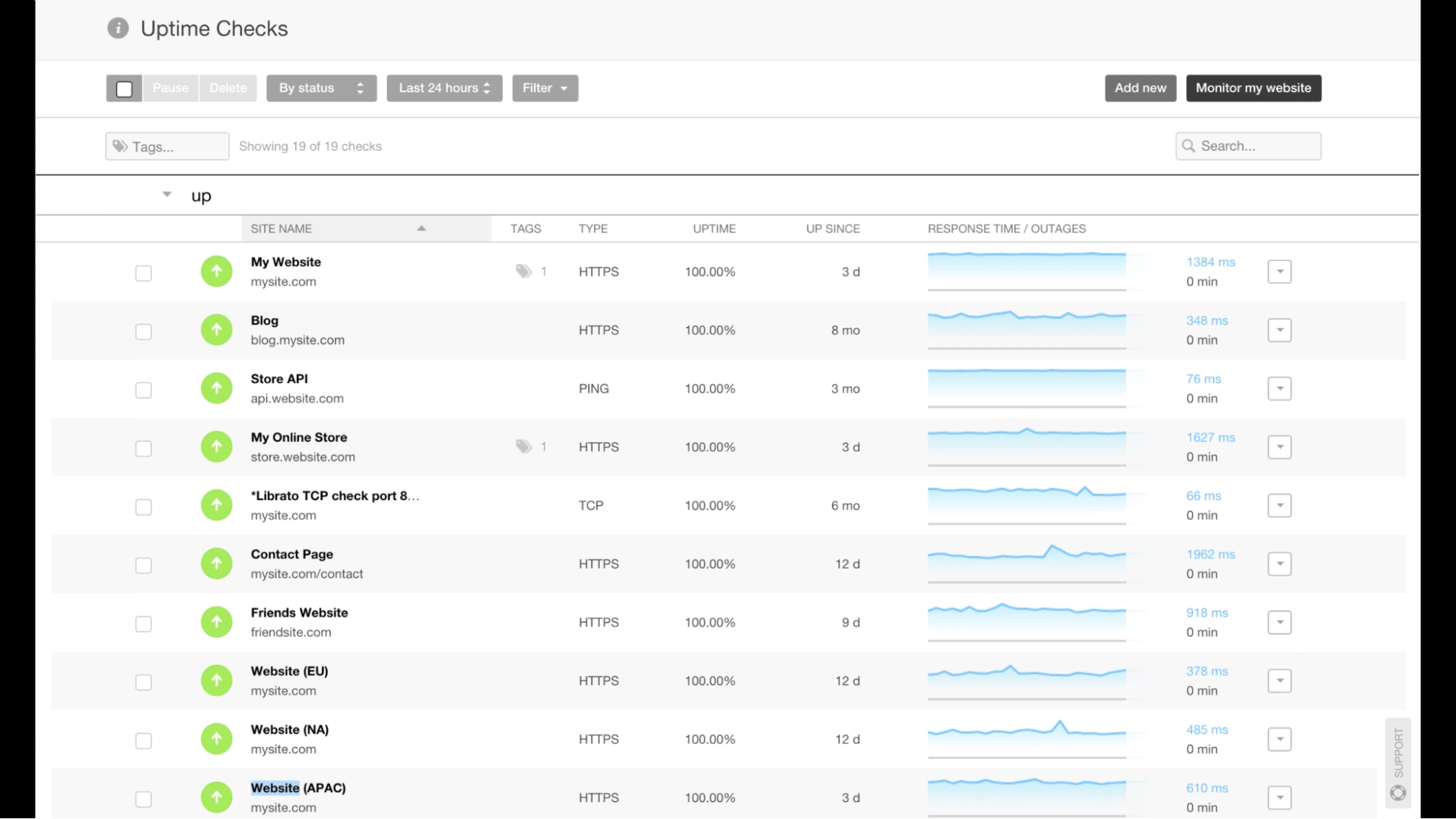 Pingdom is a popular uptime monitoring solution that has been around for many years. It allows users to monitor their website from over 100 locations around the world and get alerted the second it stops working. Pingdom offers their customers a simple status page that can be customized with personal brands and can display relevant checks only. The Pingdom status pages are free for all their customers, and they can be set up in less than 10 seconds. Pingdom's plans start at $15/month and offer 10 uptime monitors, 1 advanced monitor, and 50 SMS credits to use as alerts. Before you commit, you can also take advantage of their 30-day free trial. Want to see how Sematext stacks up? Check out our page on Sematext vs Pingdom.
7. Datadog Synthetics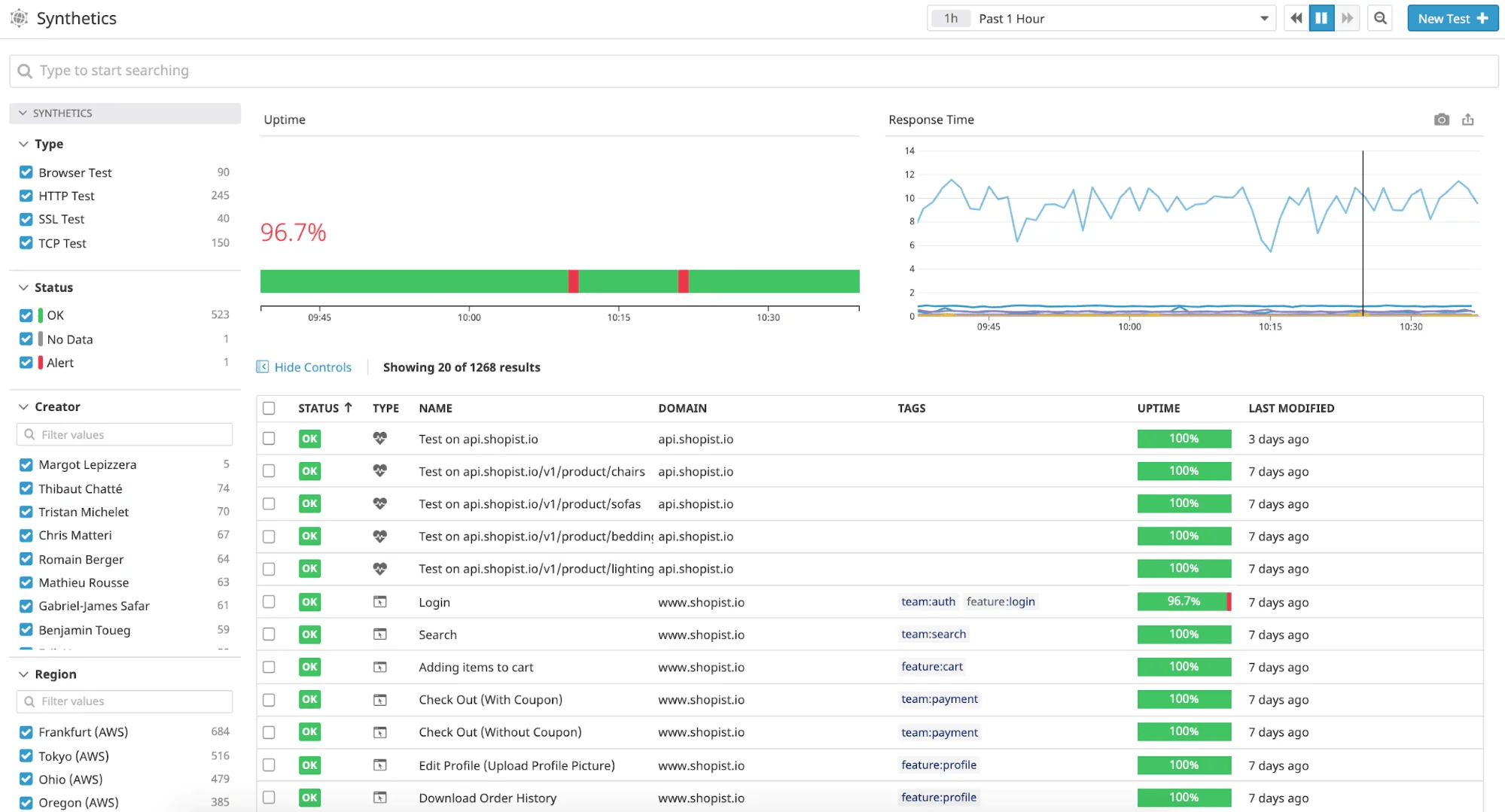 Datadog Synthetics monitors the uptime of your websites and applications, making sure to alert you whenever the performance dips or the service goes under. You can set up monitoring to work from their many different locations around the world as well as have it monitor from your private locations. Datadog Synthetics starts at $7 for every 10k tests run every month. You also get to track SLAs and SLOs, uptime, and latency, and you get complete control over the frequency of your tests. Before you jump the gun, they have a 14-day free trial to look around. Want to see how Sematext stacks up? Check out our page on Sematext vs Datadog, as well as our comprehensive comparison between Datadog and its top competitors.
8. Better Uptime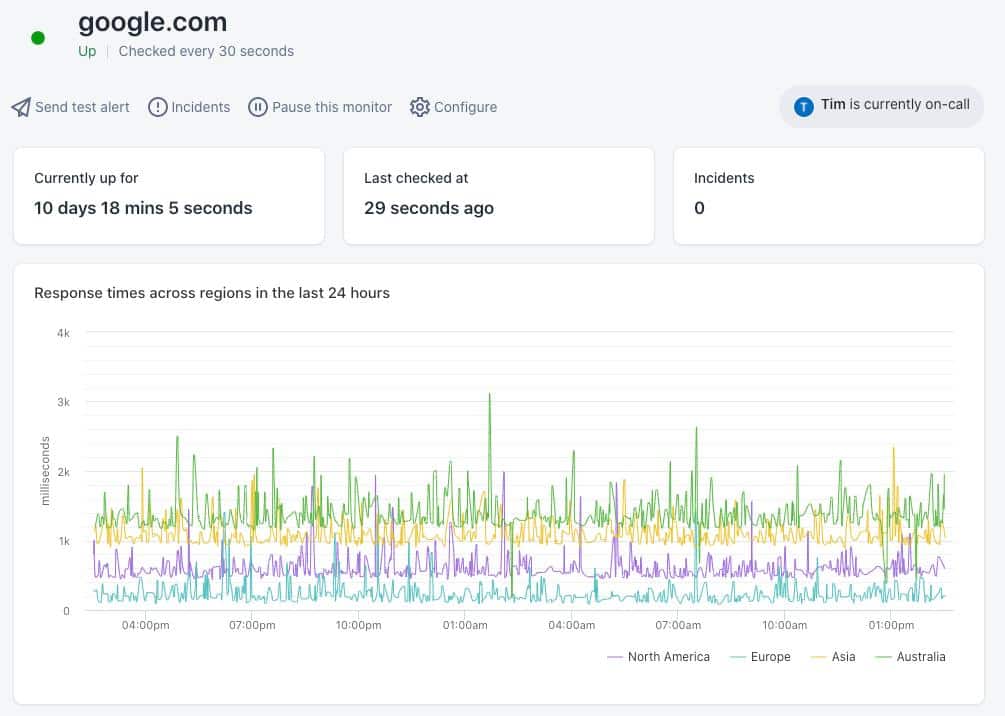 Better Uptime monitors your website with 30-second intervals and alerts you the second it encounters an error. The alert contains a detailed screenshot that provides all the needed information to get to the root of the issue. Better Uptime features an incident management system built in that will try to avoid false incidents reports by retesting each reported issue 3 times. Better Uptime has simple pricing that includes a free tier which includes free email alerts, 3-minute checks, and 10 monitors. Their pro plans start at $30/month, getting you 30-second checks, 50 monitors, and unlimited phone calls.
9. StatusCake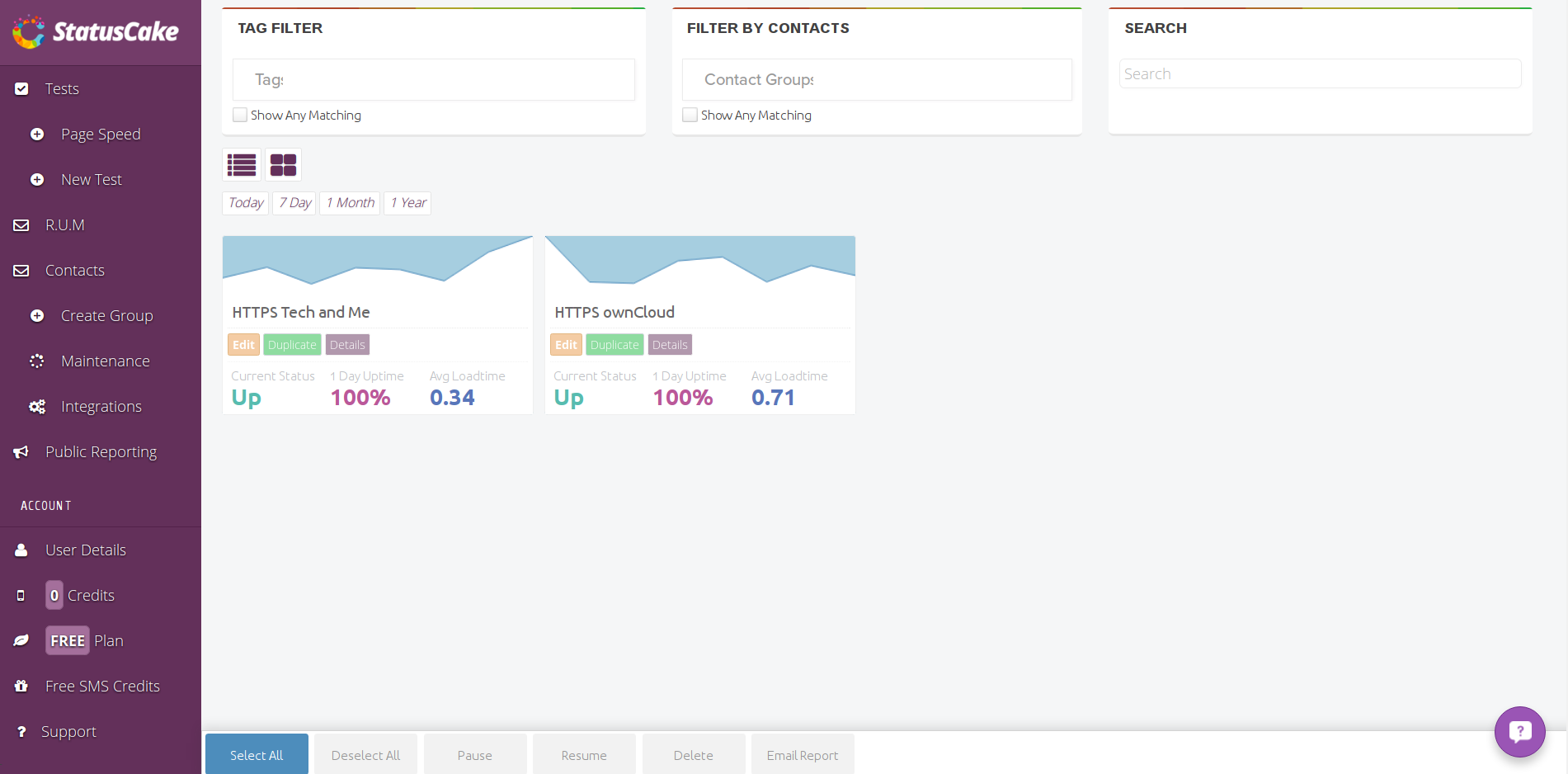 StatusCake has been around since 2012 and offers a great uptime monitoring solution that tests your website from 43 locations in 30 different countries. It provides a history of all your test results for up to 30 days so that you can compare reports and has integrations with 18 different platforms, including Discord, Slack, Telegram, and Pushover. StatusCake has a free tier that gives you 10 monitors at 5 minutes intervals, while their premium packages start at $24.49 per month and include 100 monitors at 1-minute intervals. All plans come with what they call a "Superior" free trial.
10. dotcom-monitor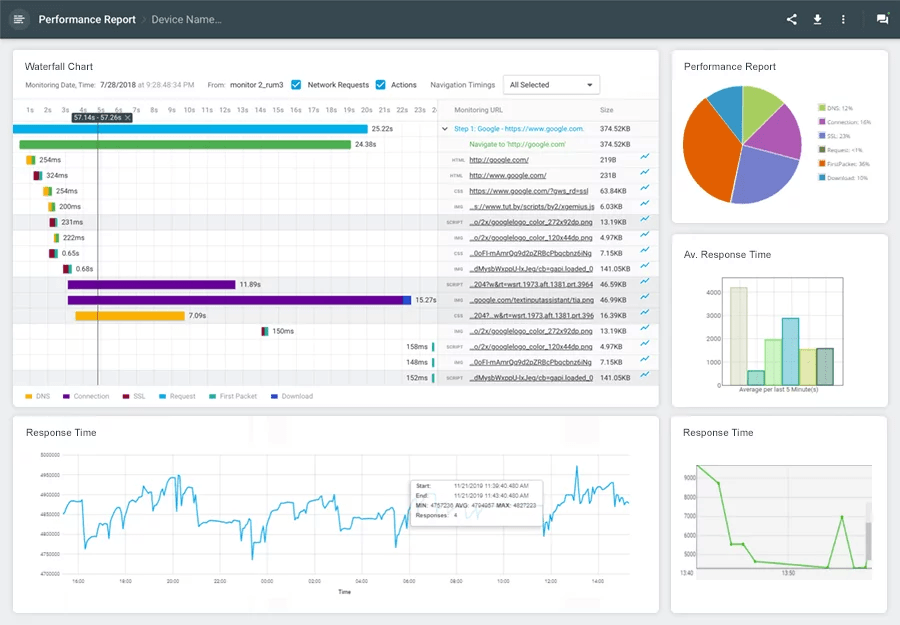 With dotcom-monitor, you get over 25 different locations and 7 different browsers. It provides all the data you need to improve and maximize uptime, performance, and availability. Whenever your services go down, you'll receive immediate alerts containing details of the incident. You can configure these alerts to work via Phone Call, SMS, Email, Pagerduty, Slack, and others. Their plans start at $19.95 and offer you 1 to 5-minute intervals, whopping 3-year data retention, SSL monitoring, API monitoring, and more. Every plan has a 30-day free trial, so you can test all their features before you have to commit.
11. Checkly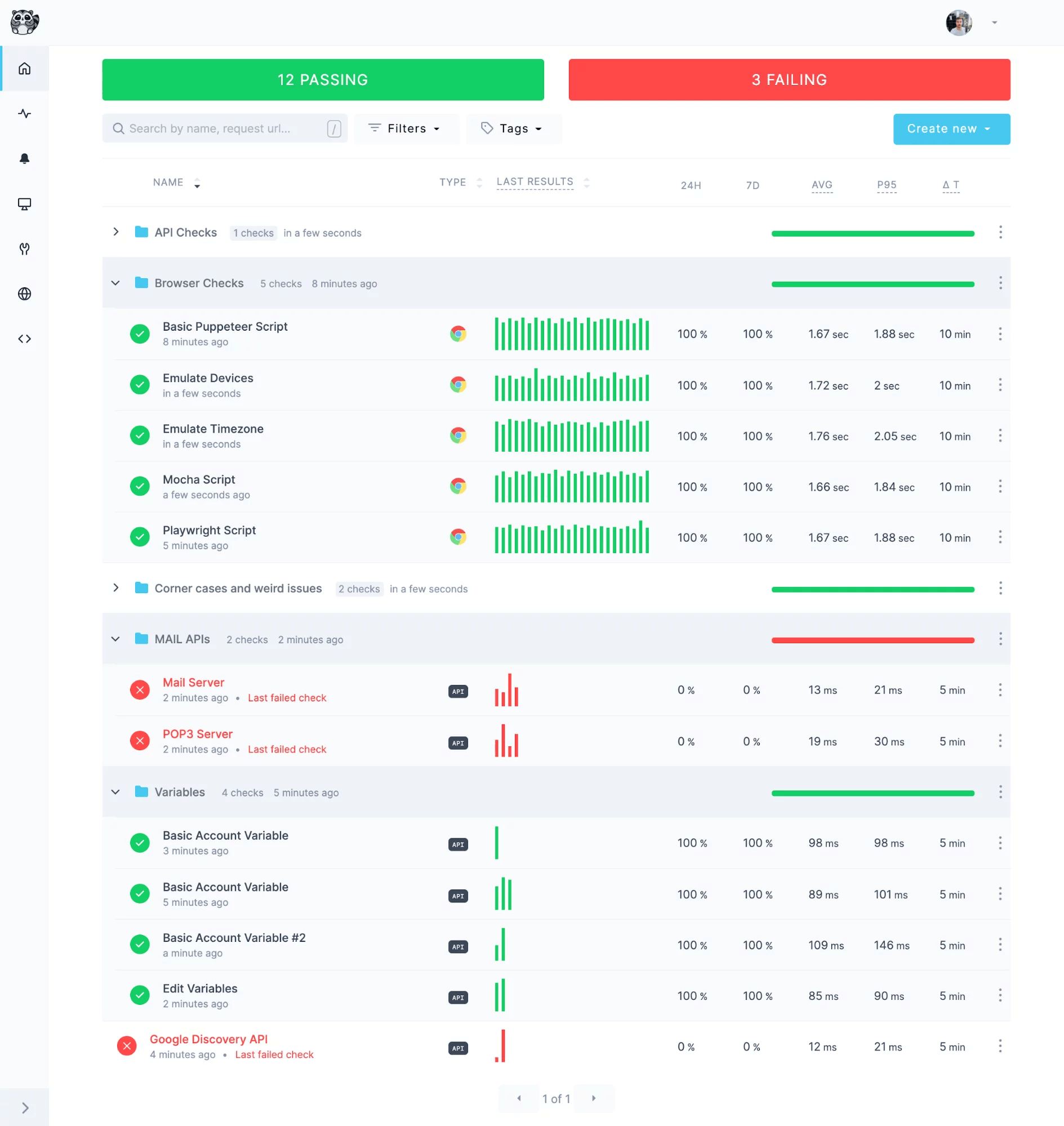 Checkly is an API and E2E monitoring platform for the modern stack. It's flexible and allows you to easily monitor the uptime of your service from 20 global locations at 10 seconds intervals. Whenever something goes sideways, Checkly will automatically notify you via a healthy helping of SMS messages or an unlimited number of emails, Pagerduty, Opsgenie, Slack, and webhook integration. They also have a "double-checking" option that makes sure you don't get any false positives. Their pricing has seen some changes recently. Right now, you can use Checkly for free and get 50k PAI check runs/month and 5k browser checks. Their paid plans are a pay-as-you-go option that starts at $1.20 for every 10k API checks and $3.60 for 1k browser check runs.
12. Updown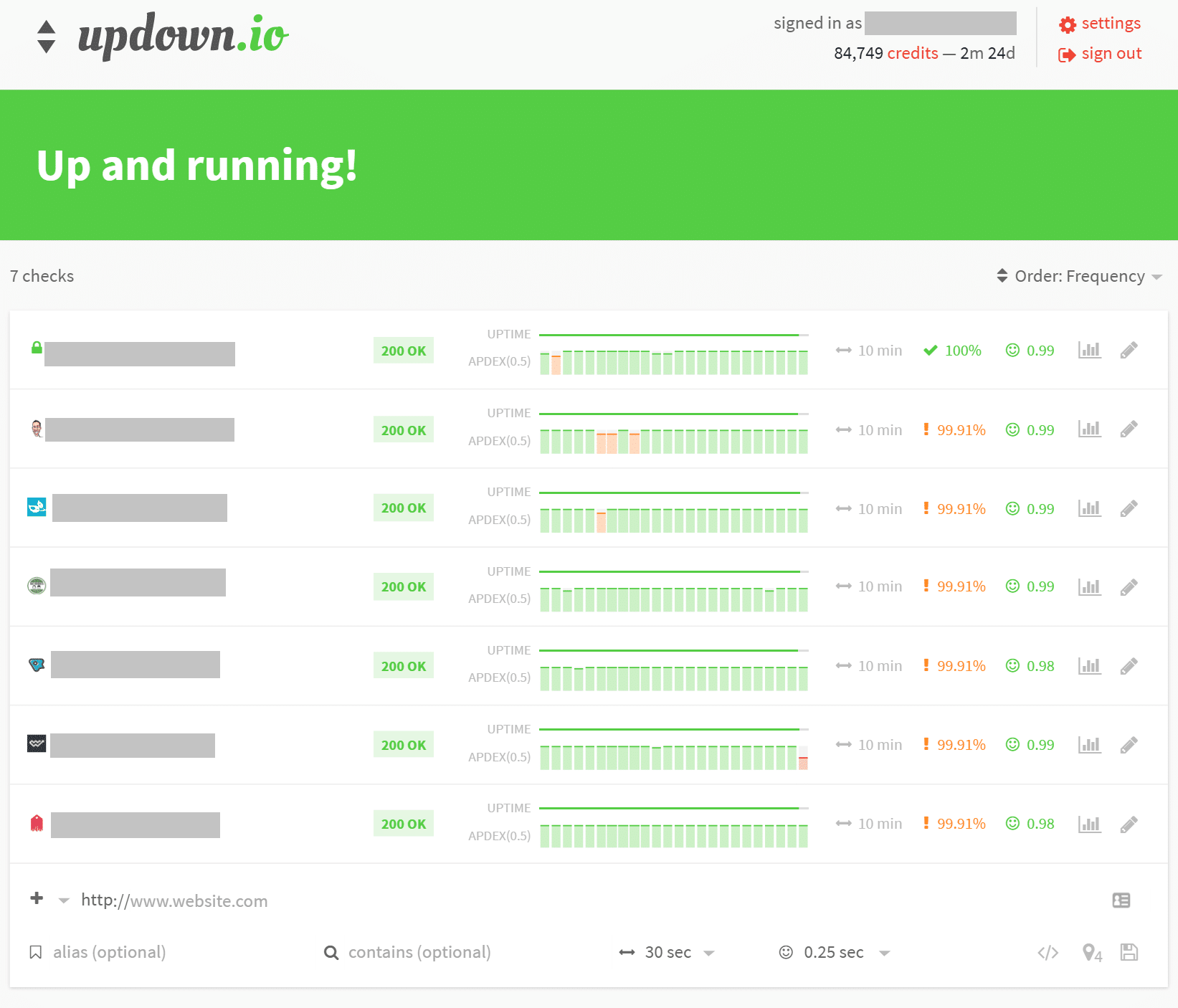 Updown is a simple tool that monitors the uptime of your website by sending an HTTP request at a predetermined interval that goes down to 15 seconds. Whenever the website isn't responding, you will get notified via email or SMS. The checks are run from the 8 monitoring nodes, and besides uptime, it does SSL testing, status pages, and performance reports. For pricing, updown.io went with a simple scheme that allows you to select the number of websites to monitor and the frequency of the checks. For intervals at 15 seconds, every website you track will cost you 2.34 Euros/month.
Conclusion
Picking an uptime monitoring solution is not very difficult, but it does require you to sit down and figure out what you want to achieve. If your goal is just to monitor your uptime, then a one-purpose tool will suffice. However, there is more to monitoring than just uptime. You also need to monitor your APIs, Apdex score, or SSL certificates, in which case you probably need something more complex than a one-trick pony that tells you when your website is down. Luckily there are monitoring tools like Sematext Synthetics, an end-to-end front-end visibility platform. With a sweet pricing point, starting at just $2 per monitor for a month and highly configurable pricing plans, Sematext will let you understand what is happening behind the scenes. Give it a try! There's a 14-days free trial with no commitment. You might also be interested in:
---