Top 10 Best Website Performance Monitoring Tools of 2020
John Demian on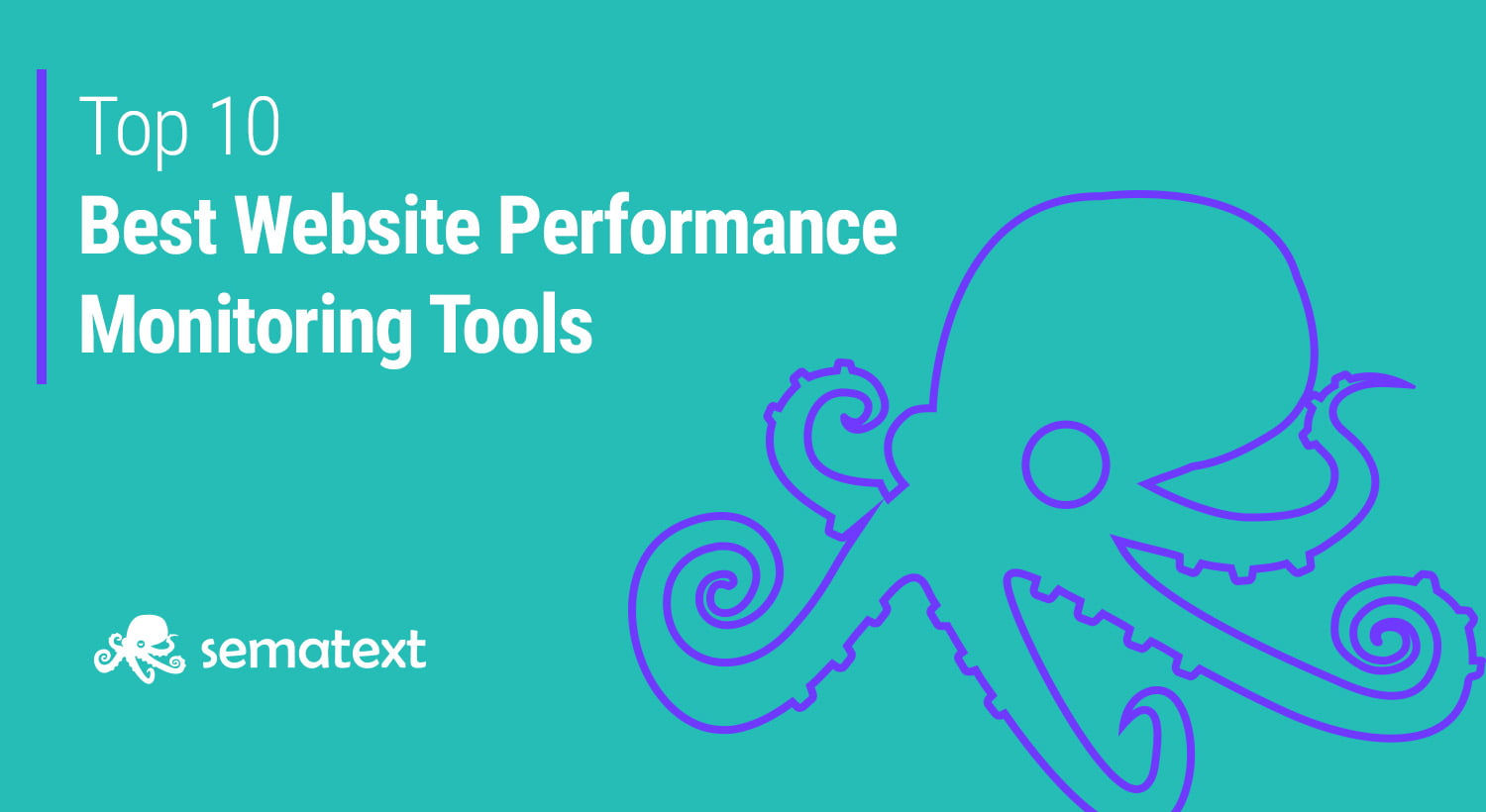 Website performance is important as it directly impacts your business bottom line, this is why picking the right website monitoring service crucial! They perform regular tests and alert you whenever your site is down, making it easier for you to spot track down issues and solve them.
There are lots of options out there from simple uptime and transaction monitoring to complex web performance monitoring solutions. So if you are in the market for a website monitoring software, look no further than this carefully curated list of some of the best options out there.
There are lots of different ways to go about looking for what's causing your performance to drop, from monitoring the servers' resources to using tools like real user monitoring and synthetic monitoring to analyze how the website responds to user input.
Picking the right tool for the job can be difficult with so many things to consider, from paid tools to open source, there are countless options from where to choose. While there are some very solid open source options out there I want to focus on the SaaS options as they have more support and can provide service level agreements that most open source tools can not.
Top 10 Best Free & Paid Website Performance Monitoring Tools
Without further ado, here are the top 10 best free and paid website performance monitoring tools available today.
1. Sematext.com [free + paid]
Pricing: $0/month. Premium plans start at $19/mo.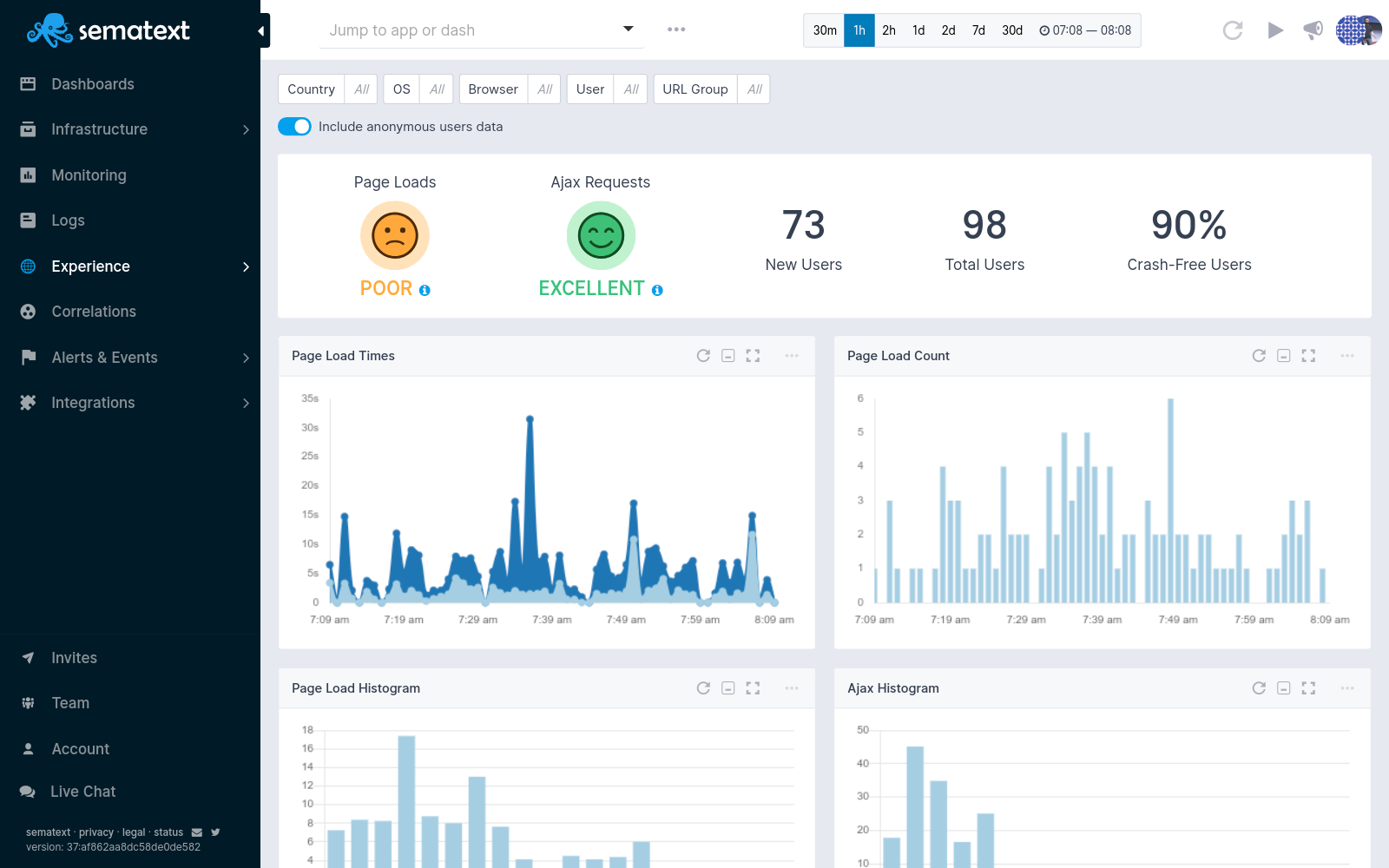 Sematext Cloud is an all-in-one log management and monitoring solution that provides end to end visibility and observability. When it comes to website monitoring, we offer Sematext Experience, our real user monitoring (RUM) solution, and Synthetics, our synthetic monitoring tool.
With the launch of Sematext Experience and Synthetics, Sematext became the go-to tool for developers looking to get insight into their infrastructure while still keeping an eye out on the user experience.
With Sematext Experience, you'll get a report on the actual experience and satisfaction of your users while providing key pieces of information as to how your website or application is performing in different locations, devices, or different connection speeds. Dive deeper into how Experience can help you keep your users happy.
On the other side of the spectrum, you'll be able to set up Synthetic Monitoring to create a complex system of monitors for all your resources in just a few clicks. The monitors will ping your resources from a number of locations all across the globe and report back stats like speed, error rates, third APIs responses, and many other mission-critical metrics. You can even use it to benchmark against competitors and identify areas you should optimize to improve website performance. Learn more about Synthetics and how it works.
Getting started with Sematext is quite easy and intuitive thanks to the simple setup wizard that every new user gets to see.
Every plan has a risk free, 30-day trial that does not require any credit card to be added. We also offer granular control over what you pay for as every product is individually priced. This way you can pay only for the products and features he needs.
Features:
A unified location for all your logs, metrics and events
Identify resources & requests with the biggest negative impact on your website performance
Real-time alerts and debugging solutions
Support for all major frameworks
Very well documented features
---
2. Pingdom [paid]
Pricing: $45 – $249/month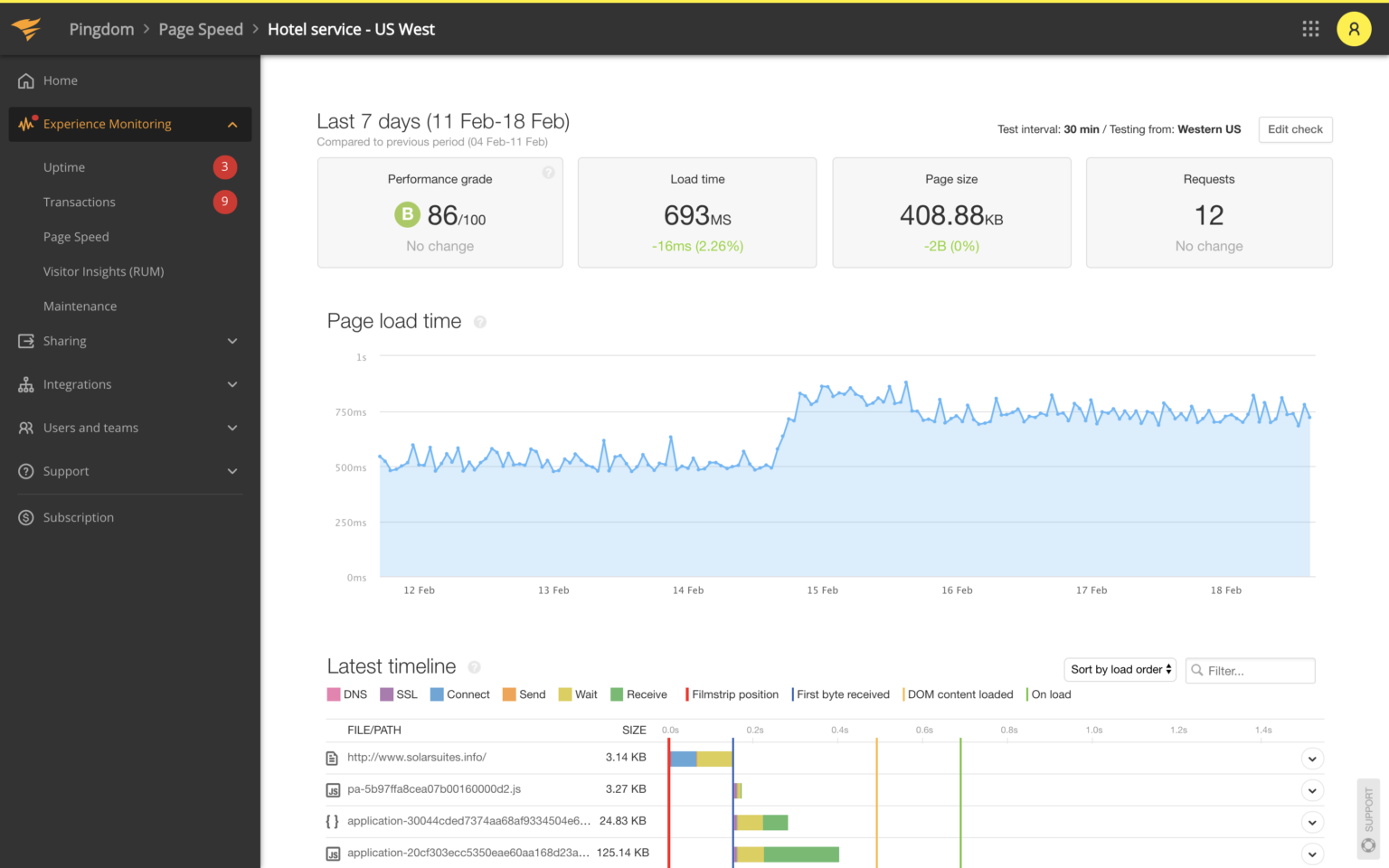 Pingdom is an uptime monitoring service that will send out detailed alerts whenever an application or website goes down. With a user-friendly interface and an affordable price – compared to the more expensive tools out there – Pingdom has made its way into the list of the top monitoring services by offering a wide range of capabilities, including website performance monitoring.
Pingdom has a real user monitoring solutions that track real-time visits to your site and allows you to enhance your performance with the data collected from actual people. Geographical performance is being monitored as well to ensure that your site will have the best possible performance regardless of where the users are accessing it from.
While you are able to monitor a large number of endpoints, performance seems to suffer especially when viewing individual items.
Pingdom will alert you every time a service or third party resource goes down but there are sometimes inconsistencies with the alerting as users have reported the service either not sending the alert at all or sending false positives.
Their plans start at $42.12 and you get over 2 million uptime tests from their 100 + check locations scattered across the world. While they don't have a free tier, they do offer a 14 days test trial that can show you everything they have to offer.
Features:
Detailed interfaces with user-friendly features
Instantaneous alerting system
Real user monitoring and synthetic monitoring
The mobile application makes up for the somewhat complicated setup
SMS and email notifications are available
---
3. Uptime Robot [free + paid]
Pricing: $0/month. Professional plans start at $7/month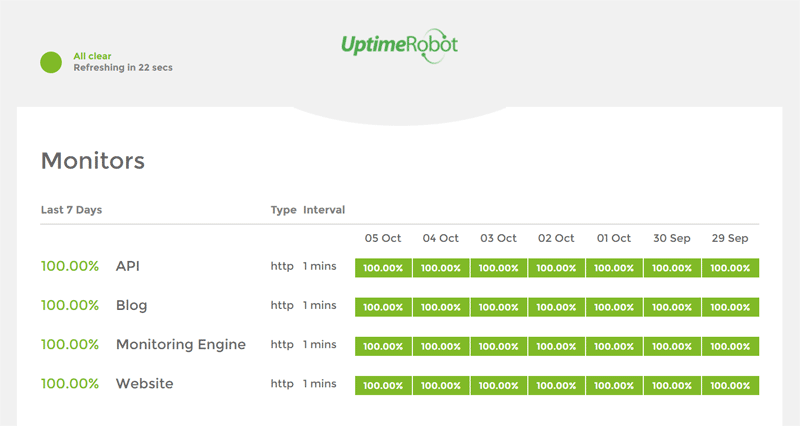 Uptime Robot has been viewed as the new kid on the block for a while and it's probably one of the greatest best value for money solutions, especially if you are looking for just a simple tool that will tell you when your services are down. The free account gives you 50 monitors which are plenty enough for most small websites or web apps along with 5-minute monitoring intervals from 12 locations around the globe and 2 months of log storage
If you are looking for a tool that can provide you with both synthetic monitoring as well as real user monitoring, Uptime Robot is not going to be the one. As the name suggests it focuses on performing synthetic checks on your site and APIs every 5 minutes and provides alerts through a number of integrations with tools like Slack, Pagerduty, OpsGnie, Telegram, and VictorOps.
While it does lack certain features like speed insights, the 24 months of log storage and 1-minute checking intervals for the premium plan are a great bonus.
Features:
Advanced notifications will let you set certain prerequisites for your alerts. Eg: x errors in y minutes
Simple setup process
Heartbeat monitoring for intranet and cron jobs
SMS and email notifications are available
---
4. Monitis [paid]
Pricing: Starts at $12/month.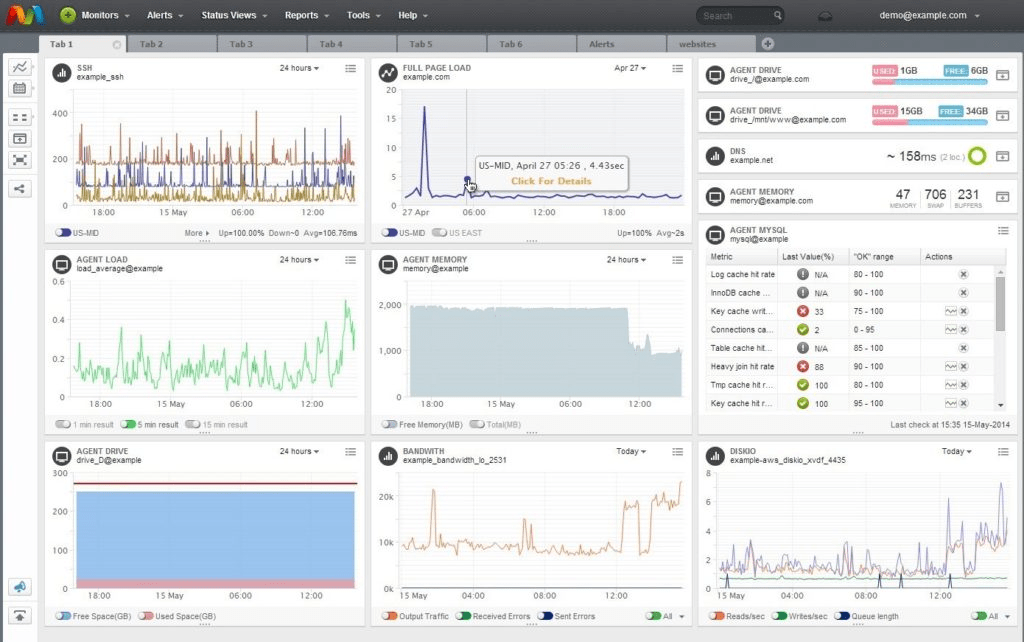 Advertised as a cloud-based, all in one IT monitoring solutions, Monitis will check your website every 5 minutes and report back via a customizable alerting system any deviation from the normal.
The slightly outdated user interface makes up with the wide range of features that include: website uptime monitoring, server health, network performance and custom metrics that are easy to set up.
Montis' real user monitoring tool works best in conjunction with their Uptime Monitoring, Transaction Monitoring, and Full Page Load monitoring tools. But even on its own, their real user monitoring tool will give you detailed information on the users' browser and platform performance, page load times, geographic user breakdown, and more.
Montis stands out from the crowd by featuring a fully customizable pricing scheme that allows its users to pick and choose what features they want to use. The final monthly price will be based on the total number of customization you chose.
While Montis doesn't offer a free tier you can still take it out for a test drive by signing up for their free trial which will give you a front-row view to everything they have to offer.
Features:
A mobile application is available
Available in English, Portuguese, Spanish and German languages
Simple granular control over how much you pay/mo
20% discount for annual payments
---
5. Site24x7 [paid]
Pricing: $10 – $225/month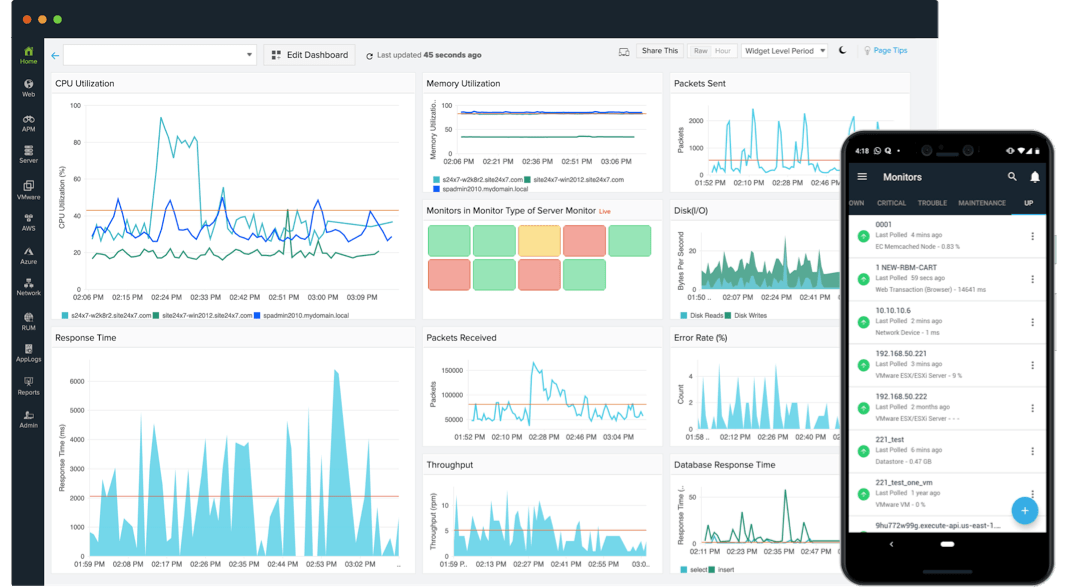 Site24x7 provides a comprehensive and detailed alert every time your website or application fails to load a resource, has network connection issues, performance issues, ServerCPU usage, timeouts and many more.
Alongside other excellent tools, quick and very helpful support staff, and an alerting system that dispatches notifications either through email or SMS, Site24x7 is quickly becoming the go-to choice for resource monitoring.
Their real user monitoring product allows you to visualize how users interact with your website giving you an in-depth understanding of the real problems affecting their experience in real-time. You can also monitor and understand the different factors affecting their experience from browser, geography, isp, and platform.
Site24x7 supports numerous protocols such as HTTP, HTTPS, REST, DNS, TCP, POP, IMAP, SMTP, and FTP. They also have many integrations with popular third-party services like PagerDuty and Zapier for notifications. You'll also get 50 monitoring locations with 1-minute interval checks.
One of the biggest draws of the product is it's reasonable prices plans that scale as your business scales but this can be somewhat offset by the somewhat outdated design that can feel convoluted at times. It's worth mentioning that all their tiers have a 30-day free trial period that requires no credit card.
Features:
A mobile application is available
Easy and clean set up process
Support for almost all environments
Email, SMS and Voice alerting options are available
---
6. Uptime [paid]
Pricing: $19 – $285/month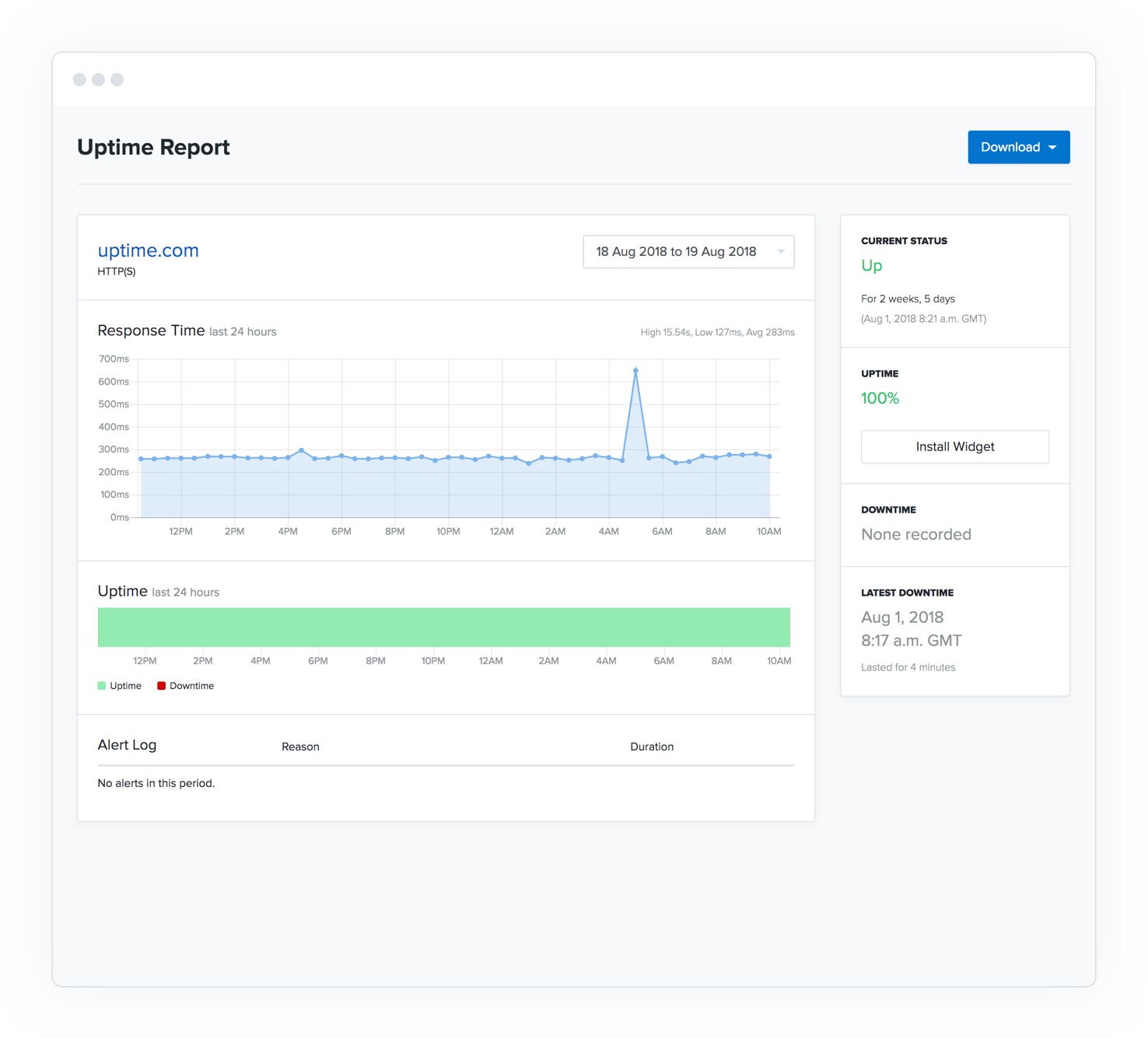 Featuring SSL Monitoring, 24/7 support, Malware scanning and a large number of third party integrations, Uptime is a great website monitoring tool that focuses on reliability and ease of use.
Uptime monitors your website availability at one-minute intervals across 6 continents. If anything goes wrong you'll be notified via either SMS, phone call, email or any number of custom integrations that they support.
Uptime has a RUM tool that helps you deliver the best user experience by tracking users across different devices, locations, and connection types. The data collected will be displayed in easy to understand dashboards that will provide actionable data on how to fix the performance issues of your site.
While there is no free tier, Uptime does offer you a risk-free, 21-day trial across all their packages that should give you a taste of everything it has to offer.
While their basic package caters mostly to US customers, the more expensive ones do get multiple checks from worldwide locations and have a log history between 4 and 24 months depending on the tier.
Features:
Simple to use UI
Websites scanned with Google Safe Browsing & Yandex Safe Browsing.
Detailed Uptime Reports
Receive alerts via email, SMS, Twitter, web-hooks, or push notifications.
---
7. Uptrends [paid]
Pricing: $16.69 – $72.33/month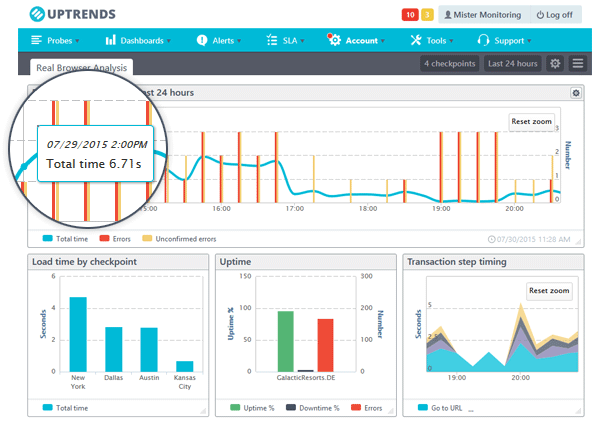 With over 150 website monitoring locations around the globe, Uptrends checks your apps between 1 and 60 minutes intervals and offers a wide range of tools to ensure you are always at peak performance.
On top of their website monitoring, they also boast web performance monitoring, API monitoring, server monitoring, SSL certificate monitoring, as well as real user monitoring which include features like third-party content monitoring, mobile website monitoring, waterfall reports, mobile website monitoring, and transaction screenshots.
While the basic plan lacks some of the more popular features like the custom dashboards, maintenance modes or the multi-browser monitoring, Uptrends does offer the bare minimum to ensure their users can monitor their websites effectively. They also offer a number of free tools that are available to everyone. And since they lack a free tier, they offer a 30 day trial period for their users that requires no credit card and provides access to every feature available.
Features:
Clear, beautiful UI
Multi-step transaction monitoring
Real user monitoring solution
Over 150 global testing locations
---
8. Host-tracker [paid]
Pricing: $14 – $99/month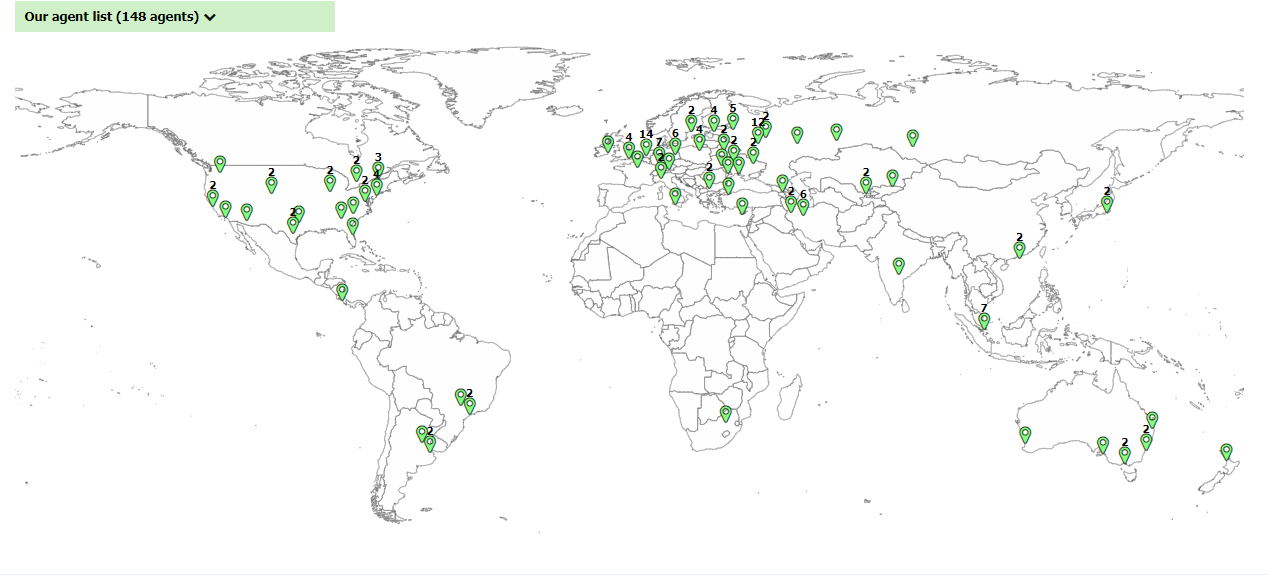 Simple by design, Host-tracker is intended for site admins that want to monitor their servers availability as well as the transactions between server and client. It mainly focuses on key metrics like page errors, database connection problems, and network issues.
The pricing schema is simple enough, composed of three separate tiers, each with its own unique set of features and capabilities. It's worth mentioning that at first glance the price for their basic tier seems high compared to the other products mentioned here but I believe that the packed features of the more expensive tiers make up for this.
One thing Host-tracker is missing compared to the other options listed in this list is the ability to monitor real users. It's not a big deal if what you are trying to do is focus on the server's resources but for websites that deal with a lot of users like online publications or e-commerce stores, RUM is going to be crucial to providing the best experience possible for your users.
There's no free tier but every signup comes with a free, no credit card required, a 30-day trial where you can test all the features of the product, risk-free.
Features:
The outdated design is made up for by simple to understand dashboard
60 test locations across the world
Email, SMS, Skype, Hangouts, voice call notifications available
---
9. Smartbear [paid]
Pricing: $199 – $1999/month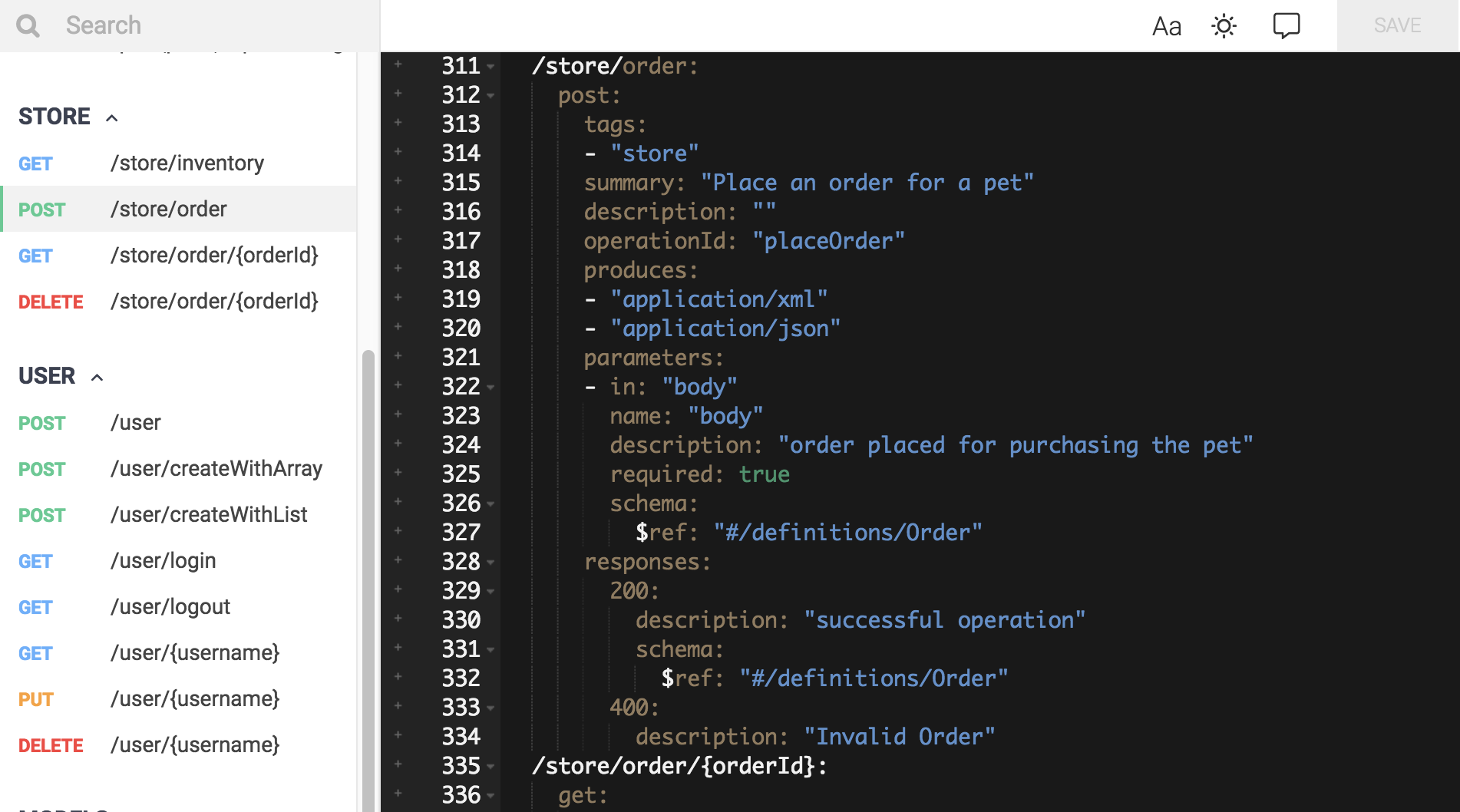 Samartbear is amongst the most comprehensive tools for large scale enterprises that wish to monitor almost every aspect of their online presence. Besides keeping a very close eye on your web application through a wide variety of tools that range from run of the mill uptime and alerting solution to some innovative monitoring options, Smartbear also checks up on your mobile applications, API status, and database health.
Last but not least, Smartbear has an impressive 340 testing nodes around the world, which is at least double what most competitors have. Keep in mind that Smartbear does not have a real user monitoring product so if you are looking for that particular feature, you'll have to look elsewhere.
While being one of the top dogs on the block when it comes to online monitoring, this comes with a hefty price. Prices for their packages range from $199 to a staggering $1999 a month. Let me put it this way, the cheapest option costs more per month than most competitors in a year.
Features:
Lots of third party integrations
An extensive list of resources and support material
Robust Reporting & Analytics
---
10. SolarWinds Web Performance Monitor [paid]
Pricing: Starts at $1999/year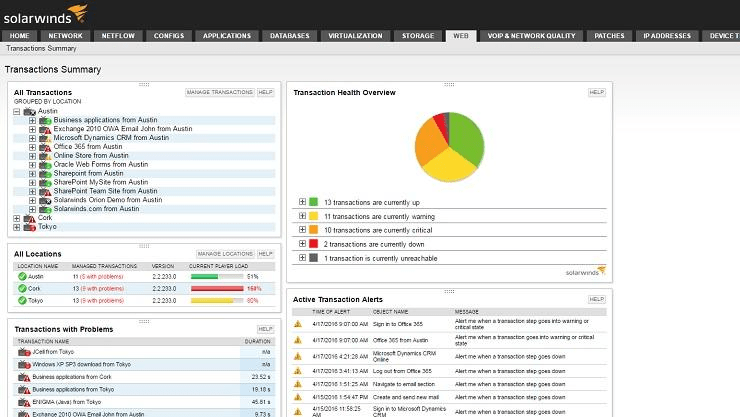 Solarwinds has been at the forefront of the monitoring space for years and in this time they've developed a large number of services to help their customers better understand what's going on behind the curtains but that experience comes at a great(er) cost.
Web performance monitoring is just part of their impressive software ecosystem, and as it stands today, is one of the most complete solutions for DevOps in the world. While nobody can deny their experience or the value that their app brings to customers, the price tag can still be a tough pill to swallow, especially when you look at smaller competitors that charge a fraction of the price for, what it seems, a very similar product.
It's important to note that while the list of features includes Endpoint detection and response, network device monitoring and even a cool mobile app that helps you keep tabs on your web app anywhere in the world, Solarwinds does not have a RUM solution available. It's worth noting that they do record every step of the transactions between the server and user which will provide some insight into their experience.
Their Web performance monitoring tool offers detailed load-time metrics from multiple locations across the world that record all browser-based transactions while providing key insights into what happens under the hood of your website.
Features:
Pre Configured alerts and dashboards that speed up the setup process.
Synthetic monitoring solutions
A neat mobile application is available for free
---
How to Choose the Best Website Performance Monitoring Tool?
The list could have gone on for quite some time but in an effort to save some of your precious time I made the list go up to only 10. This is not to say there aren't any other tools out there, but I believe that the ones mentioned above are the best mix of features and price.
Now here comes the big question, how do you pick one. While there is no simple answer, there are few key criteria you should be looking for.
URL Monitoring Frequency
A website monitoring service works by pinging your website every X minutes to make sure the site is up and all your resources load correctly. The smaller the X the better.
Unless you are using some third parties that have inconsistent performance that needs to be monitored constantly, 5 minutes is plenty enough.
Integrated server and log monitoring
While not every website monitoring service comes with a server and log monitoring solutions, I believe it to be extremely important as CPU usage, memory utilization and disk space can directly impact the users' experience on the website or application.
Keep this aspect in mind as it will help you identify the strengths and weaknesses of your website and perhaps be able to tackle issues before they become a big problem.
Synthetic and Real User Monitoring
For the best possible user experience, using a combination of both synthetic and real user monitoring is probably going to be the safest bet. While both methods have their own strong points, using just one of them will end up creating some blind spots when it comes to your user's satisfaction. Read more about this in our RUM vs. Synthetic Monitoring blog post.
It's a common practice to have both of these features available from the same vendor but keep in mind this does not mean they all do. It's really important to take some time to figure out the type of service you are going to offer and if you'll end up needing an all-round monitoring solution, I'd strongly suggest looking at a vendor that can provide you with both. Having data from both synthetic and real user monitoring compiled in the same place will give you a better point of view and have you react to problems faster and more efficiently. To help you get started, we gathered the best RUM solutions and also compared the top API monitoring tools available today.
Testing locations
Testing your website locally will result in a totally different experience than having it run in a country across the world. This is why having worldwide testing nodes is important as it will let you figure out what parts of the website are struggling to deliver the same top tier experience to your global audience.
Learn more about how locations affect your website performance from What is network latency and how to reduce it to improve website performance.
Support for multiple browsers
If you ever had the "pleasure" of dealing with multiple websites you are probably familiar with the many incompatibilities between them. A script running smoothly on Safari might work differently or not at all on Internet Explorer or vice versa. Having tests for multiple browsers will let you know what the users experience while using your services.
Solid alerting capabilities
You'll need to be able to set up alerts for different sections and functions throughout your website and if done correctly, they will act as an invaluable early warning system that will make sure you know exactly when things are about to go belly up. A lot of services fire false positives or have issues relaying the alert so using a service that allows you to set up alerts via multiple channels should be a priority.
Price
Just like anything else out there, the price will have a big impact on your decision. While more features usually equal a bigger price, with website monitoring solutions big prices don't necessarily equal more features.
It's important to have a clear understanding of the needs of your website so that you can make the right decision before picking a service especially since some of them will only accept yearly contracts and the price tag can sometimes be around $2000.
Conclusion
At the end of the day, choosing a website performance monitoring tool is going to be based on your particular needs – check out our Guide to alerting and monitoring to learn how. There are more than enough options out there to choose from if I may be so bold as to make a suggestion, you should take the time to understand which metrics are important to your website and based on those, filter out the tools that allow you to carefully track and monitor them. Go further and correlate those metrics with UX metrics to get insight into all the metrics that could impact your users and, ultimately, your business. If your monitoring needs are not that complex yet, I suggest you at least keep an eye on page load times by using a website performance and speed testing tool. You'd be surprised how simply improving this metric can go a long way with your customers.