Log analysis and management tools have become essential in troubleshooting. With logging analysis tools – also known as network log analysis tools – you can extract meaningful data from logs to pinpoint the root cause of any app or system error, and find trends and patterns to help guide your business decisions, investigations, and security.
DevOps, security professionals, system administrators, network administrators, web developers, and site reliability engineers can use them to make better data-driven decisions.
To help you get started, we've put together a list with the best paid, free, and open-source log file analysis tools available in the log management landscape, to enable you to better parse your logs, run live tail searches, or query the specific log data you need.
Sematext Logs is a cloud-based SaaS log management solution that offers you real-time actionable insights into your log analytics with hosted ELK as a service, in the cloud or on-premises. It's compatible with a large number of log shippers, logging libraries, platforms, and frameworks, being able to aggregate logs from a wide variety of sources.
Sematext's auto-discovery of logs and services lets you automatically start log monitoring from both log files and containers and forwarding them directly through the user interface.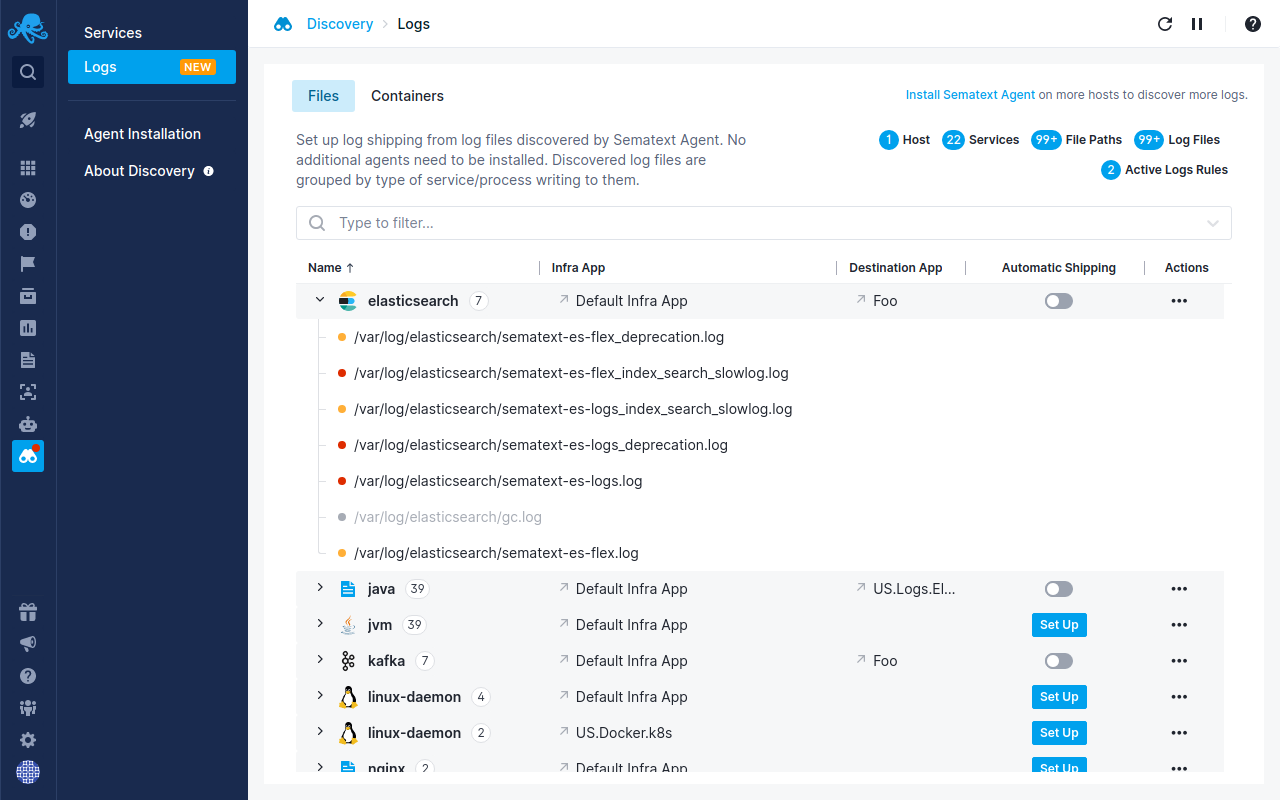 Sematext Logs features sophisticated full-text searching, filtering, and tagging capabilities and allows you to correlate logs with infrastructure and application metrics within a single dashboard. You can set up alerts on both log data and metrics and use Live Tail to see new errors as they're logged in real time. We offer both free and paid plans.
We offer both free and paid plans. Our commercial plan starts at $50 per GB per day for 7-day retention and you can try it free for 14 days. 
You can also read a review of Sematext Logs on Network Admin Tools, amongst other log management solutions. Or, if you'd like a product overview of Sematext Logs, check out the short video below.
2. SolarWinds Loggly
Loggly is a cloud-based log management service that is appreciated for its logging analysis capabilities. It enables you to use traditional standards like HTTP or Syslog to collect and understand logs from a variety of data sources, whether server or client-side.
With its dynamic field explorer, you get a real-time overview of your logs categorized by structure or by customized view. Loggly has powerful full-text search capabilities featuring searches by individual fields, booleans, ranges, and more. Its interactive, ready-to-use dashboard provides performance indicators and metrics that allow you to spot trends as well as performance issues and compare data across a given timeline.
Loggly offers a free version and three paid plans starting with $79, $159, and $279 respectively. A 14-day trial is available for evaluation.
Want to see how Sematext stacks up? Check out our page on Sematext vs Loggly.
3. Splunk
Splunk is one of the most well-known log monitoring and analysis platforms, offering both free and paid plans. It collects, stores, indexes, correlates, visualizes, analyzes, and reports on any type of machine-generated data, whether it's structured, unstructured or sophisticated application logs, based on a multi-line approach.
When using the tool, you can search through both real-time and historical log data. Splunk allows you to set up real-time alerts where automatic trigger notifications can be sent through email or RSS. You can also create custom reports and dashboards to better view your data and detect and solve security issues faster.
Splunk is available free of charge and supports one user with up to 500 MB per day. If you need more complex features, they do offer two paid plans. Pricing is available upon request in that case, though.
Want to see how Sematext stacks up? Check out our page on Sematext vs Splunk.
4. Logentries (now Rapid7 InsightOps)
Rapid7 acquired Logentries and added it to its line of security- and automation-focused products. Renamed InsightOps, the tool is a cloud-based log management platform that also includes easy-to-use analytics tools so that you can monitor data trends and correlate events across your system.
InsightOps allows you to query data in real time with aggregated live-tail search to get deeper insights and spot events as they happen. it also features custom alerts that push instant notifications whenever anomalies are detected. You can then add custom tags to be easier to find in the future and analyze your logs via rich and nice-looking visualizations, whether pre-defined or custom.
InsightOps is available for both free and commercial use. The paid version starts at $48 per month, supporting 30 GB for 30-day retention.
5. logz.io
logz.io is another cloud-based log analysis software built on the Elastic Stack and Grafana, thus ensuring easy scalability, high availability, and security. With logz.io you can search through massive amounts of data in real time and filter results by server, application, or any custom parameter that you find valuable to get to the bottom of the problem. It uses machine learning and predictive analytics to detect and solve issues faster. Other features include alerting, parsing, integrations, user control, and audit trail.
The platform offers both free and paid plans. Paid plans start at $82/month+taxes for 2GB/day and 3 days retention.
6. Sumo Logic
Sumo Logic is a unified logs and metrics platform that can provide real-time insights into applications and systems. It features advanced analytics to help understand data by using indexing and filtering. Machine learning and predictive algorithms enable you to process over 100 petabytes of data per day, while its user-friendly dashboard allows you to identify patterns and trends faster.
Sumo Logic is available in both free and paid commercial options with a starting price of $324/month for 3GB/day ingestion and 10 days (30GB) storage.
7. SolarWinds Log & Event Manager (now Security Event Manager)
SolarWinds' Log & Event Manager is another big name in the world of log management. It allows you to collect and normalize data from multiple servers, applications, and network devices in real-time. The software lets you store and investigate historical data as well, and use it to run automated audits. SolarWinds's log analyzer learns from past events and notifies you in time before an incident occurs. It helps take a proactive approach to ensure security, compliance, and troubleshooting. 
Other important features that you'll need during analysis include real-time event correlation, file integrity monitoring, configurable dashboard, scheduled searches, and threat intelligence feed.
The company offers only paid plans but you get to test it with a 30-day free trial. The price starts at $4,585 for 30 nodes.
8. ManageEngine EventLog Analyzer
EventLog Analyzer is a log management solution that has the basic functionalities of a SIEM product but it features impressive log analysis capabilities as well. Easy to set up and use. EventLog Analyzer can collect, parse, and analyze event logs from all the devices in your network from database platforms, routers, and firewalls to hypervisors, Linux and Unix systems, Endpoint Security Solutions, and so on.
Some of its other features include real-time alerting and event correlation, file integrity monitoring, and privileged user monitoring, to help you detect and avoid server errors and attacks. You can instantly generate various reports, including user activity reports and historical data trends. It's one of the best tools available to conduct forensic log analysis and ensure regulatory due diligence. The software is regulatory compliant with a wide variety of policies including HIPAA, PCI DSS, GLBA, SOX, or FISMA.
EventLog Analyzer offers only paid options, but you can get a 30-day free trial to try it out. Pricing is available upon request.
9. Papertrail
Primarily a cloud-hosted log management software, Papertrail includes great features for efficient log analysis. it automatically scans various types of logs, including text logs fyles, Apache Logs, Windows log events, and many more.
Easy to use, Papertrail features a live tail search to help detect issues faster and trace back the chain of events to identify the root cause immediately. Filter log events by source, date or time,
severity level, facility, or message contents to focus on the most meaningful data. You can then chart or graph them using third-party integrations to quickly spot trends and patterns. 
Papertrail is available as both free and paid options starting from $7 per GB per month and goes up to $230 for 25GB per month.
Want to see how Sematext stacks up? Check out our page on Sematext vs Papertrail. 
10. Mezmo (Formerly LogDNA)
Mezmo is a log management service available both in the cloud and on-premises that you can use to monitor and analyze log files in real-time. You can search, save, tail, and store data from any app or system, including AWS, Heroku, Elastic, Python, Linux, Windows, or Docker, being able to handle one million log events per second. 
It features real-time searching, filter, and debugging capabilities and a robust algorithm to help connect issues with their root cause. You'll also get a live-streaming tail to help uncover difficult-to-find bugs.
Mezmo offers a free version and multiple paid options, as well as a 14-day free trial.
Want to see how Sematext stacks up? Check out our page on Sematext vs Mezmo.
11. Datadog
Datadog is another log analysis software you can use to record, search, filter, and analyze logs from all your devices and applications in real time. Once Datadog has recorded log data, you can use filters to select the information that's not valuable for your use case.
Datadog has rich and sophisticated log analytics dashboards that you can further customize by drag-and-drop. It allows you to correlate logs, metrics, and request traces to get a clear view of your systems and easily spot performance trends over time. The solution features smart alerting that uses machine learning to identify abnormal log patterns and errors faster. 
Datadog only has only paid versions starting with $1.27 per million log events per month with 7-day retention. You can try it free of charge for 14 days.
Want to see how Sematext stacks up? Check out our page on Sematext vs Datadog.
12. Logstash
Logstash is one of the most popular log collection and processing engine for log data and events. It collects and parses logs from various sources across your infrastructure and sends them to your preferred destination.
As part of Elastic Stack (former ELK), in most cases, it's used together with Elasticsearch and Kibana. They make for a powerful log analysis solution, where Elasticsearch provides the full-text search and analytics features, while Kibana allows you to visualize and explore the data you gathered with Logstash.
Read more about the pros and cons of Logstash in Logstash alternatives or see it in action in:
13. Fluentd
Fluentd is a robust open-source log analysis tool that collects event logs from multiple sources such as your app logs, system logs, access logs, etc. and unifies them into one logging layer. It doesn't feature a full frontend interface but acts as a collection layer to support various pipelines.
Fluentd allows you to filter, buffer, and ship logging data to various systems such as Elasticsearch, AWS, Hadoop, and more. It's a favorite among DevOps due to 500+ extensive plugin library which allows you to connect with multiple data sources and drive better analysis.
14. Graylog
Graylog is a free and open-source log management platform that gathers data from different locations across your infrastructure. It's a favorite among system administrators due to its scalability, user-friendly interface, and functionality.
Graylog features customizable dashboards that allow you to choose which metrics or data sources to monitor and analyze. You can search and analyze through terabytes of data instantly. Powerful drill-down analysis and charts that make it easy to detect performance issues and understand their root cause, and identify trends over time.
You can set up alerts and triggers to monitor data failures or detect potential security risks. Graylog has built-in fault tolerance that can run multi-threaded searches so you can analyze several potential threads together. This log analyzer also helps your organization follow compliance rules.
15. GoAccess
GoAccess is a  completely free fast terminal-based log analyzer that enables you to quickly view and analyze web server statistics in real-time, within milliseconds of it being stored on the server. With GoAccess, instead of using your browser, you get to access your data via SSH or the terminal of Unix systems. It's able to generate complete HTML reports, as well as JSON and CSV.
Open-source and extremely easy to use, GoAccess allows you to process logs incrementally, track application response time, and supports custom web log format strings, predefined options including Apache, Nginx, Amazon S3, Elastic Load Balancing, CloudFront, and more.
The Bottom Line: Choose the Right Log Analysis Tool and get Started
If you're not already analyzing your logs, commit to changing that. Not only is it essential for security reasons and governmental compliance, but you need it to keep up with the ever-growing requirements of modern applications and their respective users. Log analysis tools help you take a proactive approach to monitoring. You don't have time to waste when a problem occurs. Instead, you need software that can not only enable faster troubleshooting but also help anticipate future problems so that you can avoid them. Any of the tools we reviewed in this post should fit the bill. 
If you need a refresher on log analysis, check out our log analysis guide where we discuss what logging analysis is, why do you need it, how it works, and what best practices to employ.
You might also be interested in:
---