Communication with our users is very important. You want them to be aware of the new features that your platform exposes, exciting news about the company, but also about the status of the services that you are building for them. This includes information about all the functionalities and the infrastructure and applications behind them – when they work correctly and efficiently and when they don't. Do they discover by themselves that it's not working, then turn to social media/google to find out why, and finally bombard you with questions and theories?
Today we will look at the best status page tools available to help you stay connected with your software state and users.
Best Status Page Tools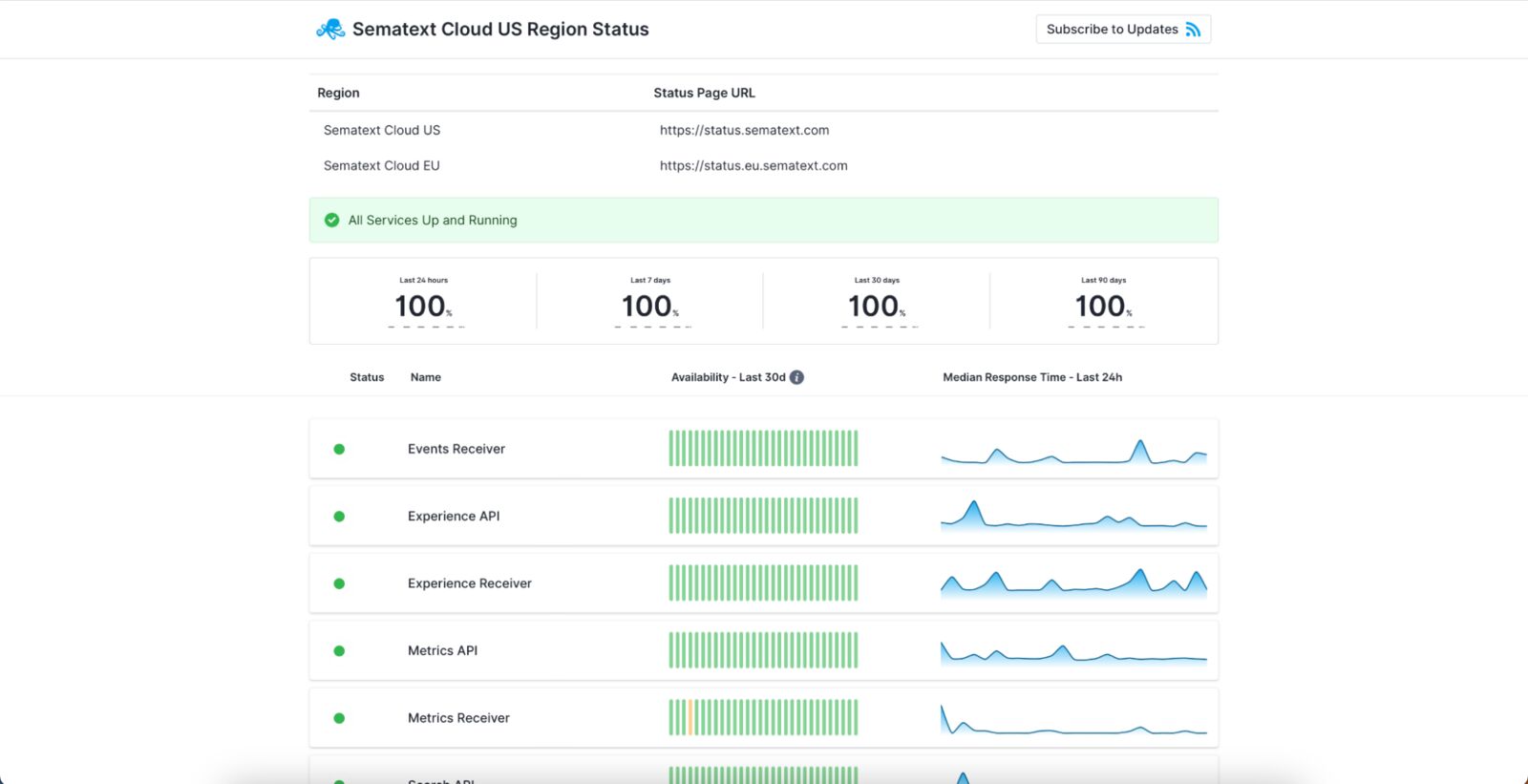 Sematext offers status page monitoring tools as part of their synthetic monitoring solution, Sematext Synthetics. Its main features include communication of the status of your services, sharing updates with your users, and status dashboard support. Based on your synthetic monitors used to check your service's endpoints, the created status pages can be public or private. With Sematext, you can create alerts, get informed via various ChatOps tools, and run checks against both public and private endpoints.
Pros
Status pages based on the public and private synthetics monitors allow for high flexibility
Custom domains support for your status pages
Alerts with ChatOps support for the monitors used to build your status pages
Support user journey monitoring, HTTP monitoring, resource monitoring
RSS subscription to status pages
Synthetics, real user monitoring, logs, and metrics all in a single solution, Sematext Cloud
Cons
Limited status pages styling capabilities
Short trial
Pricing
As part of Sematext Synthetics, the pricing of the Status Page feature starts with the Pay-As-You-Go model with a single status page possible with a price starting at $5/month. The Standard plan starts at $29/month with up to 5 different status pages available, while the final plan, Pro, offers an unlimited number of different status pages available starting from $99/month. You can try the fully-featured version of the product free, for 14 days, without needing a credit card.
2. Hyperping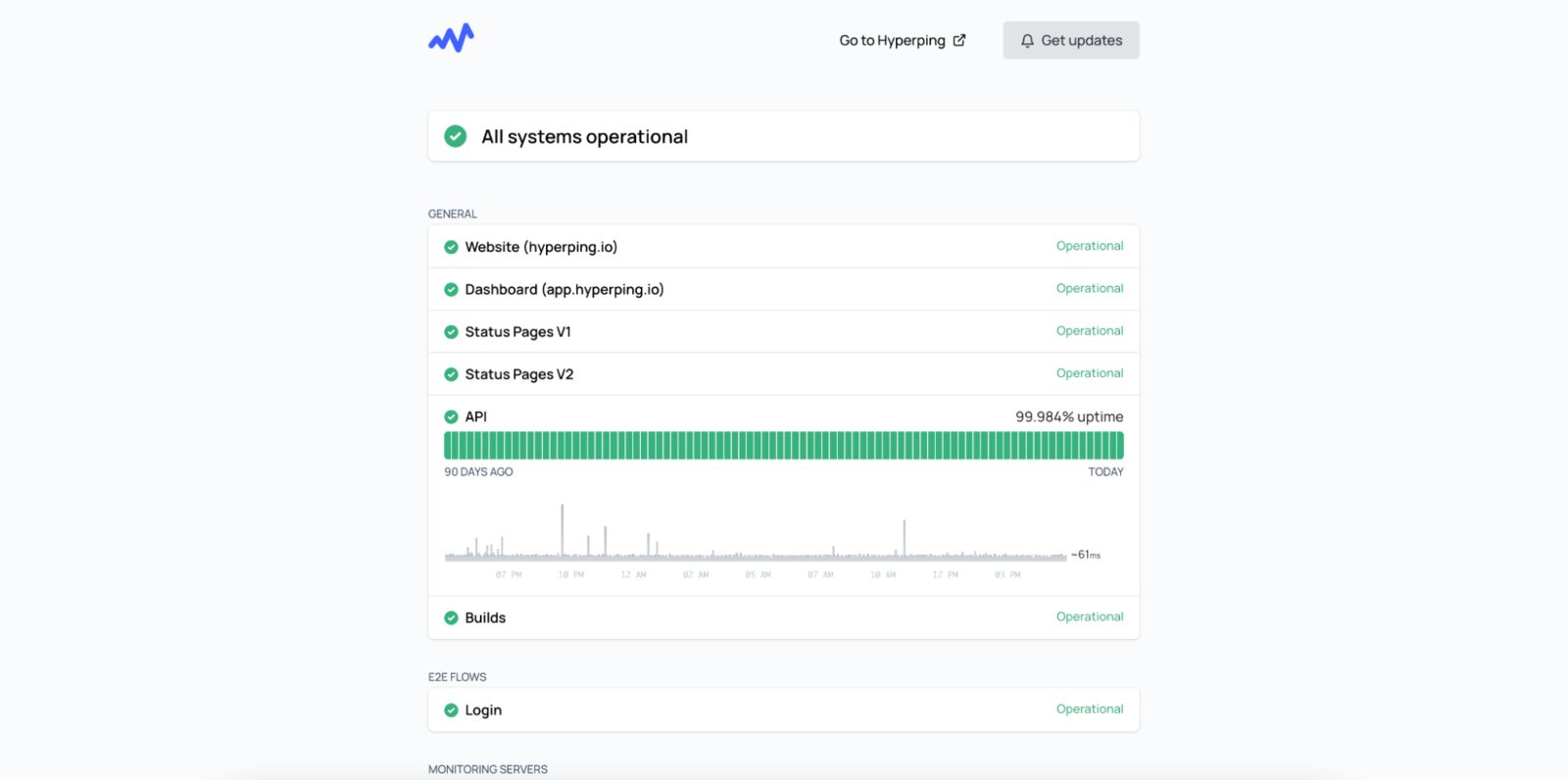 Hyperping is a synthetic monitoring tool with first-class support for multilingual, efficient, and customized status pages. It provides a birds-eye view of your infrastructure with real-time alerting and support for E2E tests with browser checks using highly popular automation frameworks such as Puppeteer and Playright.
Pros
Support for custom domains for your status pages
Detailed history of incidents allowing for clear communication with the users
Support for customized themes for your status pages
Efficient and fast loading as the status pages are static
Multi-language support
Cons
Dedicated to monitoring and status pages – you need additional tools for full observability
Pricing
Hyperping offers several pricing plans. The basic one is free, allowing 1 status page and 5 monitors. The first paid plan, Hobby, starts at $14/month and includes a single status page and up to 15 monitors. The plans go up to Business, which supports unlimited status pages and monitors for $199/month.
3. Cronitor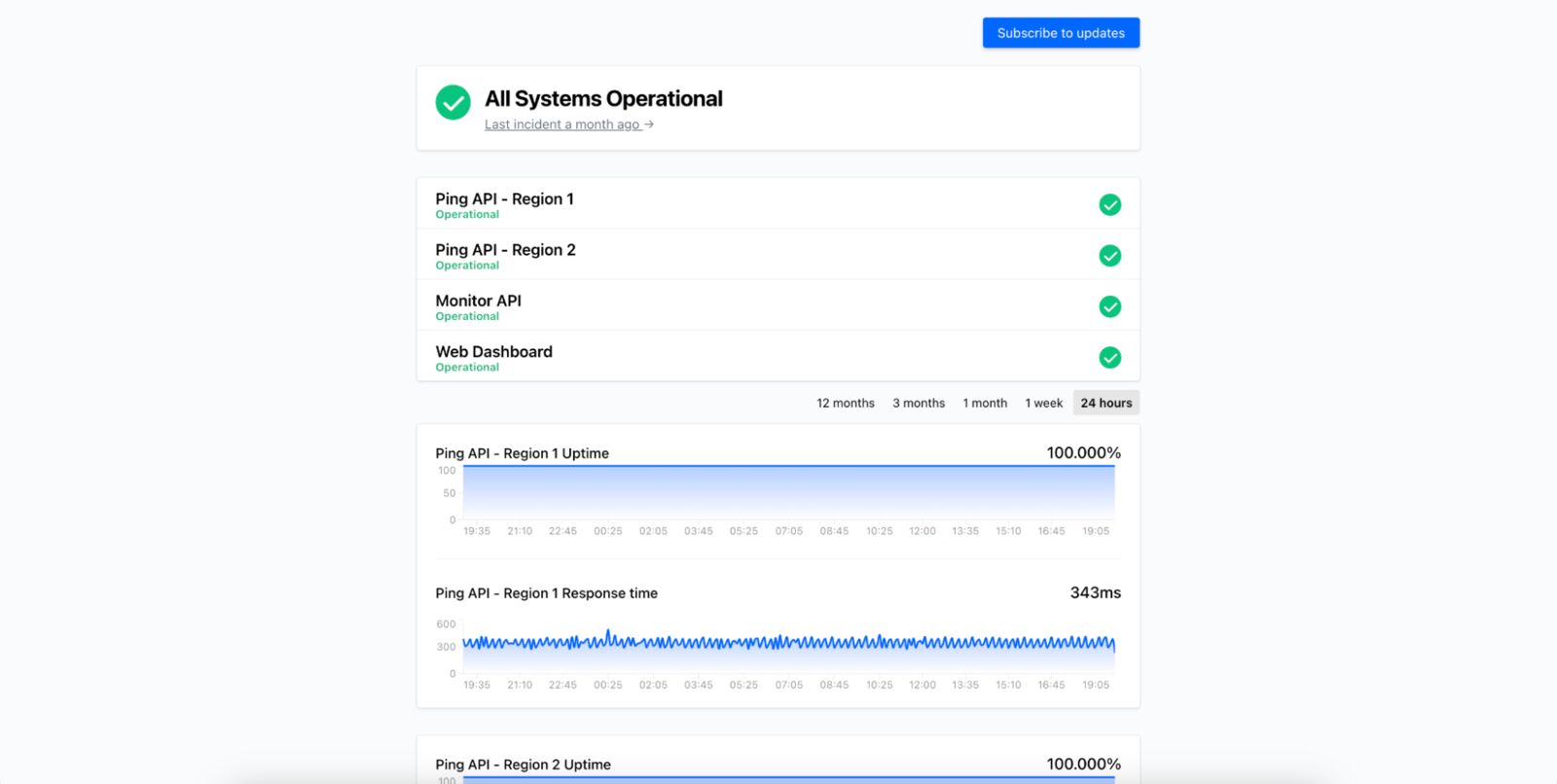 Cronitor is a monitoring solution for anything that can make or be reached via a network request, including websites, cron jobs, and APIs. It also features status page tools, where you can check the state of these services and share it with your users.
Pros
Support for status pages access control
RSS subscription to status pages
Sharable incident links
Support for scheduled maintenance communication
Cons
Alerting limited to email and SMS in the Hacker plan
Pricing
Cronitor's pricing starts with the Hacker plan. It supports up to 5 monitors and the basic status page, but it is free, so you can use the plan to start and experiment with the features. The Business plan starts at only $2/month for monitors and $5/month for users. The Enterprise plan pricing is available per request.
4. Atlassian Statuspage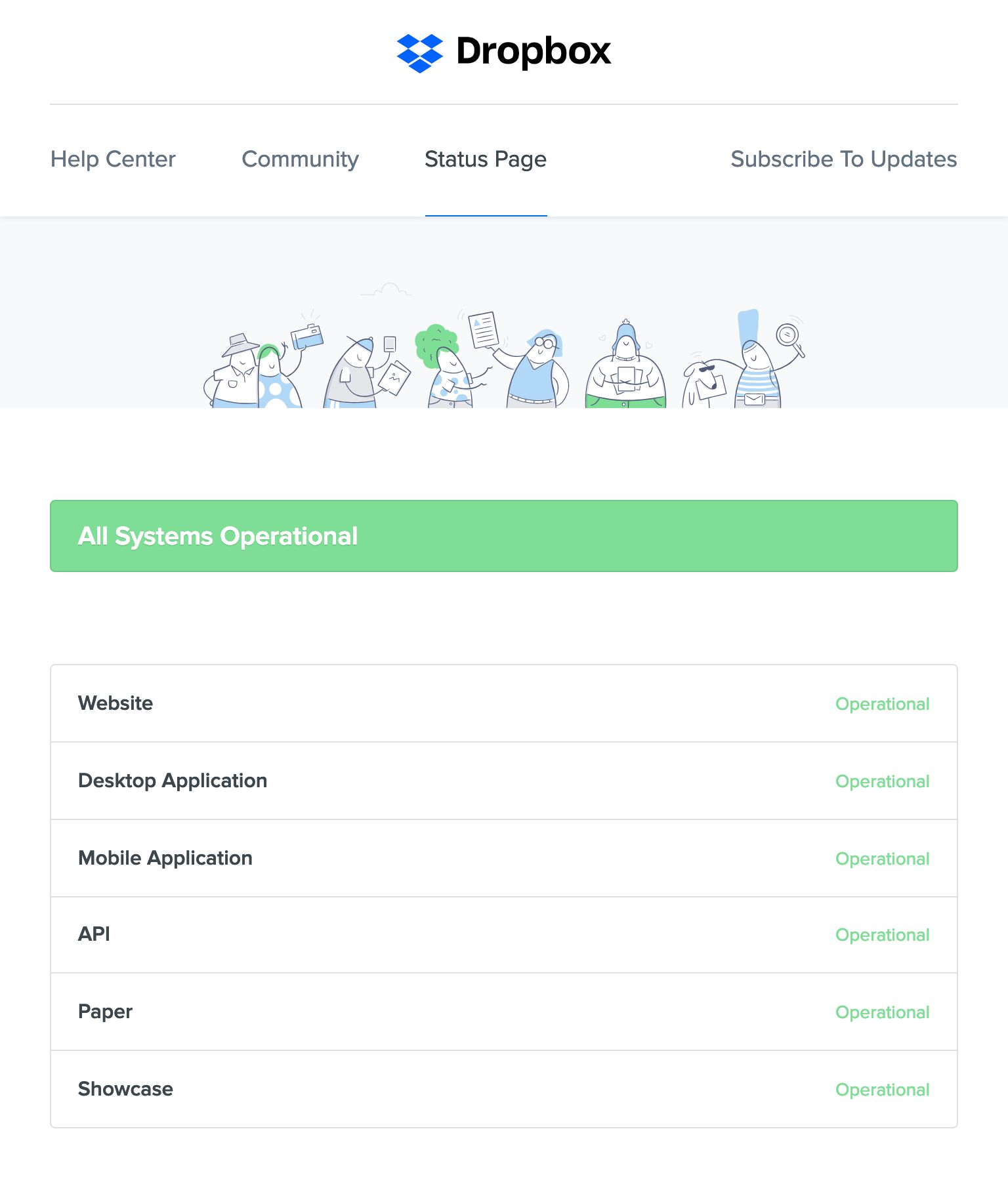 From the creator of Jira, Confluence, and BitBucket comes the Atlassian Statuspage, a software providing that allows you to create public, private, and audience-based status pages. The service offers support for SSL certificates, notifications, incident templates, REST API for ease of management from outside the Atlassian ecosystem, activity logs, and third-party notifications via webhooks.
Pros
Private and public status pages support
SSL support in all plans
Incident notifications with email, Slack, and webhook support
Status page branding, customization, and custom domains support
Cons
Expensive higher plans
Public and private status pages coming in a different plans
Pricing
Atlassian Statuspage pricing depends on your needs.
The public status pages start with a free tier that allows two team members, two metrics, and 25 components. The first paid plan for public static pages, Hobby, starts at $29/month supporting a custom domain, 5 metrics, and email and Slack notifications. The final pricing tier, Enterprise, gives you access to 50 team members, 50 metrics, and custom CSS/HTML/JS support.
The pricing for private status pages for internal communication ranges between $79/month (the Starter plan) and $1499/month (the Enterprise plan).
You can also have audience-specific status pages starting from $300/month.
5. Better Uptime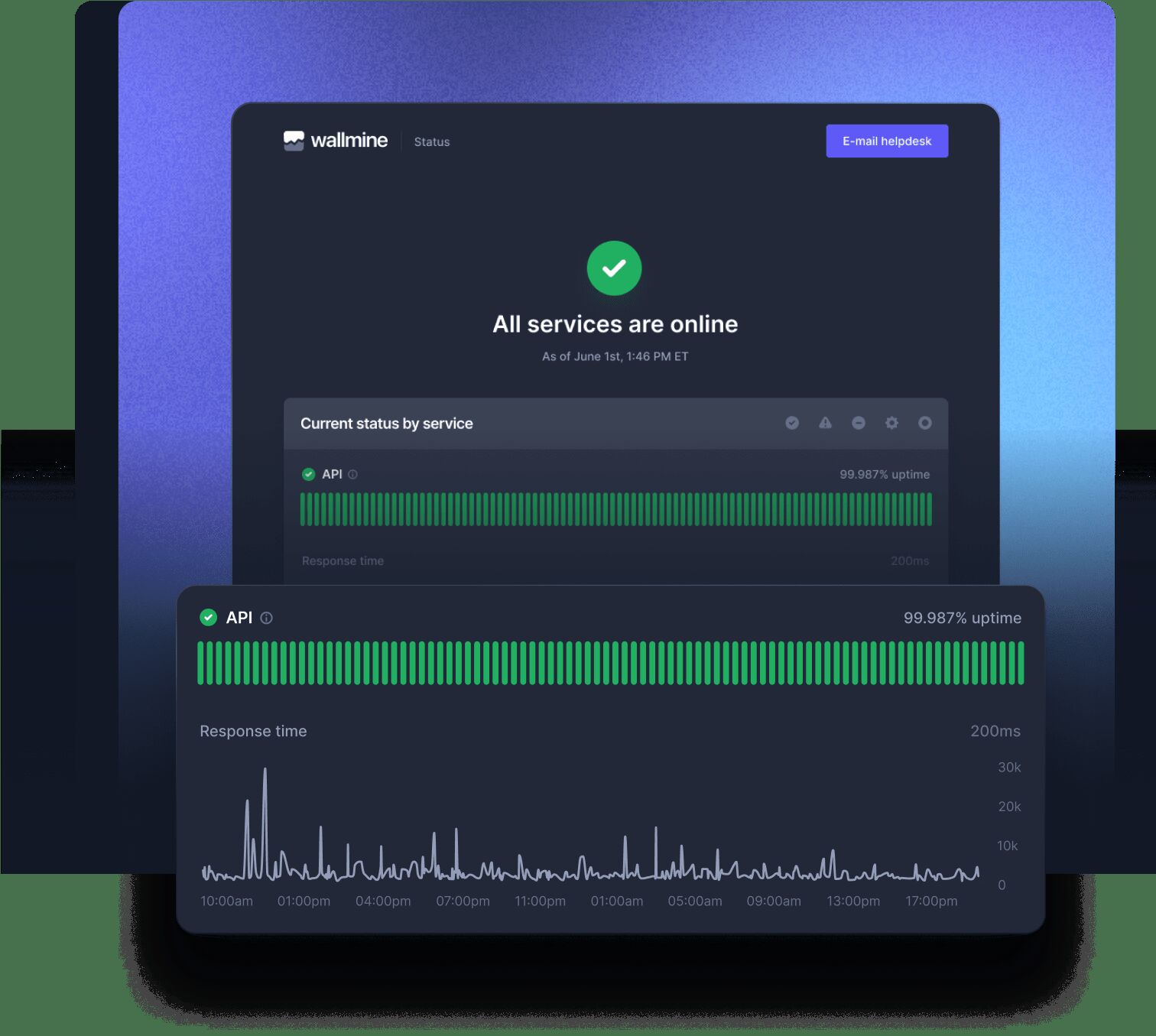 Better Uptime is a monitoring service that enables you to create status pages with data provided by the monitors looking into your infrastructure. The pages can be available under a custom domain and easily branded with styles that match your company site visuals. Better Uptime helps you to communicate the issues to your users and resolve issues faster by storing the screenshot and error logs associated with the errors.
Pros
Extremely simple to set up and get started
Support for custom styles for your status pages
Support for custom domains
Screenshot and error logs show you why the incident was reported making it easy to get to the resolution faster
Similar incident grouping for ease of incident management
Cons
The Business plan is limited to 5 members by default requiring additional payment for more users
Pricing
Better Uptime offers a free Basic if you use up to 10 monitors and 5 status pages with 3-minute checks. The paid plans start with Freelancer, which costs $30/month for 5 status pages, 50 monitors, and 30-second checks. Business is the most expensive plan at $200/month per team consisting up to 5 member, giving you access to 25 status pages and 1000 monitors.
6. Instatus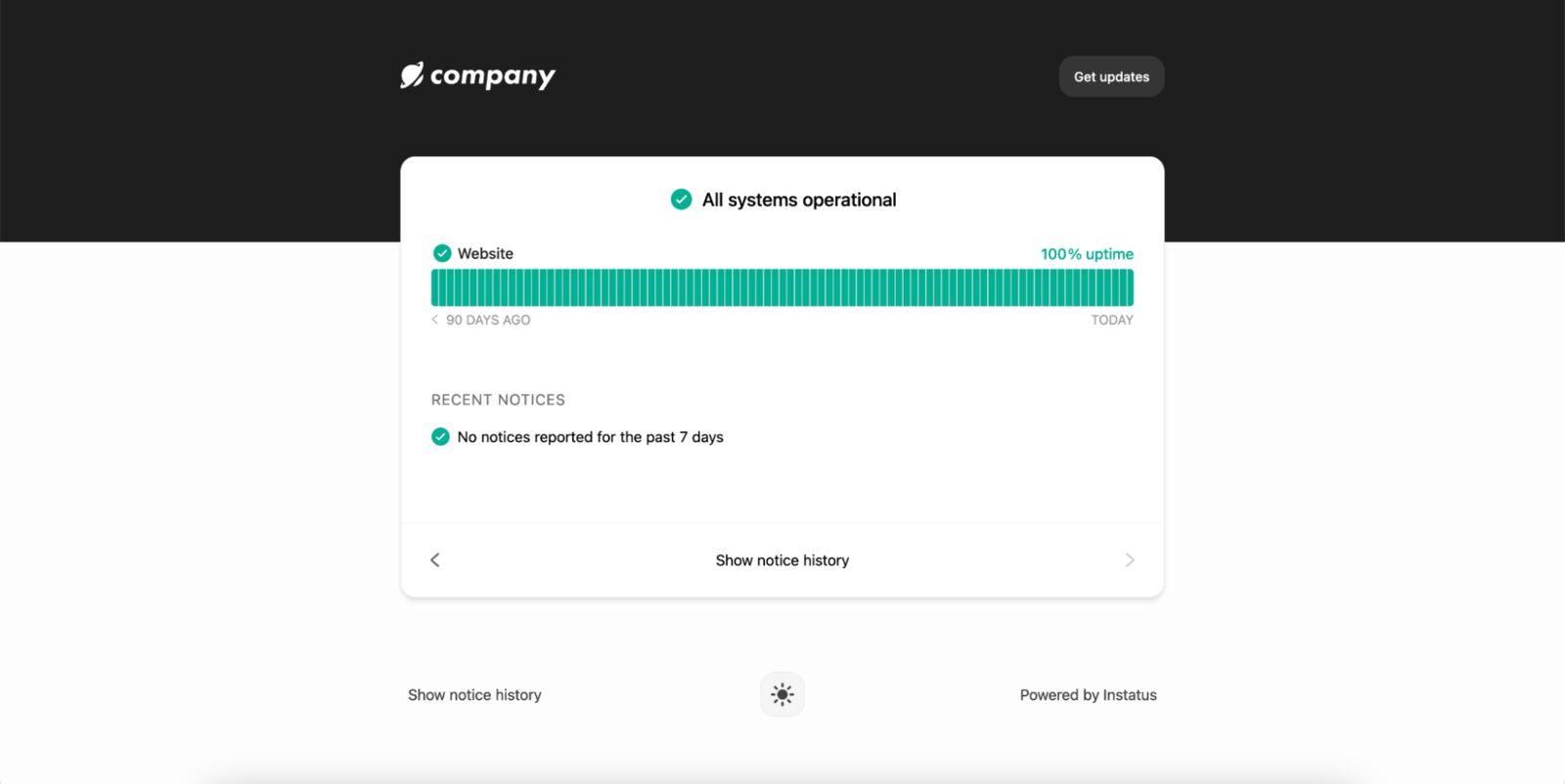 Unlike the other tools in this list, Instatus is a service designed to create public, private, and audience-based status pages. This makes it extremely easy to use and set up, although not as powerful. But it does its job, providing additional functionalities that make it stand out. For example, you can send status page updates to external services and third-party tools integration like Slack, from where you can control said pages.
Pros
Simple setup
Support for updates of the status page via email, Slack, Microsoft Teams, custom webhook, or RSS feed
Support for a variety of integrations you can use to control your pages
Cons
Limited support for status page branding
Pricing
The public status pages pricing starts with a free Starter plan with the basic features, goes through the Pro plan with custom domain support for $20/month, up to the Business plan that supports SSO/SAML for $300/month.
The private status pages start with the Private Pro plan at $50/month with IP whitelisting and single password login, but you can also go with the $300/month Business plan, which adds SSO/SAML and email login. Instatus also offers audience-based status pages starting with the Select plan at $100/month and the Business plan at $300/month with SSO/SAML support.
7. Freshstatus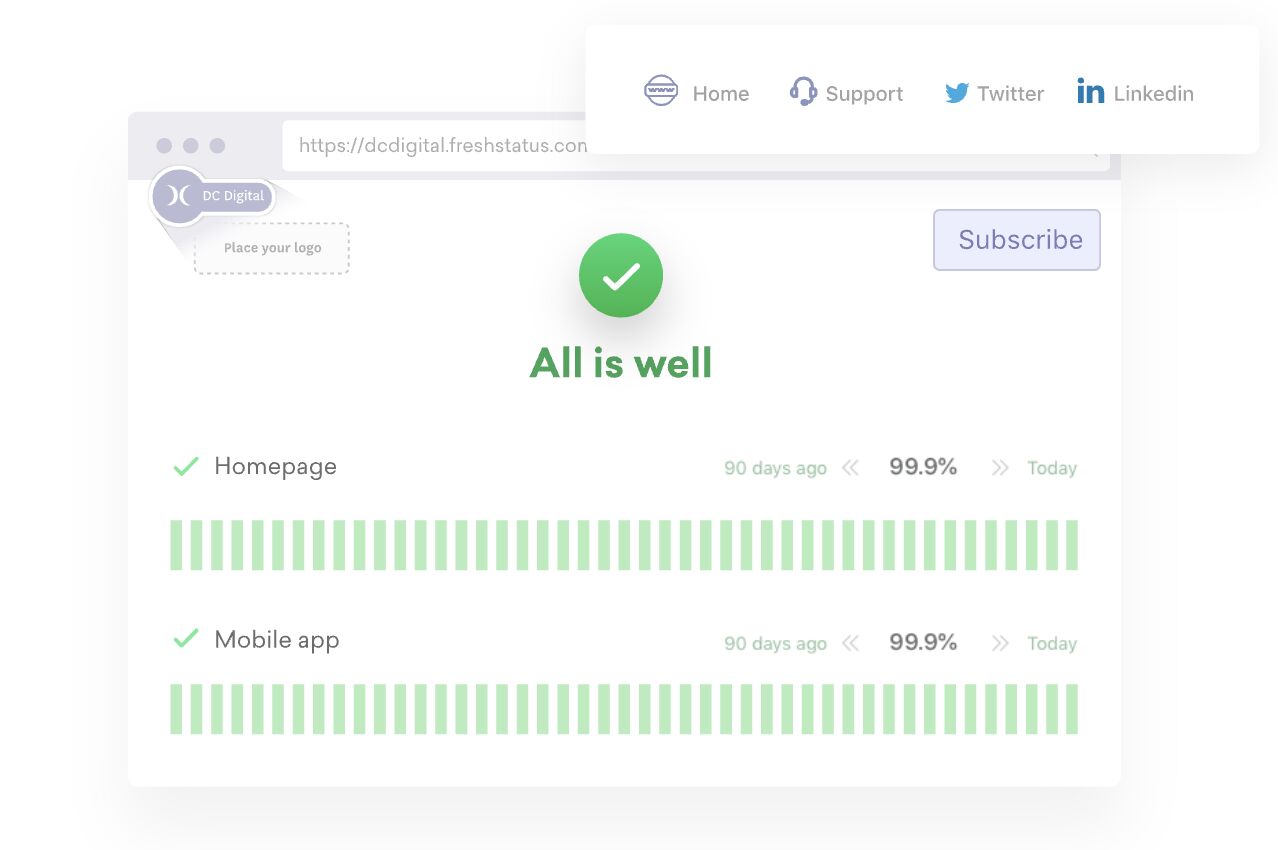 Freshstatus is a status page service supporting custom domains and templates for incidents, maintenance events, and updates. It allows easy social media handling, custom badges, and styling options that you can adjust via the administration panel. Frashstatus stands out for its basic analytics capabilities as they come out of the box, showing information that helps assess the performance of your delivery team. You get access to data mean time to resolve, services reports, and scheduled maintenance reports.
Pros
Support for alerts and notifications for status pages and incidents, including RSS/ATOM
Template-based incidents, maintenance events, and updates
Custom domains, social media handles, and various styling options
Basic analytics
Cons
A limited number of integrations available out of the box
Pricing
Freshstatus pricing starts with a free plan that gives access to 250 subscribers. The Pro plan costs $25 and allows a single custom badge and over 250 subscribers.
8. Statuspal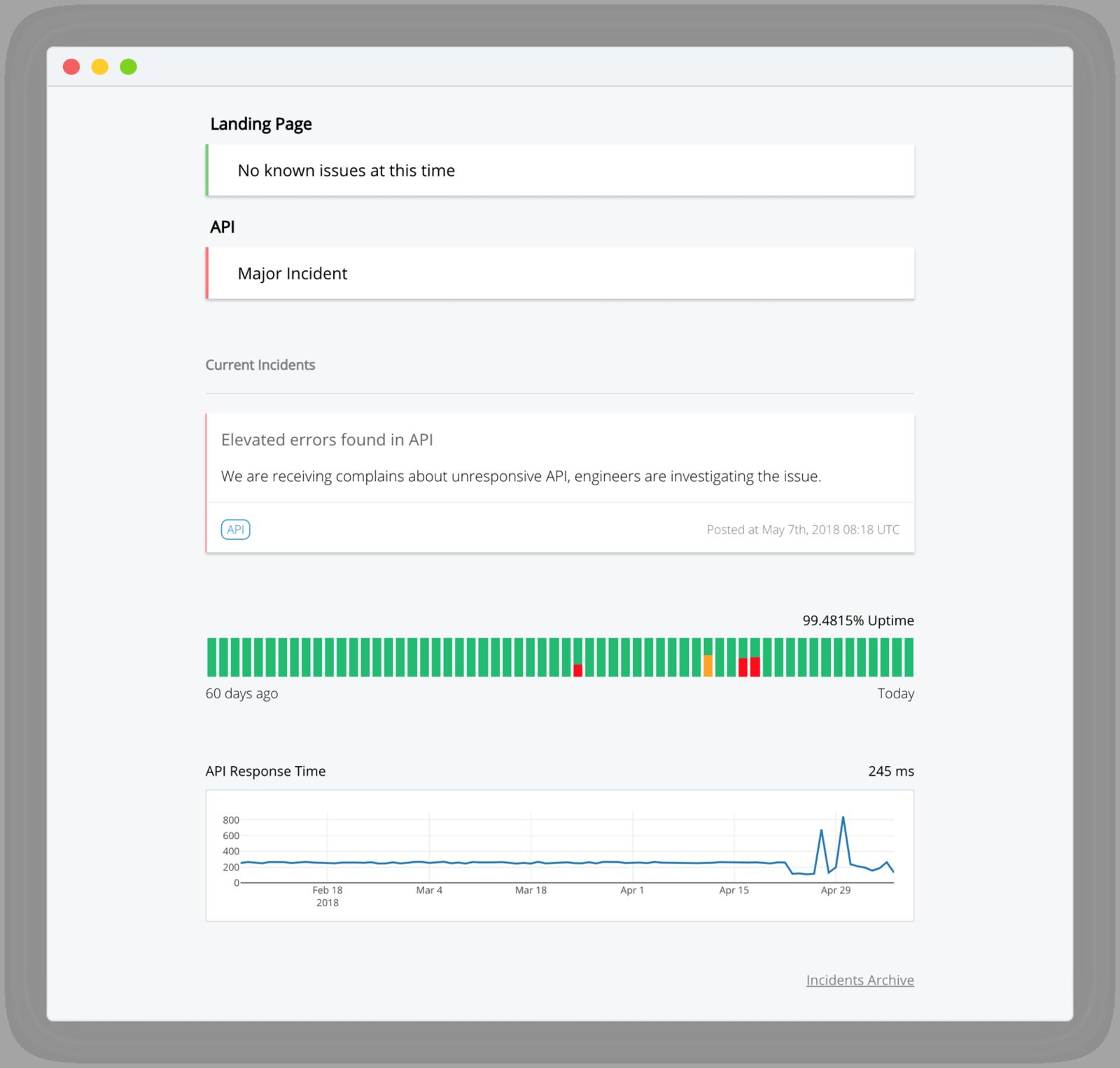 Statuspal lets you monitor your site and share its status with your users and customers by creating customized status pages on your own domain. It has two options – the commercial service and a self-hosted, open-source version. It supports uptime calendars, notifications, and incident and maintenance reporting.
Pros
Open-sourced and available for self-hosting and as a service
Unlimited number of public status pages available in all plans
Uptime calendar
Support for custom domains with SSL
Response time and uptime charts
Custom branding with CSS, Javascript, and HTML support
Cons
Limited number of team members in the initial paid plan
Monitoring and alerting available in the SaaS version only
Pricing
Statuspal's pricing starts with the Hobby plan at $46/month, which includes unlimited public status pages, 5 team members and 10 monitored services. It goes through the Startup ($99/month, 20 team members, 30 monitored services), Business ($299/month, 50 team members, 100 monitored services) up to the Enterprise plan that is tailored for you. The latter three plans come with an unlimited number of public and private status pages. There's also a free trial available for the first three tiers.
9. Cachet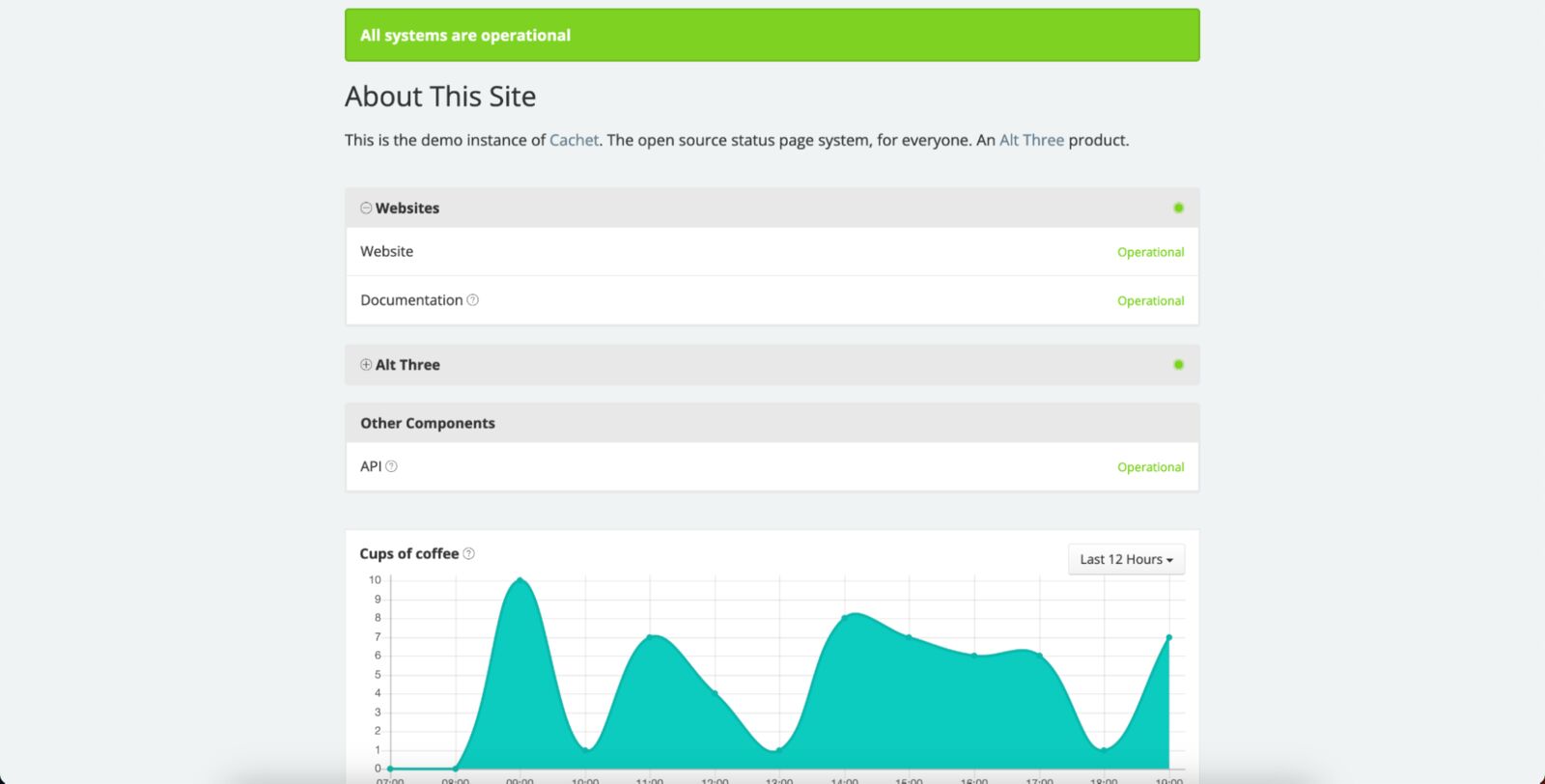 Cachet is an open-source status page solution you can use without any license. It was designed with various target platforms in mind, allowing users to check the status of your systems from their desktops, phones, and tablets. You can plan unavailability and service disruptions with the scheduled maintenance support and use the JSON API to update your status pages directly from your application.
Pros
Scheduled maintenance support for planned service disruptions
Support for status pages customization
Email-based notifications
Markdown support for incident messages
Cons
Only email notifications available
Pricing
Cachet is a free and open-source status page tool and can be installed and run without needing a license. However, you must maintain it and pay the "price" of hosting it yourself.
10. Vigil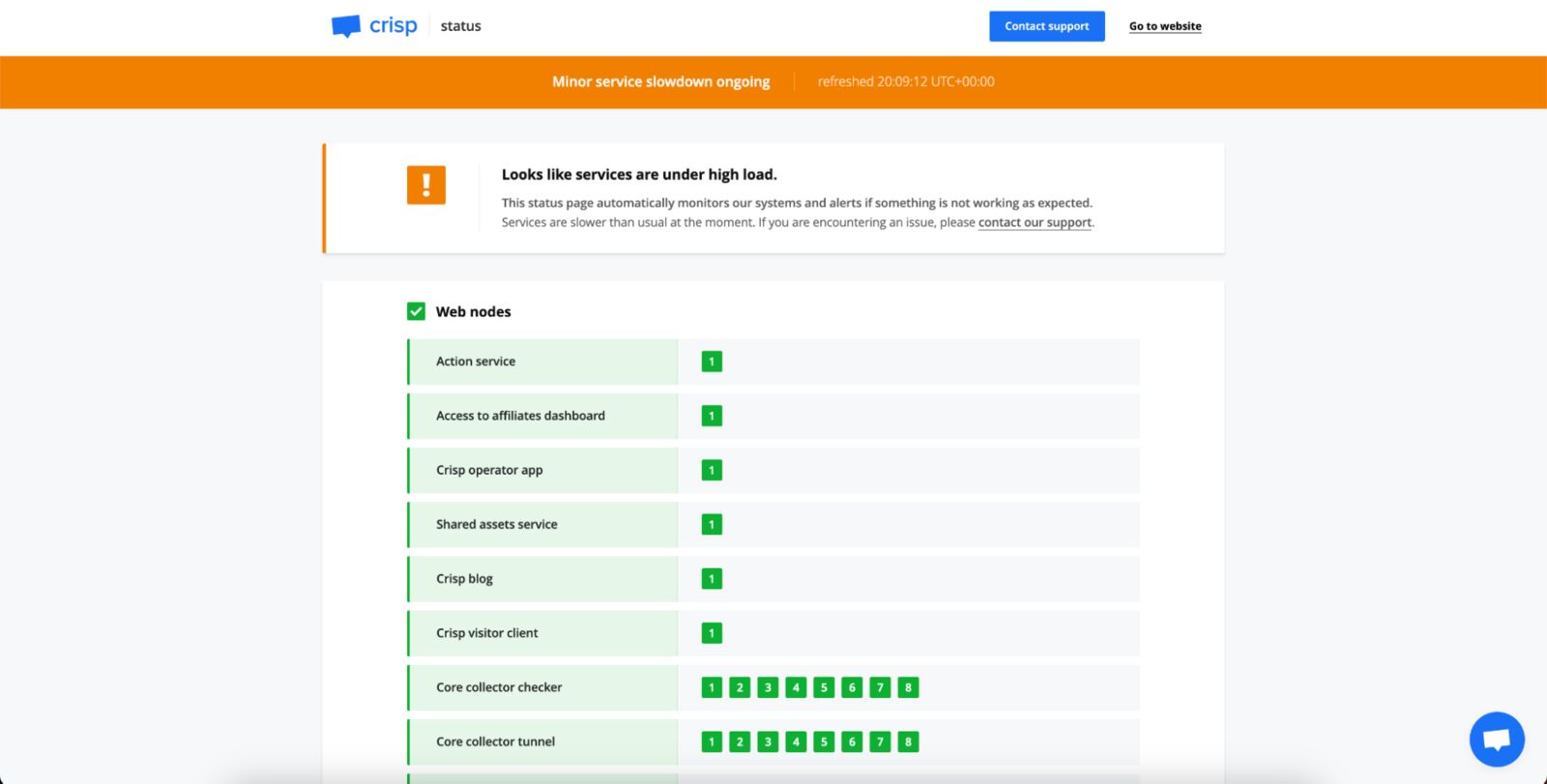 Vigil is an open-source status page tool designed for microservices architecture. It monitors and provides clear information about the status of your infrastructure's elements. Using its planned maintenance capabilities, you can inform your users ahead of time about planned disruptions and communicate changes in the status of your infrastructure via various notification channels.
Pros
Support for HTTP/TCP-based services, application services via client libraries, and local services via probes
Custom styling for status pages
Support for various languages for application services reporting, including Node.js, Typescript, Golang, and Rust
Cons
Lack of application services monitoring support for JVM-based languages
Pricing
Vigil is an open-source and free status page tool that doesn't require a license. However, you are the one responsible for maintenance and hosting.
11. StatusCast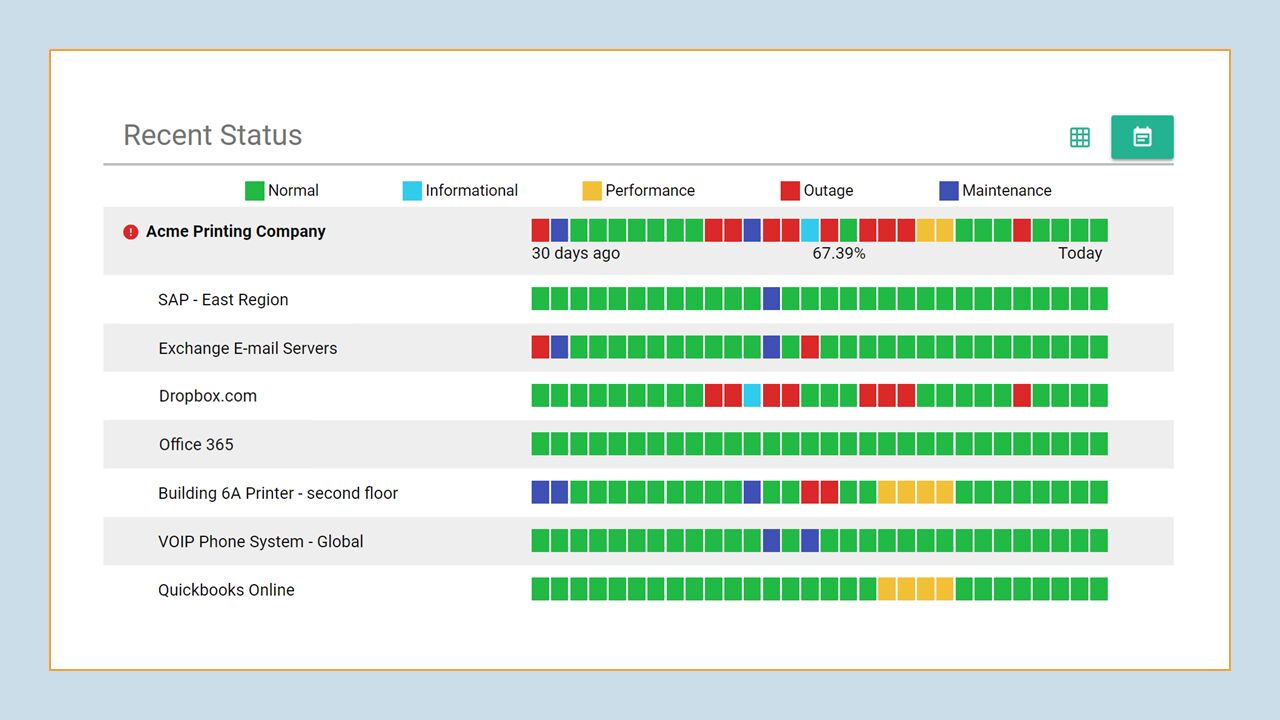 StatusCast is a service providing both public and private status pages. Extremely easy to use, it doesn't require you to know any programming languages to integrate it with other technologies. With its intuitive drag-and-drop user interface, you can customize your status pages to fit your needs. What's special about StatusCast is that it allows two-way communication so that not only you but your users too can report any problems with your services.
Pros
Support for integrations without writing any additional code
Pre-made status pages templates are easily customizable via drag-and-drop
Incident communication via various channels including email, RSS, Slack, mobile and more
Incident management from Slack enables less context switching
SLA and uptime reporting
Cons
Limited Starter plan
Expensive
Pricing
StatusCast offers public status pages for $50/month per page with the Starter plan with includes basic branding, email, and RSS notifications, a single administrator and 100 subscribers. Pricing goes up to $1600/month per page for the Enterprise plan, which gives you access to30.000 subscribers, 100 components, SLA calculations, delivery audits, and more.
The private status pages start with the Starter plan at $99/month per page with similar limitations to the Starter plan for public status pages. You can buy the Enterprise plan for the staggering $13480/year per page.
12. Statping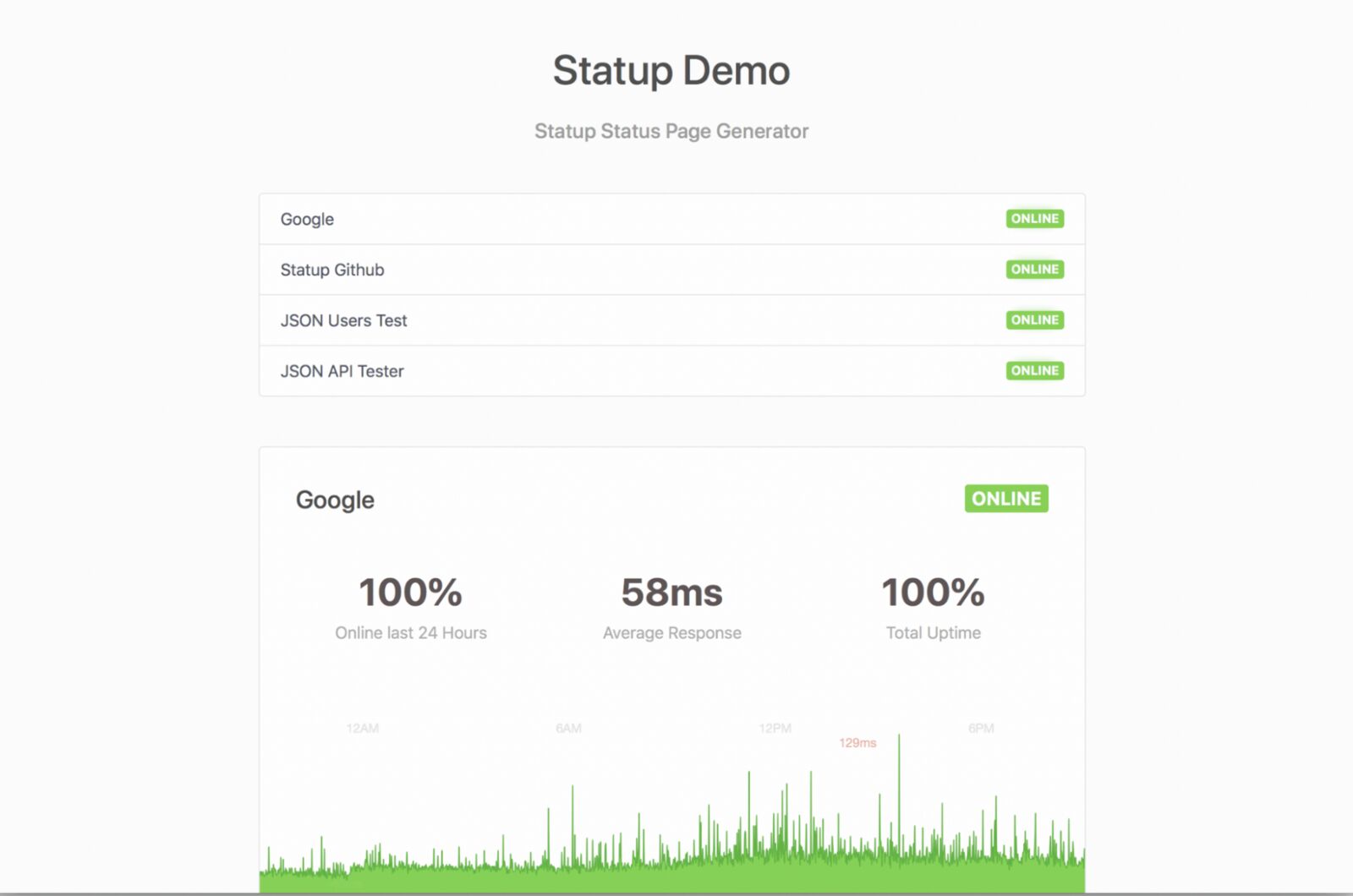 Statping is an easy-to-use, open-source status page software for your web pages and applications. Build in Go with support for all major operating systems like Linux, Windows, iOS, and Android, it allows you to provide the status pages for virtually any software – all you need to do is precompile the binary for your platform.
Pros
Easy-to-use, customizable dashboards
SMTP and webhook-based notifications support
Custom styling support
Mobile application available
Cons
Potential need of binary compilation
Pricing
Statping is an open-source project and, as such, is free of charge. The only thing you need to think of is hosting and maintenance.
How to Choose the Right Status Page Solution for You
Choosing the right status page service or software is not easy. Here are some criteria to consider when looking for such a solution:
Support for public status pages, private status pages, or both, depending on your needs.
Future growth opportunities – think observability – metrics, logs, traces.
Ease of integration with your infrastructure and applications/services running in it
Your budget. Ask yourself whether you should opt for a paid status page solution or an open-source one.
Do you want to maintain the solution yourself, or do you prefer someone else host the solution for you, so you and your team don't have to spend time maintaining the service?
The features you need depend on your organization's short- and long-term requirements. You don't want to change the status page and reconfigure everything every three months.
The support for the broader observability features Once you have status pages, you may want to go further and have monitoring, logs, traces, and so on.
And one last thing – remember that you shouldn't host status pages in the same environment as with your main infrastructure. If that is the case, you may not see the alerts because other services running in the same infrastructure may prevent the alerts from being generated.
Why You Should Have a Status Page
The answer is quite simple – for better communication. Status pages are an excellent tool when integrated correctly, as they can automatically inform your customers about the status of your services. At the same time, because the status pages usually provide a real-time picture of your services, they can help you spot and diagnose the issues faster. The second you get an alert from a service responsible for providing your status pages, you know you might have a problem.
Conclusion
No matter the tool, communicating the status of your services is crucial to building a healthy relationship with your customers. And status pages help with that by enabling easy and fast open communication. This limits the time needed to answer difficult questions from your users and allows you and your team to focus on the issue and quickly bring your service to a fully working state. If you don't have a status page yet, waste no more time and start looking for one. This review of the best status page services and software is a good starting point for understanding what's available.
If you're still unsure how such a page works and helps, we encourage you to try Sematext. You can try the status page functionality free for 14 days before deciding whether it's the right tool for you.
---