The Log Shipper Poll results are in!  We run Logsene here at Sematext, so we wanted to know what the best log shippers are and what people like to use to ship their logs.  Before we share the results, a few words about the poll:
We published it here on our blog on September 22, 2014
We automatically tweeted it and posted it to several Devops and similar LinkedIn groups
We did not post it to groups or mailing lists for various log shippers we included in the poll to avoid bias
We collected 115 votes until now
That said, let's see how log shipper popularity breaks down.
You can tweet the results of this poll here: Top 5 Most Popular Log Shippers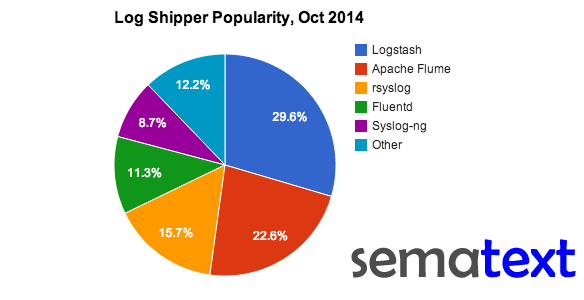 Don't forget to check out Logsene – our log management software that will happily take logs from Logstash, Flume, rsyslog, Fluentd, Syslog-ng, syslogd, etc.  Check How to Send Logs to Logsene to see how easy it is.
---