The Complete Guide to Kubernetes Monitoring
Learn what Kubernetes metrics to monitor, how to do it & what are the best open-source and commercial tools to help ensure peak performance of your cluster.
Elastic Stack (ELK)
The ELK stack is among the most popular open-source log management solutions, including for Kubernetes. But it can easily be used – and it is used by many – for monitoring purposes too.
It's a collection of four tools that ensures an end-to-end logging pipeline. Elasticsearch is a full-text search and analytics engine where you can store Kubernetes logs. Logstash is a log aggregator that captures and processes logs before shipping them to Elasticsearch. Kibana provides reporting and visualization functionalities. And finally, Beats, are lightweight data shippers used to send logs and metrics to Elasticsearch.
ELK comes equipped with Kubernetes and Docker monitoring beats with auto-discovery. The Beats collect Kubernetes and Docker logs, metrics and metadata, thus helping you monitor performance at application and system level.
Check out our blog post series to learn how to run and deploy Elasticsearch to Kubernetes and how to run and deploy the Elasticsearch Operator.
Pros: 
Rich analytics capabilities

Easy to deploy and run in Kubernetes environment

Large community
Cons: 
Datadog
Datadog is an APM solution that enables you to extract logs, metrics, events and service states from Kubernetes in real time. It enables you to monitor, troubleshoot and optimize application performance. Datadog features dashboards and high-resolution metrics and events for manipulation and graphing. You can also set up alerts and receive notifications on various channels, including Slack and PagerDuty.
Datadog is easy to install. You can run it using their DaemonSet agent that will be deployed to every cluster node. 
Pros:
Easy to install

Great APM integration
Cons:
Confusing logs integrations
New Relic
New Relic features Kubernetes integration, giving you an overview of your servers, hosts, applications, and services. You can capture data and metadata for nodes, pods, containers, deployments, replica sets, and namespaces. It also features powerful searching capabilities, as well as tag-driven alerting and dashboarding.
Pros:
Cluster health visualization

Integration with APM
Cons:
Besides these fully-featured products, we also looked at the best free and open-source monitoring tools. When you first jump into the Kubernetes ecosystem you'll most likely always bump into CNCF projects. and you tend to always try them first. You can run such tools in your own cluster and manage it by yourself.
However, this always comes with overhead. We touched on this a bit further up where we listed tools from well established monitoring SaaS products. 
Prometheus
Prometheus is one of the most popular open-source tools used to monitor Kubernetes. It was developed by SoundCloud and donated to the CNCF (Cloud Native Computing Foundation).
What's different about Prometheus compared to other time-series databases – such as Cassandra, Graphite, InfluxDB – is that it has a simple yet powerful multidimensional data model and its flexible query language (PromQL). Furthermore, it follows a pull model rather than push and has built-in real-time alerting mechanisms. Finally, being open-source, it gathered a large community interested in helping and bringing innovation. 
Prometheus has no built-in dashboard, so you'll need to use a visualization tool. Users opt for Grafana. 
You can easily run Prometheus on top of Kubernetes by using the Prometheus Operator.
Pros: 
Built-in monitoring and alerting

Functional and reliable during outages 

Kubernetes-native, easy to use

No anomaly detection

Integrates well with Grafana

Large community
Cons: 
No long-term storage

No dashboard

No authentication/authorization

Challenges at scale
Grafana
Grafana is an open-source solution used for monitoring, metrics, data visualization, and analysis. 
Compared to other visualization tools, Grafana stands out because it connects with a long list of databases. When used to monitor Kubernetes, Grafana usually sits on top of Prometheus, but it's also popular in combination with InfluxDB or Graphite. You can build comprehensive monitoring dashboards with a wide variety of graphs, from heatmaps to line graphs, bar graphs, histograms or Geo maps. And, you can already find a lot of ready-to-use Kubernetes monitoring dashboards.
Grafana also features a built-in alerting system, along with filtering capabilities, annotations, data-source specific querying, authentication and authorization, cross-organizational collaboration, and many more.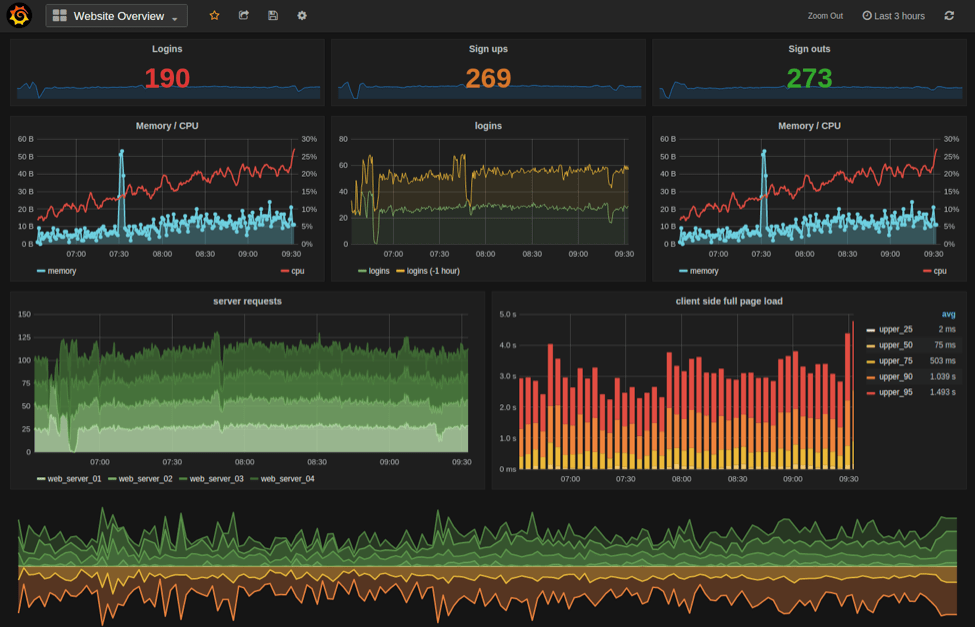 Jaeger
Jaeger is a free tracing tool used for monitoring and troubleshooting in complex distributed systems, including Kubernetes environments. It was released by Uber Technologies and open-sourced in 2016.
With Jaeger, users can perform root cause analysis, distributed transaction monitoring, distributed context propagations, service dependency analysis, and performance and latency optimization.
Jaeger features OpenTracing-based support for Java, Node, Phyton, Go, and C++ and for various data sources, including Cassandra, Elasticsearch, Kafka, and memory. Read more about how to use Jaeger as a distributed tracing system.
To deploy Jaeger, you can use the Jaeger Operator or a DaemonSet configuration.
Pros:
Various instrumentation options

Easy to deploy

Modern user interface
Cons:
Limited backend integration