Application Performance Monitoring 101:
A Guide on How APM Works, Use Cases & Best Practices
In today's digital market, modern apps have to not only bring value but provide around the clock availability, fast responses and real-time problem-solving. Because all businesses rely on software applications their performance is one of every organization's main concerns and biggest headaches, especially if their applications are not just a part of their business, but the business itself. This is where APM comes into play.
In this guide, we are going to dive deep into what is application performance monitoring and why you should use it, how it works, and which are the best practices to help you troubleshoot performance issues faster to ensure peak app performance and flawless user experience.
What Is APM?
Application performance monitoring (APM) is the practice of continuously monitoring and tracking application performance and availability, as well as end-user experience – its purpose is to detect anomalies, troubleshoot issues, understand patterns, optimize resource usage and gather insights that help ensure customer satisfaction and drive business growth.
Take note not to confuse 'application performance monitoring' with 'application performance management' as they are often used interchangeably as 'APM.'
Looking for an APM tool to help you ensure peak app performance and user experience?
Sematext tracks requests across networks and apps, from front-end to back-end, to pinpoint performance issues and root causes that can impact end-users.
Start your 14-day free trial
See our plans
No credit card required – Up and running in no time
Management vs. Monitoring
Application performance management is the broader strategy of managing overall performance, starting with code, application dependencies, transaction times and user experience. Monitoring is a small – but critical – part of it – it points out that there is a problem.
On the other hand, performance management takes it a step further. By using the alerts sent out by your monitoring tool, it allows you to see when and where along their journey, users encountered problems and why these problems occurred. For example, monitoring will alert you that your app or website is slow or down, but management will let you make some changes that could potentially address the problem.
Such a complete strategy ensures full visibility into app performance, helping DevOps to spot trends and be better prepared to respond to similar issues in the future.
Why Is It Important?
When it comes to the digital economy, avoiding downtime and measuring availability, response time and behavior of every business transaction are crucial.
The Big Challenge: Why Are Applications Running Slow?
When you're facing application slowness, you need to determine why your app is slow, since when it's been running slowly, and what is causing slowness. That should be easy if it were not for how modern software applications look today – highly-distributed, multi-tier, multi-element architectures based on app development frameworks from Java to ASP.NET, Python, Rails, PHP, Angular.js, Node.js, Express.js, and so on. However, while that helps build better software applications, it makes performance management and monitoring increasingly difficult if you were to stick to traditional monitoring techniques such as performing ping tests or measuring server-level metrics (network activity, memory, CPU and disk usage, etc.).
These techniques can't help you analyze the interdependencies between components when you work with a distributed app. Logs, metrics, events are everywhere – in the cloud, across clouds, in hybrid clouds – sometimes hard to locate and manage, thus hard to find out why your app is running slow.
Infrastructure Visibility: A Critical Part of APM
Many performance issues are caused by memory leaks in the server, slow network connectivity, virtualization bottlenecks and the like, thus making infrastructure monitoring a must in ensuring peak app performance.
Let's get back to our question: "why are applications running slow". What you need is an application performance monitoring tool that cuts across tier boundaries providing end-to-end performance visibility along with the information you need – app and server metrics – to connect application infrastructure and performance with user journey. Such solutions help keep an eye on the health of every business transaction as they happen so that you can easily understand when, where and why app slowness happened and user experience was affected.
Why Use APM Instead of Other Solutions?
There are other ways to work your way around application monitoring, with methods such as synthetic transactions, manual instrumentation of the code, or customer feedback. However, while these do have their own – important – role in a monitoring strategy, they need additional configuration until they can offer the same perks as an APM tool.
This would be both time- and money-consuming. Instead, a comprehensive APM solution gives you end-to-end visibility into how your application performs without needing extra efforts from you.
Read our guide to learn more about monitoring and why do you need it.
How Does It Work?
Application performance monitoring works by:
Tracking if your app is behaving as it should, within normal parameters. 

If not, sending alerts and collecting data regarding the source of the problem. 

Analyzing the data while considering the impact it has on business.

Offering insight on how to adjust your app environment so that you can easily spot and fix similar issues in the future before they impact the end-user. Thus, APM helps you take a proactive approach to troubleshooting.
5 Core Elements to Monitor
Several years ago Gartner came up with their APM conceptual framework to help you decide on which aspects of monitoring you should focus on first. It looks like this: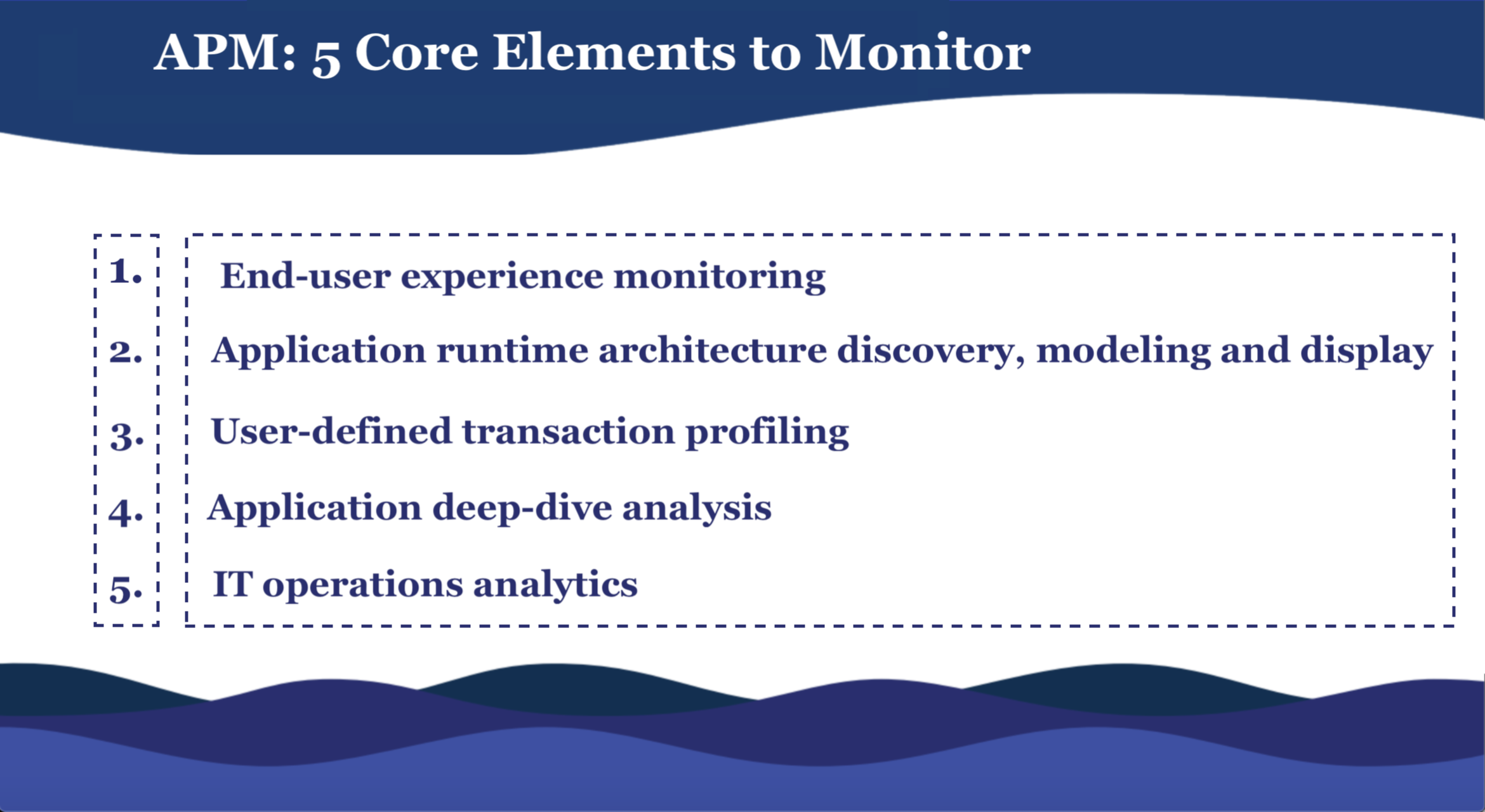 End-user experience monitoring (or digital user experience monitoring) tracks how a software application behaves from a user's point of view, looking for the times when they experience slowness, downtime, or errors. You can monitor end-user experience proactively with synthetic monitoring or passively with real-user monitoring. 
Learn about the difference between these two methods in Real User Monitoring (RUM) vs. Synthetic Monitoring: A comparison and see where RUM fits into the APM strategy in RUM vs. APM: How they're similar and different.
Application runtime architecture discovery, modeling and display involves mapping out all the components of your application and see how they interact with each other. Having the data available in a visual form makes problem detection easier.
User-defined transaction profiling analyzes the flow of every user transaction and isolates specific interactions where performance issues are detected. Tracing allows you to follow the user's journey from frontend to backend. Therefore, developers can find the exact line of code, database query, or third-party call that affects application performance.
Application deep-dive analysis implies collecting performance metrics from all the components in your application infrastructure. Infrastructure monitoring should be integrated into an APM tool.
IT operations analytics refers to analyzing data to identify usage patterns, trends and performance issues that you can leverage to build a better plan on how to deal with similar situations before they occur and affect end-users.
This framework was later reorganized to consist of three parts: End-user experience monitoring became Digital experience monitoring (DEM), application topology, transaction profiling and application component deep-dive were merged into Application discovery, tracing and diagnostics (ADTD), and IT operations analytics became Artificial intelligence for IT operations (AIOps) for applications.
Looking for a comprehensive APM tool that covers DEM, ADTD, and AIOps?
Sematext builds a dynamic map with your whole infrastructure, making it easier for you to see how components interact and to trace each transaction.
Start your 14-day free trial
See our plans
No credit card required – Up and running in no time
What Does APM Measure: Metrics You Should Track
There are two types of metrics that APM tracks: the ones that show how end-users experience app performance and those that monitor infrastructure resources. But these are the most critical application performance monitoring metrics you should measure:
Average response time

Number of application instances

Request rates

Application & server CPU usage

Application availability/uptime (SLAs)
Use Cases & Applications
If you thought that APM tools are useful only for technical teams, you thought wrong. There are other departments that can reap the benefits of application performance monitoring, as well.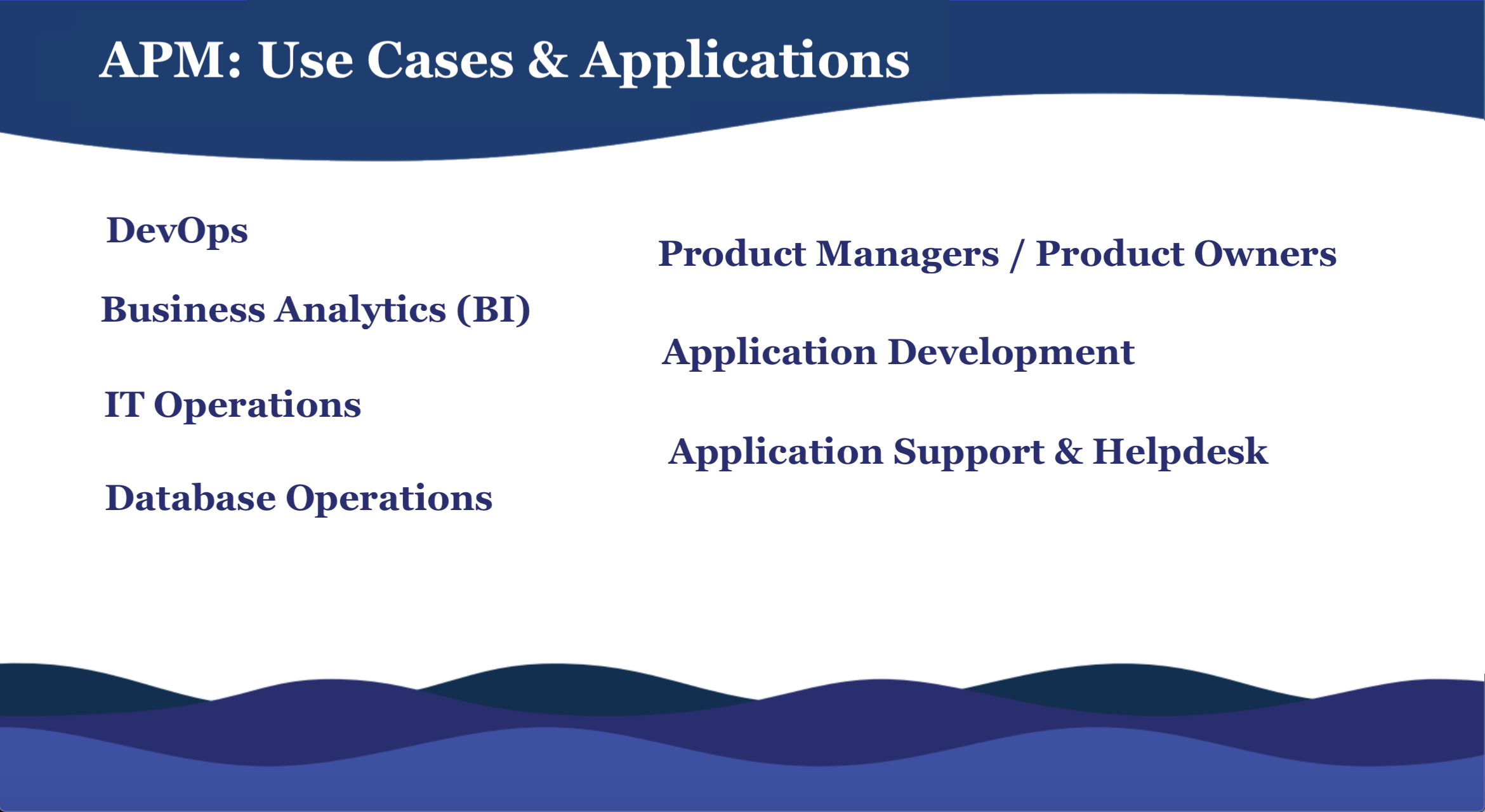 Product Managers / Product Owners
Performance is a feature and APM solutions give product people insights into how well this feature works.  It tells them how their audience is using and experiencing the product. Metrics like Apdex serve as direct input into whether and where the engineering and UX teams need to focus to improve user experience, increase product adoption, and reduce customer churn.  
DevOps
APM helps DevOps teams detect new commits, releases and builds and correlate them with performance issues if they occur. Such monitoring tools should be able to automate application deployment with little to no manual intervention. Furthermore, they enable DevOps to provide quantifiable feedback to application developers.
Application Development
APM software allows application developers to dive into code-level performance and determine whether it's a code issue or something else such as database or infrastructure problem. If indeed, there's a problem with the code, APM can pinpoint the source and help narrow down the areas they need to look into.
IT Operations
APM gives IT teams complete visibility into infrastructure performance, enabling them to isolate issues once detected, thus making root cause analysis more accurate. They can correlate infrastructure performance with resource usage trends to tune the infrastructure for day-to-day operations. The machine learning capabilities of APM tools help in taking a proactive approach to troubleshooting instead of being purely reactive.
Database Operations
APM software enables database operations and SQL monitoring. It gives database administrators (DBAs) an overview of database server performance, helping them see if and how it affects overall application performance. DBAs can detect bottlenecks such as storage issues, insufficient buffers, slow or inefficient queries, and many more, thus offering DBAs insights for optimizing queries and even the database schema.
Application Support & Helpdesk
Customer support teams can also benefit from an APM tool. Support can look at individual sessions and identify where reported issues occurred. By using such a solution they can pinpoint what tier is causing problems and report that to the development or DevOps teams for fixing. 
Business Analytics (BI)
Marketing teams can make use of the business analytics side of application performance monitoring tools. By monitoring digital user experience during application access, marketing professionals can trace customer journey and measure their satisfaction. They can see why transactions failed and carts were abandoned and estimate the revenue loss due to poor application performance. Some solutions may offer insights on how to optimize customer engagement and overall customer experience to improve conversion rates.
Looking for an intuitive APM software that all your team can use?
Sematext
collects data on how your app is performing and measures user experience that help connect app performance with business outcomes
.
Try it free for 14 days
See our plans
No credit card required – Up and running in no time
APM Tools & Solutions
A complete application monitoring solution consists of one or more tools that allow you to monitor all three core elements we mentioned earlier – digital experience monitoring, application discovery, tracing and diagnostics and artificial intelligence for IT operations. 
Unfortunately, there are no free open-source projects that cover all three aspects of APM as a package. Usually, they offer only one, be it infrastructure monitoring, RUM or tracing, which you can combine if you want to go open-source all the way. Among the best, we can name Jaeger, Zipkin, Stagemonitor, Pinpoint, Weave Scope, Scouter, and Apache Skywalking. They've gathered large communities around them that are driven to innovate and help by coming with new features that meet users' needs.
On the other hand, there are a lot of vendors that offer both standalone monitoring tools and the whole package. 
How to Choose the Right APM Solution
Besides being easy to use and able to provide actionable insights, look for a tool that can manage applications in language(s) your applications use, monitor performance at code-level, depict end-user experience, use artificial intelligence, allow you to monitor the entire infrastructure and offer information that helps you connect app performance metrics with business outcomes.
Sematext as an APM Tool
We offer a comprehensive APM solution that provides end-to-end visibility into your web application's performance. It traces requests across multiple applications, tiers, servers, microservices, and processes, all the way down to databases, to detect the slowest and under-performing parts of your stack. 
It then uses this data together along with error rates and failed transactions to build a dynamic map of your complete app architecture – including connections to external services and databases –  that shows how all components interact with each other. The AppMap makes it easier for you to track application health and performance.
If you're looking for an all-in-one monitoring solution, you should also check out Sematext Cloud, our full observability platform, and our review of other such cloud monitoring tools.
Takeaways
As businesses go through digital transformations such as cloud-migration and container orchestration the risk of app downtime goes up, making application performance management and monitoring more important than ever.
APM is essential to ensure software application availability, making using such a tool a must, especially if you're running a SaaS business. APM tools help DevOps understand how application releases affect service performance, security, and reliability. They enable teams to set up alerts to detect and solve issues before they impact user experience and set up automated actions based on specific events, patterns and trends.
Hopefully, this tutorial helped you understand better what APM means, why you need it as part of your monitoring strategy, and how to use it to deliver enhanced app performance, improved digital user experience, and, ultimately, to drive business growth.
Now all you have to do is pick the right APM tool and you're good to go!