Ever heard the expression "A picture is worth a thousand words", well with Sematext Experience we want you to have a picture of the thousand words your customers want to tell you, but usually don't.
At Sematext, we've learned over time that we cannot count on customers or visitors on our website to tell us about issues they encounter while using our product or visiting our webpage. Instead of getting support tickets or live chat inquiries about issues potential customers may have encountered, we would see them abandon the signup and/or, onboarding process.
The truth is that these potential customers were running into issues that we didn't even know about or for some of them the web app was simply slow. This is a common occurrence in software-based businesses.
Luckily, there is a solution. This is why we are glad to announce Sematext Experience, our new real user monitoring solution, which has helped us improve our web app & website performance and in turn, our customers' overall digital experience – now you can do the same!
Sematext Experience is an easy-to-use Real User Monitoring solution, adding to the Sematext Cloud observability toolbelt, which encompasses Log Management, Infrastructure Monitoring, Tracing and now, Real User Monitoring. Sematext allows you to detect anomalies & receive alerts when user experience is affected by website performance. You can also track page loads requests, HTTP requests, Apdex score, script errors, and more.
Sematext Experience works exceptionally well for troubleshooting when combined with our logs, tracing, and monitoring products as you can correlate your website or web app performance metrics with your infrastructure metrics and logs.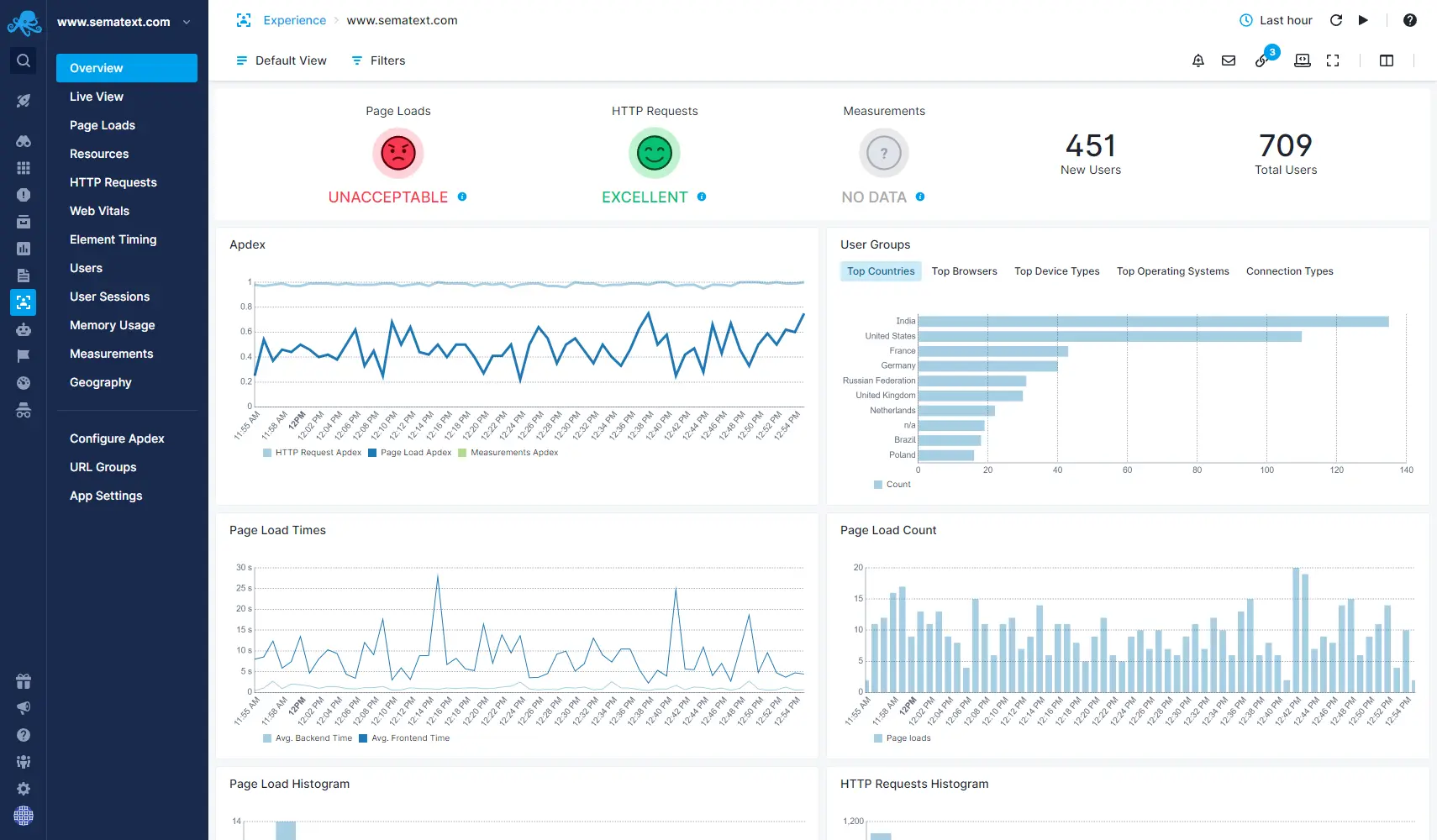 Real User Monitoring Dashboard, Sematext Experience
Let's jump into what Sematext Experience offers.
Overview of Sematext Experience Capabilities
Inspect individual sessions and drill into page-level specifics
Track page loads, HTTP requests, resources, UI interactions, and more
Get real-time alerts when a bug is affecting website or web app performance
Reduce performance-related issues
Group page loads and HTTP requests with URL patterns
What is Real User Monitoring?
Real User Monitoring, or RUM, is a type of monitoring technology for digital businesses that analyzes customers' digital experiences by looking at exactly how online visitors are interacting with a website or application, analyzing everything from page load events to HTTP requests to frontend application crashes. In a nutshell, RUM is one of the best ways to improve website performance and deliver a better experience to your users.
Benefits of Sematext Experience & Feature Rundown
Get alerts when performance is affecting UX
You can set up real-time alerts based on the Page Load, HTTP Request, or On-Page Transaction Apdex score. When your score goes from Excellent to Poor you want your developers looking into that.
Single Page Application support
We support all major single page app frameworks with minimal configuration, such as:
Read more about how RUM can help track and monitor single-page applications.
Single score to rule them all
We use Apdex score to quickly communicate to the website owner how visitors perceive the website performance.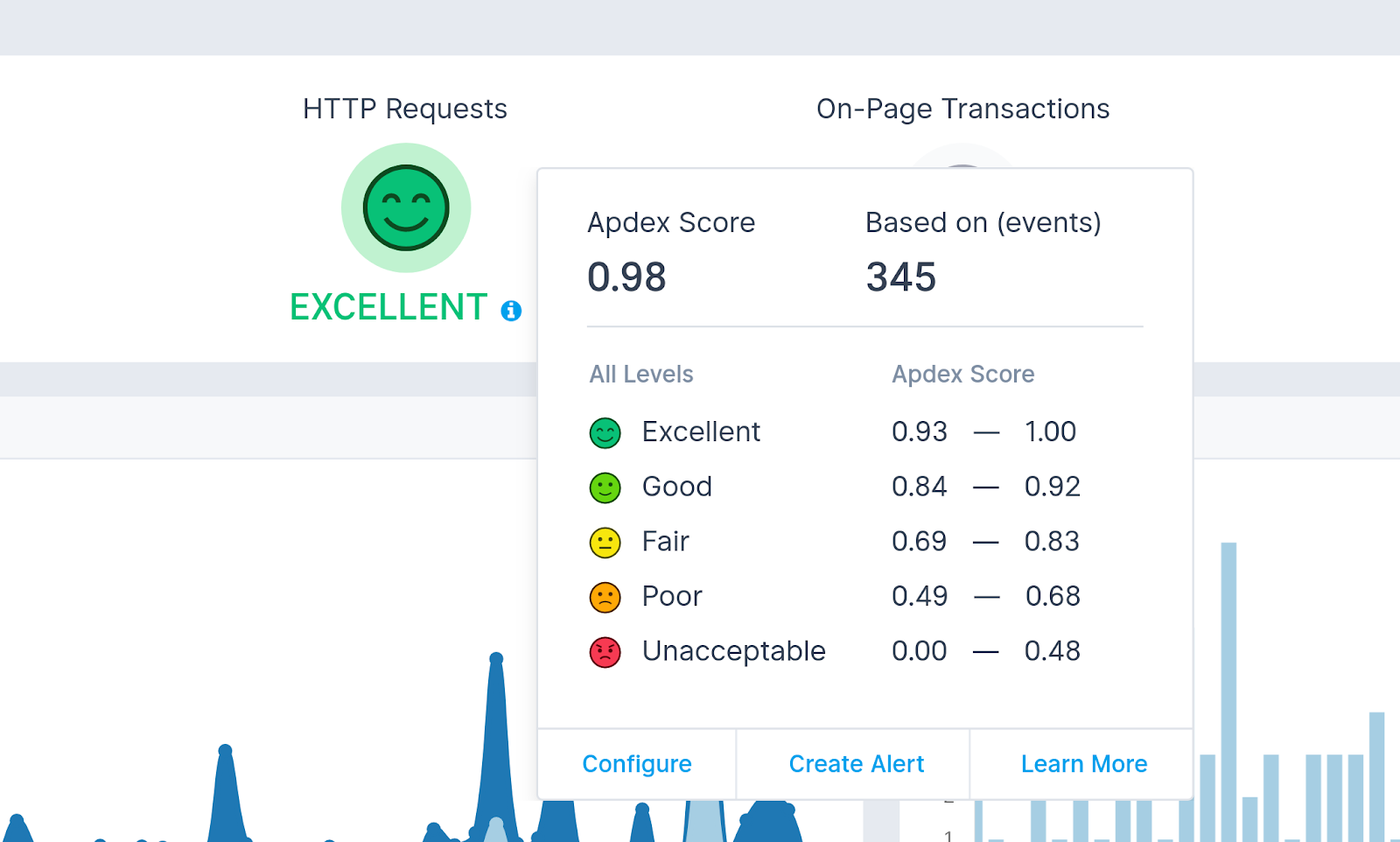 The Apdex score is calculated based on the number of satisfied, tolerating and frustrated requests. By default, we consider the visitor will be satisfied if the page load or ajax request is finished in under 2 seconds. If it's slower than 8 seconds, we consider it frustratingly slow (1:4 ratio). You can configure the "satisfied" threshold via Configure shown above if you believe this is not a good default for your website.
Sematext Experience also allows you to sort through the pages or transactions that have the lowest or highest satisfaction score.
Record any UI interaction with On-Page Transactions
We automatically collect metrics for page loads, HTTP requests, and resources such as images, CSS files, JS files, etc. With On-Page Transactions, you can track anything else. Do you want to track how long it takes for the app to load the initial data? You can do it. There is a critical part of your UI that needs to always finish in under 200ms? You can track and ensure you react in time when it slows down with real-time alerts.
Inspect Individual Sessions
Sematext Experience allows you to inspect individual sessions and see the timeline of page load events, on-page transactions, and HTTP requests made during the sessions. This session also includes user information and metadata such as browser information, geolocation, and more.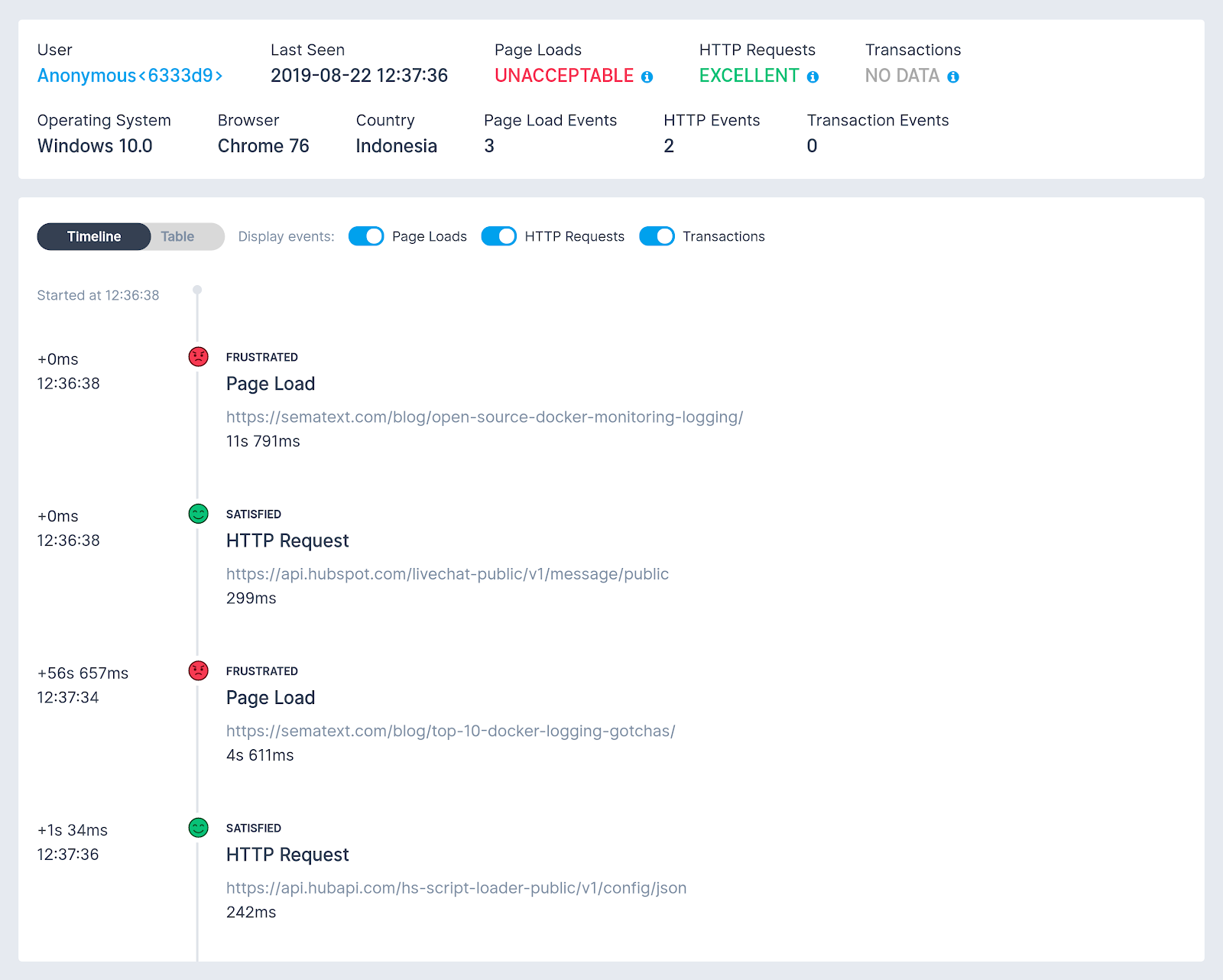 Inspect performance data from a high-level overview to individual requests
Sematext Experience records each page load and HTTP request and displays this on charts, giving you insight into time spent on the backend and in the browser. You can filter by URL, browser type, version, OS, and country. You can also group by URL pattern if you want to see, for example, page load event metrics for all blog posts in one place. When you need more details, you can look into each page load, user session, or HTTP request details.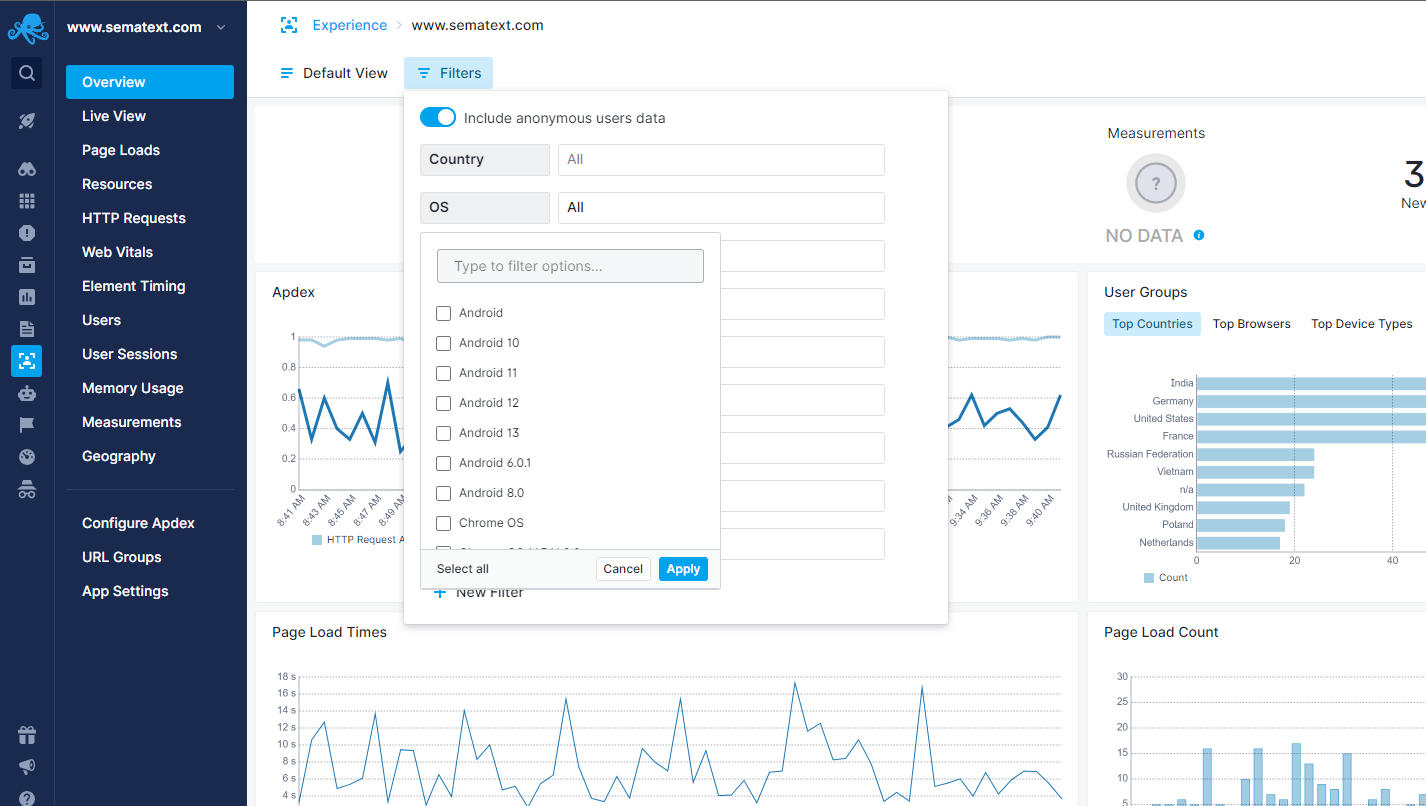 Coming Soon
Sematext will be adding in a killer feature towards the end of 2019 for crash reporting. This feature will allow you to get detailed information about each error that happens while a visitor is interacting with your website or your web app.
Learn more about how you can use Sematext Experience to avoid performance issues from our tutorials:
---