Several years ago, there was little choice among performance monitoring tools. You had to deal with what the market offers. Datadog is one of the oldest solutions available and, thus, well-known. Yet, it is not without flaws, which might make people look for alternative solutions since the market is booming and new tools emerge regularly.
In this article, we will look at the ten best Datadog alternatives available on the market that will give the same, if not better, performance monitoring features.
What Is Datadog?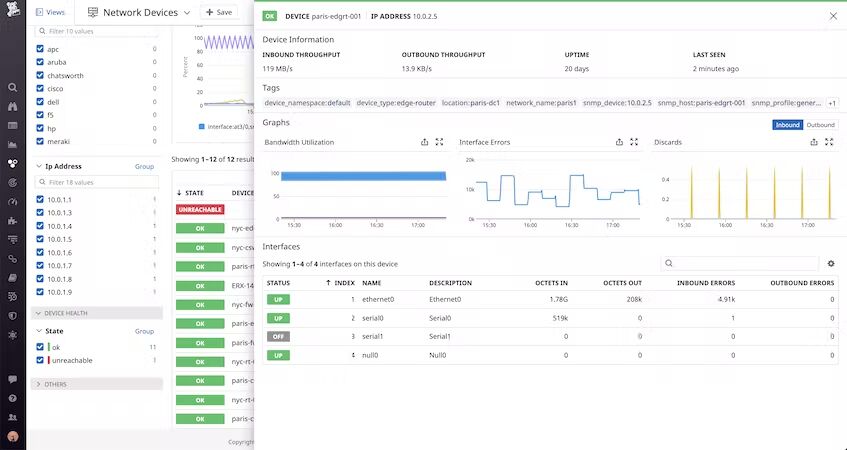 Datadog is a powerful SaaS monitoring solution offering extensive features, including cloud infrastructure, application, container, network, logs, and serverless monitoring capabilities. With its flexibility and functionality, Datadog provides a complete observability solution that enables full visibility into your application stack. Additionally, it offers a rich set of features for data analysis, alerts, and custom dashboards, making it a good choice for users looking for a comprehensive monitoring solution.
However, Datadog may not be suitable for everyone. The configuration-based agent installation can be time-consuming and overwhelming for newcomers, especially when setting up process monitoring, which requires agent config editing and agent restart. Additionally, new users may have to invest quite a bit of time to understand metrics and build dashboards before making full use of the solution.
Datadog Features
Datadog is a massive platform that offers 20+ individually priced solutions. As outlined on their pricing page, they offer Infrastructure Monitoring, Log Management, APM & Continuous Profiler, Universal Service Monitoring, Database Monitoring, Synthetic Monitoring, Continuous Testing, Mobile App Testing and monitoring, Incident Management, Real User Monitoring, CI Visibility, Serverless Monitoring, Network Monitoring, Observability Pipelines, Sensitive Data Scanner, Audit Trail, Cloud Security Management, Application Security Management, Application Vulnerability Management, Cloud SIEM, Cloud Cost Management, and Workflow Automation.
If you got lost in that mix, you're not alone. This is often the reason why people look for Datadog alternatives in the first place. With all of these individual tools, it's hard to know exactly what you need. On top of that, for every solution you add to your roster, your bill can increase exponentially, especially considering that the solutions are already expensive themselves.
Datadog Pricing
Datadog offers feature, host, and volume-based pricing combined together. Each part of the solution is priced differently and can be billed annually or on demand. Users should pay close attention to their bills, as there are a large number of pricing options spread throughout their vast pricing structure, and there have been reports of people being surprised by bill items or amounts.
Within the Datadog pricing structure, there are 20+ different solutions that they offer, each with its own price tag. For example, standard Infrastructure Monitoring starts at $15/host/month and goes up to $23/host/month for their enterprise plan. They also charge $7.20 per 10,000 test runs for Synthetic API tests, and $18 per 1,000 tests for browsers.
Needless to say, Datadog customers report bills can stack up quickly! The visualization of
Sematext vs Datadog pricing shows clearly just how quickly Datadog gets expensive.
With that in mind, we collected the top 10 Datadog alternatives for you to make a weighted decision.
Top 10 Datadog Alternatives
1. Sematext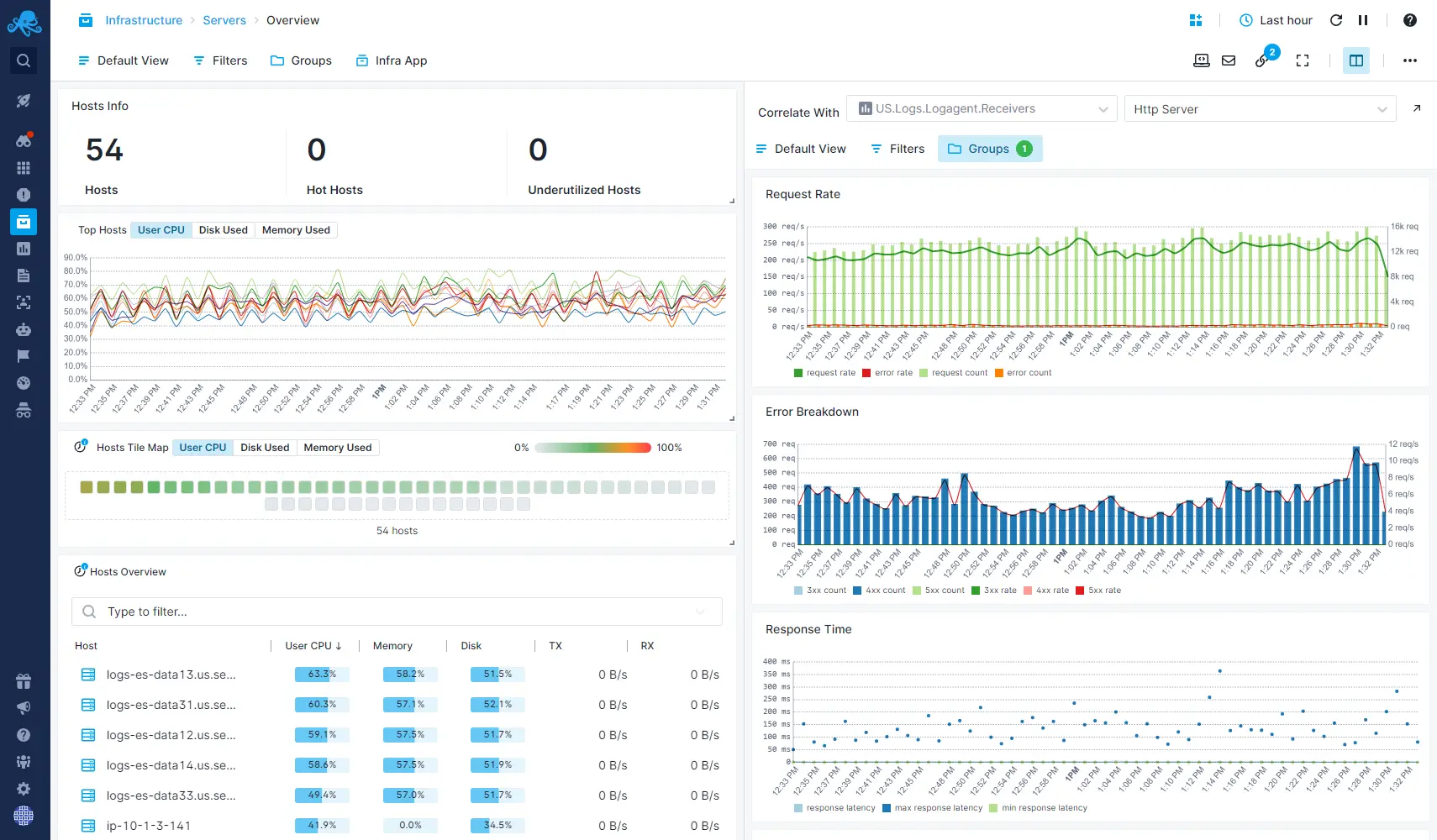 One of the most afordable Datadog competitors on the market today, Sematext is a powerful SaaS monitoring solution that offers a range of features to help users gain complete visibility into their applications and infrastructure, making it an ideal Datadog alternative. With Sematext, users can correlate logs and metrics, including infrastructure, RUM, and synthetics, which speeds up troubleshooting and helps users quickly identify and resolve issues. The platform also offers auto-discovery of services, eliminating the need for additional configuration and enabling Sematext to start streaming in logs and metrics as soon as it discovers new apps and services.
Sematext provides out-of-the-box dashboards that can easily be customized, along with anomaly detection and a powerful alerting engine that uses machine learning to notify users whenever issues arise. With visibility into any part of the infrastructure, from containers to servers, databases, and more, Sematext helps with root cause analysis, allowing users to identify and resolve issues quickly. Additionally, Sematext offers scheduled reporting and reactive and proactive monitoring for a better user experience.
Features
Pros
Easy installation and support
Both SaaS and on-premise options
Flexible subscription pricing coupled with pay-as-you-go choice
Internal and external monitoring capabilities
A state-of-the-art alerting system that includes various triggers
Third-party integration with Incident Management Systems
Detailed browser checks for anomaly detection
Cons
Limited 30-day free trial period
Limited support for transaction tracing
Pricing
Sematext offers a wide variety of pricing packages and even free versions for some of its products.
The paid plans for Logs is completely dependent on the amount of data and the retention period that you need. In this way, you really only pay for what you need, starting at only $50/month.
Monitoring starts at only $3.6/host and is infinitely scalable. You can customize these plans based on the retention period, and unlock more features by upgrading to the Pro pricing plan.
The Startup plan for Sematext's real user monitoring tool starts at only $9/month and can be customized to meet your needs with the retention period.
Finally, with Synthetics, you can choose to pay as you go with $2/HTTP monitor and $7/Browser monitor. In this case, the maximum number of runs you can test for HTTP monitors is 200,000, and 15,000 for browser monitors. If you break down this cost and compare it to Datadog's, you'd be paying $144 for HTTP monitors and $270 for browser monitors for the same number of test runs. Or, if you unlock the standard plan for only $29/month, depending on how many monitors you want, and your desired retention period, which brings down the cost per monitor and increases the number of runs you can utilize per month.
In all cases, with Sematext, you are not locked into any specific plan just because you need more data. You choose the plan you want and the features you want, and customize it to match the amount of data, monitors, and hosts you will be using.
Watch the video below to learn more about Sematext.
Want more details on how Sematext stacks up? Check out our page on Sematext vs Datadog.
2. Splunk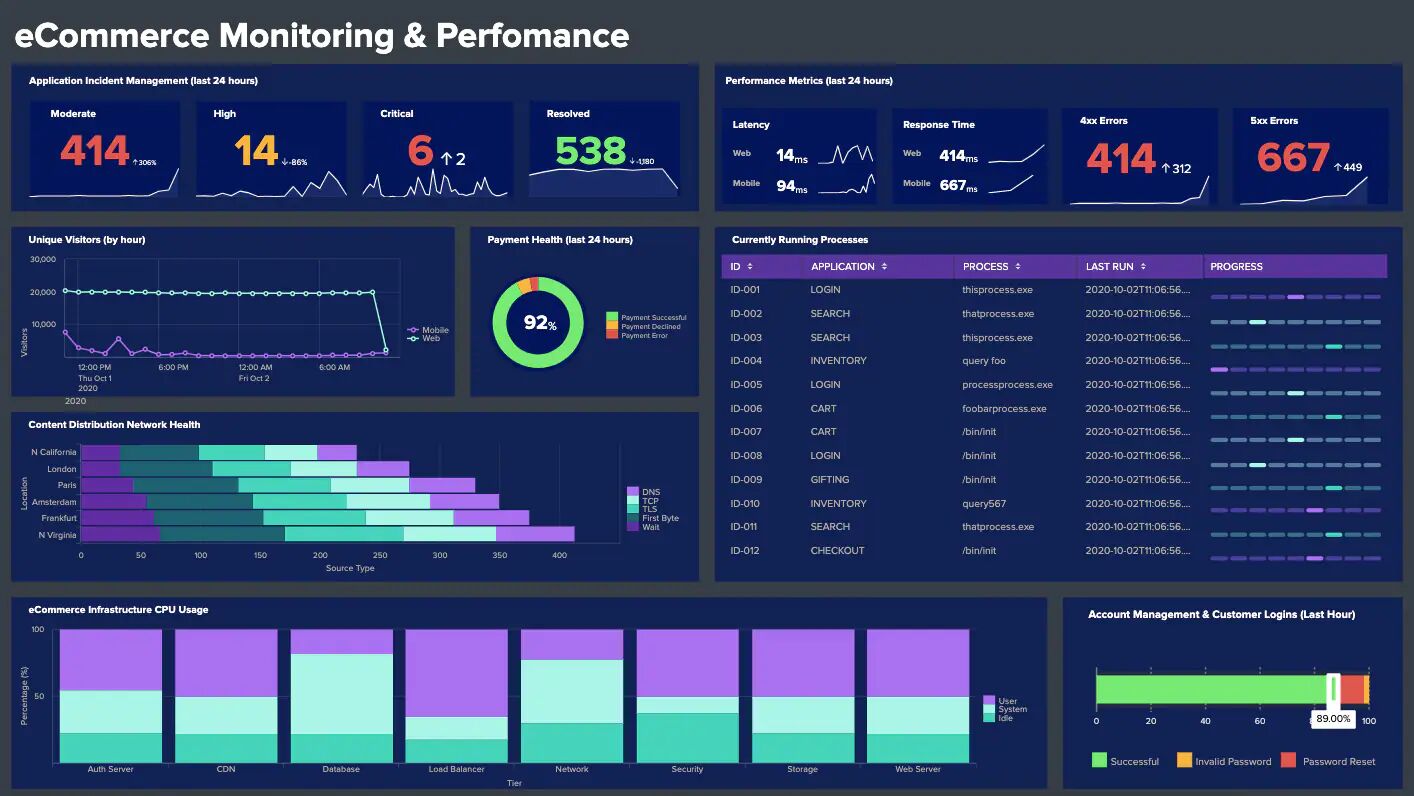 Splunk is another Datadog alternative, well-recognized for its log management capabilities. However, Splunk's features extend beyond that, helping DevOps and DevSecOps to also monitor system health and performance, making it an ideal solution for those managing hybrid environments. You can use this tool to search, monitor, visualize, and analyze real-time data to turn it into readable insights later. It is a well-suited solution if you need to analyze unstructured raw data in multiple formats, including CSV, XML, and JSON, generated from various devices and machines.
Features
Log aggregation and monitoring tool
Application monitoring
Infrastructure monitoring
Real user monitoring
Automated anomaly detection
Synthetic monitoring
Pros
Include features to install add-ons
On-premise option available to grant control of all the lookups within the file system
Include broad data integration options and work with multiple data formats
Cons
Requires continuous SPL improvements
Outdated user interface design
Limited data modeling and machine learning capabilities
Pricing
Splunk offers flexible pricing options that align with the business needs of its customers. The cost of Splunk starts at $15 per host/month and further varies depending on the license type and the amount of data used. A 500 MB license starts at $5,000.
Read our extended Datadog vs Splunk comparison for further details on the benefits and drawbacks of each option.
Moreover, if you want to see how Sematext stacks up, check out our page on Sematext vs Splunk.
3. New Relic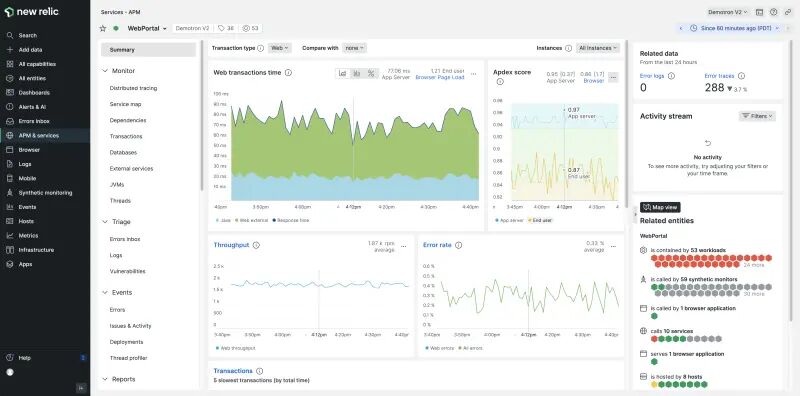 One of the oldest Datadog alternatives, New Relic is a robust observability solution with advanced logging and monitoring capabilities. A good Datadog alternative, New Relic comes with preconfigured dashboards, allowing you to immediately start monitoring and analyzing data. It works with a large number of integrations, Google Cloud Platform, Microsoft Azure, and many others, enabling you to correlate data from across your entire environment and speed up troubleshooting.
Features
Browser monitoring
Mobile monitoring
Synthetic monitoring
Log management and monitoring
Serverless monitoring
Infrastructure monitoring
AIOps
Error tracking
Pros
Logging and monitoring support for multiple devices
User-friendly interface
Customizable monitoring dashboards to match specific requirements
Lightweight and easy-to-deploy agents
Accurate and reliable alerts
Intuitive query language
Cons
Complete dependency on installing agents on various devices
Cannot add Qumulo and Isilon storage device
Hard to review the logs while performing even correlation
Some pages are a bit difficult to view and are slow to process
Pricing
From a pricing standpoint, New Relic comes in Free, Standard, Pro, and Enterprise packages. Starting at $99/month you can add up to five full users within the Standard plan.
Read our full Datadog vs New Relic article to get a better picture for their comparison.
4. AppDynamics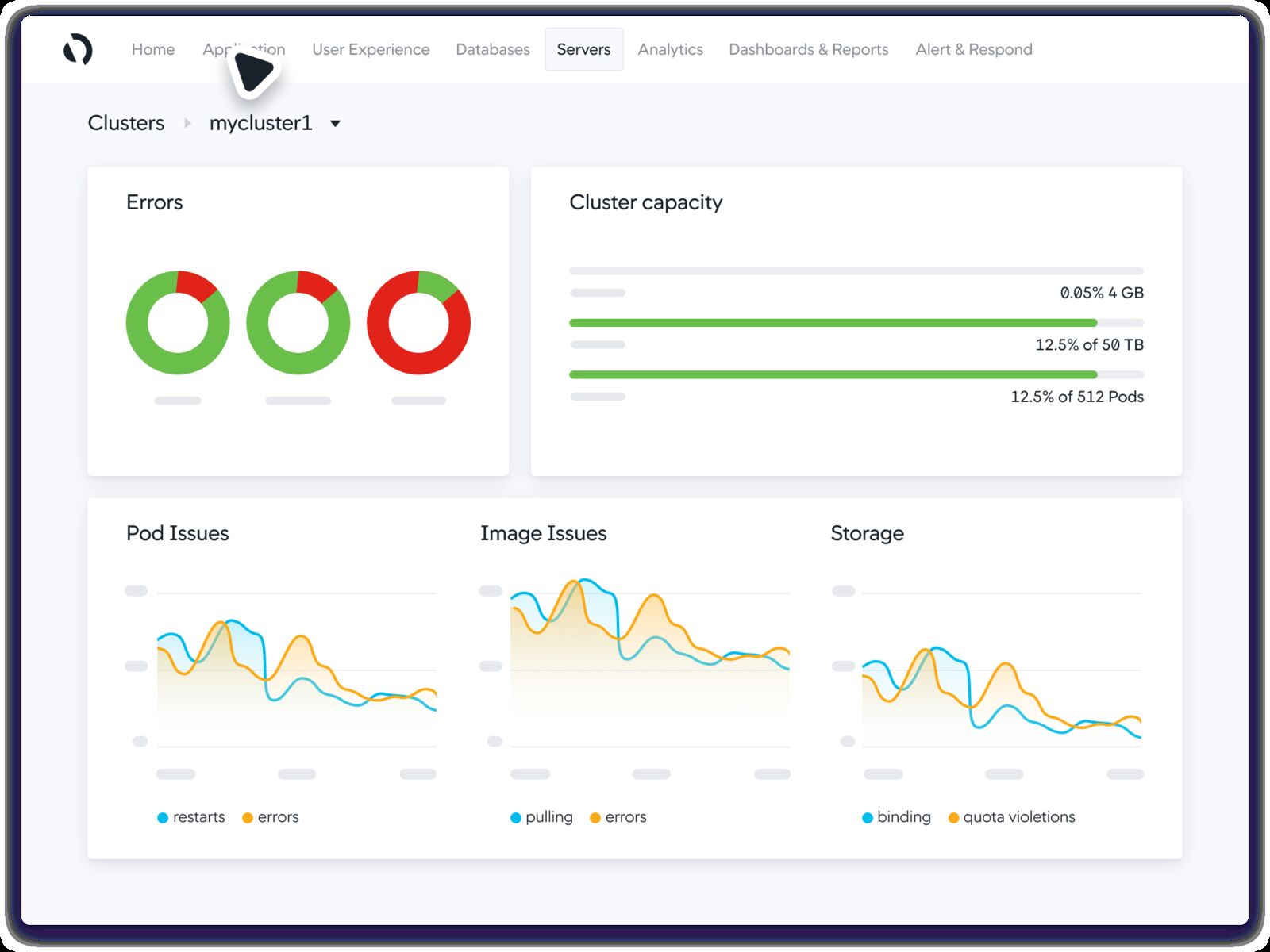 AppDynamics offers a cloud-based performance management tool that provides real-time visibility into application health and performance. A great Datadog alternative, AppDynamics is especially appreciated for its end-user monitoring (EUM) capabilities, that keep you informed of all end-user errors, issues, crashes, and page-loading details. It allows tapping into insights to help resolve customer issues quickly and painlessly.
Features
Synthetic monitoring
Infrastructure monitoring
Application performance management
Real end-user monitoring
Business performance monitoring
Runtime architectural evaluation
Pros
Easy new application deployment
Code-level visibility option
Intuitive workflow monitoring within application tracking
Predictive intelligence option granting important insights into the tool's usability
High transaction visibility
Cons
Complicated learning curve, especially for people who never used application monitoring tools
High cost of using this platform
Challenging integration with different event sources
Pricing
AppDynamics pricing ranges from $6/month per user for Infrastructure Monitoring Edition up to $90/month per user for Enterprise Edition. There is also Premium Edition starting at $60/month per user.
Want to see how Sematext stacks up? Check out our page on Sematext vs AppDynamics.
5. Dynatrace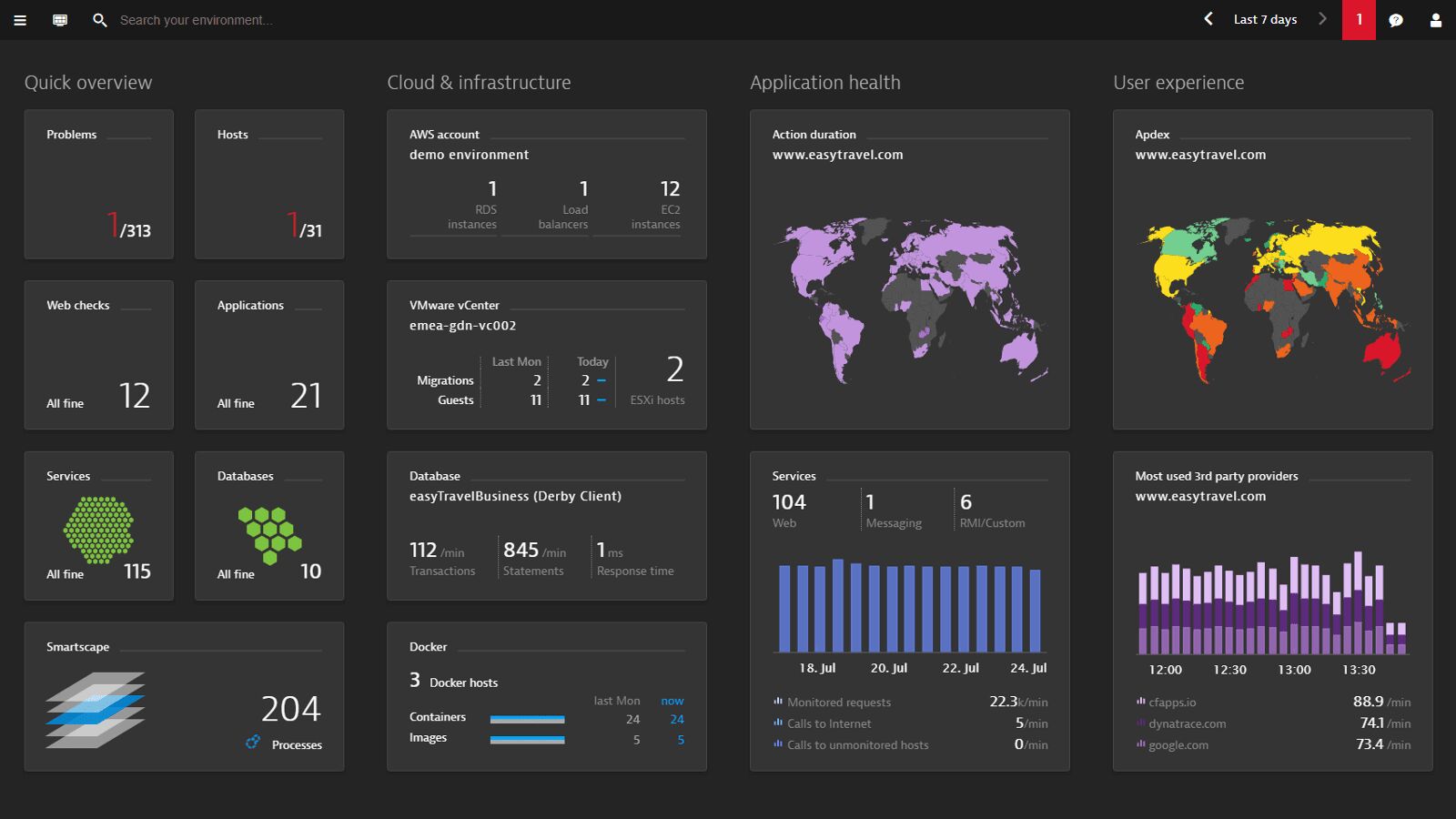 Dynatrace uses advanced machine learning capabilities to provide observability across both native and hybrid cloud environments. This Datadog alternative cuts through all layers of your technology stack, from the application layer down to container or cloud infrastructure, allowing you to correlate logs, metrics, and traces from various data sources. The powerful AI engine uses this data to detect performance issues and their potential impact on the system, identify root causes, and offer possible solutions. this instrument works best for giant enterprises.
Features
Component deep monitoring
Transaction proactive monitoring
Vulnerability and risk analysis of applications, containers, and hosts
Synthetic monitoring
End-user experience monitoring
End-to-end data encryption, user authentication, and access control
Pros
Flawless application performance monitoring
Easy integration with a broad spectrum of products and services
Self-discovery feature one can use for proactive monitoring
AI and machine learning-based monitoring works much better than with other tools
Easy of adoption and flexibility
Cons
Problems with navigation menus, especially when it comes to UX
Unclear documentation
Real-time tutorials which are hard to understand
Pricing
Dynatrace has six pricing options depending on the features you choose to use: Full-stack monitoring for $74/month, infrastructure monitoring for $22/month, digital experience monitoring for $11/month, application security for $15/month, open ingestion for $25/month, and cloud automation for $0,10 per cloud automation unit.
Want to see how Sematext stacks up? Check out our page on Sematext vs Dynatrace. We also wrote about the alternatives to Dynatrace, and how they compare to the service.
6. LogicMonitor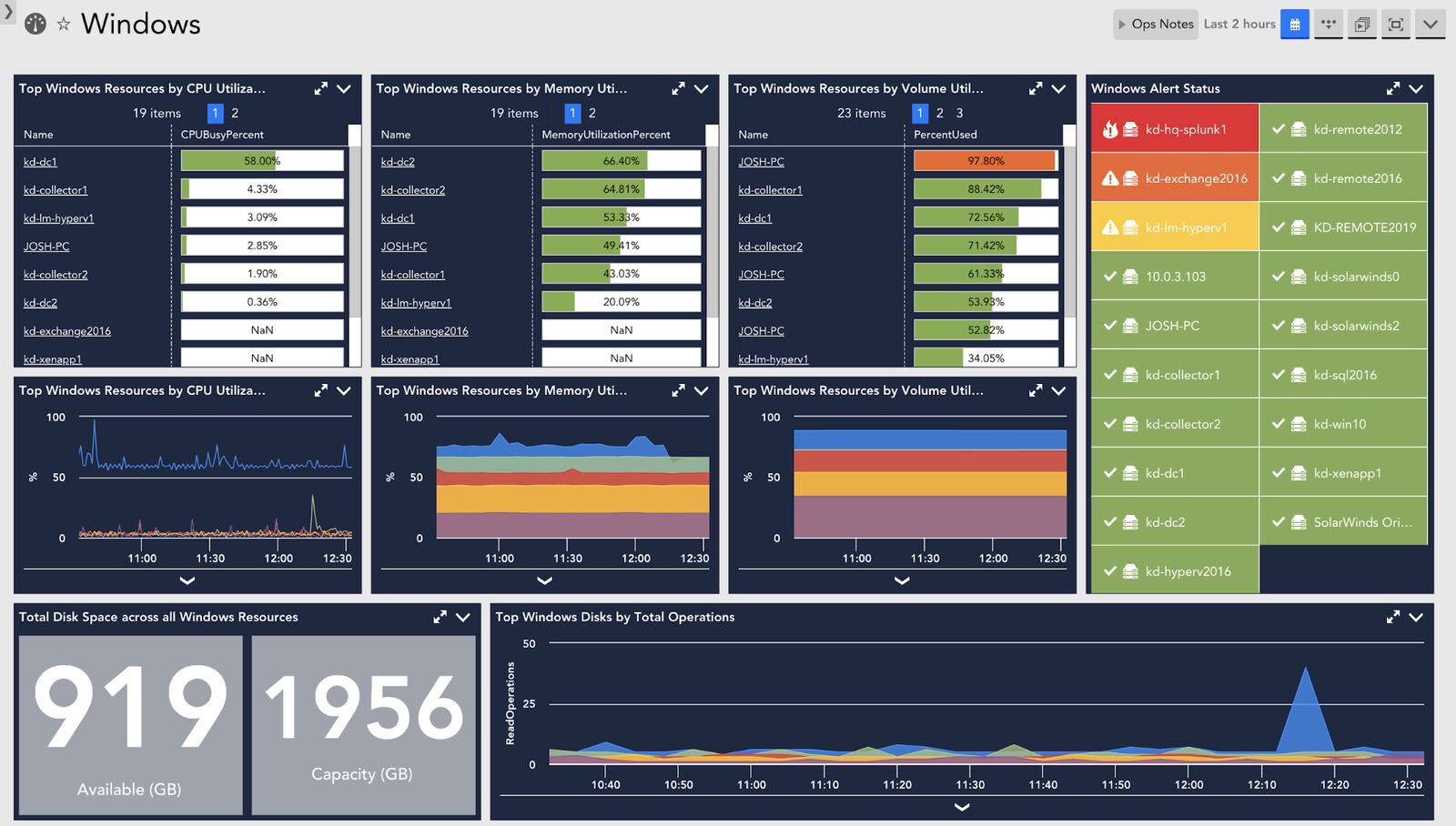 LogicMonitor is a cloud-based Datadog alternativethat brings logs and metrics under the same roof. Pre-configured, yet customizable dashboards allow you to see key parameters that help you asses the health and performance of your entire system. You get great alerting capabilities to notify you whenever something goes wrong, and dynamic topology mapping that shows how the components of your environement interact with each other. The platform comes with AIOps logic, which includes root cause analysis, forecasting, and incidence detection.
Features
Infrastructure monitoring
Performance monitoring
Event management
Alerting and notification
IT asset management
Capacity planning and forecasting
Customizable dashboards and reporting
ServiceNow integration
Pros
The ability to capture historical data, which is crucial for decision-making
Numerous customization options
Highly engaging customer success team
Personalized dashboards
Excellent device monitoring with accurate anomaly detection
Cons
Limited number of reporting options
Poor alerting, even though the tool detects anomalies fast and precisely
Cannot add new columns when customizing reports
Complicated pricing strategy
Pricing
LogicMonitor offers two pricing packages – Pro and Enterprise. Pricing is available upon request.
7. SolarWinds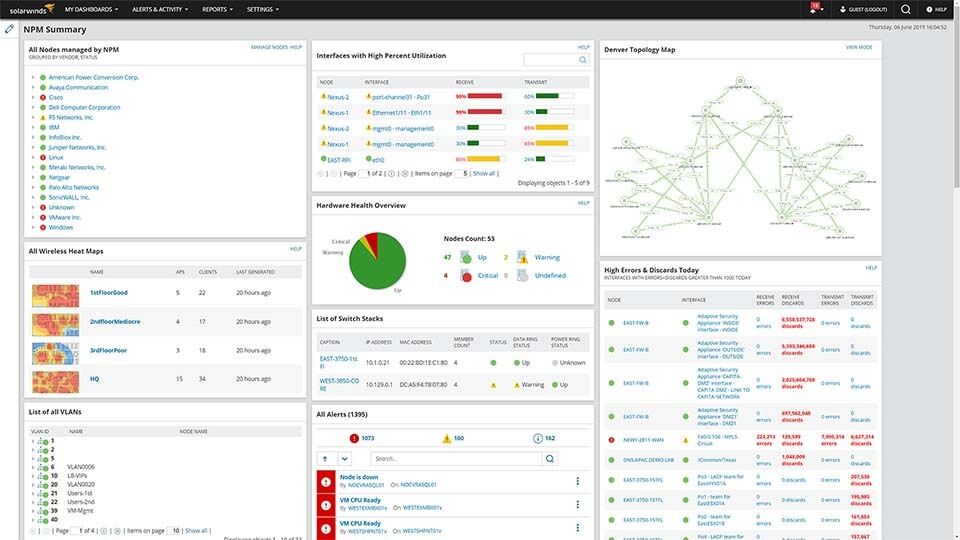 SolarWinds is a comprehensive Datadog competitor that provides users with complete visibility into their applications and infrastructure. It offers a range of features, including infrastructure and application monitoring, log management, and network performance monitoring. The platform's auto-discovery feature detects new apps and services and immediately starts streaming logs and metrics. Users can customize out-of-the-box dashboards, set up alerts with anomaly detection, and access powerful reporting and visualization tools. With SolarWinds, users have complete visibility into their entire infrastructure, from servers and virtual machines to applications and networks, making it a top choice for organizations with complex IT environments.
Features
Monitoring template library
Multi-vendor monitoring
Server hardware health assessment
Capacity forecasting
Server asset inventory evaluation
IT assesses inventory management
API request monitoring
Pros
Easy implementation
User-friendly interface and great UX
Proactive alerting
Cons
No cross-channel integrations
Problems with AWS instance monitoring
Problematic drag-and-drop functionality in reporting and dashboards
Pricing
Regarding the pricing, with SolarWinds, the Team package starts at $22/month, the Business package starts at $44/month, the Professional package starts at $76/month, and the Enterprise package starts at $97/month.
8. Sumo Logic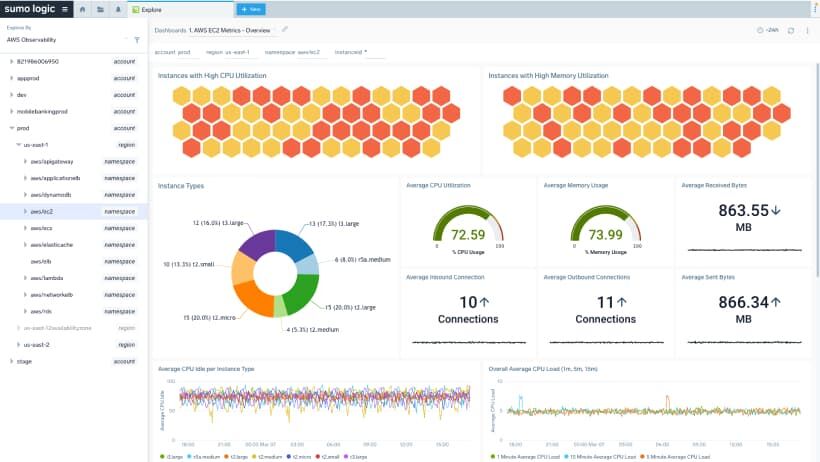 Sumo Logic is a cloud-based machine data analytics platform that provides users with real-time visibility into their applications and infrastructure. As a major Datadog competitor, Sumo Logic has a strong focus on logs, and can collect metrics from various components of an environment and expose this data in out-of-the-box dashboards that can be customized to fit specific monitoring needs. Users can analyze, correlate, and alert on this data to gain real-time insights into what's happening with their system and perform root cause analysis.
Sumo Logic also offers a range of features, including anomaly detection, machine learning-driven alerts, scheduled reporting, and customizable dashboards. Users can choose from various notification channels, including Slack, email, and PagerDuty, to receive alerts and stay informed about any issues.
Features
Infrastructure and performance monitoring
Event management and alerting
IT asset management
Capacity planning and forecasting
Customizable dashboards and reporting
Cloud monitoring and optimization
Network monitoring
ServiceNow integration
Pros
High degree of versatility with numerous integrations
Great user management
Support that can help to deal with any issues at hand
Helpful live logs make testing and debugging easier
Great visualization through graphs and charts
Cons
Complicated set-up process
Steep learning curve, especially for inexperienced users
Poor work of AI and machine learning, especially with ready-to-use queries
Pricing
When speaking on pricing, Sumo Logic offers packages for services like Cloud Log Management for $3.30/GB, Infrastructure Monitoring starting at $0.50/1000 DPM, Application Observability at $2.31/GB, and Audit along with Compliance at $3.50/GB.
9. CloudWatch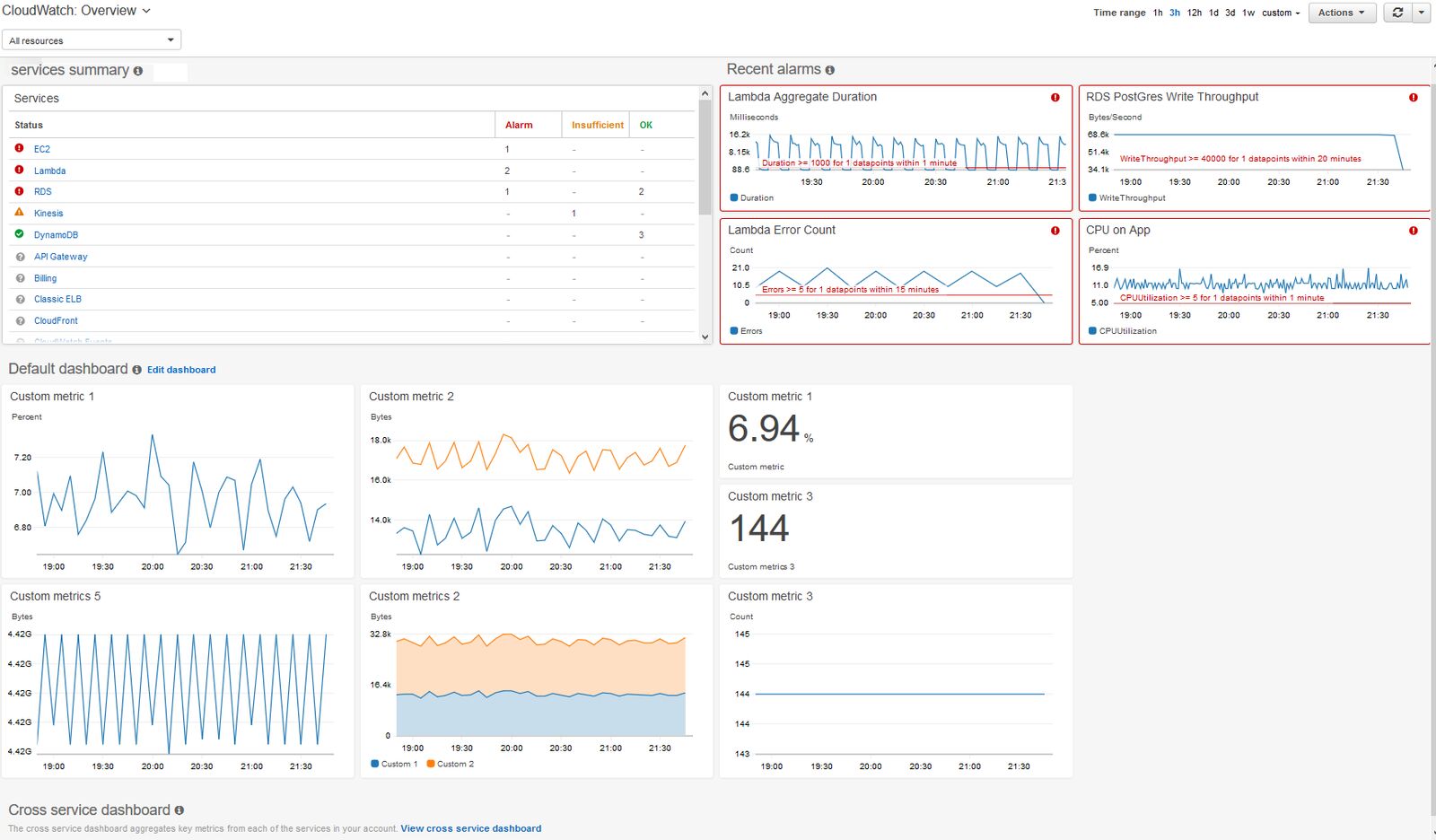 CloudWatch is a comprehensive monitoring and management service that provides users with deep insights into their infrastructure, applications, and services running on Amazon Web Services (AWS). With CloudWatch, users can collect and track metrics, collect and monitor log files, and set alarms. The service offers pre-built dashboards that can be customized, along with the ability to create custom dashboards and reports for better visibility and analysis.
CloudWatch provides real-time monitoring and alerting, enabling users to quickly identify and respond to issues in their AWS environment. It also offers automated actions and remediation for common problems, such as scaling resources up or down based on demand. With CloudWatch, users can optimize their AWS environment for cost, performance, and security by analyzing their usage patterns and resource utilization. The ability to collect and access all given performance data as logs and metrics further enhances CloudWatch's ability to provide complete visibility into an AWS environment.
Features
Log monitoring and analysis
Resource optimization and cost management
Integration with AWS services and third-party applications
Application performance monitoring (APM)
Real-time and historical metric visualization
Scheduled and on-demand metric and log data retrieval
AWS API and CLI access for automation and custom integrations
Cross-account and cross-region monitoring
Support for hybrid and multi-cloud environments
Pros
Perfect tracking of all incoming requests
AWS-based framework, which means stability and security
Simple to use interface
You can easily integrate EC2 instances into the systems
Cons
Users reported issues with the formatting of data logs
Limited search capabilities
Dashboards are not intuitive and can be hard to use
Alerting of unusual IP addresses is flawed
Pricing
AWS CloudWatch pricing is built around metrics. The first 10,000 metrics come at $0.30 metric/month, the next 240,000 for $0.10 metric/month, the next 750,000 for $0.05 metric/month, and going over 1,000,000 is $0.02 metric/month.
10. Prometheus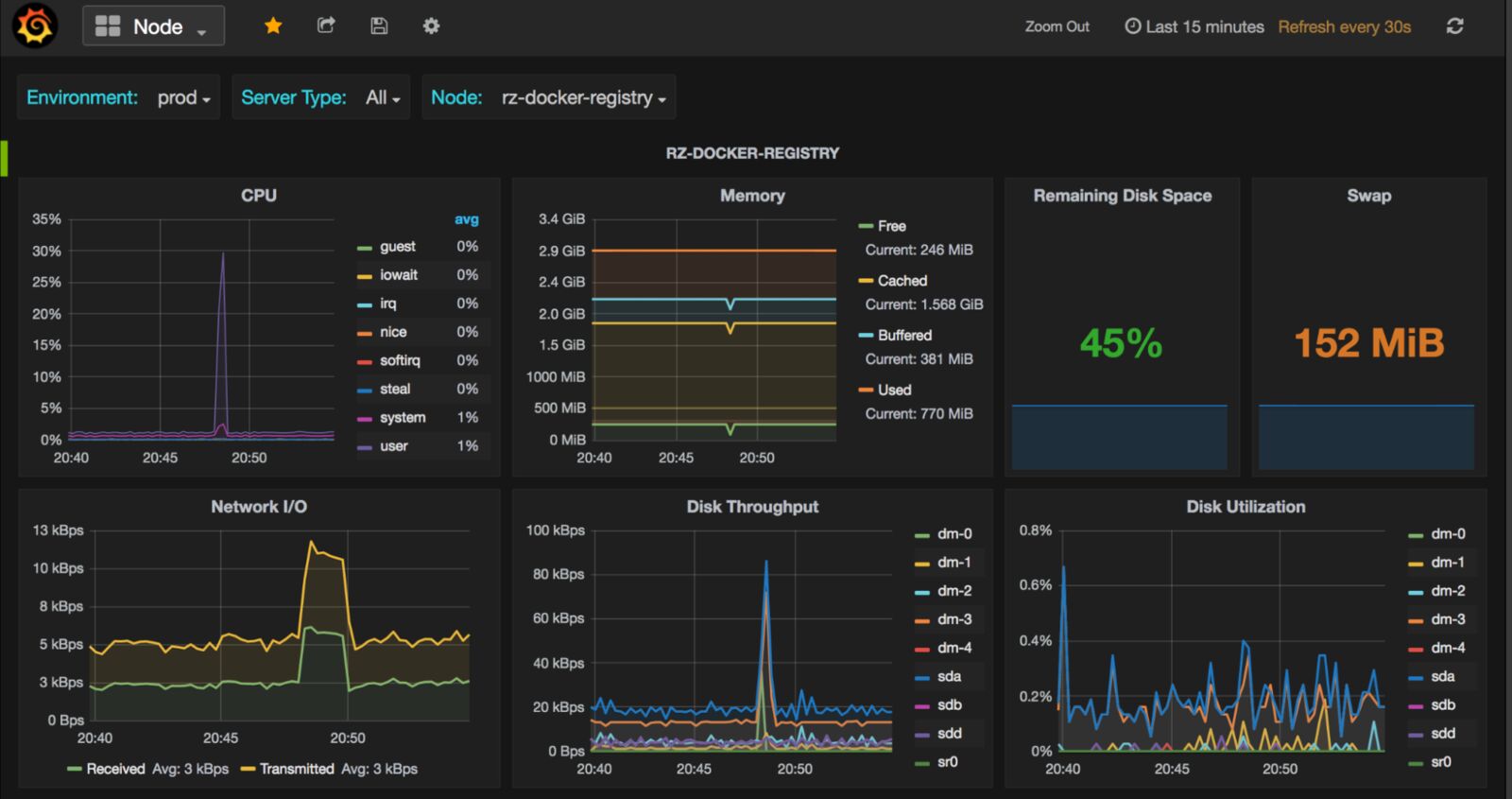 Prometheus is an open-source monitoring and alerting toolkit that provides users with a flexible and scalable solution for monitoring their infrastructure and applications. With Prometheus, users can collect time-series data, including metrics and logs, and gain visibility into the performance and health of their systems. The platform offers a powerful query language that allows users to extract insights from their data, as well as a range of integrations with other tools and systems.
Prometheus provides users with real-time monitoring and alerting capabilities, enabling them to quickly detect and respond to issues in their environment. The platform's flexible architecture allows it to be easily customized and extended, making it an ideal choice for complex environments. Prometheus also offers seamless integration with Kubernetes, enabling users to monitor their containerized applications and infrastructure.
Features
A built-in expression browser with a visualization layer
Query language options for collecting time series database
Multi-dimensional data model
Alter manager for easy notification management
Pros
All about metrics, which means collection and metrics definition
Easy deployment process along with easy installation
Supports various code queries
Offers data sources for any given Grafana dashboard
Cons
Basic visualization
Inaccurate alerting
No native support for long-term data storage
Requires manual setup and management
Pricing
Prometheus is an open-source Datadog alternative that is entirely free of charge.
For a broader picture and a more in-depth comparison, check our Prometheus vs Datadog article.
Comparison Table
Tool
vs Datadog
Best For
Sematext

Less expensive than Datadog
Offers a flexible pricing model based on usage
Has third-party integrations
Offers a comprehensive set of monitoring features
Datadog has more advanced APM capabilities, which may be necessary for certain applications
Eeasier to set up and use due to its auto-discovery feature and out-of-the-box dashboards

Log analysis, performance monitoring and anomaly detection.
Splunk

More expensive than Datadog
Offers a flexible pricing model based on usage
Has third-party integrations, but not as many as Datadog
Offers a comprehensive set of monitoring features, including log management and security analytics
Datadog has more advanced APM capabilities, which may be necessary for certain applications
More difficult to set up and use due to its complex configuration and less intuitive user interface

Log analysis and operational intelligence.
New Relic

Similar pricing, with both offering flexible pricing models based on usage
Both offer a large number of third-party integrations
Both offer a comprehensive set of monitoring features, including APM capabilities
Datadog has more extensive infrastructure monitoring capabilities
New Relic has a stronger focus on application performance monitoring (APM), with more advanced features and better visibility into code-level performance
Datadog offers better log management capabilities, with a more intuitive interface and more advanced search functionality
Datadog is generally considered to be easier to set up and use, with better documentation and more out-of-the-box functionality

Application performance monitoring and infrastructure monitoring.
AppDynamics

More expensive than Datadog
Offers a powerful set of APM features, including code-level diagnostics, transaction tracing, and code profiling
Integrates with a wide range of third-party tools and services
Offers flexible deployment options, including on-premise and SaaS
Can be more complex to set up and use than Datadog, especially for non-technical users

Application performance monitoring.
Dynatrace

More expensive than Datadog
Offers a free trial, but it is limited to 15 days
Has third-party integrations
Offers a comprehensive set of monitoring features, with a focus on APM capabilities
Datadog has more flexible pricing plans based on usage
Easier to set up and use due to its auto-discovery feature and out-of-the-box dashboards

Full-stack monitoring and observability.
LogicMonitor

Similar pricing, but LogicMonitor has more transparent pricing
Offers fewer third-party integrations than Datadog
Offers a comprehensive set of monitoring features, including network performance monitoring, which Datadog lacks
Datadog has more advanced APM capabilities, which may be necessary for certain applications
Datadog offers more flexibility in terms of data visualization and alerting
LogicMonitor has an auto-discovery feature that can make setup easier

Infrastructure monitoring and performance management.
SolarWinds

More affordable than Datadog
Offers a range of pricing options, including per-node and perpetual licensing
Has fewer third-party integrations compared to Datadog
Provides a comprehensive set of monitoring features, but lacks some of the more advanced APM capabilities offered by Datadog
Easier to set up and use due to its intuitive interface and out-of-the-box dashboards

IT infrastructure management and monitoring.
Sumo Logic

More expensive than Datadog
Offers a flexible pricing model based on usage
Has fewer third-party integrations
Offers a comprehensive set of monitoring features
Datadog has more advanced APM capabilities
Easier to set up and use

Log analysis, security analysis, and operational intelligence.
Prometheus

Less expensive than Datadog (open-source)
Offers a flexible and scalable monitoring solution for large environments
Limited third-party integrations compared to Datadog
Requires more manual setup and configuration, and lacks auto-discovery
Does not offer advanced APM capabilities like Datadog
Offers powerful querying and alerting capabilities with PromQL and Alertmanager
Requires dedicated resources for maintenance and management

Monitoring and alerting for cloud native and infrastructure services.
CloudWatch

Less expensive than Datadog
Offers a pay-as-you-go pricing model, which can be more cost-effective for small deployments
Provides a range of monitoring features for AWS resources, such as EC2 instances, S3 buckets, and Lambda functions
Integrates well with other AWS services, such as CloudTrail and CloudFormation
However, CloudWatch is limited to monitoring AWS resources and lacks the ability to monitor applications running on other clouds or on-premises
Also, CloudWatch has a steeper learning curve compared to Datadog due to its complexity and less intuitive interface

Monitoring and alerting for AWS services and resources.
Conclusion
If you're looking for an alternative to Datadog, we hope that this comparison of the best alternatives gave you a place to start and will help you decide whether this solution is the right one for your needs. When choosing the tool, we do recommend you read as much as possible about them and even test them. Sematext has a 14-day free trial for you to try all its features! Sign up for free and see it for yourself whether it has what it takes to assist you in ensuring the peak performance of your systems.
---