Containers are eating the world and the newly added Containers view in Sematext Cloud helps you manage that. You can experience container monitoring with the new Containers view that provides you with enhanced visibility into all your hosts and containers, drawing your attention to the ones that need it the most.
Behind the scenes, Sematext Cloud automatically maps all containers on all hosts with tags. You can use these tags for filtering and slice and dice your containers as you see fit.  Grouping by tags lets you quickly drill down to specific containers to see what's happening within each one, should you need that level of detail. Beyond that, the automatic generation of dynamic container performance heatmaps will instantly lead you to the "hottest" containers in your entire infrastructure.
The new Containers view discovers all your containers over all nodes in all your Kubernetes, OpenShift, Docker Swarm clusters or any other container platform supported by Sematext Docker Agent, such as Amazon ECS, Mesos, Rancher, or Portainer.
The main view is very much like "top for containers" – applied across all of your containers and their hosts. You can sort containers by memory or CPU usage to find the hottest containers, or simply display the Top N containers. The detail view of each container displays container metrics in real-time.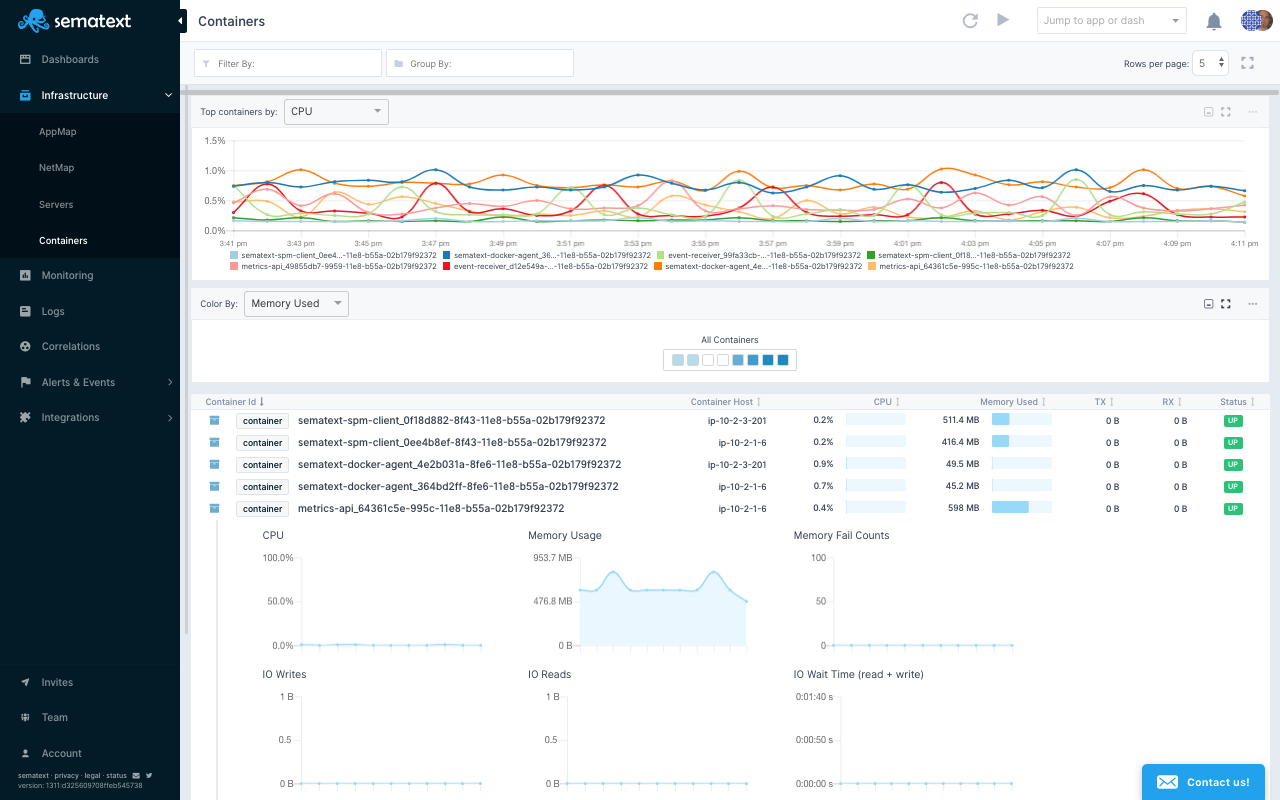 Container infrastructure monitoring view
For more massive infrastructures, you can quickly drill down by using the filter and grouping functionality. Grouping by hosts or images turns the list view into a hierarchical view.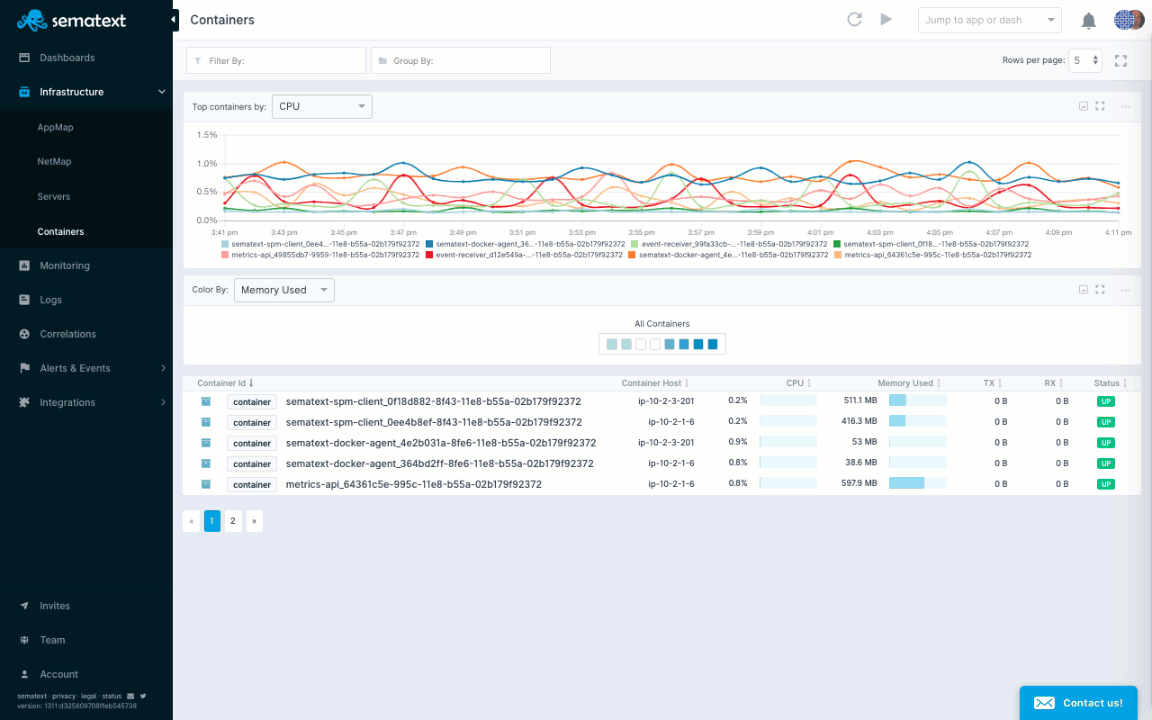 Filter and groups in the container view
The UI shows a heatmap with the hottest containers according to the grouping criteria.

Container monitoring heatmap
For monitoring non-containerized infrastructure, the recently updated server view for infrastructure monitoring provides you with similar filter and grouping functionality so you can explore the performance of all your servers and services deployed directly on the host.
In Sematext Cloud you will also find historical metrics, logs, container events, and a lot more.  All these observability data are seamlessly integrated so you can access it with just a few mouse clicks, starting from the new container view, container reports, and combined metrics & log dashboards.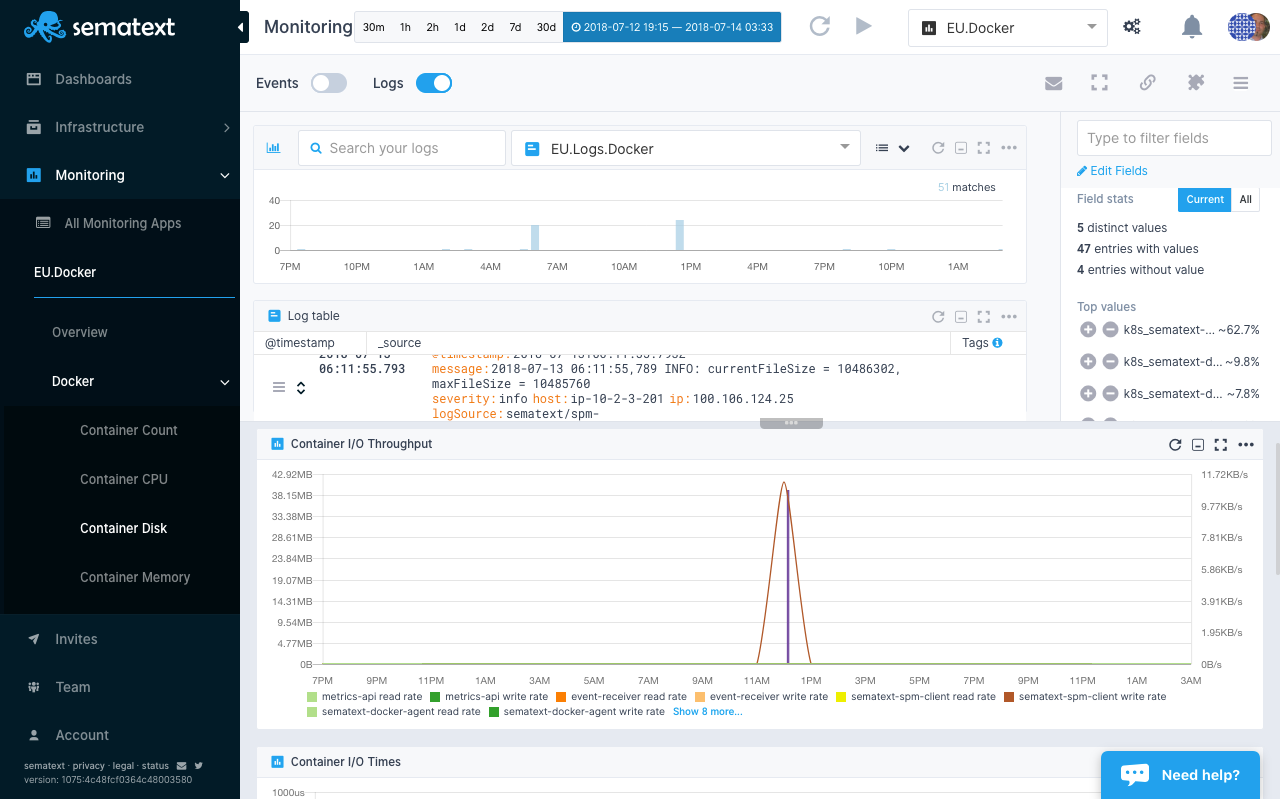 Container metrics, logs, and events in a single view
Give it a try! Sign up for a free Sematext Cloud account and 14 days trial. For further details, check out new Sematext Cloud features on our product updates page.
---