Log Monitoring
Collect and analyze log data in real time with comprehensive log monitoring tools. Get better performance insights into your applications and systems for faster troubleshooting.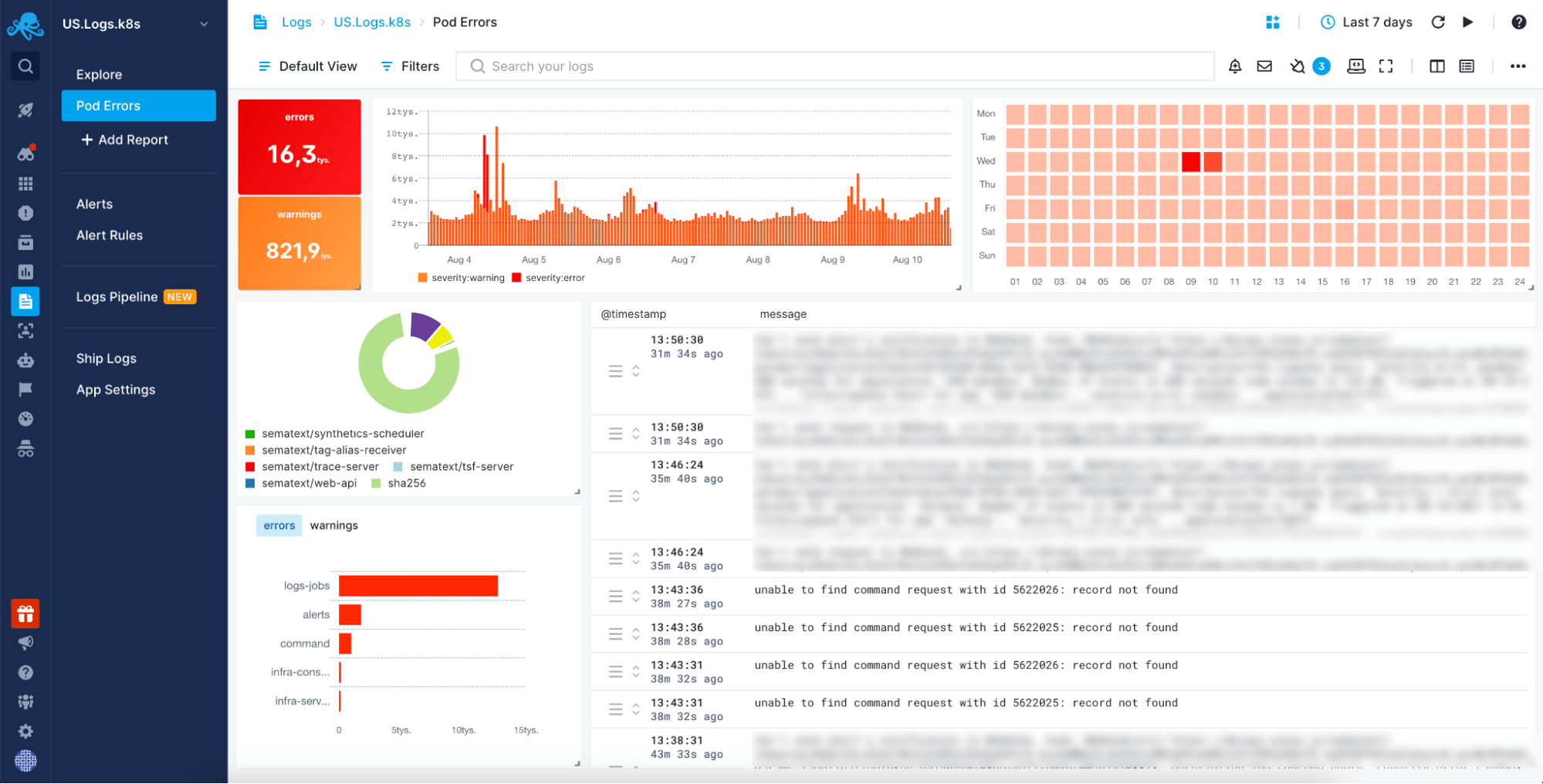 10,000+ Companies trust Sematext
Get Actionable Insights Faster with Sematext Cloud
Centralized Log Monitoring
Monitor logs from various sources from a single pane of glass. Collect, analyze and correlate data from across your whole IT infrastructure, including log files, servers, systems, applications and more.
Use the automated logs discovery to easily ship data from discovered services with a click of a button.
Get a detailed view into your whole IT infrastructure by shipping data from bare-metal machines, virtual machines, and orchestrated environments like Kubernetes.
Manage the structure of your logs from the UI by using pipelines to extract meaningful data from your semi-structured log events, alert them, or even drop them if they are not relevant.
Use any Syslog or Elasticsearch compatible log shipper to send your logs to Sematext Cloud.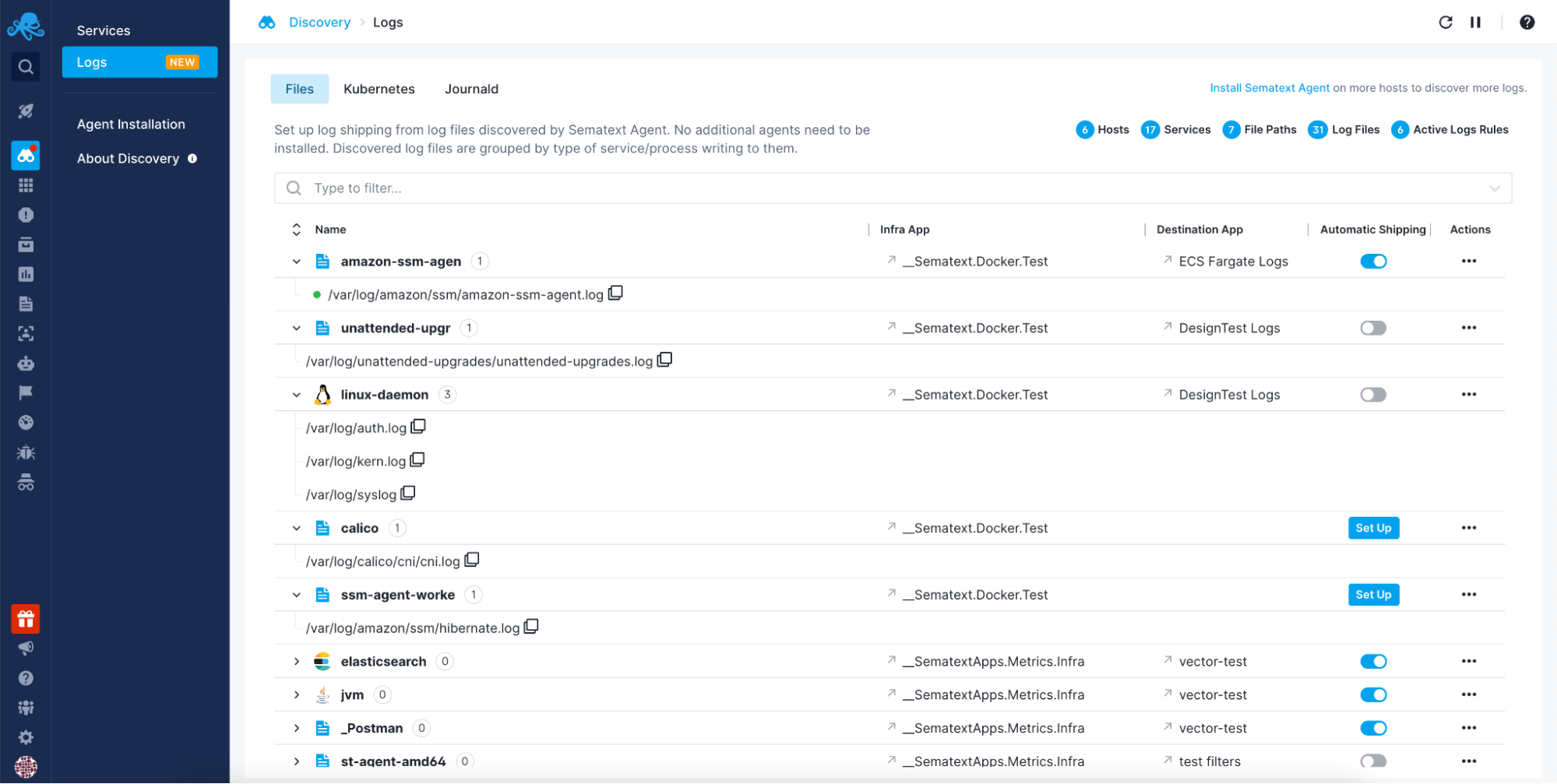 Real-Time Log Monitoring, Alerting and Reporting
With Sematext's log monitoring tool you can create rich dashboards connecting logs, metrics, and infrastructure data for system-wide visibility in real time. Set up meaningful alerts to be informed sooner than your users can spot the issues.
Monitor logs in real-time without any disruptions from a single intuitive interface.
Create anomaly or threshold-based alerts on data derived from your logs.
Set priority level for your alerts.
Create rich dashboards with visual components available out-of-the-box, including pie and donut charts, heat bar, heatmap, and geo maps.
Get the charts you want right to your mailbox with the scheduled reports functionality to never miss the key performance indicators you want to follow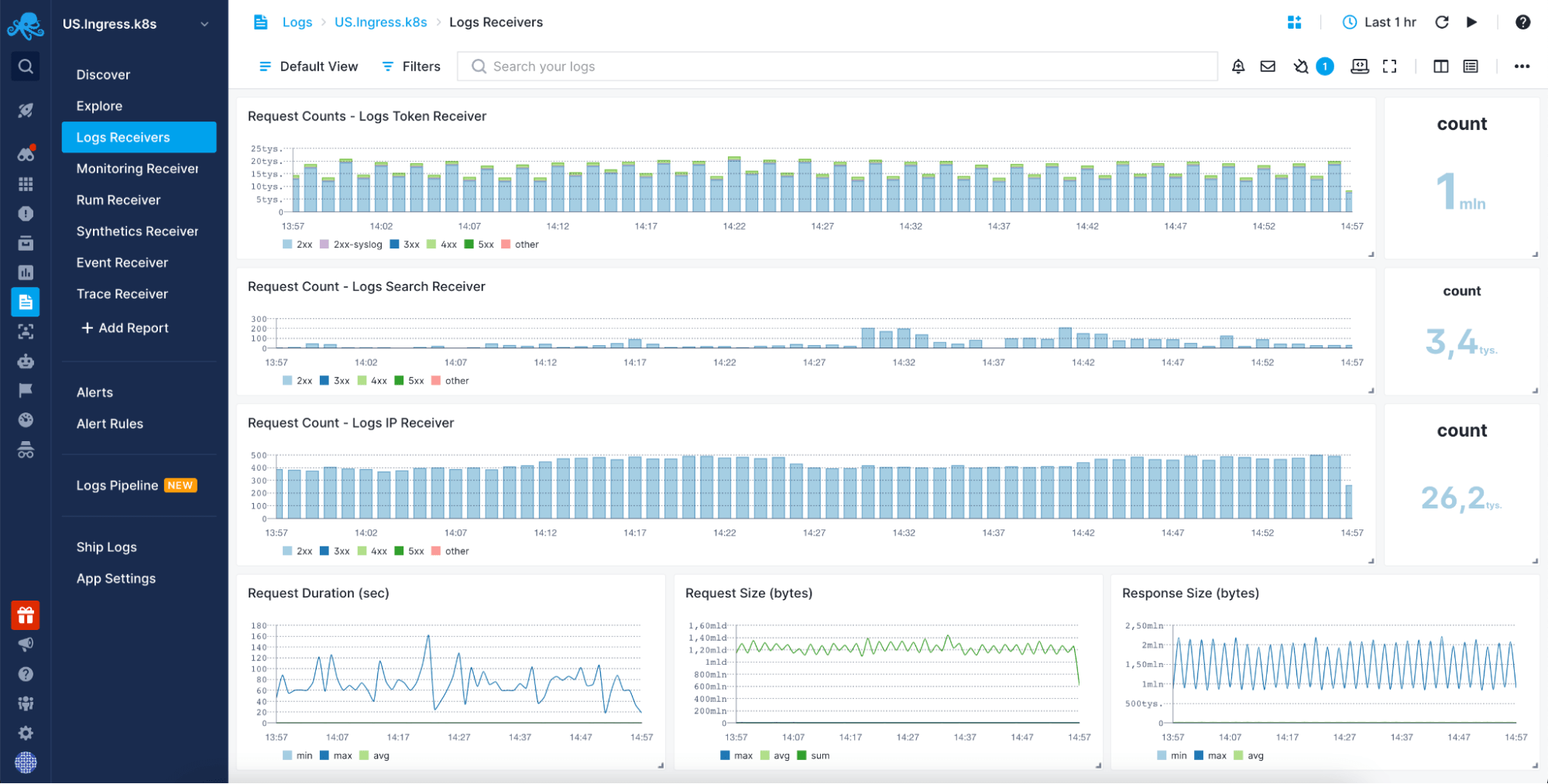 Live Log Tail
Sematext's log monitoring software provides instant visibility into events. You can narrow the live event down using filters and visualize the live data using various charts for a quick and easy overview.
View logs in real-time as soon as they are shipped.
Leverage the full-screen mode and live tail together - a distraction-free UI allowing you to follow logs in real time with maximum focus.
Filter and search on specific data to detect crucial log events as soon as they happen.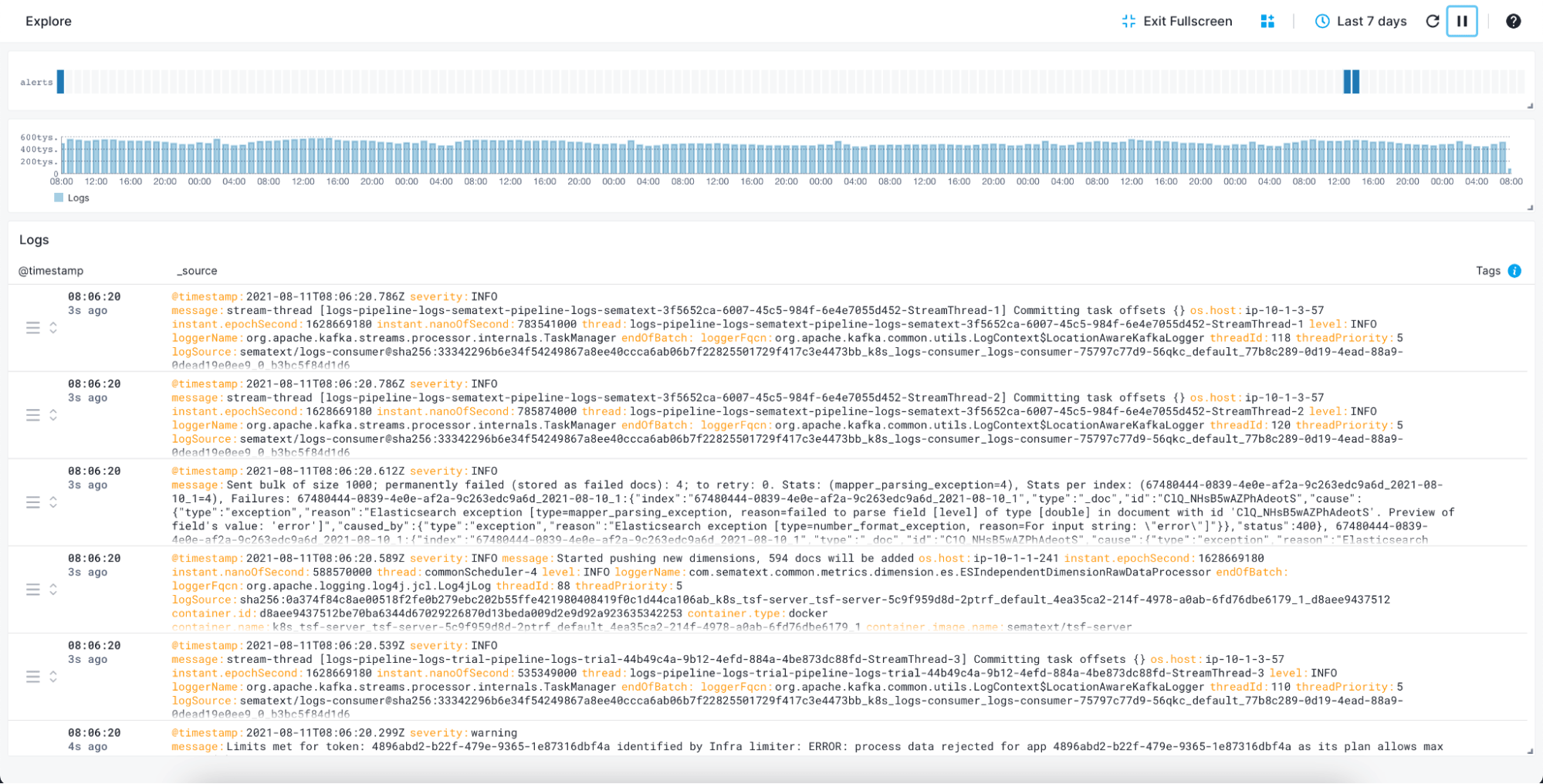 Log Searching and Filtering
Sematext provides log insights and analysis to ensure application performance. Search and filter the monitored log data to get to the root cause of the problem efficiently.
Find relevant events by using powerful full-text search query language on every piece of information your log events contain.
Slice and dice the monitored log events using filters to get to the relevant events fast and efficiently for quick root cause analysis.
Highlight significant results, to easily focus on what went on before and after receiving that result.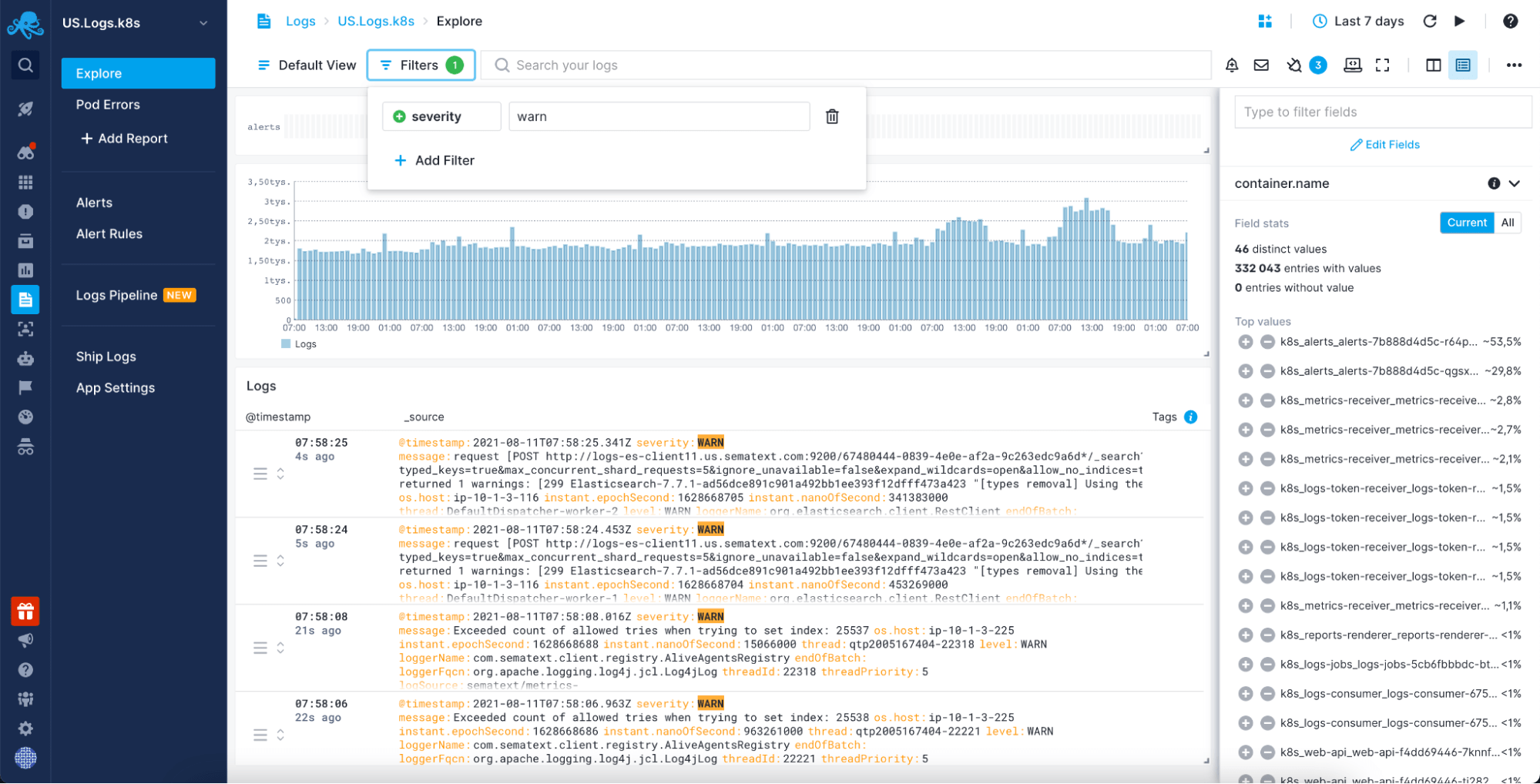 Sematext: Your All-in-One Monitoring Solution
Monitor and correlate logs with metrics and events in real time. Troubleshoot performance issues faster, before they affect end user experience and your business.
Correlate the logs data with applications, infrastructure, and real user monitoring metrics for quick and easy root cause identification.
Leverage the dashboarding capabilities to visualize the monitored data for quick and easy analysis of any kind of data - not only logs and metrics.
Observe trends to see the long-term changes affecting your environment and gain deeper performance insights.