Elasticsearch "Big Picture" – A Creative Flow Chart and Poster
sematext on
There are many ways to look at Elasticsearch, but here at Sematext we're pretty confident that you haven't seen anything like this flowchart to demonstrate how it works: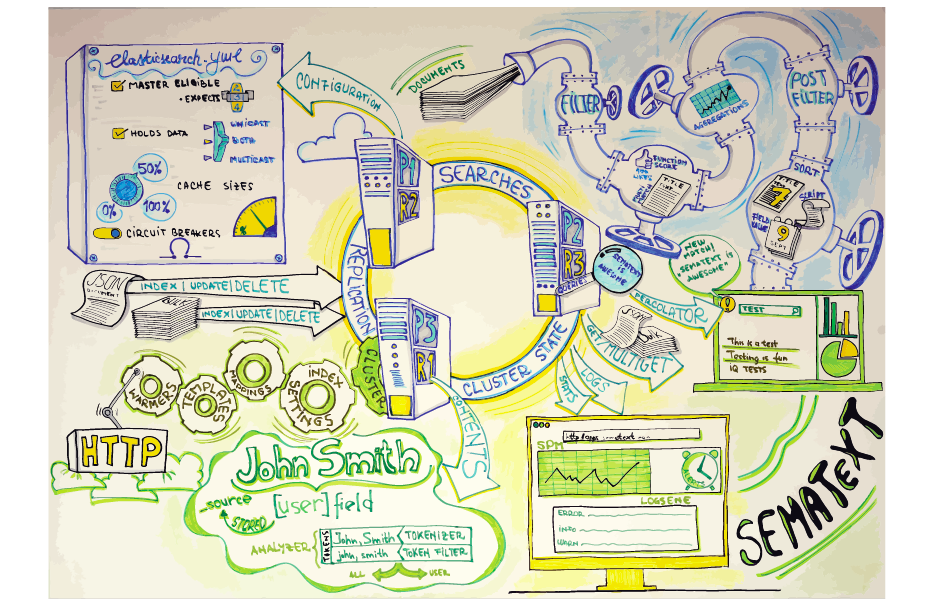 Download a copy and print your own Elasticsearch poster!
If you're looking for something unique to show off your Elasticsearch chops, then download a copy today and print your own.  We have files for US letter, A4, Ledger (11"x17") and Poster (24"x36") sizes.
Sematext is your "one-stop shop" for all things Elasticsearch: Expert Consulting, Production Support, Elasticsearch Training, Elasticsearch Monitoring, even Hosted ELK!
Doing Centralized Logging with ELK?  We Can Help There, Too
If your log analysis and management leave something to be desired, then we've got you covered there as well.  There's our centralized logging solution, Logsene, which you can think of as your "Managed ELK Stack in the Cloud."   It's is also available as an On Premises deployment.  Lastly, we offer Logging Consulting should you require more in-depth support.
Questions or Feedback?
If any questions or feedback for us, please contact us by email or hit us on Twitter.