SPM vs. New Relic APM – Performance Monitoring Solution Comparison
sematext on
If you've found your way to this post then chances are high that you're having second thoughts about diving into a New Relic APM subscription.  You're not alone.  In fact, we hear from many fellow DevOps engineers looking at performance monitoring solutions who check out New Relic APM — or who are already using it — because it is so widely known, but wonder if there is a better tool, specifically with traits like:
Better pricing
On Premises deployment (not just SaaS)
Integration of metrics, logs and events in a single UI
Across-the-board anomaly detection
In all of the above cases — and others — SPM meets or exceeds New Relic APM.  This SPM vs. New Relic APM comparison document has all the details.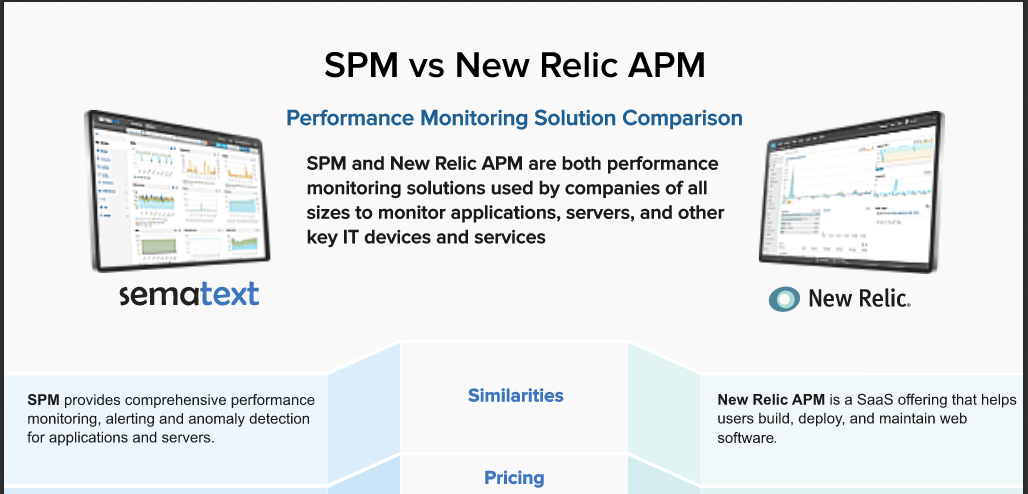 So why not give SPM a try?  You can check out a free 30-day trial by registering here.  There's no commitment and no credit card required.  Even better — combine SPM with Logsene to make the integration of performance metrics, logs, events and anomalies more robust for those looking for a single pane of glass.