In today's digital landscape, website performance is paramount. To ensure seamless functionality and reliability, businesses rely on Synthetic Monitoring tools. While Pingdom has been a popular choice, it's essential to explore alternative solutions.
In this article, we'll dive into the top alternatives to Pingdom in 2023, examining their advanced features, functionalities, and integration capabilities. By considering these alternatives, you can enhance your monitoring strategy and effectively optimize your applications' performance and availability.
From comprehensive performance monitoring to real-time diagnostics and intelligent alerting mechanisms, the Pingdom competitors presented here cater to a range of technical requirements. By delving into their capabilities, you'll gain valuable insights into how these tools can elevate your monitoring practices.
Pingdom Features
SolarWind's Pingdom is very simple and only offers 2 solutions: Synthetic Monitoring and Real User Monitoring. Each of these are individual solutions and can be paid for and used separately. The user has the option to select the number of monitors for Synthetic Monitoring (Uptime + Advanced) and the number of pageviews for Real User Monitoring. Depending on what the user selects, the price will be effected.
Pingdom Pricing
Pingdom pricing options vary depending on how many monitors you need. Synthetic Monitors include Uptime, and what they call "Advanced" monitors. Basically, these are HTTP and browser monitors. Real User Monitoring is priced based on the number of page views.
For Synthetic Monitoring, the prices start at $10/month if you choose to pay annually, and it goes up to $15/month if you opt for monthly payments. These prices cover 10 uptime monitors, 1 advanced, and only 50 SMS alerts. The plans go up from there, increasing in monitors and price. For example, if you're looking for 100 Uptime and 20 Advanced monitors, you'll be paying $95/month if you pay annually, and $124/month if you opt for monthly payments.
For Real User Monitoring (RUM), you can expect to pay $10/month for 100,000 page views with their lowest plan. This, of course, is for annual payments. The price will go up to $15/month if you want monthly payments. Pingdom's RUM capabilities can go all the way up to 1 billion page views, but you're looking at a $15,000 price tag if you pay annually, and $19,500 if paid monthly.
Pingdom pricing can be a bit overwhelming with all the options. For Synthetic Monitoring, they do not offer pricing per monitor, and although there is a slight discount as you scale the number of monitors up, you're still stuck paying a premium price per monitor.
Although price is a major factor, there are multiple reasons that you might want to consider a Pingdom alternative. Pingdom competitors have a lot to offer in terms of better functionality and different features. And yes, there are cheaper options out there, too.
So with that said, you can stay ahead of potential issues and drive business success by leveraging the power of these top Pingdom alternatives in 2023.
1. Sematext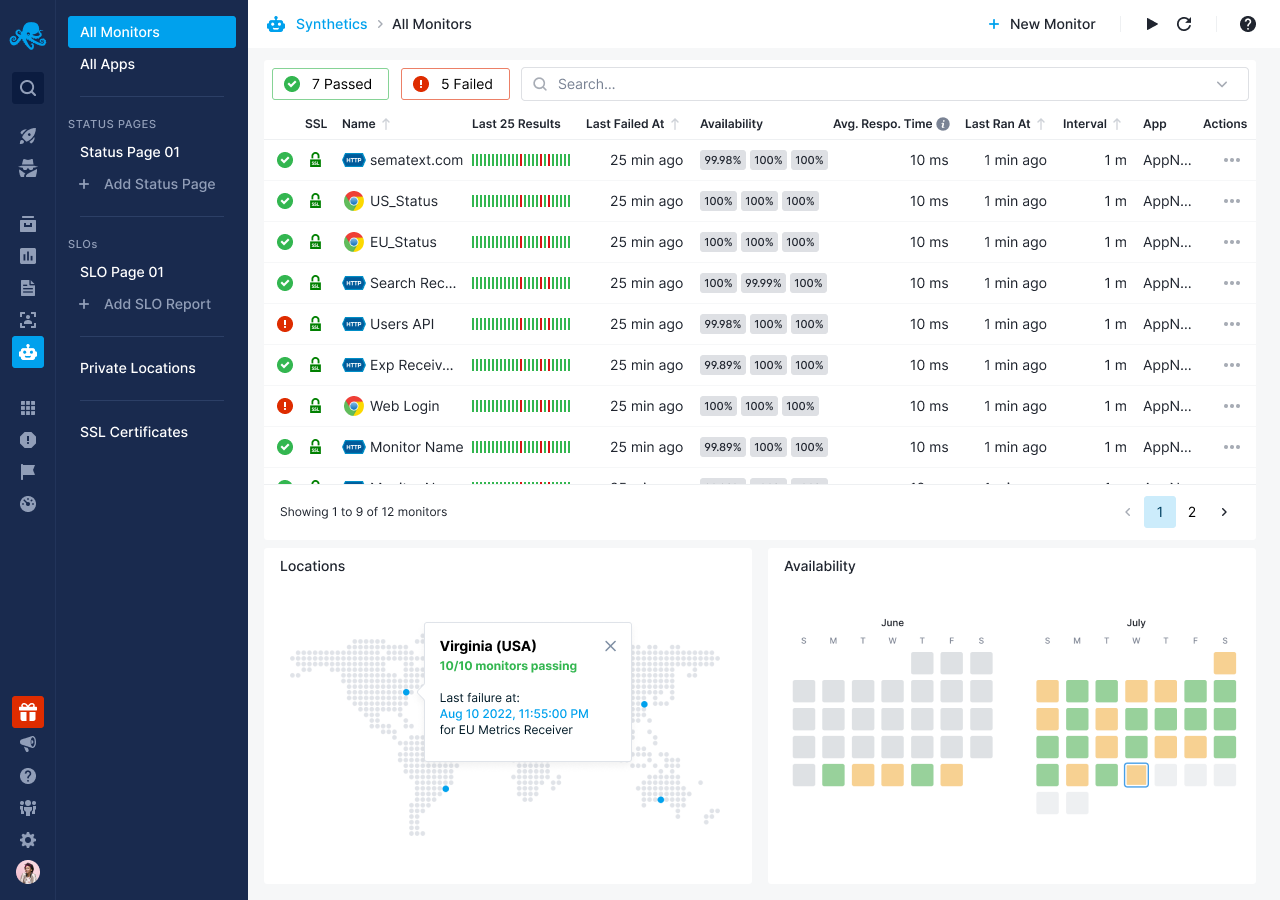 Sematext is a powerful monitoring solution that stands out as a top alternative to Pingdom. Why?  Three main reasons:
Pingdom offers only Synthetic Monitoring and RUM, while Sematext also includes infrastructure performance monitoring and log monitoring, obviously allowing for faster troubleshooting and finding the root cause of performance issues.

Pricing, flexible plans:

Sematext's Pay As You Go plan is cheaper when you need to monitor a handful of websites or APIs

The per-App plan selection offered by Sematext lets you group monitors into Apps, thus giving you more control over your costs.

Status Pages.  They are included in Sematext Synthetics, while Pingdom appears not to offer this functionality at all.
Synthetic Monitoring provides the ability to actively monitor the availability and performance of your APIs and websites, and simulate user interactions from multiple locations around the globe, or private locations of your own. 
With status pages, you can share the response time and status of your services with your customers and internal teams. Schedule planned maintenance incidents to inform your users of downtimes or minor delays your service is experiencing. You can also monitor your SSL certificates, validate certificates, detect certificate changes, and get alerted before your SSL certificates expire.
While Sematext Synthetics monitors endpoints, websites, and APIs, Experience tracks real user performance of your websites and gives you an overview of User Satisfaction using Apdex scores. Track page loads, HTTP requests, resources, UI interactions, and more.
Combined with logs and metrics, Sematext gives you complete visibility into the health and performance of your applications and infrastructure. It also provides out-of-the-box dashboards for its 100+ integrations. Each integration includes multiple, pre-built dashboards and a number of integration-specific alert rules. Dashboards contain charts and visualizations of metrics and logs carefully designed to be immediately useful and save you time.
With Custom Dashboards and Split Screen features you can correlate metrics, logs, real user performance, website, and API metrics on a single page without switching context.  Because Pingdom doesn't provide infrastructure and log monitoring, you simply can't do this with Pingdom.
The platform incorporates anomaly detection and a robust alerting engine that leverages machine learning algorithms to promptly notify you of any emerging issues. With comprehensive visibility across infrastructure components such as Kubernetes, containers, servers, and databases, Sematext facilitates efficient root cause analysis, enabling you to identify and resolve issues swiftly.
Features
Pros
Easy installation and support

Out-of-the-box dashboards and alert rules to save you time

Flexible subscription pricing and pay-as-you-go choices

Provides internal and external monitoring capabilities

State-of-the-art alerting system with various triggers

Integrates with Incident Management Systems for seamless incident response

Detailed browser checks for anomaly detection
Cons
Fewer integrations than some larger competitors

Limited support for transaction tracing
Pricing
As a top Pingdom competitor, Sematext offers a range of pricing packages, including free versions of some of its products. 
The pricing for Log Monitoring is based on the amount of data and the desired retention period, starting at $50/month, but note that Logs Pipelines and the super cheap rate for Received Data can make Sematext Logs extremely affordable. 

Infrastructure Monitoring starts at only $3.6/host with options to customize plans based on retention period and unlock additional features with the Pro pricing plan. 

The Startup plan for Real User Monitoring starts at just $9/month and can be customized based on views per month an retention period. 

For Synthetics, users have the choice of a pay-as-you-go plan that starts at $5/month and costs only $2 per monitor/month.  If you are going to have more than 16 monitors, select the Standard plan – it provides more value for just  $29/month.
Key bits to know
Plans are set for each

App

– you are not forced to pick a single plan for your whole account.

All plans offer multiple data retention options.  Use them to reduce your costs.  You can change plans at any time.  The change takes effect immediately.

Annual commitment will get you an additional discount.
Want to see how Sematext stacks up to Pingdom? Check out our page on Sematext vs Pingdom.
2. Splunk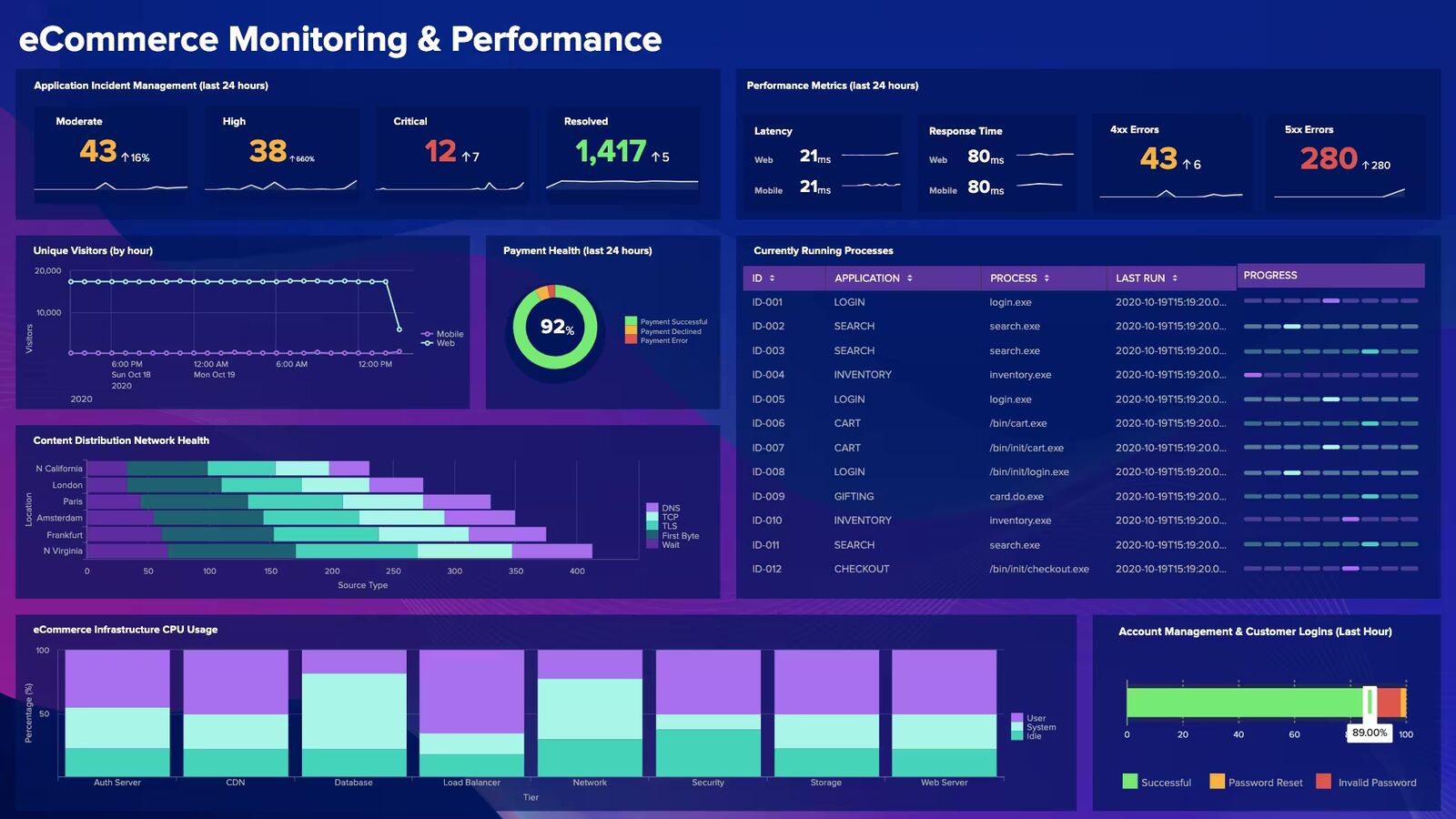 Splunk, a well-known log management solution, also offers robust Synthetic Monitoring capabilities, positioning it as a compelling alternative to Pingdom. While Splunk is widely recognized for its log management features, it extends its functionality to include comprehensive Synthetic Monitoring, making it an ideal choice for DevOps and IT teams.
With Splunk's Synthetic Monitoring, you can proactively simulate user interactions and monitor critical user journeys across your applications and websites. By setting up synthetic tests, you can emulate user actions such as clicking buttons, submitting forms, or navigating through pages to ensure optimal performance and identify any issues before they impact real users. Splunk's Synthetic Monitoring provides valuable insights into application responsiveness, availability, and overall user experience.
In addition to Synthetic Monitoring, Splunk offers a range of other features such as log aggregation, application monitoring, Infrastructure Monitoring, and automated anomaly detection. This holistic approach enables organizations to have a comprehensive view of their systems and applications, ensuring high performance, reliability, and optimal user satisfaction.
Features
Log aggregation and monitoring tool
Application monitoring
Infrastructure Monitoring
Real User Monitoring
Automated anomaly detection
Synthetic Monitoring
Pros
Ability to install add-ons and extend functionality
On-premise option for enhanced control over lookups within the file system
Broad data integration options, supporting multiple formats
Works well with unstructured data from various sources
Cons
Requires user to continuously stay updated with SPL (Splunk Processing Language)
Outdated user interface design
Limited data modeling and machine learning capabilities
Pricing
Splunk provides flexible pricing options tailored to suit the specific needs of businesses. The cost starts at $15 per host/month, varying based on the license type and data usage. For instance, a 500 MB license begins at $5,000.
Want to see how Sematext stacks up against Splunk? Check out our page on Sematext vs Splunk.
3. Uptime Robot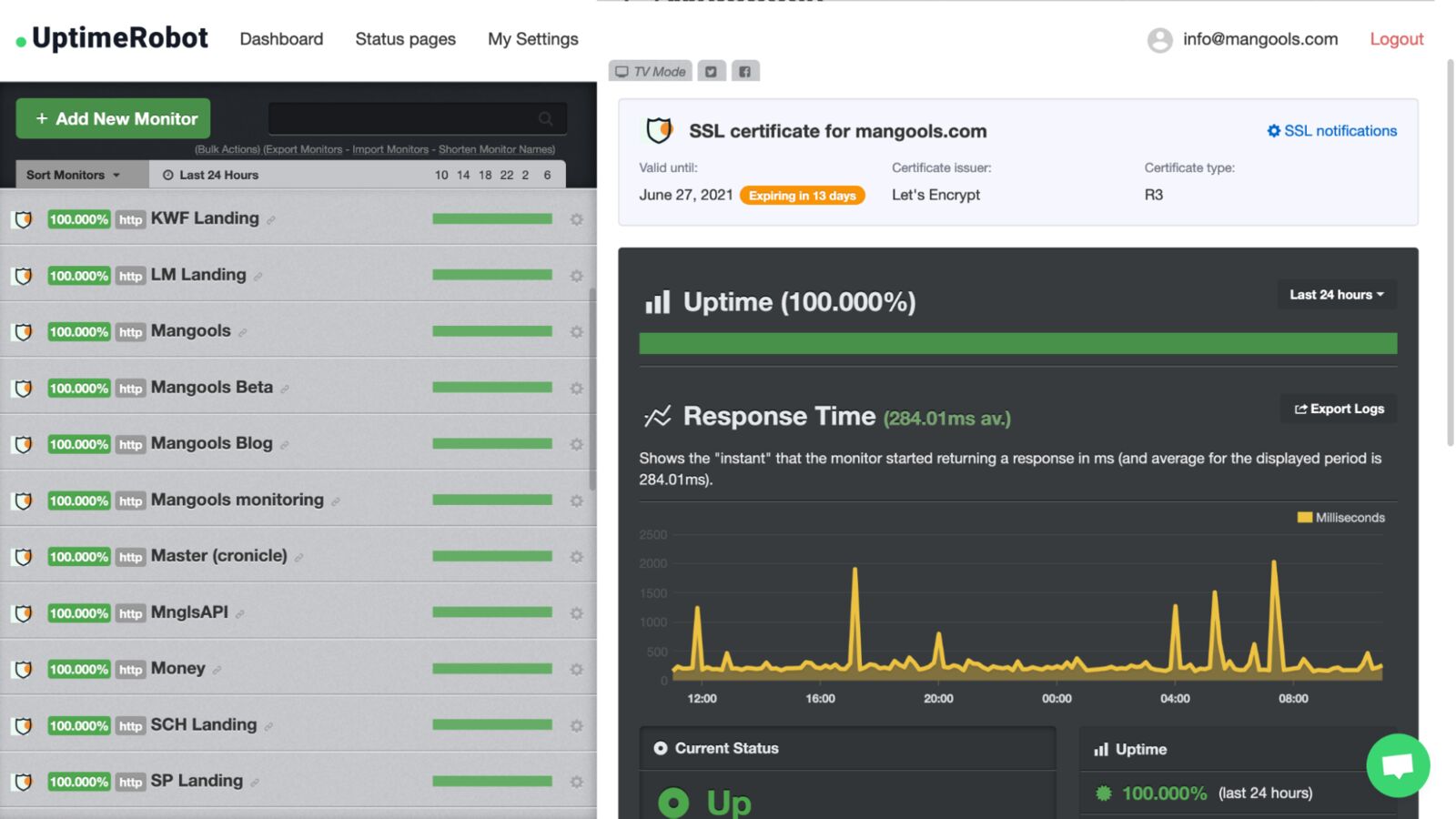 Uptime Robot is a trusted Pingdom competitor for website monitoring, providing essential features to ensure the uptime and performance of your websites. As a dependable alternative to Pingdom, Uptime Robot offers real-time monitoring at regular intervals, typically every 1-5 minutes, allowing you to promptly detect and respond to any downtime or performance issues that may impact your online presence.
Some of the Pingdom alternatives on this list offer a suite of tools that allow users to monitor their whole stack. Uptime Robot, on the other hand, is primarily focused on uptime monitoring for HTTPs, browsers, and SSLs.
Features
HTTPs monitoring
Keyword monitoring
Ping monitoring
Port monitoring
SSL monitoring
Pros
Simple functionality for beginners
Short monitoring intervals (1-5 minutes)
Straightforward dashboard
Reasonably fast set-up time
Cons
Some users complain about monitors not working properly
Only offers Synthetic Monitoring
Users complain about confusing reports
Users report spotty and inconsistent support
Pricing
Uptime Robot offers a free, limited version of their tool. After that, the prices start at $7/month and go all the way to $54/month, but that's if you decide to pay annually. If you're looking for a monthly, commitment-free solution, you will end up paying between $8-64/month. Additionally, each plan has a limited number of users. After a certain point, you can expect to pay $15/month extra per user.
Want to see how Sematext stacks up? Check out our page on Sematext vs Uptime Robot.
4. New Relic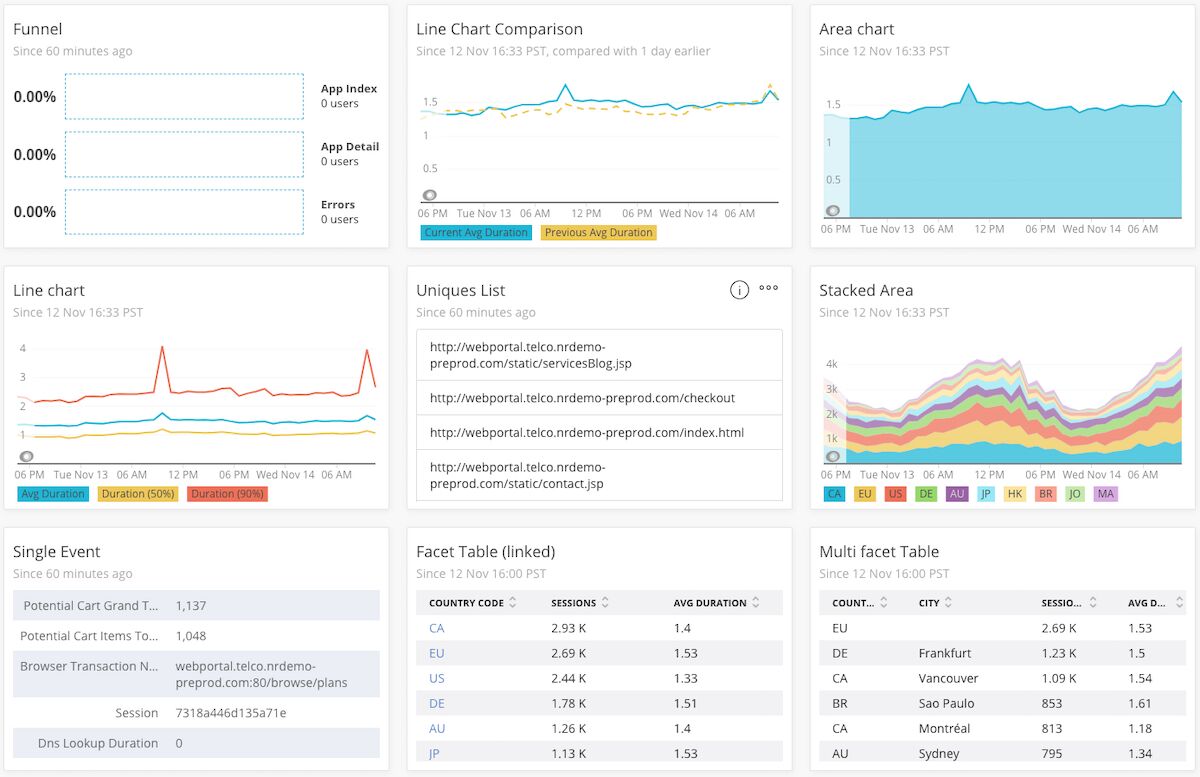 New Relic, one of the oldest alternatives to Pingdom, presents a robust observability solution with advanced logging and monitoring capabilities. As a compelling alternative to Pingdom, New Relic offers preconfigured dashboards that allow you to swiftly initiate monitoring and analyze data.
It seamlessly integrates with a wide range of platforms, including Google Cloud Platform, Microsoft Azure, and more, enabling you to correlate data across your entire environment and expedite troubleshooting processes.
Features
Browser monitoring
Synthetic Monitoring
Log management and monitoring
Serverless monitoring
Infrastructure Monitoring
Pros
Logging and monitoring support for multiple devices
User-friendly interface for ease of use
Customizable monitoring dashboards to match specific requirements
Lightweight and easy-to-deploy agents
Accurate and reliable alerts
Intuitive query language for efficient data retrieval
Cons
Complete dependency on installing agents on various devices
Inability to add Qumulo and Isilon storage devices
Challenges in reviewing logs during correlation processes
Some pages may have slower processing times, impacting user experience
Can become quite expensive, especially at scale
Pricing
New Relic, unfortunately, makes it a little complicated to understand what you're actually paying for. With all plans, you're charged $49 for what they call "core" users. If you want users to have full access to the platform, you'll have to fork out $99 for the standard plan, $349 for the pro plan, and $549 for the enterprise plan. Mind you, this is per user. With all New Relic plans, you're given a free 100GB of ingested data, but every GB after that is charged – $0.30 for "Original" data ingestion, and $0.50 for "Plus" data ingestion.
Want to see how Sematext stacks up? Check out our page on Sematext vs New Relic.
5. AppDynamics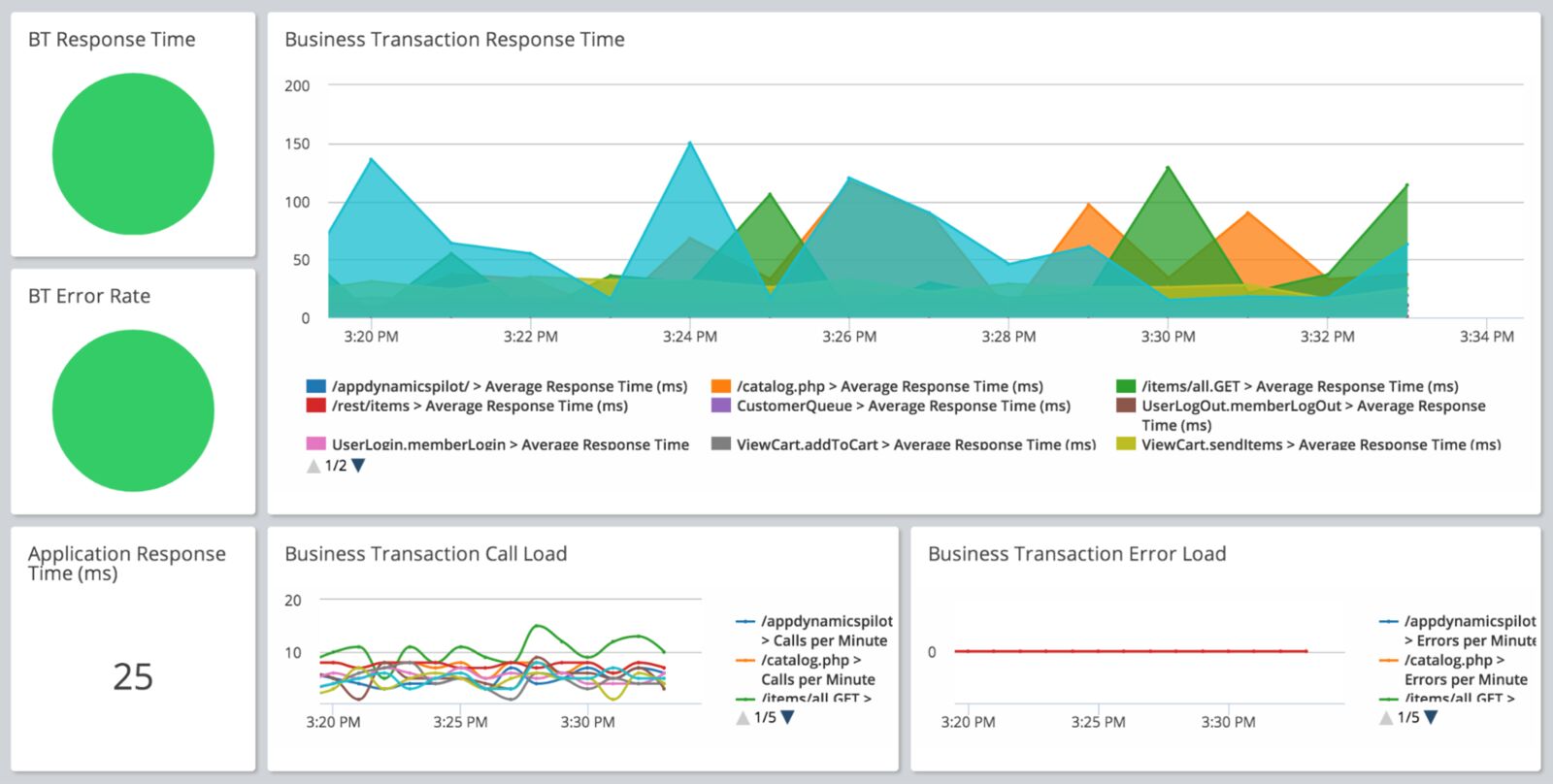 AppDynamics is a cloud-based performance management tool that excels in Synthetic Monitoring capabilities, making it a compelling alternative to Pingdom. With AppDynamics, businesses can proactively monitor their applications through synthetic transactions that simulate user interactions. This enables early detection of performance issues, allowing for quick remediation and improved user experience.
Features
Synthetic Monitoring
Infrastructure Monitoring
Application performance management
Real User Monitoring
Business performance monitoring
Pros
Easy new application deployment
Code-level visibility option for deep performance analysis
Intuitive workflow monitoring within application tracking
Predictive intelligence provides valuable insights into tool usability
High transaction visibility for detailed performance analysis
Cons
Steep learning curve, particularly for users new to application monitoring tools
Considered one of the more expensive solutions
Challenges with integrating with different event sources
Pricing
AppDynamics offers a range of pricing options starting from $6/month, but that's only for basic Infrastructure Monitoring. If you want Synthetic Monitoring, you'll have to start at $60/month, and it goes up to $90/month per user for the Enterprise Edition.
Want to see how Sematext stacks up? Check out our page on Sematext vs AppDynamics.
6. Dynatrace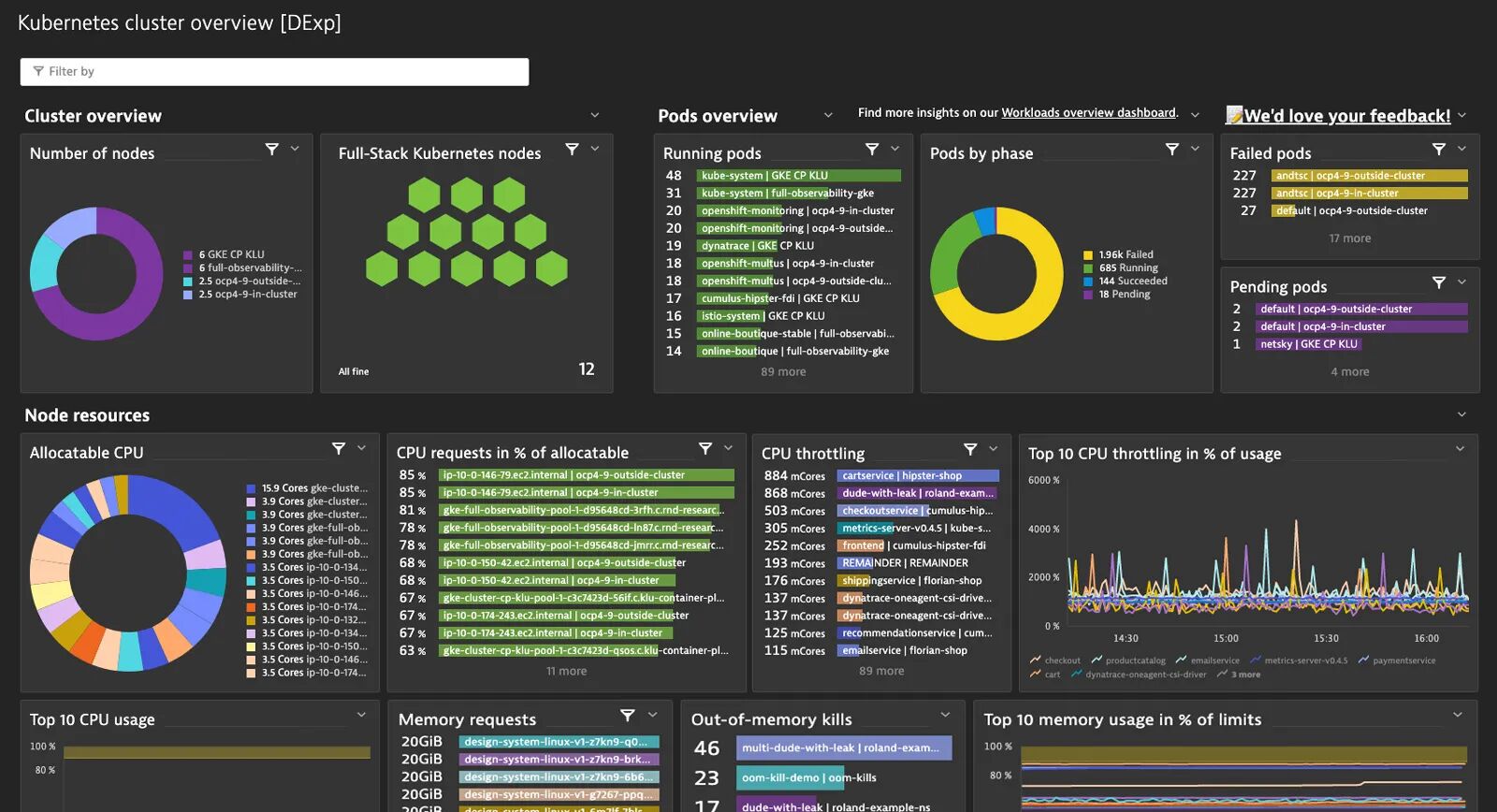 Dynatrace utilizes advanced machine learning capabilities to provide observability across both native and hybrid cloud environments. As a reliable alternative to Pingdom, Dynatrace excels at cutting through all layers of your technology stack, from the application layer down to container or cloud infrastructure.
This comprehensive Pingdom competitor allows you to correlate logs, metrics, and traces from various data sources, leveraging its powerful AI engine to detect performance issues and assess their potential impact on the system. With its ability to identify root causes and offer potential solutions, Dynatrace is particularly well-suited for large enterprises.
Features
Transaction monitoring
Risk analysis
Synthetic Monitoring
Real User Monitoring
Pros
Very reliable application performance monitoring
Integration with a wide range of products and services
Self-discovery feature for proactive monitoring
Helpful AI and machine learning-based monitoring
Easy adoption and flexibility
Cons
Navigation menus, especially in terms of user experience (UX), can be problematic
Documentation could be clearer
Real-time tutorials may be challenging to understand
Pricing
Dynatrace offers a variety of pricing options, all depending on what solution you're looking for. Unfortunately, they make it rather difficult to understand or calculate how much you'll actually be paying for some of these solutions. For example, for Synthetic Monitoring, you'll be paying $0.001 per synthetic request, and for Real User Monitoring, you'll pay $0.00225 per session. Tools like Full-stack monitoring, Infrastructure Monitoring, and Application Security are charged per hour for 8 GiB hosts.
Read our article on Dynatrace alternatives, for more options, or check out our page on Sematext vs Dynatrace to see how Sematext stacks up to it.
7. Updown.io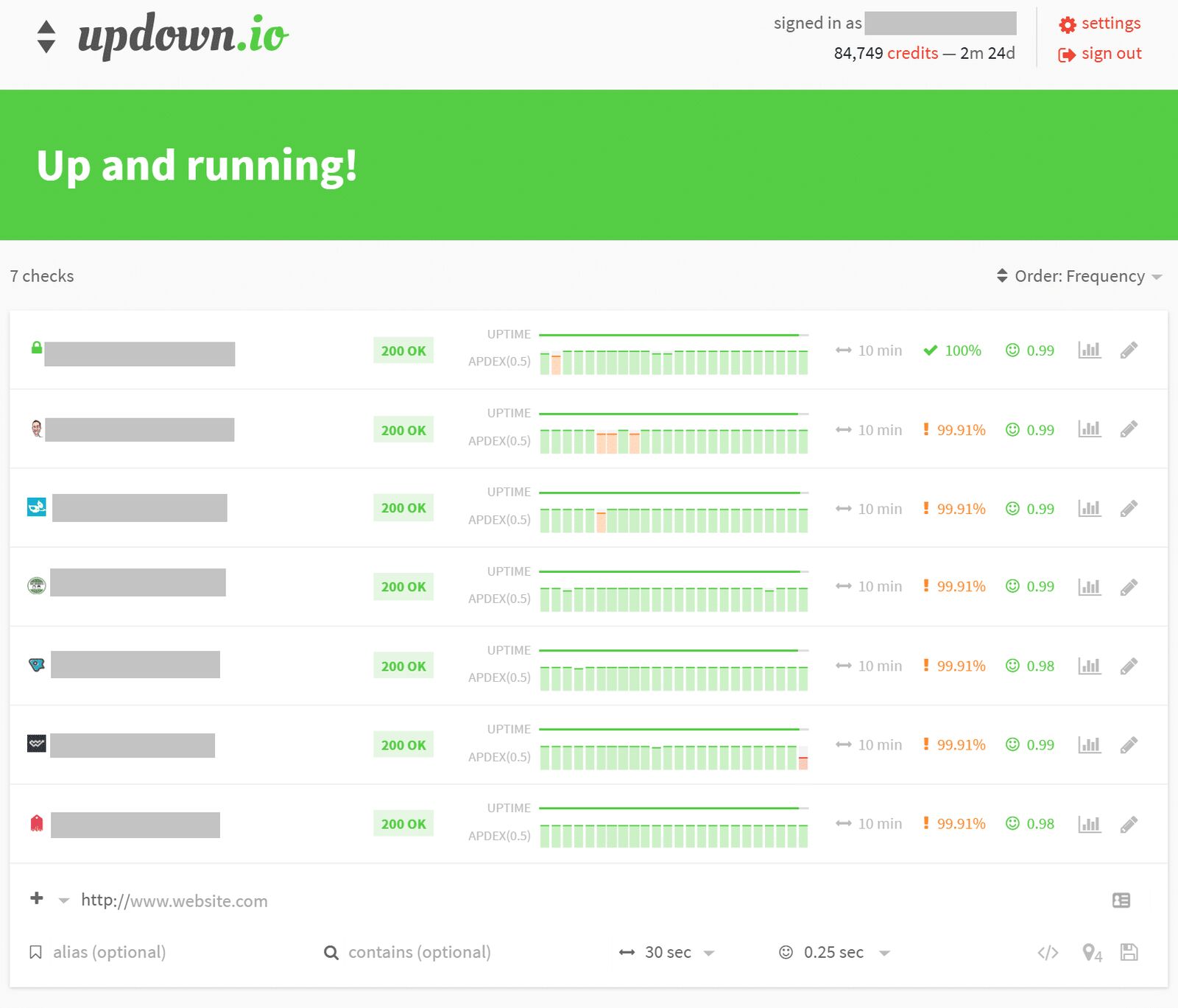 Updown.io is a reliable and straightforward uptime monitoring tool that provides essential functionality to ensure the uninterrupted availability of your websites. With its user-friendly interface and intuitive setup process, updown.io offers a seamless monitoring experience, catering to your uptime needs with efficiency and ease.
Updown.io enables you to monitor the uptime and performance of your websites effectively. It offers HTTP and SSL checks to ensure that your web services are accessible and secure. What sets updown.io apart is its multi-location confirmation of downtime before triggering an alert, providing a more accurate assessment of your website's availability.
Features
Hosted status pages
SSL testing
Rest API and Webhooks
Downtime double-checks
Pros
Check frequency can be set to 15s
Dual-stack monitoring
Only pay for the requests you use
Cons
Very limited in terms of functionality and support
No free plan
Limited integrations for alerting
Can get expensive if you have multiple websites that need multiple checks
Pricing
Updown.io charges you based on the number of checks you need. For that reason, it's hard to put an exact number on the pricing. However, you can expect to pay anywhere between 5€ and 500€ per month in most cases. On top of that, if you want SMS alerts, they will charge you an extra 0.10€ per message.
8. Dotcom-monitor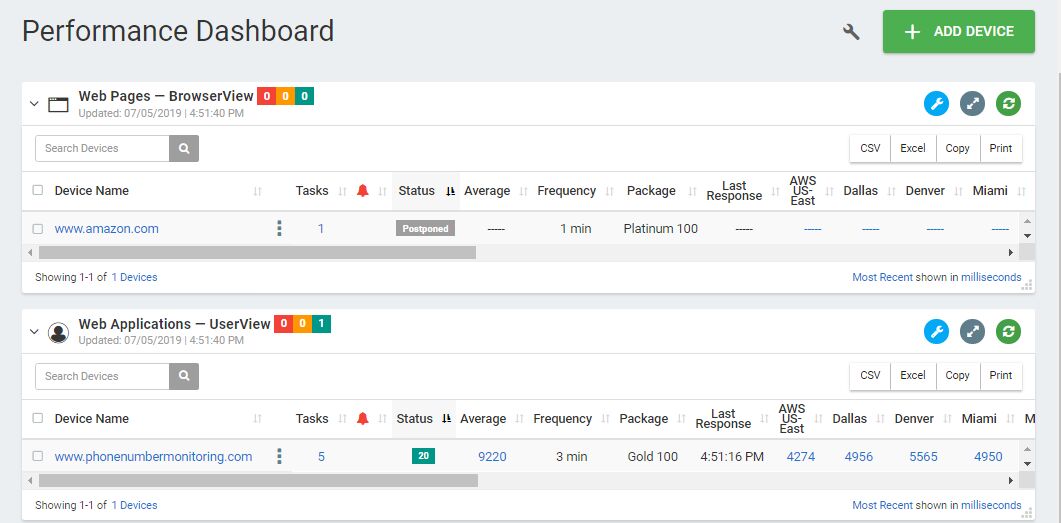 Dotcom-monitor is a comprehensive website monitoring and performance testing solution that offers a range of features to ensure the optimal performance and availability of your websites.
As a robust alternative to Pingdom, dotcom-monitor provides powerful monitoring capabilities combined with advanced testing tools, enabling you to proactively detect and address potential issues before they impact your users.
Features
Website performance monitoring
Website uptime monitoring
Infrastructure Monitoring
Application performance monitoring
Pros
Web-based scripting tool for e-commerce users
User-friendly interface
Detailed email reports
Easy setup
Cons
Advanced features boast steep learning curve
Users report that the product is not very intuitive
Lack of documentation
Dashboards and interfaces can be hard to navigate
Dashboards can be overwhelming with too much data
Pricing
Dotcom-monitor offers 4 basic pricing tiers. Depending on your needs, you're looking at spending anywhere between $19.99/month and $79.99/month per product. If you're looking for a true full-stack observability platform, Dotcom-monitor will prove to be quite expensive, as you'll need to utilize all their plans. This total would end up being roughly $180/month.
9. Better Stack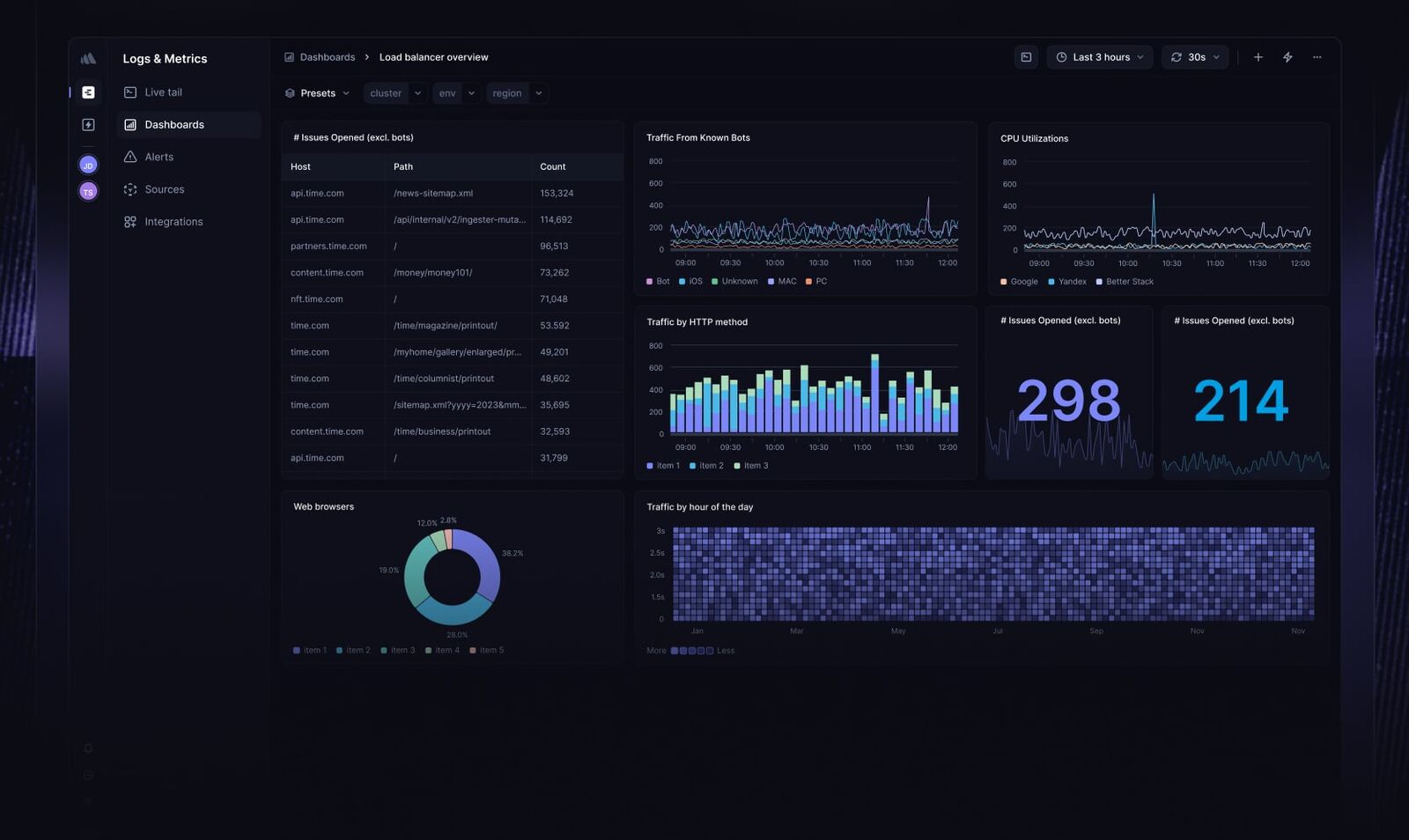 Better Stack, formerly known as Better Uptime, is one of the newer Pingdom competitors on the scene. Nevertheless, it emerges as a powerful Pingdom alternative, providing robust monitoring capabilities with a user-friendly interface. This comprehensive tool ensures the optimal performance and availability of websites, APIs, and servers, making it a preferred choice for businesses and DevOps teams.
Better Stack offers reliable uptime monitoring, incident management features, and advanced reporting capabilities.
Features
Uptime Monitoring
Incident Management
Alerting Capabilities
Status Pages
Pros
Short check intervals
Real-time updates for websites and APIs
Simple to use and easy to navigate
Offers both Log monitoring and Synthetic Monitoring
Cons
Lack of customizability with dashboards
Setup can require a lot of time depending on the number of monitors
Users report some false-positive alerts
Lack of support for Android/Timber logs
Only offers Logs and Uptime monitoring
Pricing
Both the logs and uptime features of Better Stack come with free, limited plans. From there, they both start at $24/month and go all the way up to $160/month if you pay annually. Better Stack also offers an Enterprise solution that does not specify the cost.
10. Webgazer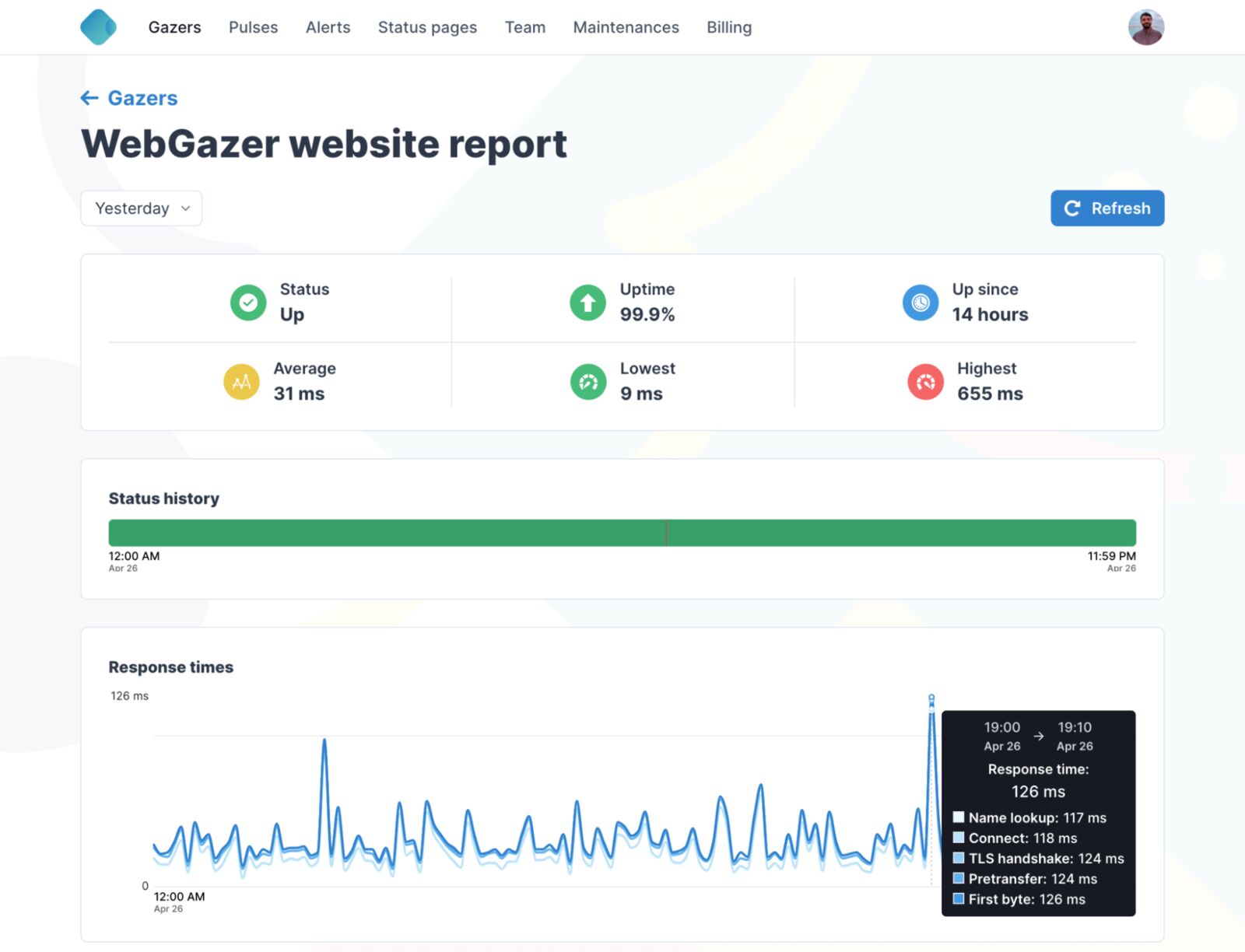 Webgazer is a feature-rich website monitoring solution that offers a range of functionalities, albeit with a higher price tag. With Uptime monitoring and SSL monitoring included in all paid plans, Webgazer ensures that your websites are continuously monitored for availability and secure connections. The check intervals are set at 5 minutes for the free plan and 1 minute for all paid plans, enabling you to receive timely updates on your website's performance.
When it comes to alerting, Webgazer provides multiple notification options, including SMS, phone call, email, and Slack. However, it's important to note that the alerts are not unlimited, even for paid plans. Instead, SMS and phone call alerts are based on pre-purchased credits, which vary depending on the selected plan.
Features
Uptime monitoring
Website performance monitoring
SSL monitoring
Pros
Clean and simple interface
Useful and nicely designed status pages
Easy to set up
Relatively quick email alerts
Cons
Status pages only available with the Pro plan
Limited alerts
Limited server locations
Inability to analyze error response
Lack of customization
Pricing
Webgazer has a limited, free plan like most Pingdom alternatives on this list. If you're looking for something a little more comprehensive, their basic plan starts at $19/month, Pro starts at $69/month, and business starts at $179/month. Webgazer offers a lot of functionality, but it is considered one of the higher-priced Pingdom alternatives on this list.
Comparison Table
Tool
Vs Pingdom
Best For
Sematext

Cheaper per monitor than Pingdom
Offers more observability solutions.
Easier to set up and use with auto-discovery and out-of-the-box dashboards.
More integrations than Pingdom.

Log analysis, performance monitoring, Infrastructure Monitoring, and anomaly detection.
Splunk

More expensive than Pingdom.
Utilizes AI for analytics and troubleshooting.
Offers third-party integrations.
Offers a decent set of observability solutions.
Splunk is more difficult to set up.
Splunk has a less-intuitive interface than Pingdom.

Log analysis and data analytics.
New Relic

New Relic is more expensive.
New Relic offers more observability solutions.
New Relic offers more third-party integrations.
New Relic offers more features per solution.
Pingdom is considered to be simpler and easier to use.

Application performance monitoring (APM) and Infrastructure Monitoring.
Better Stack

Both have similar pricing.
Better Stack offers Log Management as well as Uptime monitoring.
Better Stack offers more third-party integrations.
Both are considered to be fairly easy to set up and use.

Log aggregation and Uptime monitoring.
AppDynamics

AppDynamics is more expensive than Pingdom.
AppDynamics offers more observability solutions.
Offers powerful APM features.
More third-party integrations.
Flexible deployment options.
AppDynamics is considered to be more advanced and complex, making it harder to set up and use.

Focused more on enterprises and large-scale Application Performance Monitoring (APM).
Dynatrace

Confusing pricing, but can be expensive at scale.
Flexible deployment options including on-premise and SaaS.
Integrates with a large variety of third-party tools and software.
Can be complex to set up.

Full stack monitoring and observability for large enterprises and corporations.
Updown.io

Price depends on how much data you actually use.
Can be more expensive than Pingdom at scale.
Charges extra for SMS alerts, while Pingdom includes them in their offers.
Slightly limited in functionality and support compared to Pingdom.

Uptime requests for businesses that only need to monitor a few websites or applications.
Uptime Robot

Cheaper than Pingdom.
Both have roughly the same functionality and features.
Requests can be set to as often as 60 seconds, as opposed to Pingdom's 5 minutes.
Does not offer unlimited users as Pingdom does.

Synthetic and Real User Monitoring for teams of all sizes.
Dotcom-monitor

More expensive than Pingdom.
Offers more observability solutions.
Both are relatively easy to set up and use.
Dotcom-monitor offers shorter monitoring intervals.

Performance, functionality, and uptime monitoring.
Webgazer

Both Webgazer and Pingdom have comparable pricing, but it depends on how many monitors you need.
Webgazer does not offer Real User Monitoring.
Both tools have comparable functionality and features for Uptime monitoring.
Both tools offer a free, 30-day trial.

Uptime performance monitoring, SSL certificate monitoring.
Conclusion
If you're looking for a Pingdom alternative, you'll be happy to know that there are a lot of options out there. Everyone has their own needs, so be sure to scan this comprehensive list and find the best option for you and your team.
When deciding on a Pingdom competitor, we highly recommend reading and doing as much reading as possible before pulling the trigger.
With Sematext, you have the options for signing up for a free trial, scheduling a demo with one of our expert team members, or even testing our platform with an interactive demo.
---