Being a part of SolarWinds, Papertrail is one of the more well-known log management tools out there. It's powerful in terms of log aggregation and management, but it doesn't always meet everyone's standards.
In fact, Papertrail is just a small piece of the observability puzzle at SolarWinds. In order for real full-stack observability to be possible, you'd have to loosely piece together a number of SolarWinds' tools, and even then, it's not really complete, as you'd have to jump between different sites/tools with different URLs.
This, as well as many other reasons, has led many users to look for Papertrail alternatives. If you're in that same boat, then don't worry! The sea is full of options. We've come up with a comprehensive list of the top 10 best Papertrail alternatives to make your journey a little easier.
But first, let's talk about Papertrail a bit.
SolarWinds Papertrail Features
Since Papertrail is a small piece of the observability stack that SolarWinds offers, it is highly focused on a single purpose: Log Management.
With this, you get a few features and micro-solutions to help:
Log aggregation
Tail and search
Analytics
Papertrail is a helpful tool if all you're looking for is some basic log management capabilities, and you don't need complete observability. It certainly is more capable than SolarWinds' other logging tool, Loggly.
SolarWinds Papertrail Pricing
Papertrail's pricing plans are completely based on monthly data volume.
Starting from the lowest, they offer a $7/month plan that only offers 1GB of ingested data for the entire month and 7 days of data retention.
Next, they offer an $18 plan that offers 2GB per month. It is strange that they only doubled the volume but increased the price by more than double. This plan also comes with 7 days of data retention.
The $35 plan comes with 4GB per month, but it doubles the data retention period to 14 days.
After that, the $75 plan comes with 8GB per month and 14 days of retention. Here, you can notice the strange pricing model they implement once again where the price more than doubles.
At $150 per month, you can get 16 GB of ingested data and 14 days of data retention.
For $230 per month, you can get 25 GB of ingested data, but again, only 14 days of retention.
Finally, they have the option to customize your own plan. Here, you can select between 50MB and 1500GB per month, and anywhere between 1 day and 4 weeks for data retention.
As you can see, in most cases, the pricing model doesn't make much sense. As the price scales up, oftentimes you're paying more than double for a doubled data allowance.
10 Best Papertrail Alternatives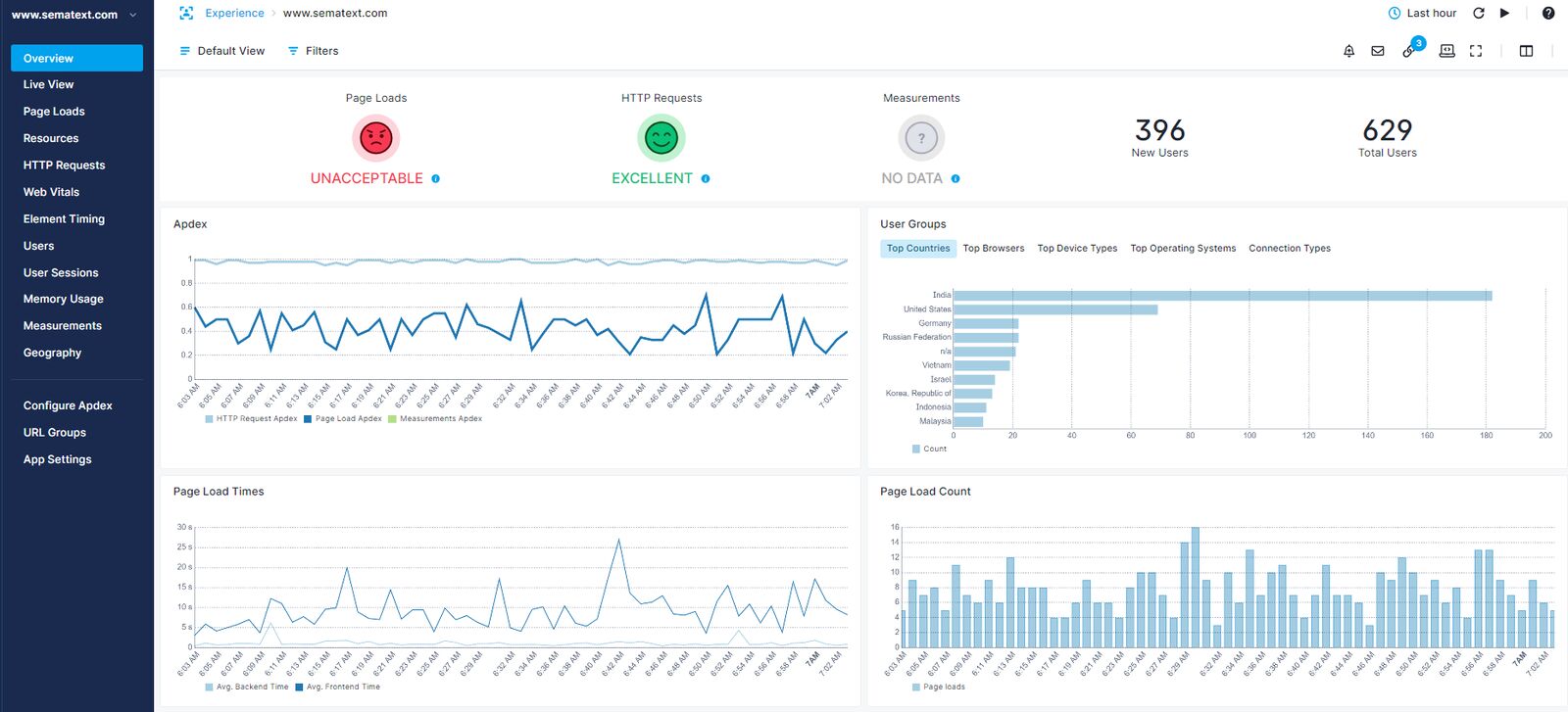 Papertrail might give you log management, but that's just about it. If you want full observability, then it won't be enough. Sematext makes up for that difference by offering everything Papertrail does and a lot more.
Sematext offers Log Management, Synthetic Monitoring, Real User Monitoring, and Infrastructure Monitoring. Not only can you get alerts when something an issue is detected, but also have the insights needed to visualize, locate, and resolve the issue at hand.
Sematext is a full-stack observability solution. You get exactly what you need to optimize the performance of your website and apps, and troubleshoot when they're running slow.
Sematext Logs is a centralized hub for all your logs, no matter where they come from in your whole infrastructure and applications. You can troubleshoot issues as they come across your infrastructure, all from this centralized environment.
Even better, Logs Pipelines allow you to adjust or eliminate log events that you don't want at all. As a result, this helps you control your costs, allowing you to save your data usage for only the log events that are important to you. You can even trim unwanted fields, enhance your logs, or transform them as needed. This is something that Papertrail doesn't offer.
With Synthetic Monitoring, you can passively test the performance and availability of all your websites and APIs. Synthetics simulates user interactions to run tests from multiple global locations and private locations, for when you want to monitor services behind your firewall.
Sematext Experience, also known as Real User Monitoring (RUM), uses real user data to give you insight into tracking metrics like UI interactions and page load times. Data is collected in a comprehensive overview with User Satisfaction metrics that use Apdex Scores.
With Sematext, there are even tailor-made integrations for specific services for both Monitoring and Logs. You can start without having to configure these integrations yourself, as they come with out-of-the-box dashboards and alert rules.
Features
Pros
Flexible payment options, plans, and per-App pricing
Logs Pipelines for granular cost control
Seamless setup process with accommodating support staff according to a number of reviews on G2
Internal and external monitoring capabilities
Customizable alert triggers
Smooth incorporation with Incident Management Systems
Cons
Fewer integrations than some larger competitors
No support for transaction tracing
Pricing
Sematext's pricing options are easy to scale, depending on what you need, and come with zero obligations. You can cancel, upgrade, or downgrade at any time.
Log Monitoring has a free plan and the paid options start at just $50 per month. This $50 plan comes with 1GB of ingested data per day and 7 days of retention, but you can scale this up to meet your needs.
Synthetic Monitoring has two pricing options. First, you have the pay-as-you-go plan. This plan offers single HTTP Monitors for $2 each and $7 per Browser Monitor.
The other pricing option is for monitor bundles. These start at just $29 per month but offer you more options. With the $29 plan, you can get up to 40 HTTP Monitors, 5 Browser Monitors, and 30 days of retention.
Infrastructure Monitoring also has a free plan, but the paid plans start at $3.60 per host per month. The $3.6 price tag comes with a standard 7 days of retention already, but you can customize this to meet your needs.
Finally, Real User Monitoring starts at just $9 per month. This comes with 25,000 page views per month and gives you 7 days of retention. Just like all of the other options, though, this can be scaled up to meet your exact needs.
Papertrail is expensive at scale. We know because we've compared Sematext and Papertrail side-by-side. Want to see a comprehensive pricing slider that compares the two? Check out Sematext vs Papertrail today.
2. Datadog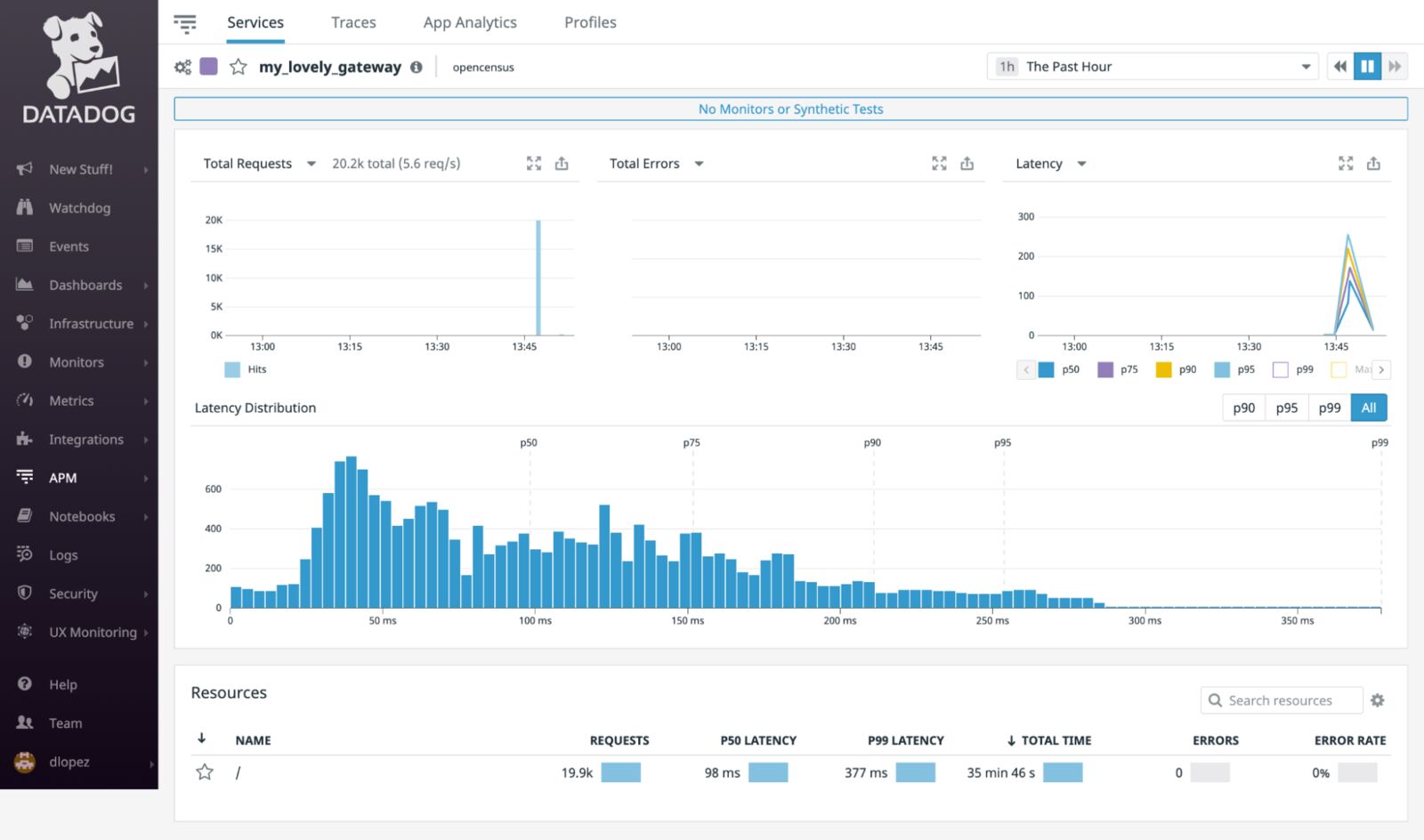 Datadog is a massive tool that offers a lot of features and solutions, including log management. But before we dive too deep, please note that Datadog is expensive. It absolutely is not for anyone other than large-budgeted corporations. Just take a look at what people are saying on X.
Datadog is considered to be a full-stack monitoring solution, but its log management is quite comprehensive. You can easily ingest, process, live tail, and archive all your logs.
Datadog is a good Papertrail alternative, but really only if you're looking to massively scale up your observability arsenal. That said, it can be an overwhelming jump. They offer 20+ individual solutions, each with its own price and feature set.
Features
Log Management and Monitoring
Synthetic Monitoring
Serverless Monitoring
Infrastructure Monitoring
Browser Monitoring
Pros
Comprehensive monitoring features
Extensive range of integrations
Intuitive data visualization
Customizable graph widget
Cons
Expensive at scale. Details below.
Overwhelming with 22 individually priced solutions
Users report poor customer service
Users report a steep learning curve
Pricing
Datadog has 22 individually priced solutions, so we won't get into all of them. But, there are some solutions that we'll mention.
Log management starts at $0.10 per ingested GB and $1.70 per million log events
Synthetic Monitoring is $7.20 per 10,000 API tests and $18 per 1,000 browser tests.
Infrastructure monitoring starts at $18 per month per host
Real User Monitoring starts at $2.20 per 1,000 sessions per month
Even just a quick glance can probably tell that your expenses can stack up quickly with Datadog.
If you really want to see how expensive Datadog is, then check out our page on Sematext vs Datadog. We broke down their pricing and compared it to Sematext so that you can get a clear visual of how much you could be saving.
3. New Relic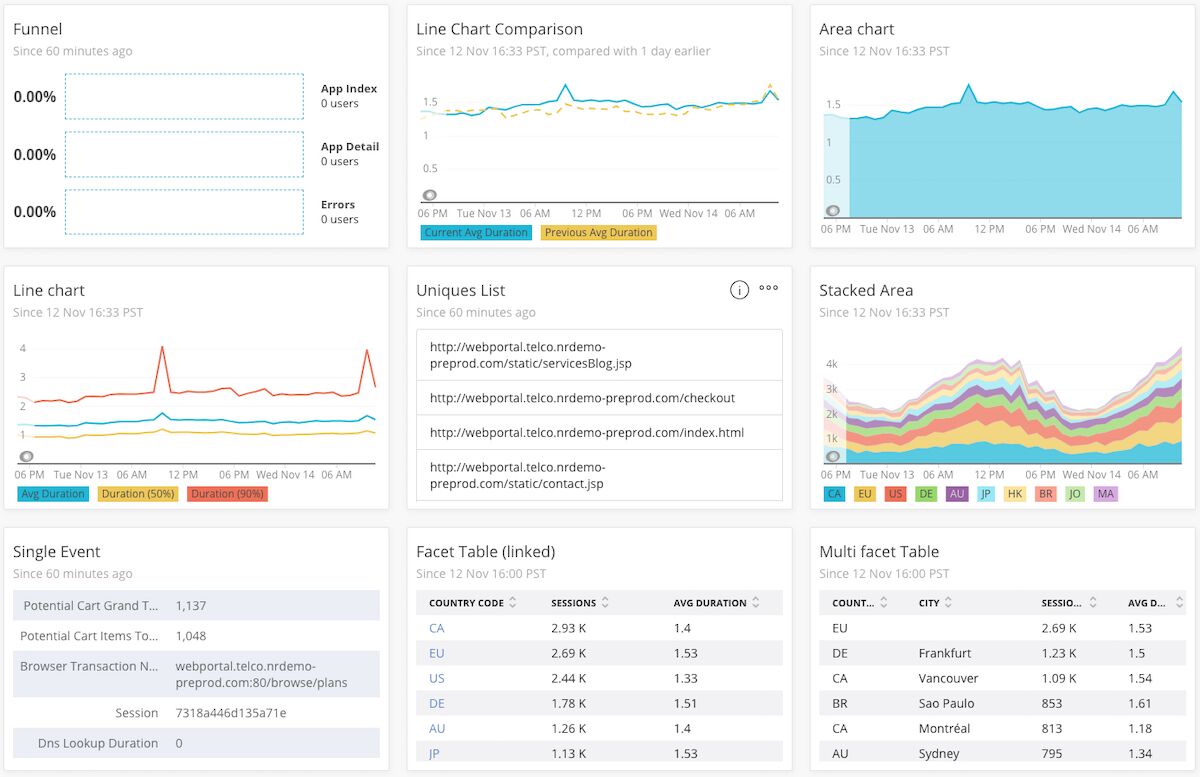 New Relic is another full-stack observability tool that has a lot to offer, including log management. New Relic was bought out by Francisco Partners for $6.5 billion. This is a good indicator that it is not geared toward anyone other than massive corporations with deep, deep pockets.
New Relic is primarily known for its Performance and Infrastructure Monitoring capabilities, but it has great functionality with other solutions, too. It includes things like real user monitoring, synthetic monitoring, and log management, making it a decent option for a Papertrail alternative. If you have the budget, that is.
Features
Log management and monitoring
APM
Browser monitoring
Synthetic Monitoring
Uptime Monitoring
Serverless monitoring
Infrastructure Monitoring
Pros
Full-stack observability
Preconfigured dashboards
Agents that are decently easy to deploy
600+ integrations
Cons
They charge excessive per-seat pricing
Unexpected upcharges
Users report memory issues
Users report navigation difficulties
Pricing
New Relic's pricing is strange. They claim it to be transparent, but it is still quite complicated with all their upcharges and per-seat pricing.
With all plans, there's a $49 monthly charge for what they call "core" users. This is an extra $49 per login seat.
If you want to have full access to the platform that you're already paying a lot to use, the cost per seat goes up to $99 for Standard plans, $349 for Pro plans, and an insane $549 for Enterprise plans.
Remember, these prices are per user and only if you opt for a yearly pricing plan, forcing you to fork out a chunk of cash upfront. If you can believe it, the prices can actually get worse than that if you want to pay monthly.
There's a 100GB allowance, and if you go over, you'll have to pay an extra $0.30 per GB for "Original" data and $0.50 per GB for "Plus" data. They don't really go into detail on what each data plan includes.
There's also an allowance for synthetic runs. Each plan has a set number of runs that you're allowed to perform each month. If you go over that allowance, you'll be paying $0.005 per check. If you have a decent number of runs that you need to perform, that can add a good amount to your bill.
All this said, New Relic isn't for everyone. Sematext offers much more reasonable pricing plans and pretty much all the same functionality. Check out Sematext vs New Relic for more details.
4. Dynatrace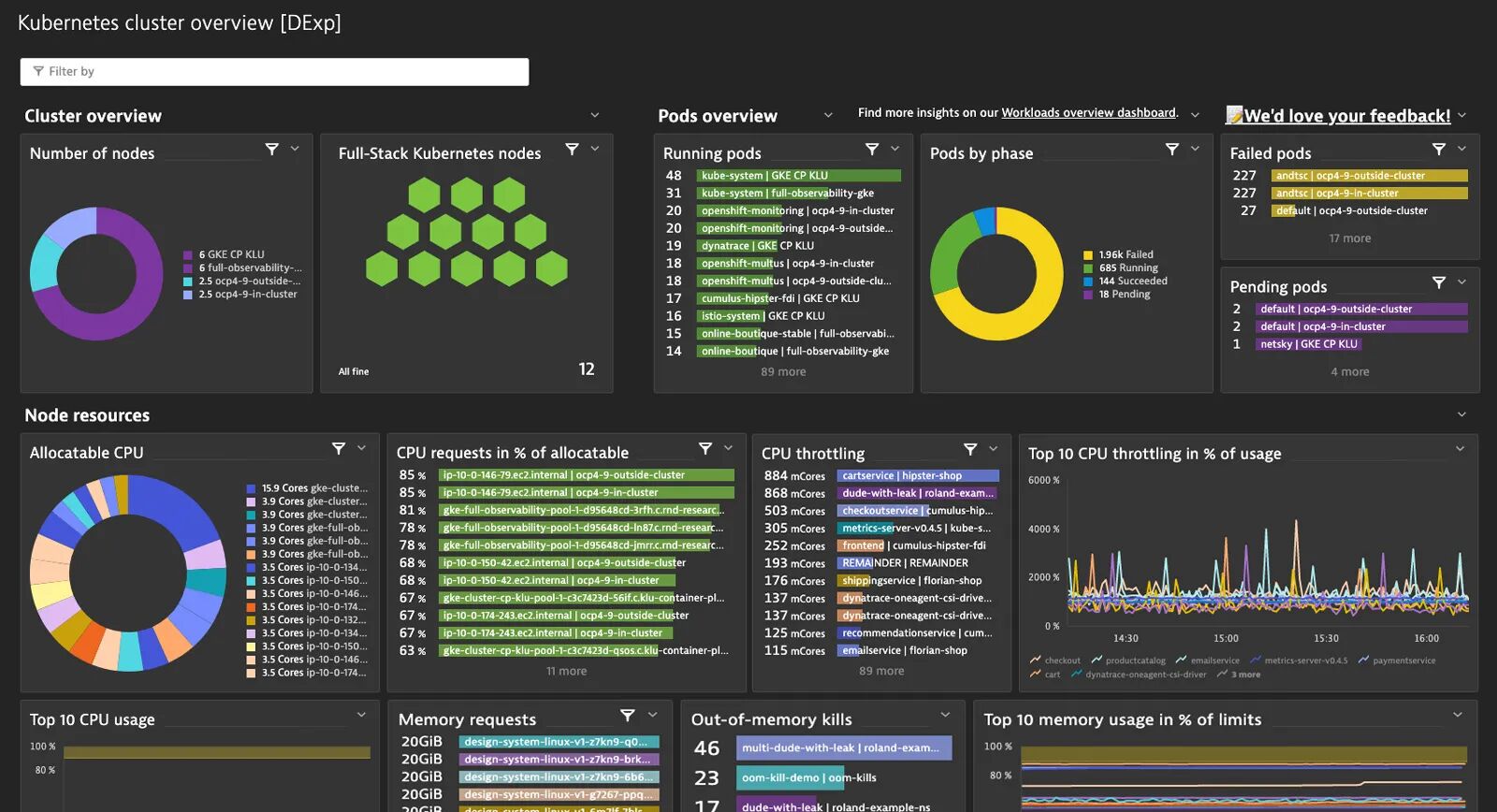 Continuing with the trend of all-in-one platforms, Dynatrace is a great alternative to Papertrail. It has a big focus on Application Performance Monitoring (APM), but it offers all the same log management capabilities that Papertrail does.
Dynatrace is great for big businesses looking for enterprise-level monitoring. It's great for providing essential business metrics across numerous digital platforms and even implements casual AI to help automate complex workflows.
Features
Log management and Analytics
Full-stack Monitoring
Infrastructure Monitoring
Application Security
Real User Monitoring
Synthetic Monitoring
Pros
Lots of observability options
Priced based on data that you use
Powerful alerting
Powered by AI
Cons
Pricing
Dynatrace offers their pricing in low numbers so as to seem cheap as low volumes. The truth is that if you scale it up to any reasonable number, it gets pricey.
For example, with log management, the prices start at $0.20 per ingested and processed GiB. To retain that GiB only costs you about $0.0007 per month, but to query that logging data, you have to pay $0.0035 per GiB!
Just to put this into perspective, for 1GB ingested and 7 days retention, that's $6 ingestion + $0.0049 retention = $6.0049 per month. But, since Dynatrace charges $0.0035 per GiB for queries. With 7GB stored and queries every 10 minutes, that's an extra $3.5 per day, or $111 per month total.
A synthetic request is $0.001. This might sound like a deal, but let's put this into perspective. If you set up an HTTP monitor from a single location with 1-minute intervals, the monthly cost racks up. In terms of math, that equation looks like this: 0.001 * 1440 * 30 = $43. 1440 is the number of runs in a month and 30 is the average number of days in a month. This means that you're paying $43 per month for a single HTTP monitor.
With Infrastructure Monitoring, they charge $0.04 per hour. With 24 hours in a day and the average month having 30 days, the monthly charge per host is 0.04 * 24 * 30, which totals $28.8. That's $28.8 per host!
Real User Monitoring is charged based on the number of sessions. Each session will cost you $0.00225. Quick math shows us that 100,000 sessions would cost you $225 per month.
Want to see how Sematext stacks up? Check out our page on Sematext vs Dynatrace.
5. Loggly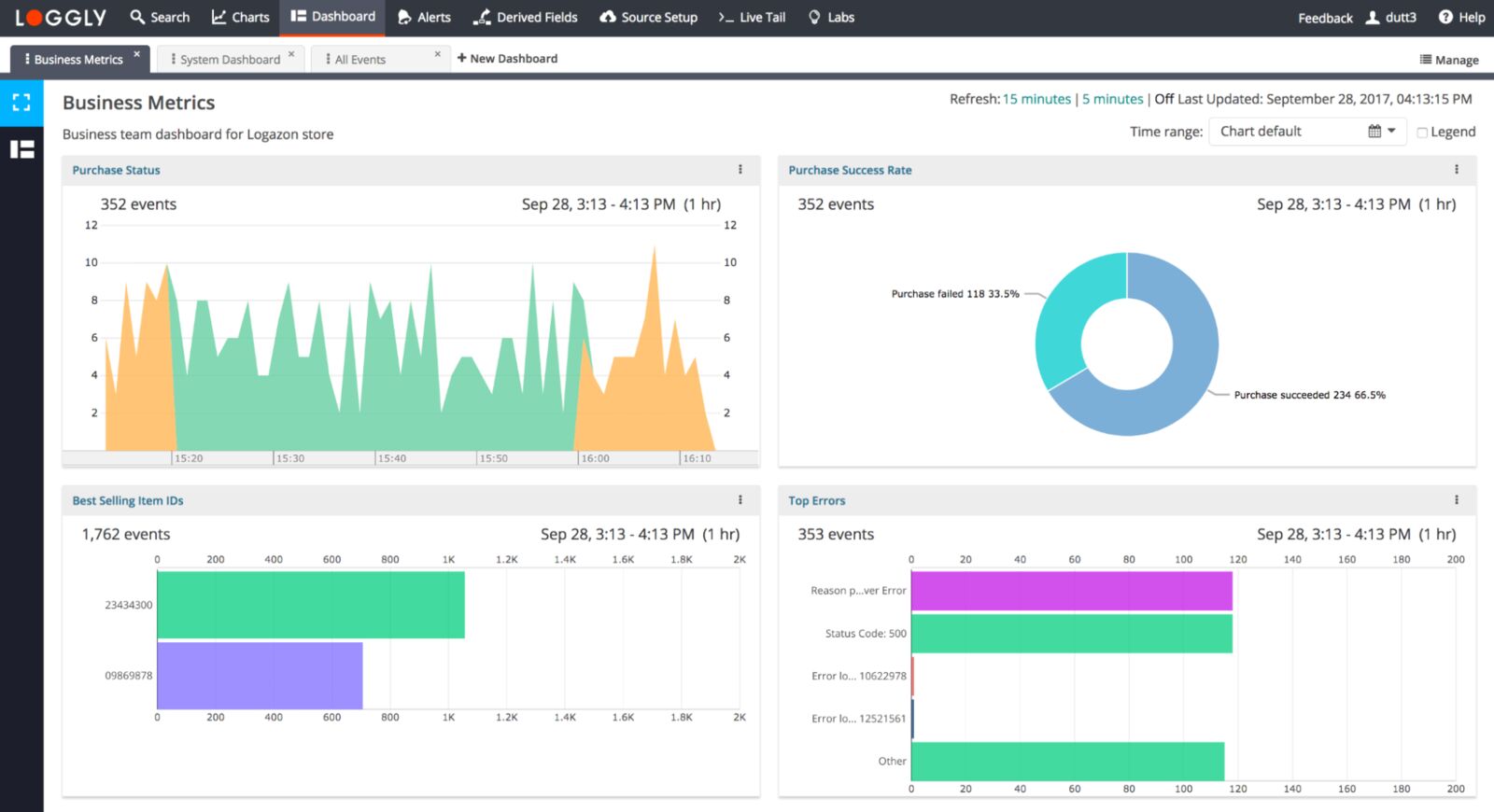 Loggly is a log management-focused Papertrail alternative that is also owned by SolarWinds. This sounds strange to a lot of people, and it is honestly confusing.
Loggly is described as a simplified cloud log management solution. On the other hand, Papertrail offers hosted log management for servers, apps, and cloud services.
But what makes Loggly stand out from Papertrail is the field explorer. This lets you search, filter, and summarize log events from a single view. You can view event frequency, select fields and values to filter, and apply custom parameters without typing in a query.
Features
Log management and analysis
Pros
Unlimited users
Built-in email alerting
Comprehensive, graphical dashboards
Cons
Limited functionality
Anomaly detection only available with enterprise plan
User reviews report slow data propagation
Limited parsing rules
Pricing
Loggly offers 4 pricing options, the first one being free and very limited. The prices for the paid plans start at $79 per month. The Pro Plan is $159 per month, and the Enterprise plan comes in at $279.
Please note that these are only the starting prices, and they are for annual plans. If you choose Loggly, you are paying upfront and are fully committed for a minimum of 1 year.
Want to see how Sematext stacks up? Check out our page on Sematext vs Loggly.
6. Mezmo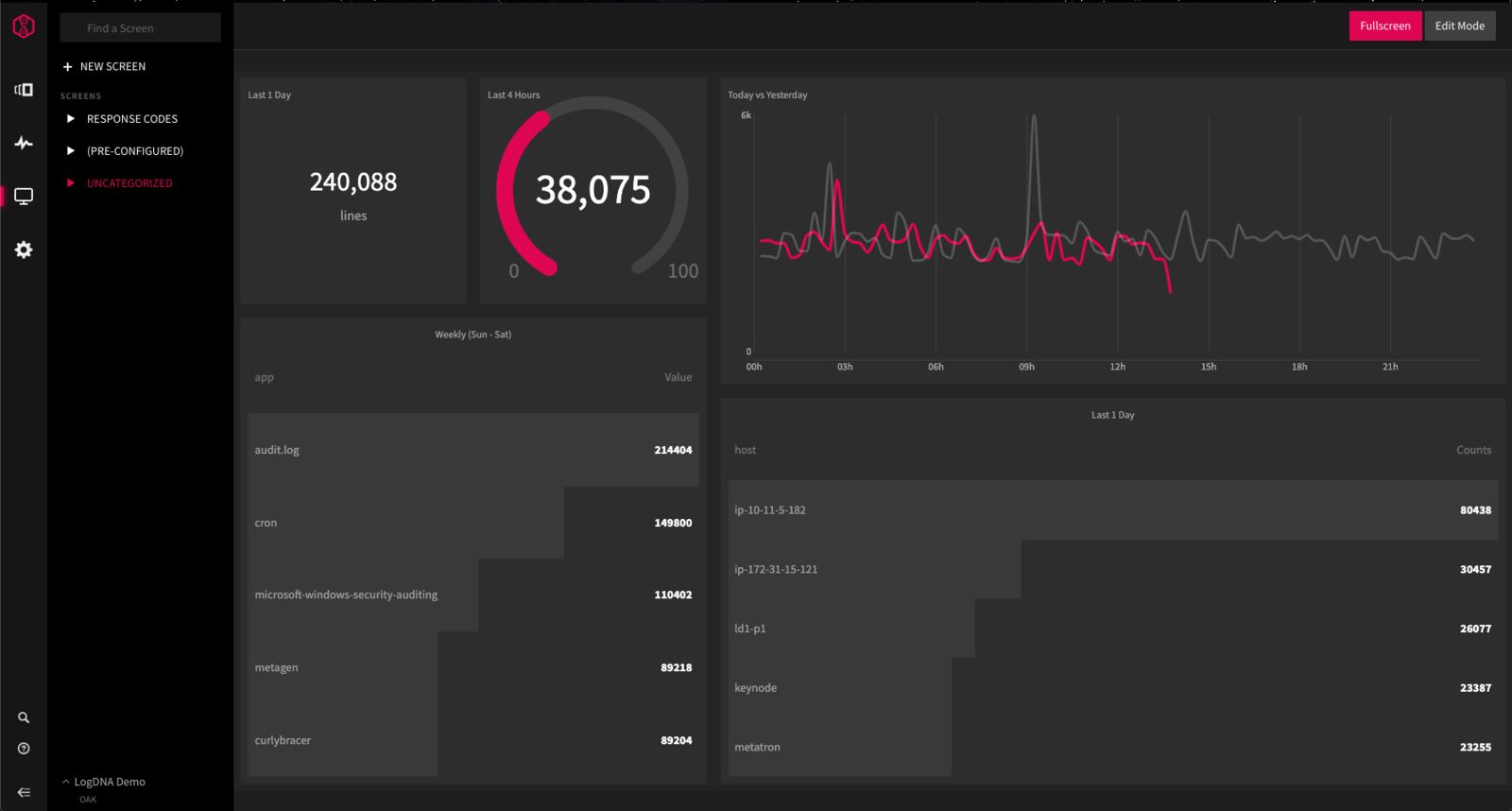 Mezmo, formerly LogDNA, is entirely focused on log management. This makes it a great alternative to Papertrail for those who are utilizing it as a log management solution.
Mezmo offers decent on-premise, cloud-based, private, and hybrid or multi-cloud logging and deployment models. Mezmo's UI is also praised for being intuitive and straightforward.
Using the search option in Mezmo, you can quickly identify groups of logs with filters for key fields. The platform itself provides plenty of customization options for views and graphs. It even allows users to create custom dashboards for user-specific log events.
Features
Log management and analysis
Pros
Relatively cheap
Free, limited option
3, 7, 14, or 30 days of retention
Cons
Does not offer RUM, Synthetics, or Infrastructure Monitoring
Limited to 25 users, unless you go with a custom plan
Pricing
Mezmo offers a free version of its tool, but it is very limited. If you want more features and opt for the "Professional" plan, you'll pay anywhere between $0.80/GB and $1.80/G. It just depends on your retention period.
Mezmo also offers a custom plan, but there is no starting price mentioned. This plan can offer unlimited users and a variety of additional, more enterprise features.
Want to see how Sematext stacks up? Check out our page on Sematext vs Mezmo.
7. Graylog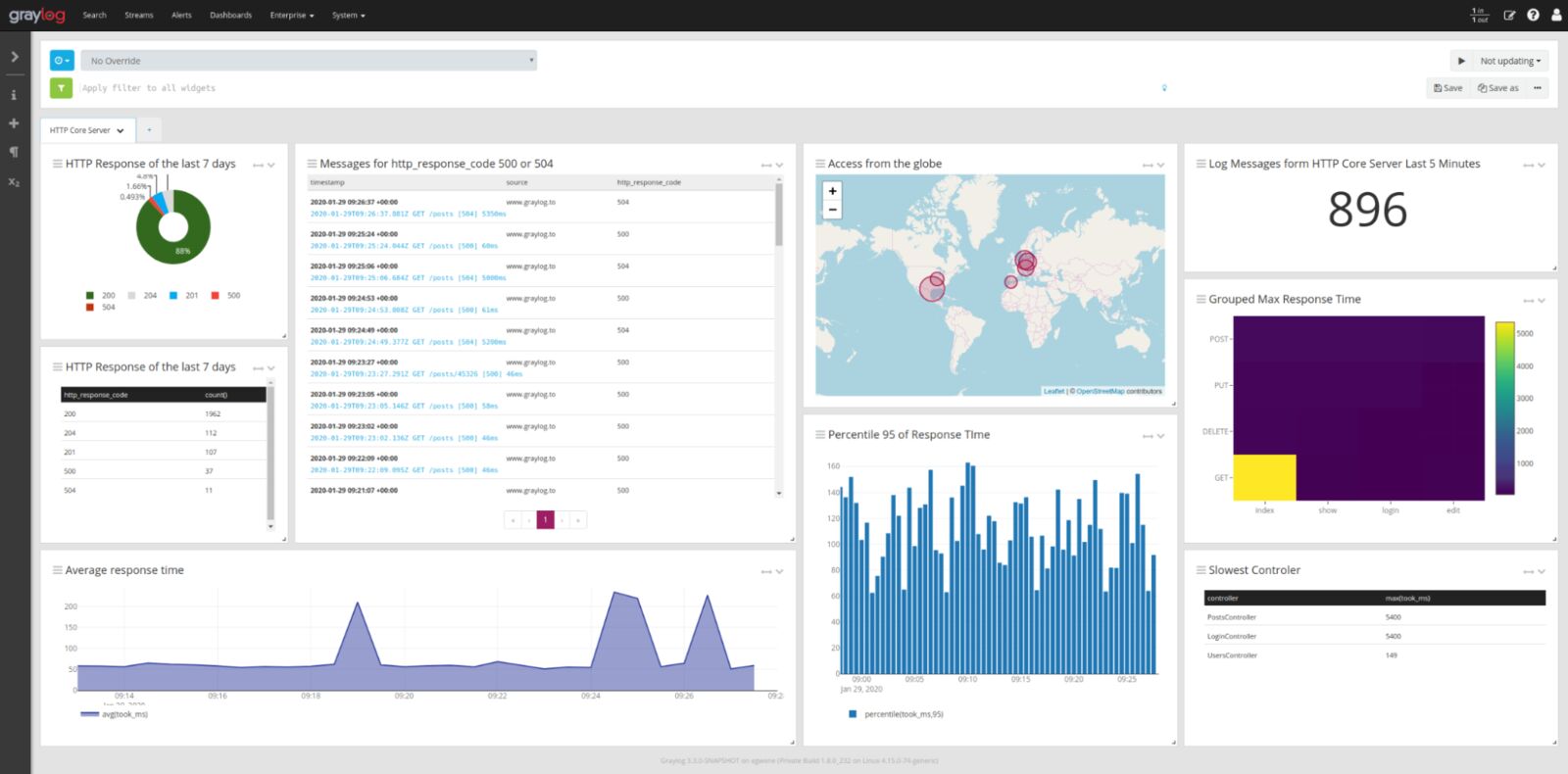 Graylog is limited to log management and analysis only, making it yet another compelling Papertrail alternative.
It is based on Elasticsearch and MongoDB, which allows you to centralize log data from your infrastructure, visualize it, analyze the data, trace any errors, and detect issues.
Graylog has 3 models. Graylog Open, Graylog Operations, and Graylog Security. All these models are self-managed, but for the latter two, you can opt for cloud hosting.
What makes Graylog unique is the advanced anomaly detection with prebuilt security scenarios. Alerting, the correlation engine, and risk models are all very capable features.
Features
Graylog Operations (Log Management)
Graylog Security (SIEM)
Graylog open (Log Management – open-source)
Pros
Customizable dashboards
Multi-source log ingestion
Decent search interface and functionality
Log aggregation pipeline
Cons
Subscriptions can be pricey
Graylog Open does not offer archiving
Searching logic is not easy to use
Pricing
Graylog Open, being open-source, is completely free to use, but it does come with a cost of ownership. The other two solutions, Graylog Operations, and Graylog Security come with a price tag directly from Graylog.
Graylog Operations starts at $1250 per month and Graylog Security starts at $1550 per month.
8. Sumo Logic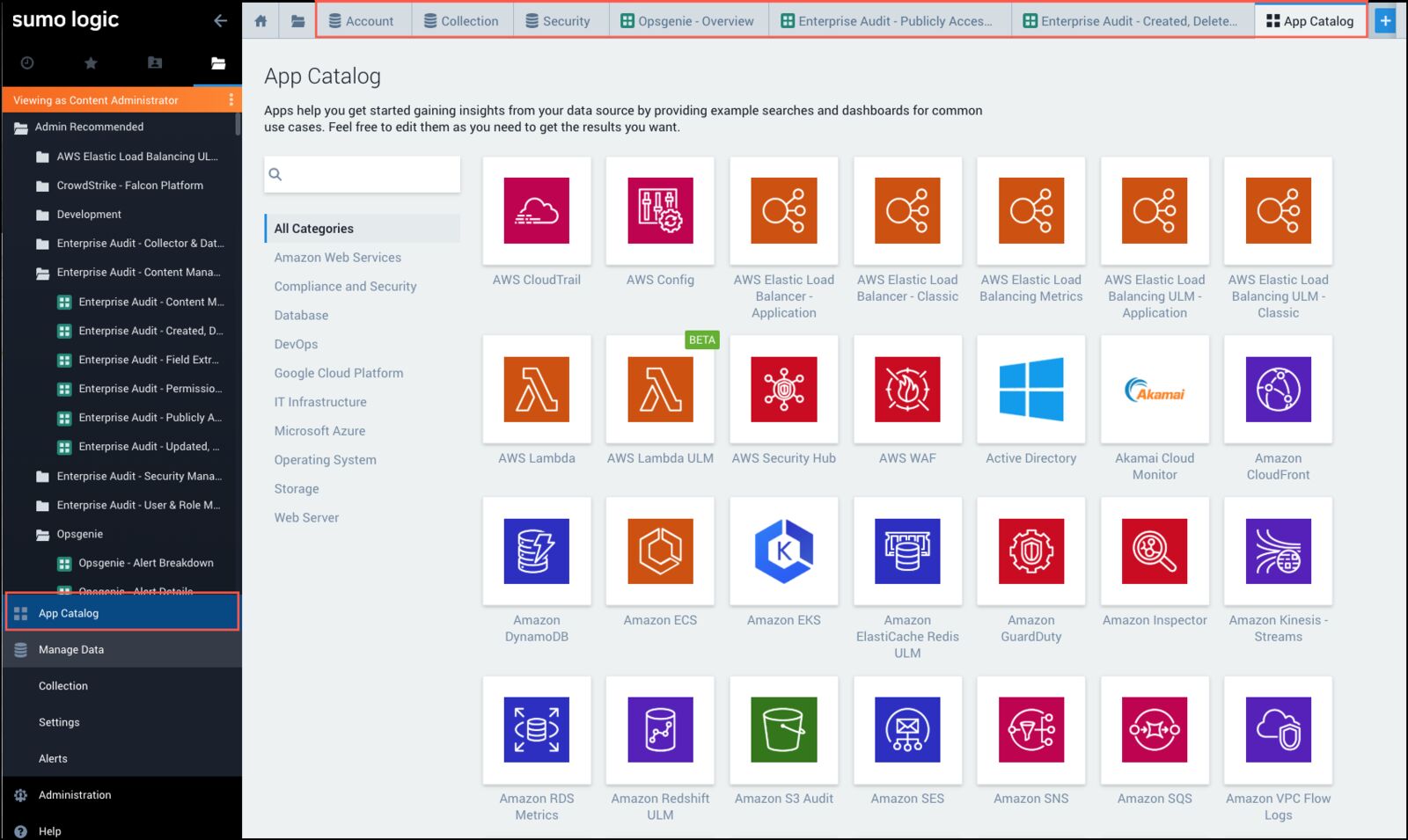 Sumo Logic is aimed at large corporations, but it also offers decent log management capabilities, making it a good choice of Papertrail alternatives.
What makes it unique on this list is the cloud-based machine learning. This helps in processing big data, which makes it ideal for massive corporations.
If you're looking for something more than basic log management, Sumo Logic is a decent option for end-to-end monitoring. It comes with root cause analysis, anomaly detection, and pre-set alerts.
Features
Log Analytics
Cloud SOAR
Cloud SIEM
Cloud Security Analytics
Application Observability
Infrastructure Monitoring
Pros
Decent selection of observability and security tools
Real-time insights
Powered by AI
Pre-set dashboards and alerts
Cons
Pricing
Sumo Logic is able to process big data, which means that it is aimed at companies that have a lot of data. In other words, Sumo Logic is aimed at big corporations with big budgets.
If you're looking for their 3 security solutions: Cloud SOAR, Cloud SIEM, and Cloud Security Analytics, you will have to contact their sales team for prices.
Application Observability starts at $2.31 per GB.
Infrastructure Monitoring starts at $0.50/1000 data points per minute (DPM) per day. DPM is the per-minute rate at which metric values are sent individually to Sumo Logic.
Not sure about how many DPMs your server, VM, Kubernetes pod, or container will send? How about a server with more CPU cores or more disk partitions? This makes it very difficult to predict costs.
Finally, Log Analytics is a staggering $3.30 per ingested GB. Quick math tells us that if you set yourself a 1GB per day limit, you'll spend roughly $100 per month.
If you're unfamiliar, 1GB logs/day is not very much for even very small applications. They offer a retention window of anywhere between 1 day and 5,000 days, but nowhere will you find any information on how it affects the cost.
9. Splunk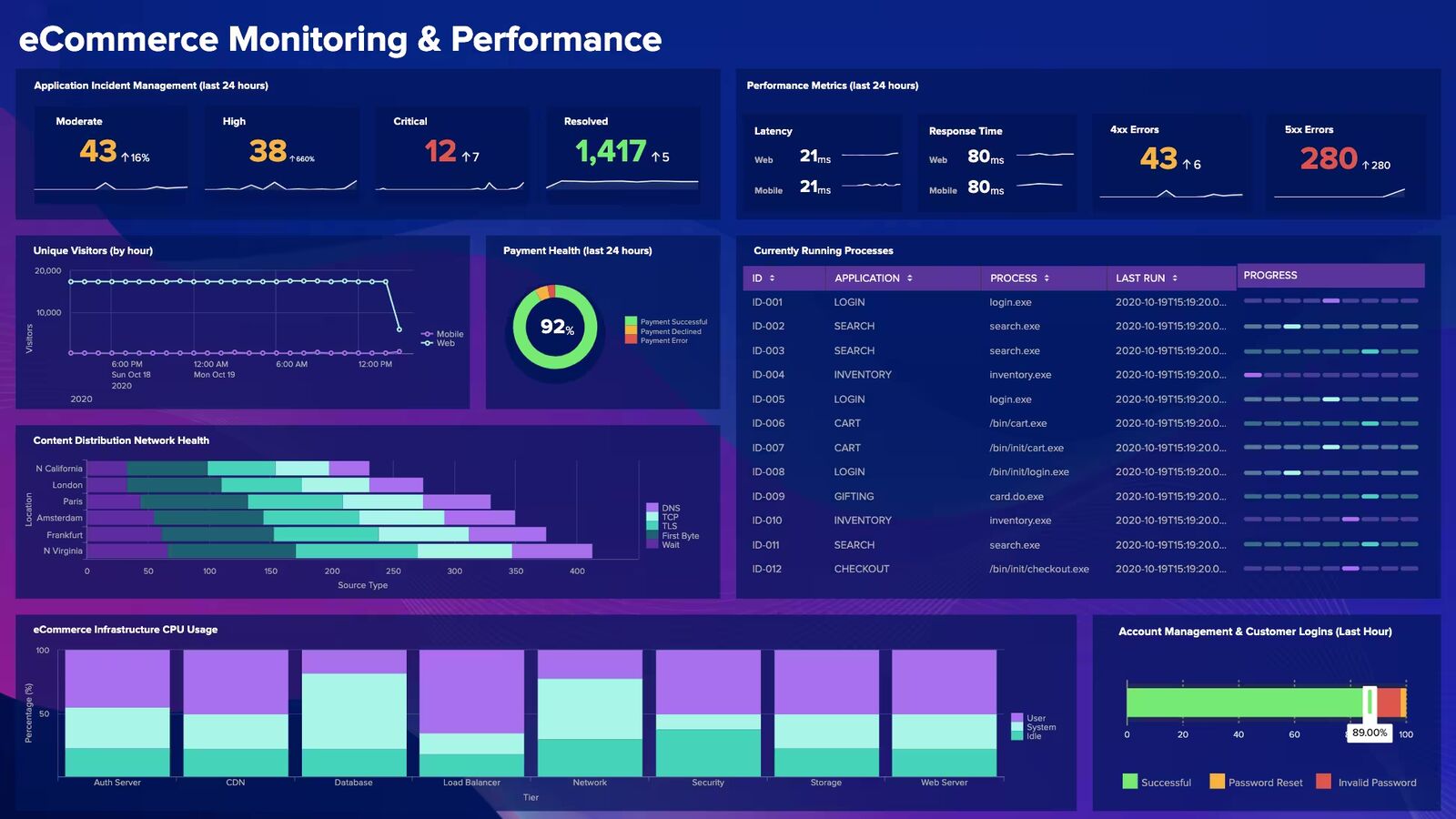 Splunk is well known in the log analytics space, although it is aimed at large enterprises. This is made clear by the fact that Splunk was bought out by Cisco for roughly $28 billion. Just like New Relic, this makes it very clear that they aren't really anyone that's even budget-conscience.
Splunk is a powerful APM tool, and it's primarily known as such. But it does offer lots in terms of log management. It's not ideal to use Splunk as strictly a log management tool, but it is an option, making it a Papertrail alternative for those who are looking for an expensive upgrade.
Features
Log monitoring
Application performance monitoring
Infrastructure monitoring
Real user monitoring
Synthetic Monitoring
Pros
Add-ons available
Automated anomaly detection
On-premise or cloud-based options
Supports multiple data formats
Cons
Expensive licensing
Splunk Processing Language (SPL) is complex
Limited data modeling
Limited machine learning capabilities
Pricing
Splunk is decent as far as monitoring, security, and detection tools go. However, for some reason, the prices for these tools are kind of buried in their website and very difficult to find. When you manage to find them, it's still very vague and lacking for some solutions. It's a bit strange, but it makes sense considering that one of the biggest complaints on G2 is that they are expensive.
The prices that they offer online are as follows:
Synthetic monitoring starts at just $1, but you only get 10,000 Uptime requests. Real user monitoring (RUM) starts at $14, but it only covers 10,000 sessions. Infrastructure monitoring starts at $15 per month, but that's for every single host, which is very pricey. Incident response starts at $5 per user per month, and APM starts at $55 per month per host.
Not a big fan of Splunk? You should see how Sematext stacks up. Check out our page on Sematext vs Splunk.
10. Elastic Stack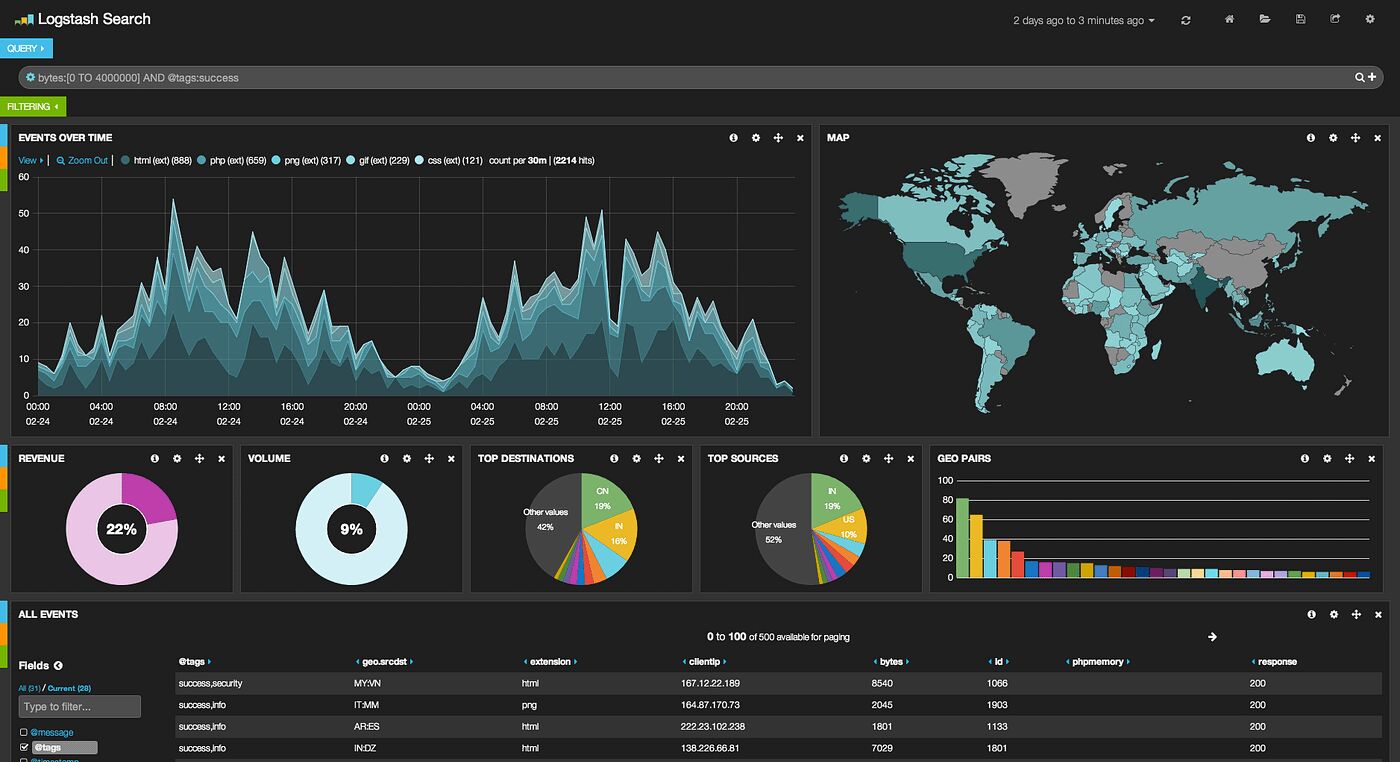 Elastic Stack is an open-source solution for log management, and its core is made up of 4 distinct tools:
Elasticsearch – Distributed JSON-based search engine
Logstash – Log ingestion and pipeline processor
Kibana – Data visualization for Elasticsearch
Beats – Single-purpose, lightweight data shippers
Elastic Stack's appeal is that it's free to download and use… but please do check out the license first – it's not your typical ASL/MIT/BSD type of license. But, like all open-source solutions, there are additional management costs.
Once it's installed, you will gain instant access to the 4 tools listed above. Using said tools, you can ship data from multiple sources, process it, and store it in a central location. It comes with a web-based interface for visualization and analysis of data.
Although it is not as out-of-the-box and easy to use as some of the other tools on this list, it still makes a decent Papertrail alternative as far as functionality goes.
Features
Log management and analytics
Pros
Open-source
Library of free plugins
Supportive and helpful community
Cons
Complex management requirements
The cost of ownership can be pricey
Not as reliable as out-of-the-box tools
As a result of the cons above – scaling challenges
Pricing
There's no direct cost of downloading and using Elastic Stack. But the cost of ownership, management, and maintenance of this open-source tool can add up quickly and unexpectedly.
To put these hidden costs into perspective, a daily log data ingestion of 100GB/day on AWS with Elastic stack configuration and data retention creates a hosting cost somewhere around $180,000 annually. (Source: ChaosSearch)
Want to see how Sematext stacks up? Check out our page on Sematext vs Elastic Stack.
Papertrail Competitors Comparison Table
Tool
Vs Papertrail
Best for
Sematext

Offers a more complete observability solution – full-stack monitoring tool
Cheaper
Both offer unlimited users
Not much data on G2 when comparing the two tools

Log analysis, performance monitoring, SSL Monitoring, Infrastructure Monitoring, Uptime Monitoring, and anomaly detection for organizations with any budget
Datadog

Offers a lot more observability solutions – Datadog is for Full-stack Monitoring
Way more Expensive than Papertrail
Not much data on G2 when comparing the two tools

Full-stack observability for large organizations with a large budget.
New Relic

Offers a lot more observability solutions – New Relic is for Full-stack Monitoring
Way more expensive than Papertrail – has per-seat pricing
Not much data on G2 when comparing the two tools

Full-stack monitoring and observability for large enterprises with large budgets.
Dynatrace

Offers a lot more observability solutions – Dynatrace is for Full-stack Monitoring
Way more expensive than Papertrail
Not much data on G2 when comparing the two tools

Full-stack monitoring and observability for large enterprises with large budgets.
Loggly

Basically, the lite version of Papertrail – both owned by SolarWinds
Better pricing
Fewer features
Not much data on G2 when comparing the two tools

Log analytics and management for organizations with medium to large budgets.
Mezmo

Better per GB pricing
Very similar in functionality
Not much data on G2 when comparing the two tools

Log analytics and management for organizations with small to medium budgets.
Graylog

Offers open-source capabilities
More expensive per plan – minimum of $1250
Not much data on G2 when comparing the two tools

SIEM and log management for organizations with a large budget.
Sumo Logic

Offers a lot more observability solutions – Sumo Logic is for Full-stack Monitoring
Way more expensive than Papertrail
Not much data on G2 when comparing the two tools

Full-stack monitoring, observability, and SIEM for large enterprises with large budgets.
Splunk

Offers a lot more observability solutions – Splunk is for Full-stack Monitoring
Way more expensive than Papertrail, and also not very transparent with prices
Not much data on G2 when comparing the two tools

Log analysis and data analytics for companies with large budgets.
Elastic Stack

Open-source
Technically free, although comes with ownership costs
No G2 data

Open-source log management
Conclusion
There's no doubt that Papertrail is a powerful tool. At first glance, it may seem like a steal, but the truth is that it's quite expensive, especially at scale. Considering the data allowances for each month, you're really not getting much bang for your buck.
If you work at a large org that has simply outgrown Papertrail and money is less of a problem, then the large players here are worth considering – Datadog, Splunk, New Relic, Dynatrace. They are feature-rich but are also known for being quite expensive.
If you are more cost-conscious, then consider Sematext or Mezmo. If you don't mind self-hosting, then Elastic Stack is the Papertrail alternative to try, but check the license first and keep in mind that the total cost of ownership of a self-hosted solution could actually be higher than paying for a monitoring SaaS.
In our detailed comparison between Sematext as an alternative to Papertrail, we found Sematext to be both more comprehensive and more affordable. See our Sematext vs. Papertrail comparison for details, and be sure to check out the pricing slider to actually see the difference.
---