In the website monitoring and observability space, there are few names that hold as much weight as Splunk. Established in 2003, Splunk is highly focused on log data visualization and analysis but offers a wide range of tools to help you monitor your applications.
All of that being said, just because it's been around a while doesn't mean that it's right for everyone. The truth is that Splunk comes with its own set of challenges, as it's been known for being difficult to implement, debug, and navigate.
For that reason, we've compiled a comprehensive list of the top 10 best Splunk alternatives. In this list, we'll dive deep into features, pros, cons, and pricing, so that you can make the best-informed decision when it comes to choosing between Splunk's competitors.
Splunk Features and Solutions
Splunk breaks down its features and solutions into 3 basic categories: Platform, Security, and Observability. Each one of these categories is made up of a handful of tools.
In the platform category, you have Splunk Cloud and Splunk Enterprise. Both of these solutions are aimed at data visualization, one for hybrid-cloud environments, and one designed for larger enterprises.
In the Security category, Splunk has Enterprise Security, Mission Control, and SOAR. Enterprise Security is essentially analytics-driven SIEM for large enterprises. Mission Control is for threat detection and investigation. SOAR is for Security Orchestration and Automation, allowing users to set up security workflows.
Finally, in the Observability category, you'll find Infrastructure monitoring, Application Performance Monitoring (APM), and IT Intelligence Services. Infrastructure Monitoring and APM are pretty straightforward as far as functionality goes. IT Intelligence refers to Splunk's AI-driven incident prediction.
Splunk Pricing
Splunk offers a healthy selection of monitoring, security, and detection tools, but there's a catch. Unfortunately, they do their best to bury their prices within their website.
If you dig into their website, you'll find the basic prices for some of their Observability tools. Synthetic Monitoring starts at $1 per 10,000 Uptime requests. Incident Response starts at $5 per user per month. Real User Monitoring starts at $14 per 10,000 sessions. Infrastructure Cloud Monitoring starts at $15 per month per host. And finally, APM starts at $55 per month per host. Keep in mind that all of these prices are only available if you opt to be billed annually!
Other than that, they offer some vague explanations of how they calculate pricing without actually giving any sort of monetary value to their services. They claim that you can choose your plan based on your business drivers, citing 4 different ways to pay.
For starters, they have "workload pricing" – A pricing plan that allegedly helps align your workload within Splunk with the amount you pay. They claim that this pricing plan makes it more economical to bring more data that's less frequently searched into their platform. This isn't explained any further on their website.
Next, you have what they call "Ingest pricing" – This is a simple pricing structure that is completely based on how much data is being sent to Splunk. They categorize this as a "predictable" pricing structure, yet they do not mention any actual prices.
The third option is "Entity pricing" – This is a pricing structure that is based on the number of hosts using Splunk's observability products. Again, they call this a predictable and controllable structure but do not mention how much it actually costs.
Finally, they have what they call "Activity-based pricing" – Here, they claim that you can connect costs directly to the activities being monitored by Splunk's observability tools. They mention activities like metric time series (MTS), traces analyzed, and sessions/uptime requests, but do not reference any actual prices.
ℹ️ Overall, Splunk is very cryptic with its pricing, basically gatekeeping it and locking it behind a touchpoint. You have to contact them to get a price in any capacity.
With all that said, let's not forget that there are plenty of options to choose from if you want to make the swap. Here are the top 10 best Splunk alternatives that you can test out right now.
Top 10 Splunk Alternatives
1. Sematext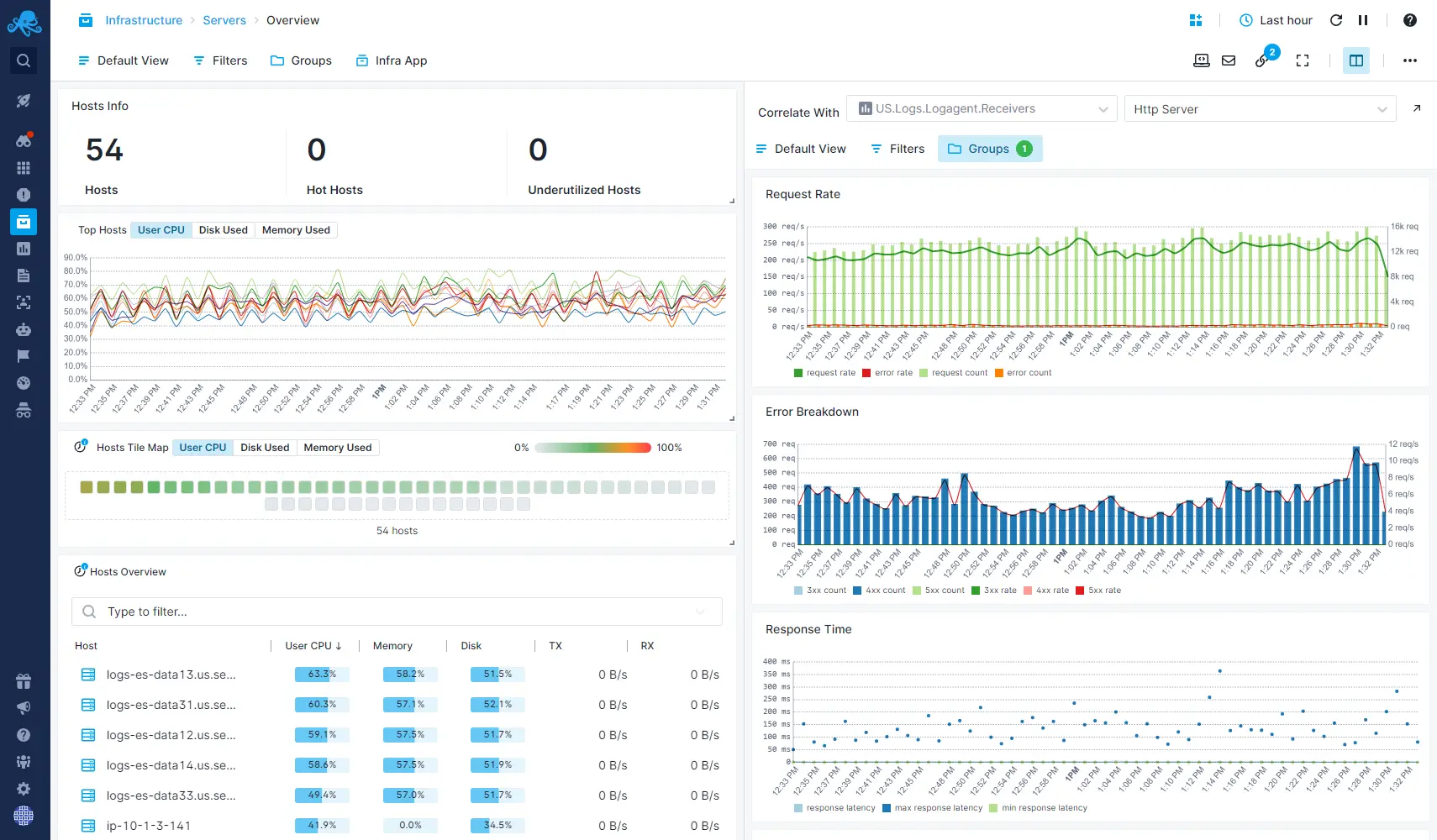 Sematext is an all-in-one observability platform that offers Log Management, Infrastructure Monitoring, Synthetic Monitoring, and Real User Monitoring. However, unlike Splunk, Sematext does not aim exclusively at larger enterprises and corporations. Instead, it is more suitable for smaller, more tech-savvy, and cost-aware companies that are looking for price transparency.
The only thing Sematext doesn't provide that Splunk does is some functionality across areas like security, threat detection, orchestration, and intelligence, and APM tailored for large enterprises.
Each of Sematext's solutions can be used independently, which gives you a lot of flexibility around cost control. In Sematext everything is grouped into Apps and each App can have its own plan, giving you even more control over your spend.
Sematext is a great Splunk alternative because it doesn't break the bank while making it easy to clearly visualize your data with comprehensive, custom, out-of-the-box dashboards that are also integration-specific. You can take advantage of pre-configured alert rules, or create your own custom ones to trigger at any event of your choosing.
Infrastructure Monitoring provides insights into the usage of your servers, cloud instances, containers, Kubernetes, etc. You can keep an eye on metrics such as CPU, memory, disk usage, IO, network activity, load, and more. It also lets you keep tabs on your queues, search engines, databases, etc. when operating within your own infrastructure.
Log Monitoring steps in when you need to perform any sort of performance or availability troubleshooting. It serves as a central hub for your logs, no matter where they come from. This centralization enables you to effectively troubleshoot any problems across your infrastructure from a single location. The Logs Pipelines let you modify or eliminate unnecessary log events, which can help you cut down on costs. You can also trim unwanted fields, enhance your logs, or transform them as needed.
For both Monitoring and Logs, there are integrations tailored to specific services. These integrations come with out-of-the-box dashboards and alert rules, making it easier to get started without having to build everything from scratch.
With Synthetic Monitoring you can continuously test the availability and performance of your websites and APIs. You can simulate user interaction and run tests from multiple locations around the globe. You can even run the same tests using your own private location, handy for services you run behind your firewall.
Using Status Pages, you can easily share the response times and statuses of your services with your customers and stakeholders. Let your users know of future downtime with planned maintenance incidents, and even monitor SSL certificates, validate them, detect any changes, and set alerts for when your SSL certificate is about to expire.
Real User Monitoring (RUM), also known as Sematext Experience, allows you to track the performance of your website using real user data. That includes tracking metrics like page load times, HTTP requests, resources, UI interactions, and a lot more. All of this data is compiled into an easy-to-read overview with User Satisfaction metrics that use Apdex Scores.
Using the handy Split-screen feature, users can easily correlate logs and metrics along with real user data, website, and API metrics. No need to switch pages or context, which is a massive time and sanity saver.
The platform supports anomaly detection that leverages the capabilities of machine learning algorithms, as well as traditional threshold and heartbeat alerts to swiftly alert you to any developing concerns. The Notification Hooks let you choose from an array of platforms through which you can receive alert notifications. Additionally, seamless third-party integrations with incident management platforms enable the automation of incident generation, allocation of responsibilities to the relevant teams, and the establishment of priority levels for efficient issue resolution.
Features
Pros
Transparent pricing
Seamless setup process and extremely helpful support staff
Flexible payment options with zero contracts or obligations
Versatile internal and external monitoring capabilities
Innovative anomaly detection with thorough browser checks
Diverse and customizable alert triggers
Smooth incorporation with Incident Management Systems
Cons
Fewer integrations than some larger competitors
No support for transaction tracing
Pricing
By removing the opacity and guesswork involved in estimating Splunk's licensing costs, Sematext offers clear pricing and options that scale to fit organizations' budgetary needs. A variety of pricing packages, including free versions for certain solutions are available. The pricing structure for Logs is based on factors like data volume and retention period, with starting plans at $50 per month. Importantly, the Logs Pipelines let you drop or reduce log events completely or partially, thus further lowering your costs.
For Infrastructure Monitoring, the entry-level cost is $3.6 per host. Real User Monitoring introduces a Startup plan beginning at $9 per month for 25,000 views, with customization options based on views and retention needs. This flexibility ensures that you can tailor the plan to your requirements while maintaining cost-effectiveness.
Synthetics provides pay-as-you-go pricing or the standard plan at $29 per month. With pay-as-you-go, a single HTTP monitor costs $2 for up to 200,000 runs, while a browser monitor is only $7 for up to 15,000 runs. This pricing model underscores Sematext's affordability and value for users seeking effective monitoring solutions.
Of course, this is hard to compare directly with Splunk, as they don't openly offer their prices online. That being said, there are plenty of online reviews that describe their licensing as expensive. Take from that what you will, but in order to get an actual price, you will need to take the time and effort to contact them and request a quote.
Want more details on how Sematext stacks up to Splunk? Check out our page on Sematext vs Splunk.
2. Datadog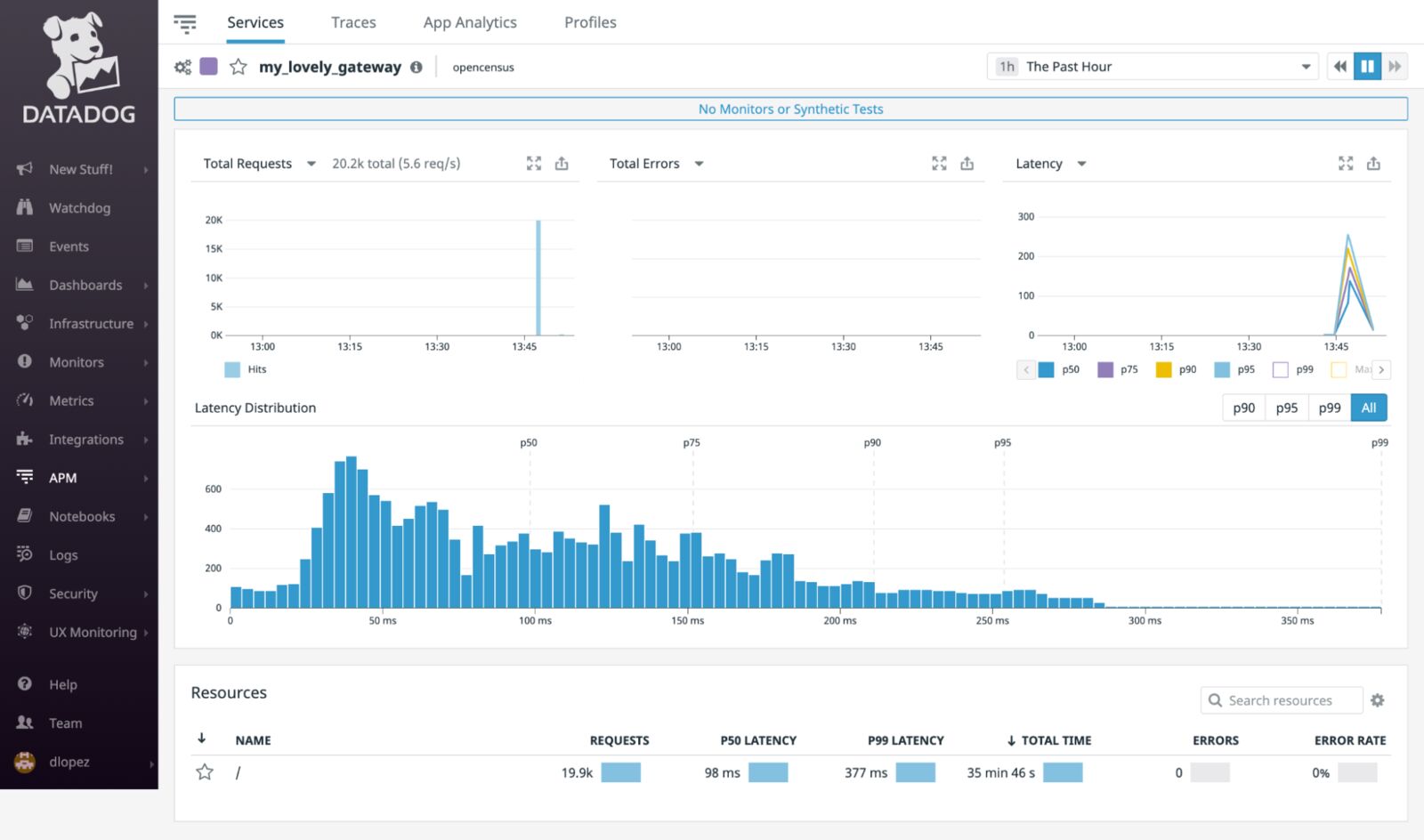 When you compare Datadog vs Splunk, there's no doubt that they are both incredibly powerful tools with similar capabilities. For that reason, Datadog is a strong contender in this list of Splunk alternatives.
Equipped with a wide range of robust features like cloud infrastructure, application, container, network, logs, and serverless monitoring capabilities, Datadog is somewhat of a household name when it comes to website monitoring. Its adaptability and efficiency provide users with a holistic observability solution, granting full visibility into their application stack.
Moreover, Datadog boasts a diverse set of features for data analysis, alerting mechanisms, and customizable dashboards, rendering it an excellent option for users seeking a comprehensive monitoring solution.
What makes Datadog a standout Splunk alternative is the 21 individual solutions that it offers. Each comes with its own set of features and pricing plans. That being said, it is arguably most well-known for its infrastructure and cloud monitoring capabilities.
Features
Serverless monitoring
Synthetic Monitoring
Infrastructure Monitoring
Log management and monitoring
Browser monitoring
Pros
Customizable graph widget
Extensive range of integrations
User-specified thresholds
Intuitive data visualization
Comprehensive monitoring features
Cons
Very expensive
User reviews complain about poor customer service
21 individually priced and expensive solutions
User reviews claim that the interface is hard to navigate
Pricing
Since there are a multitude of tools available within Datadog, it would be impossible to cover them all here. However, there are a few tools worth mentioning here.
Standard Infrastructure Monitoring starts at $18 per host per month, while the enterprise plan goes up to $27 per host per month. Additionally, Synthetics API tests are charged at $7.20 per 10,000 test runs, and browser tests at $18 per 1,000 tests.
Given the potential for rapidly accumulating costs, it's essential to approach Datadog's pricing with care. It's also worth mentioning that a single Datadog tool might not encompass everything you're looking for. Since there are 21 different solutions, you might end up having to pay for multiple tools just to get the level of observability that you're looking for.
Want to see how Sematext stacks up? Check out our page on Sematext vs Datadog.
3. Mezmo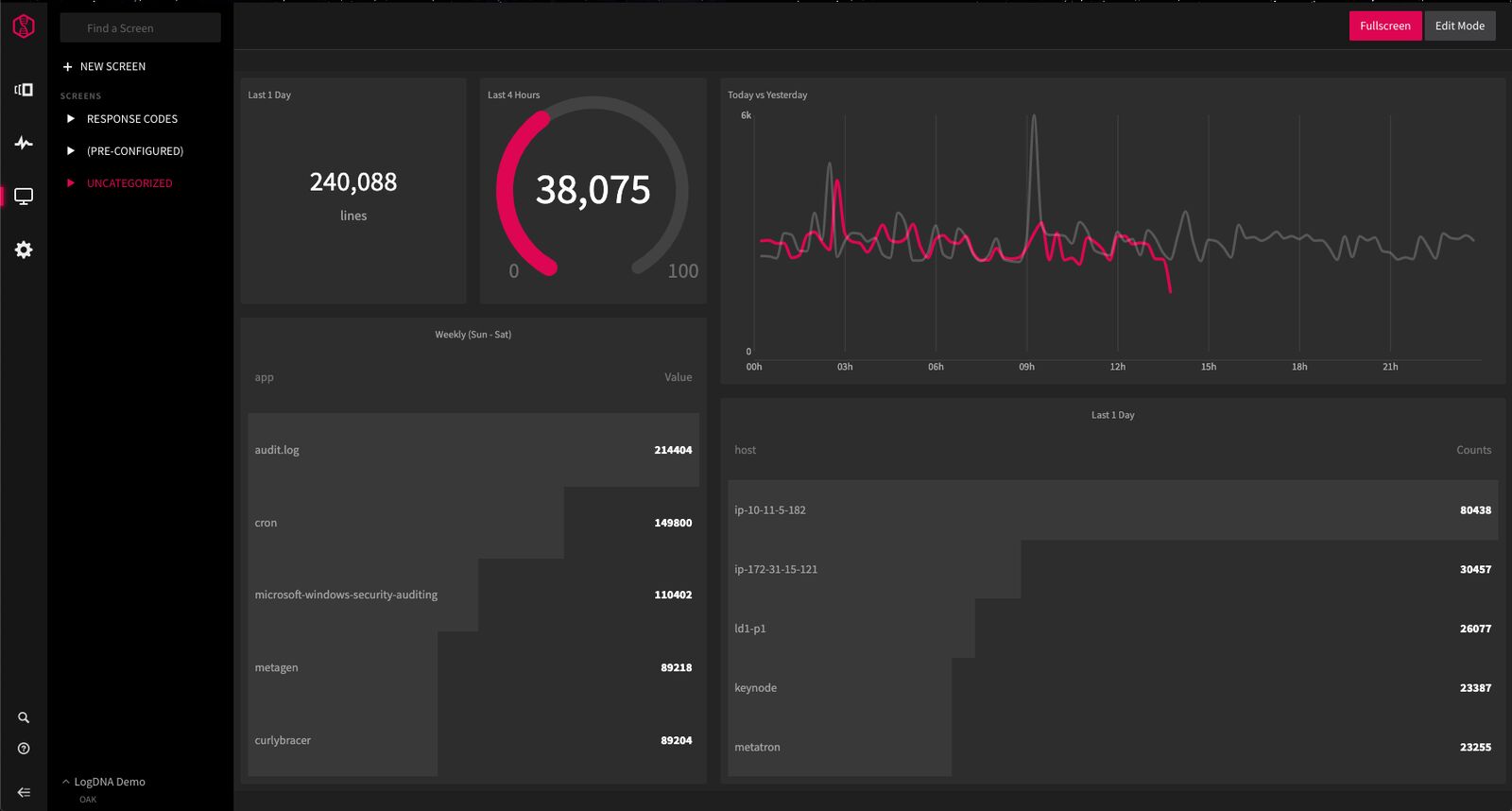 Formerly known as LogDNA, Mezmo is entirely focused on log management. This makes it a great alternative to Splunk for those who are utilizing Splunk's famed log management solution.
Mezmo offers decently powerful logging and deployment models which are available for on-premise, cloud-based, private, and hybrid or multi-cloud. Mezmo's UI is also decently intuitive and straightforward, which makes it very easy to visualize your data.
Using their search option, you can quickly identify groups of logs by using filters for key fields. The platform itself provides the user with plenty of options for customization with views and graphs, even allowing users to create custom dashboards for user-specific log events.
Features
Log Management and analysis
Pros
Relatively cheap
Free, limited option
3, 7, 14, or 30 days of retention
Cons
Does not offer RUM, Synthetics, or Infrastructure Monitoring
Limited to 25 users, unless you go with a custom plan
Pricing
As stated above, Mezmo does offer a free, limited version of its tool. If you opt for the "Professional" plan, you'll pay anywhere between $0.80/GB and $1.80/GB depending on your desired retention period.
Mezmo also offers a custom plan, for which they do not specify a price. This plan offers unlimited users and a variety of additional, more enterprise features, but it is still 100% focused on log management and analysis only.
Want to see how Sematext stacks up? Check out our page on Sematext vs Mezmo.
4. Loggly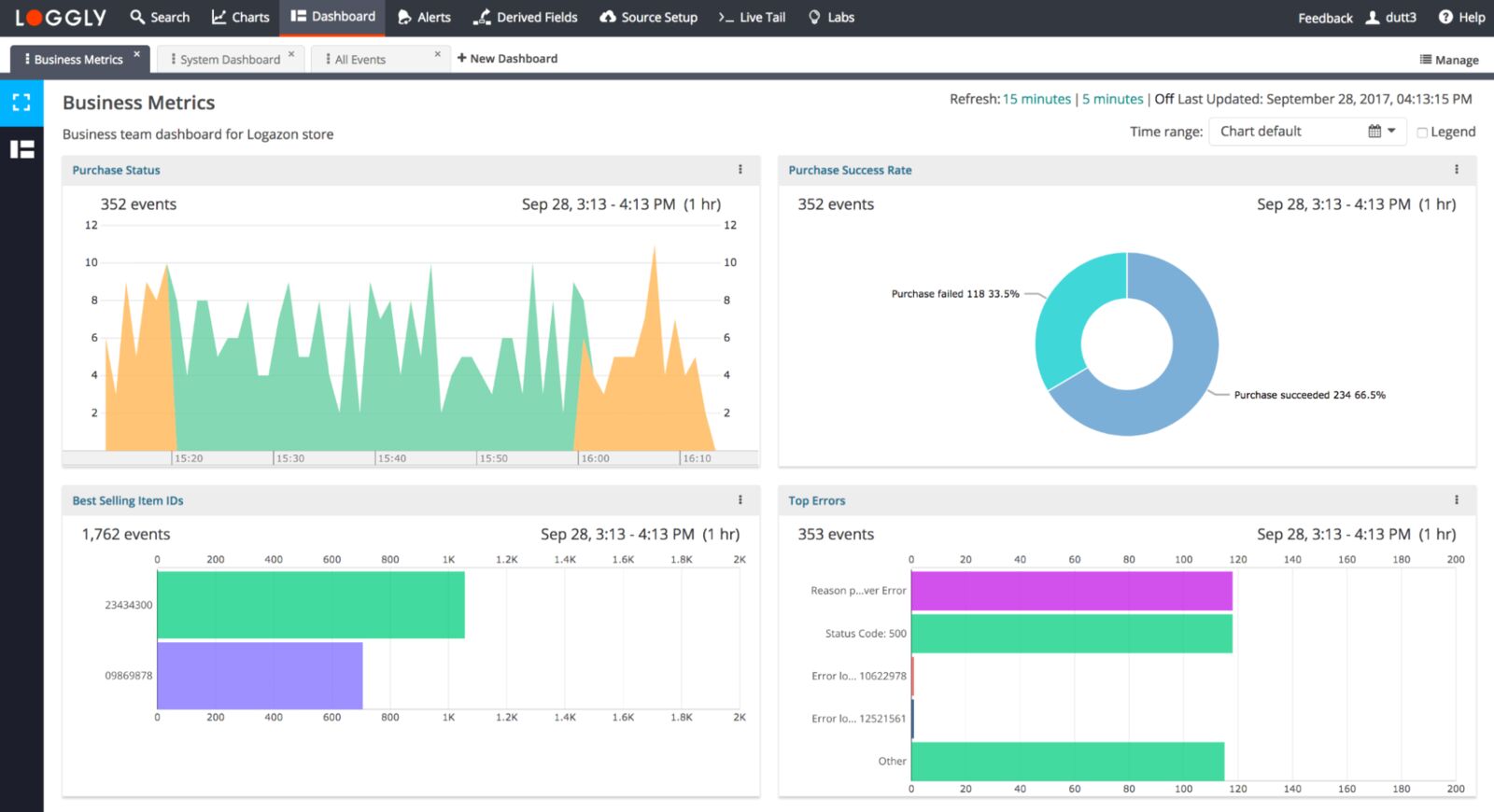 Another log management-focused Splunk alternative that we're adding to this list is Loggly from SolarWinds. Loggly is a cloud-based service that allows users to transmit over HTTP/SYSLOg directly.
What makes Loggly a great alternative to Splunk in terms of log management is it offers automatic parsing for various formats and sources like Linux Logs, Windows, Docker, AWS, Heroku, and Syslog.
Perhaps its most well-known feature is the field explorer. This lets you search, filter, and even summarize logs from a single view. This allows you to easily view event frequency, select fields and values to filter, and apply your own custom parameters without having to type in a query.
Loggly is agentless, which means that all log-aggregating components in your infrastructure must be preconfigured to forward logs to its database.
Features
Log management and analysis
Pros
Unlimited users
Built-in email alerting
Comprehensive, graphical dashboards
Cons
Expensive considering the limited functionality
Anomaly detection only available with enterprise plan
User reviews report slow data propagation
Limited parsing rules
Pricing
Loggly offers 4 main pricing options. The first option is the free but highly limited version. From there, the prices start at $79 for the Standard plan, $159 for the Pro plan, and $279 for the Enterprise plan.
Each plan has increasing data allowances, users, sources, and more. However, please note that these are the starting prices. Although the enterprise plan starts at $279, they do not specify a monthly data volume allowance.
It is important to mention that these are the prices if you are billed annually. If you choose to go with Loggly, you will be committing to paying for and using them for an entire year.
Want to see how Sematext stacks up? Check out our page on Sematext vs Loggly.
5. Sumo Logic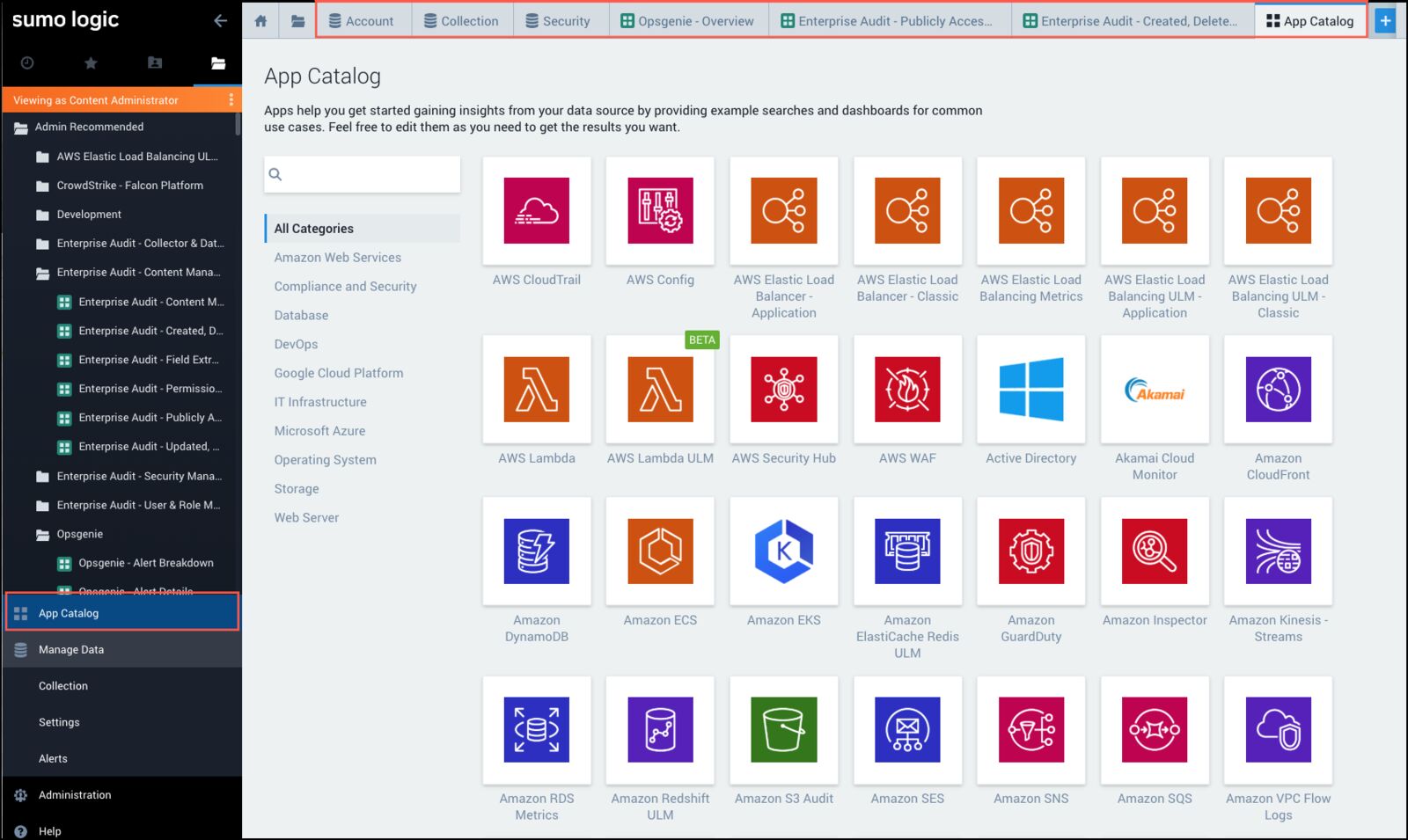 Sumo Logic is definitely aimed at large corporations, but it also offers all the same functionality as Splunk, making it a good alternative.
Sumo Logic offers Security and Observability solutions that easily rival that of Splunk. What makes it unique on this list is its cloud-based machine learning. It's designed for processing big data, making it ideal for massive corporations.
But, like many other competitors on this list, Sumo Logic is still a decent option for end-to-end monitoring and troubleshooting. It provides users with pre-set alerts, anomaly detection, and root cause analysis.
Features
Cloud SOAR
Cloud SIEM
Cloud Security Analytics
Application Observability
Infrastructure Monitoring
Log Analytics
Pros
Decent selection of Observability and Security tools
Real-time insights
Powered by AI
Pre-set dashboards and alerts
Cons
Expensive
User reviews complain about the complexity of the tool, especially in setting it up
User reviews complain about lagging in data collection
User reviews complain about searching being slow for large data ranges
Pricing
Sumo Logic is aimed at large businesses and corporations with big data. In every aspect, Sumo Logic is an enterprise-level solution, and the price reflects that heavily.
For 3 of their solutions: Cloud SOAR, Cloud SIEM, and Cloud Security Analytics, you will unfortunately have to contact sales in order to get a price.
For their other 3 tools: Application Observability, Infrastructure Monitoring, and Log Analytics, they do display a price.
Application Observability starts at $2.31 per GB. Depending on the size of your host, this could scale to be quite expensive.
Infrastructure Monitoring has a slightly different pricing model. It starts at $0.50/1000 data points per minute (DPM) per day. This is the per-minute rate at which metric values are sent individually to Sumo Logic.
This feels like a nice usage-based model, but the downside is that it is really difficult to estimate and predict costs. Do you know how many DPMs your server, VM, Kubernetes pod, or container will send? How about a server with more CPU cores or more disk partitions?
Finally, we have Log Analytics, which is a staggering $3.30 per ingested GB. If you set yourself a limit of 1GB per day, you'll spend roughly $100 per month, and 1GB logs/day is peanuts for even very small applications! They do not specify the retention period and its effect on the cost, but they do offer a retention window of anywhere between 1 day and 5,000 days.
6. Dynatrace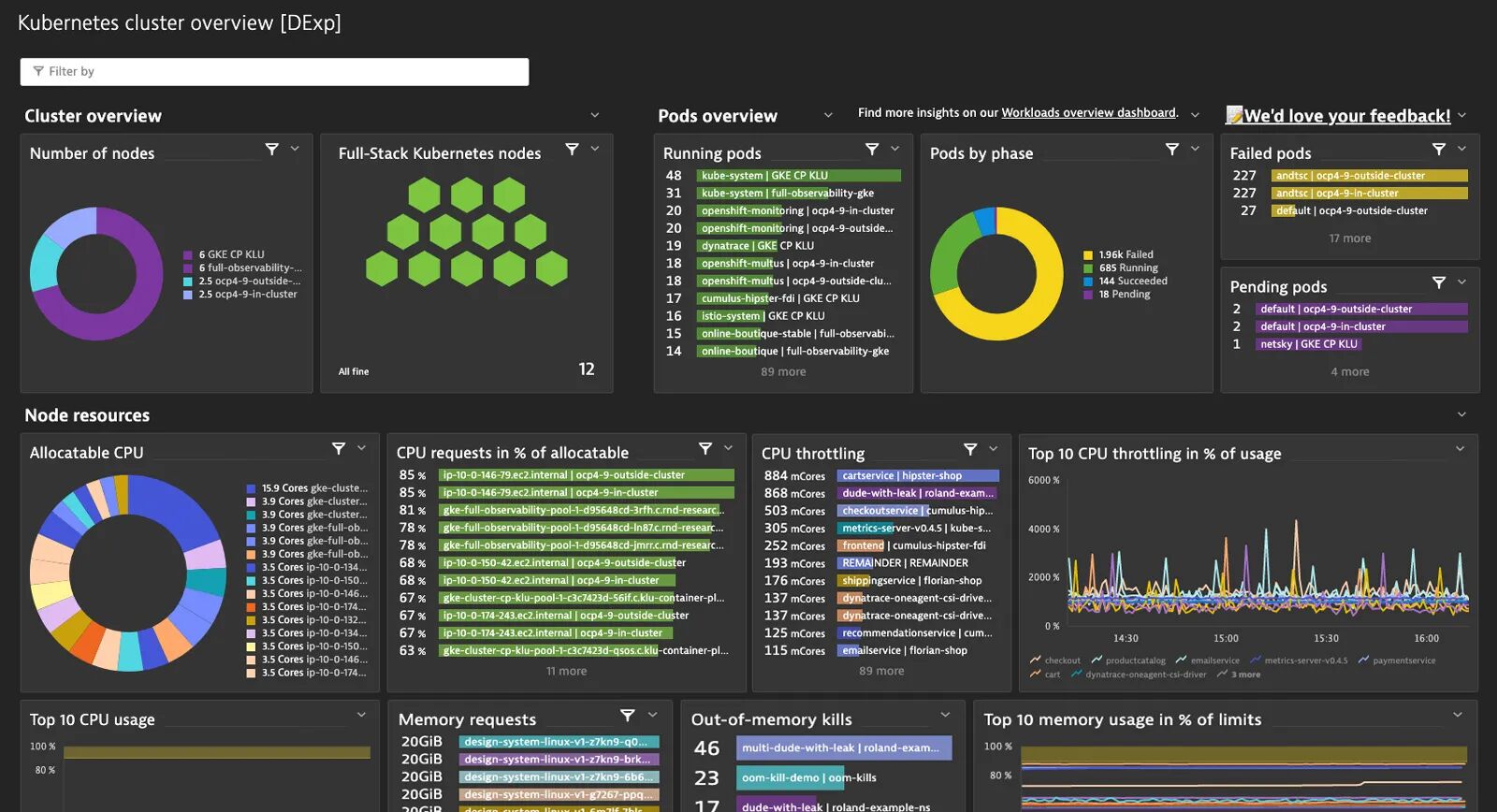 Dynatrace is an all-in-one monitoring platform just like a few others on this list. It's designed surprisingly well, making it quite the intuitive Splunk alternative.
In 2014, Dyantrace actually separated from its parent company, Compuware Corp. so that it could focus efforts on Application Performance Monitoring (APM) and User Experience Management (UEM).
The result of this separation has been the birth of a powerful, enterprise-level website monitoring service that provides users with business-relevant metrics across various platforms as visibility across multiple digital channels.
Features
Full-stack Monitoring
Infrastructure Monitoring
Application Security
Real User Monitoring
Synthetic Monitoring
Log management and Analytics
Pros
Lots of observability options
Priced based on data that you use
Powerful alerting
Powered by AI
Cons
Pricing
As mentioned above, Dynatrace is considered to be one of the more expensive tools out there.
For instance, each synthetic request is $0.001. To put this into perspective, if you set up an HTTP monitor with a 1-minute interval from a single location, the monthly cost would be calculated as follows: 0.001 * 1440 * 30 = $43 per month, where 1440 represents the number of runs in a month and 30 is the count of days.
With Infrastructure Monitoring, the cost is a flat rate of $0.04 per hour, regardless of the host size. Simplifying this, the monthly charge per host is 0.04 * 24 * 30, which totals $28.8 per host.
For Real User Monitoring, they charge $0.00225 per session. Assuming that 1 view = 1 session, 100,000 views/sessions per month would cost you $225 per month.
All their offerings are calculated in the same way, only charging for what you use. However, the data stacks up quickly, rendering the overall solution relatively costly.
Want to see how Sematext stacks up? Check out our page on Sematext vs Dynatrace.
7. Elastic Stack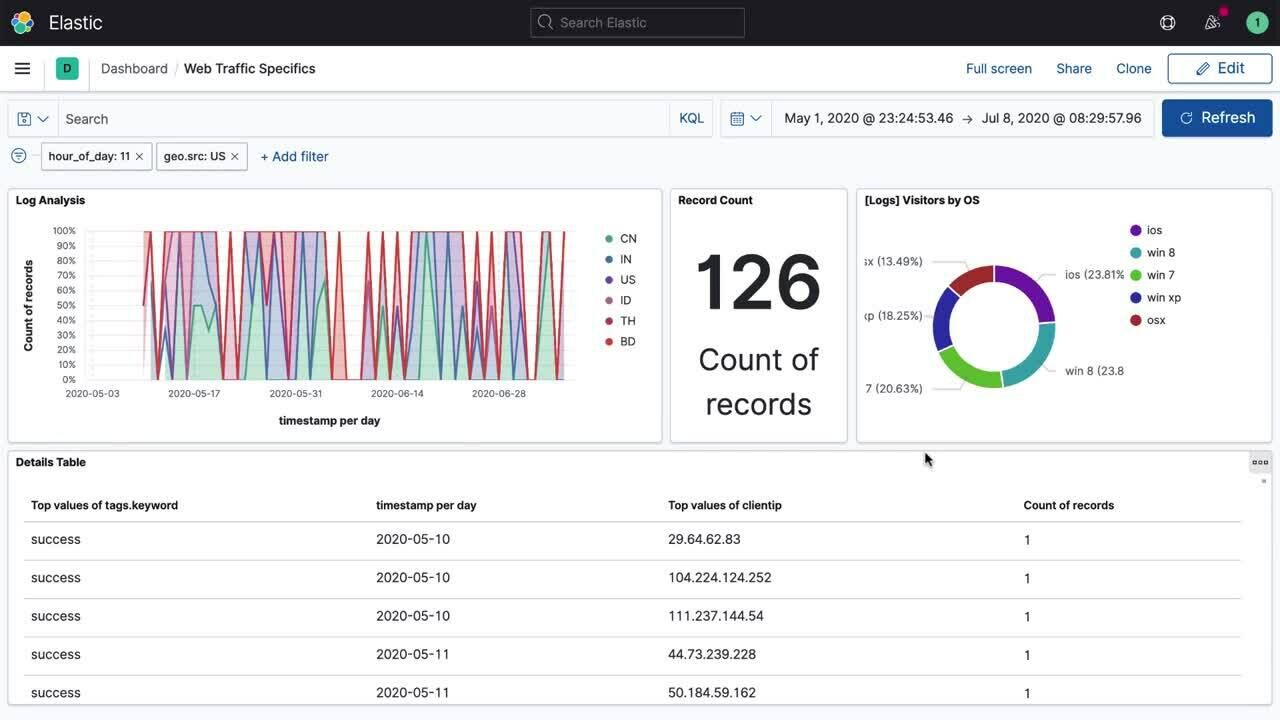 Formerly known as ELK, Elastic Stack is an open-source solution for log management. All-in-all, Elastic Stack is made up of 4 distinct tools:
Elasticsearch – Distributed JSON-based search engine
Logstash – Log ingestion and pipeline processor
Kibana – Data visualization for Elasticsearch
Beats – Single-purpose, lightweight data shippers
The appeal to Elastic Stack is that it doesn't cost anything to download and use. Of course, like any open-source solution, there will be additional management costs. That being said, once it's installed, you will gain instant access to all the tools listed above. Using these tools, you can ship data from multiple sources, process it, and then subsequently store it in a central location.
It even comes with a web-based interface that allows you to visualize and analyze data fairly easily.
One of the biggest reasons that Elastic Stack is on this list as a good Splunk alternative is that it comes with a perk that Splunk does not have. Because it's an open-source tool, there's a massive community of developers behind it. With this community comes an extensive library of plugins that you can use to further extend the capabilities of Elastic.
Features
Log management and analytics
Pros
Open-source
Library of free plugins
Supportive and helpful community
Cons
Complex management requirements
The cost of ownership can be expensive
Reliability and uptime issues
Data useability challenges
As a result of the cons above – scaling challenges
Pricing
As we said before, there's no upfront cost of downloading and using Elastic Stack. But, the cost of ownership, managing, and maintaining this open-source tool is where the bills start to stack up.
Just as an example, a daily log data ingestion of 100GB/day on AWS with industry-standard best practices for Elastic stack configuration and data retention creates a hosting cost somewhere around $180,000 annually. (Source: ChaosSearch)
Want to see how Sematext stacks up? Check out our page on Sematext vs Elastic Stack.
8. New Relic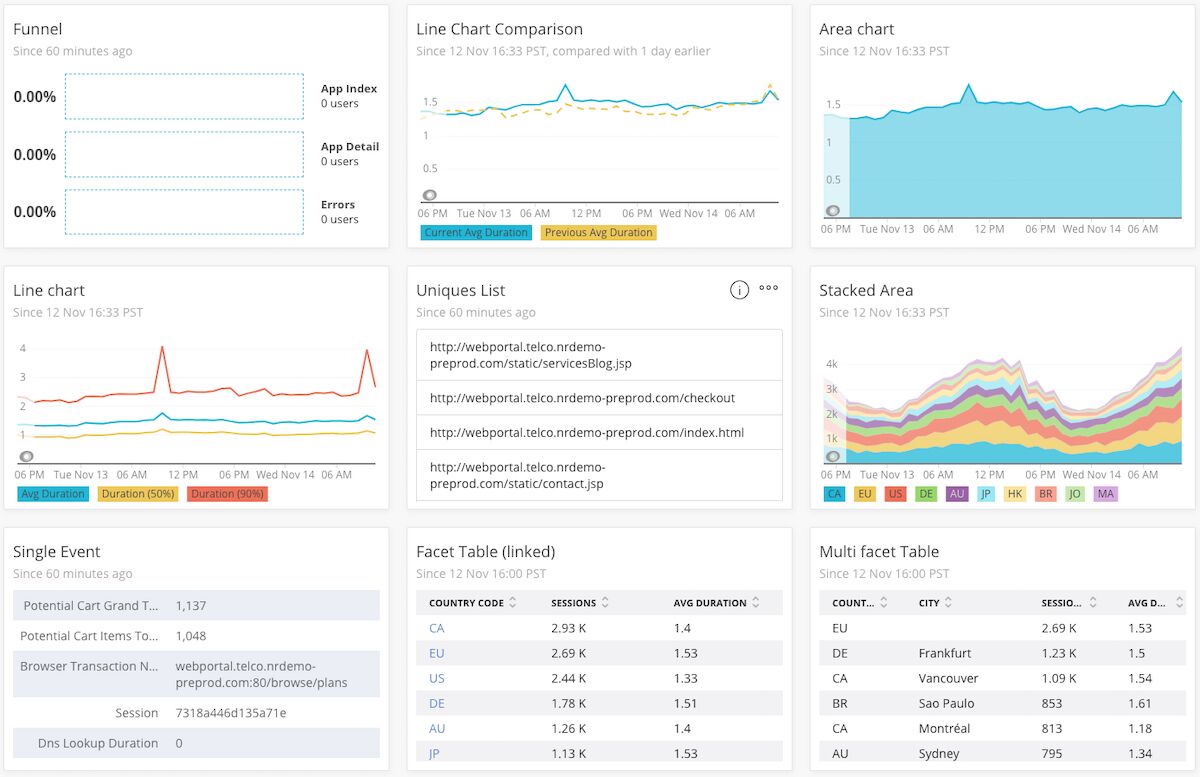 New Relic is a massive observability tool that has historically been used primarily for application and infrastructure performance monitoring. Not too long ago, it was solely used for APM but has evolved to be a much more rounded observability tool.
Much of what New Relic has to offer overlaps with what Splunk has to offer, especially in the infrastructure monitoring realms of each tool. This makes it a great choice as an alternative to Splunk.
One of the more defining features that New Relic has to offer its users is its preconfigured dashboards. These dashboards make it quick and simple to get into the interface and begin analyzing incoming data.
Features
Browser monitoring
Synthetic Monitoring
Log management and monitoring
Serverless monitoring
Infrastructure Monitoring
Pros
All-in-one observability
600+ integrations
Customizable and preconfigured dashboards
Lightweight and easily deployable agents
Cons
Confusing pricing model with lots of upcharges
Dependency on agent installation on devices
Limited search functionality
An overwhelming amount of parameters counteracts the flexibility of the tool
Pricing
Understanding New Relic's pricing can be a bit tricky because there are extra costs for different features. For all plans, there's a $49 fee for "core" users. To give users full access, the cost increases: $99 for the standard plan, $349 for pro, and $549 for enterprise, per user. This pricing for each user can make New Relic quite costly.
On top of the basic fees, New Relic also gives users 100GB of data for free across all plans. But if you go over this limit, you'll have to pay more: $0.30 per GB for "Original" data and $0.50 per GB for "Plus" data. Keep these extra data costs in mind when thinking about New Relic's prices.
Want to see how Sematext stacks up? Check out the Sematext vs New Relic comparison.
9. Graylog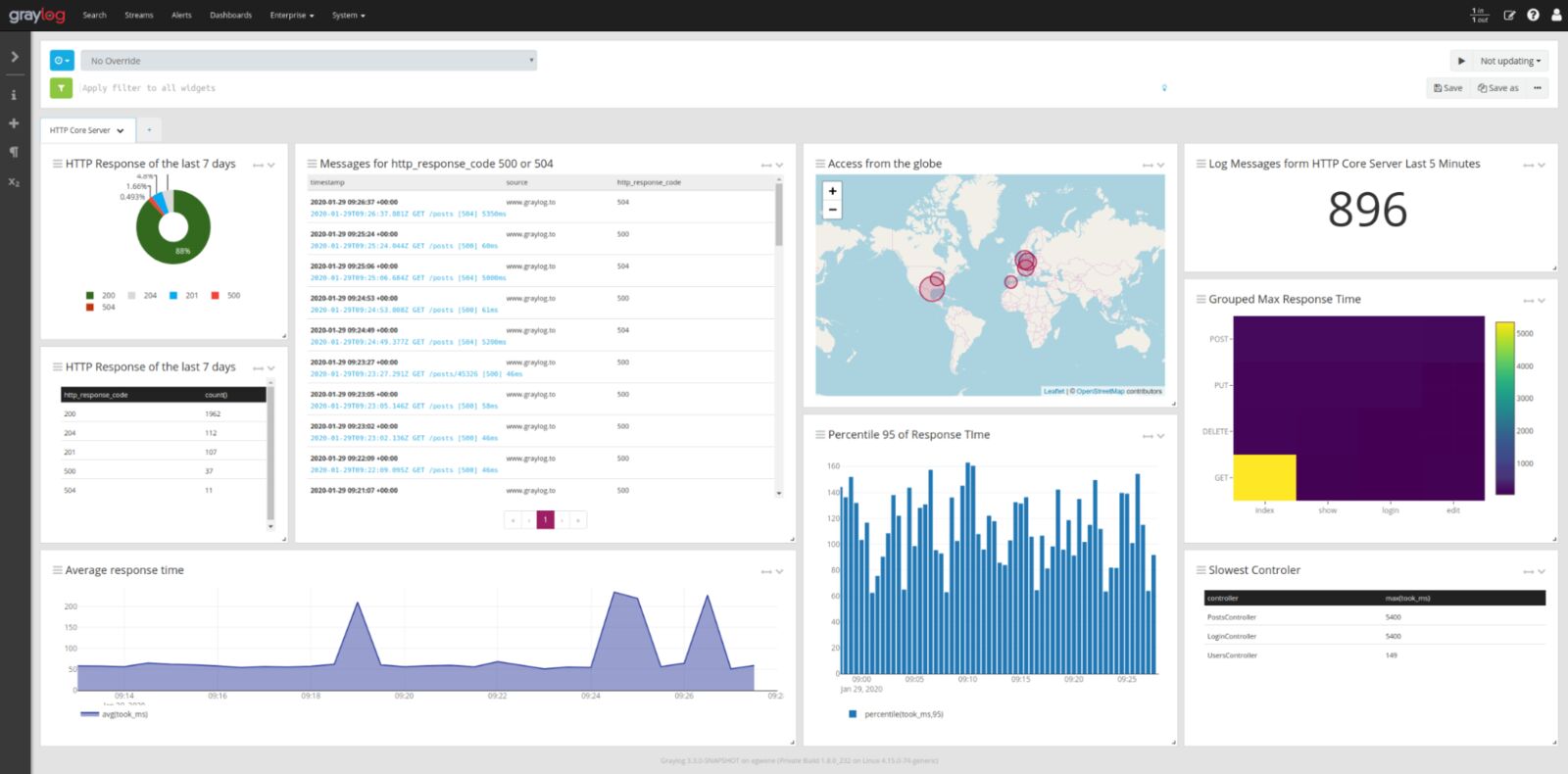 Graylog is limited to log management and analysis only, but it still offers a compelling alternative to Splunk's logging capabilities. The solution itself is based on Elasticsearch and MongoDB, allowing you to collect and centralize log data from your infrastructure, visualize them, trace any errors, detect issues, and analyze the data.
Graylog operates under 3 basic models. Graylog Open, Graylog Operations, and Graylog Security. All models are self-managed, or for the latter two, you can opt for cloud hosting.
What makes Graylog unique is the advanced anomaly detection with prebuilt security scenarios, alerting, correlation engine, and risk models. All data can be visualized using Graylog's Log View Widget, so you can pinpoint patterns and track performance trends.
Features
Graylog Operations (Log Management)
Graylog Security (SIEM)
Graylog open (Log Management – open-source)
Pros
Customizable dashboards
Multi-source log ingestion
Decent search interface and functionality
Log aggregation pipeline
Cons
Solutions with subscriptions can be pricey'
Archiving is not available with Graylog Open
API limits to 10,000 – queries that exceed that limit can cause server lockup
Searching logs uses logic that's not always easy to use
Pricing
Graylog Open, being open-source, is completely free to use, minus the cost of ownership. However, the other two solutions come with a price tag directly from Graylog.
Graylog Operations starts at $1250 per month and can be cloud or self-managed. Graylog Security starts at $1550 per month and can be managed the same way.
10. AppDynamics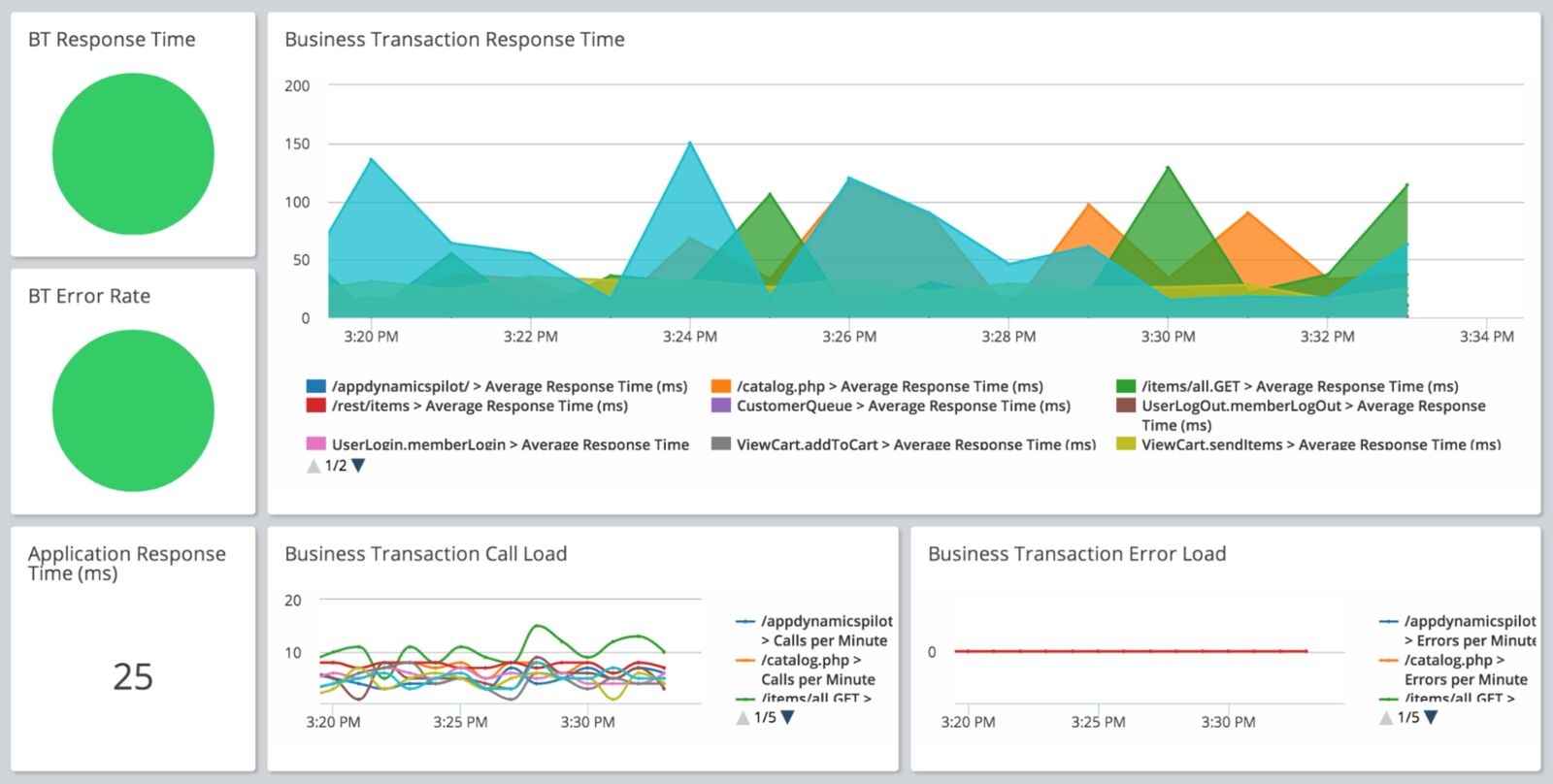 AppDynamics is mostly known as an Application Performance Monitoring (APM) tool. However, like Splunk, it also offers log management and analytics. The platform allows users to ingest both structured and unstructured data and gain visibility into cloud, virtual, and physical infrastructures in real-time.
What makes AppDynamics useful as a Splunk alternative is its support for multi-cloud capabilities. The AppDynamics cloud provides decent visibility with insight via AIOps-driven alerts and notifications. It provides the user with easy-to-understand views of application performance and health, IT infrastructure, and cloud-based services.
Features
Synthetic Monitoring
Infrastructure Monitoring
Application performance management
Real User Monitoring
Business performance monitoring
Log Analytics
Pros
Easy new application deployment
Code-level visibility option for deep performance analysis
Intuitive workflow monitoring within application tracking
Predictive intelligence provides valuable insights into tool usability
High transaction visibility for detailed performance analysis
Cons
Very expensive
User reviews complain of various difficulties across the entire platform
Challenges with integrating with different event sources
User Review complains of 3rd-party tools required to start/stop instances being monitored
Pricing
AppDynamics offers a range of pricing options, starting from $6 per month per CPU core for basic Infrastructure Monitoring. If you wish to utilize Synthetic Monitoring, plans start at $60 per month per CPU core, while the Enterprise Edition is available at a cost of $90 per month per CPU core.
It is a bit confusing that they choose to price their solutions based on CPU cores, and not by data or number of users. They do not offer any more insight into exactly what is covered in a single CPU core, so be weary before making a purchase.
It's also worth noting that they charge $0.06 per month for 1,000 "tokens" for Real User Monitoring. They do not explain what a token is or what it covers.
Want to see how Sematext stacks up? Check out our page on Sematext vs AppDynamics.
Splunk Competitors Comparison Table
Tool
Vs Splunk
Best for
Sematext

More transparent pricing
Fewer integrations than Splunk
Easier to set up and use with auto-discovery and out-of-the-box dashboards
Offers unlimited users
Does not offer SIEM solutions like Splunk

Log analysis, performance monitoring, SSL Monitoring, Infrastructure Monitoring, and anomaly detection for organizations with any budget.
Datadog

More Transparent pricing
Offers 21 different solutions
More integrations than Splunk
According to user reviews, Datadog is more difficult to set up
Easier to set up, but equally as easy to use as Splunk according to G2

Full stack observability for large organizations with a large budget.
Mezmo

More transparent pricing
Fewer solutions than Splunk – log analysis only
Easier to set up and use according to G2

Log analytics and management for organizations with small to medium budgets.
Loggly

More transparent pricing
Fewer solutions than Splunk – log analysis only
More difficult to set up and use according to G2.

Log analytics and management for organizations with medium to large budgets.
Sumo Logic

More transparent pricing
Very similar set of capabilities.
Harder to set up and use according to G2.

Full stack monitoring, observability, and SIEM for large enterprises with large budgets.
Dynatrace

More transparent pricing
More integrations than Splunk
Very similar set of capabilities
Easier to set up and use according to G2

Full stack monitoring and observability for large enterprises with large budgets.
Elastic Stack

Free to download and use, minus the cost of ownership
Helpful community with a library of plugins
Since it's open-source, it will require more effort to set up and use

Open-source monitoring
New Relic

More transparent pricing, although still a bit confusing with so many additional charges
More integrations than Splunk
Easier to set up, but more difficult to use according to G2

Full stack monitoring and observability for large enterprises with large budgets.
Graylog

More transparent pricing with a free (minus cost of ownership), open-source option
More difficult to use, but easier to set up according to G2

SIEM and log management for organizations with a large budget.
AppDynamics

More transparent pricing
Very similar in solutions and capabilities
Easier to set up and use according to G2

Enterprises and large-scale APM (Application Performance Monitoring).
Conclusion
If you're in the market for a Splunk alternative, then feel free to reference this list of its competitors as often as you need. That being said, nothing can replace the information gained from doing your own research. Take your time, sign up for as many free trials as you need, and don't rush! It's essential to make the right decision, not a fast one.
And, if you want to see more of what Sematext has to offer, you have lots of options. Schedule a demo, sign up for a free trial, or check out our interactive demo today.
---