9 of The Best Real User Monitoring Tools and How to Choose One
sematext on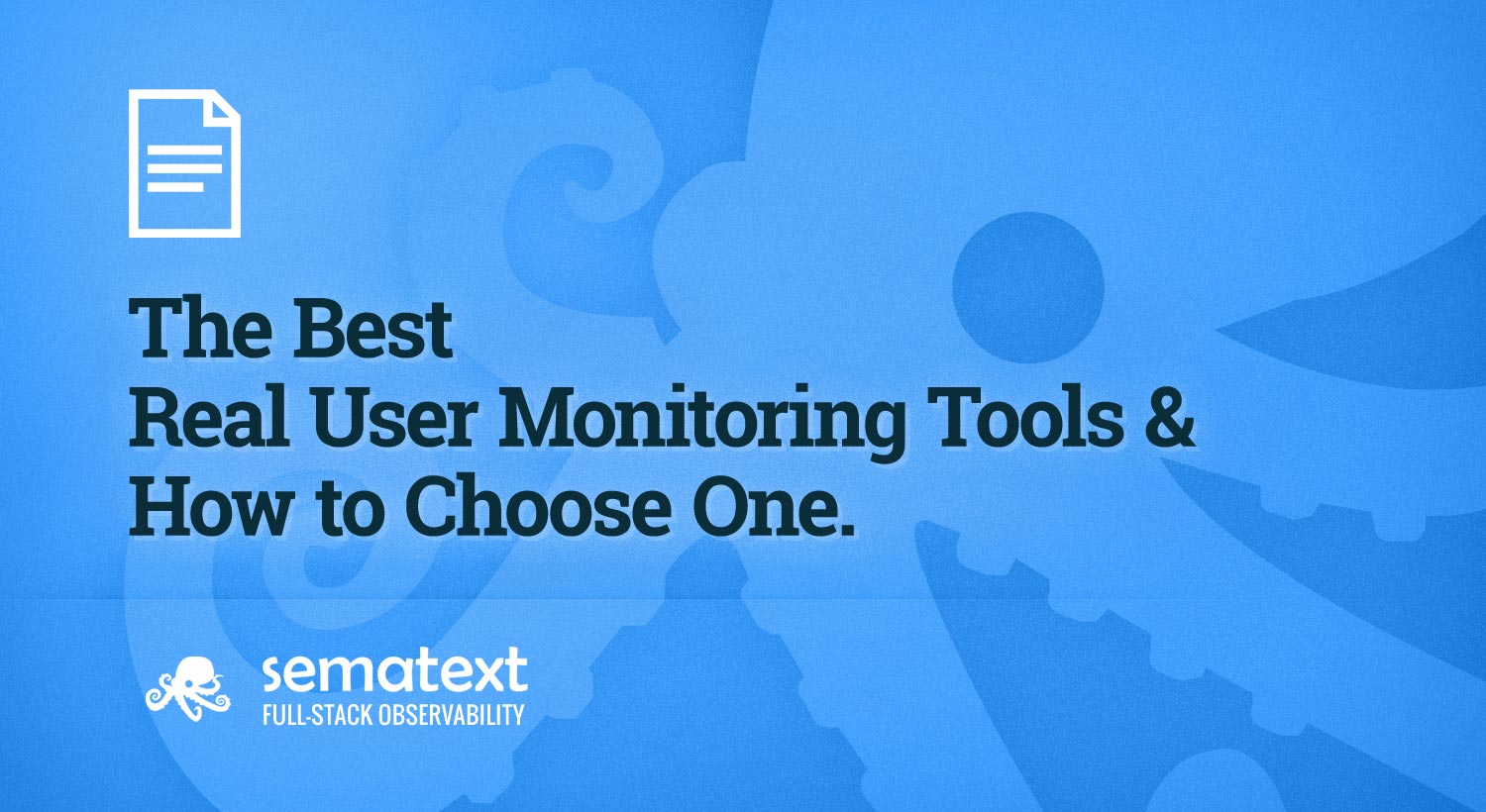 Staying in control of your users' digital experience and their level of satisfaction is the most important thing you can do as a software-based business. Yet, that's impossible to do without tools that enable you to visualize how customers interact with your app or website from their perspective. They give you the data you need to understand how your webapp or website is performing and avoid slow pages or screens that make your customers run in the direction of your competitors. 
These tools are called real user monitoring solutions, or RUM. In this post, we will explore what are the best RUM tools available today and how to choose one that suits your production environment and business needs.
In this post we'll show you 9 of the best RUM tools on the market, explaining how each works and how they stack up against each other, and in the end we'll explain what you need to know before investing in one.
9 Best Real User Monitoring Tools
If you're in the market for a RUM solution, here is a list comparing 9 of the best real user monitoring (RUM) tools:
1. Sematext Experience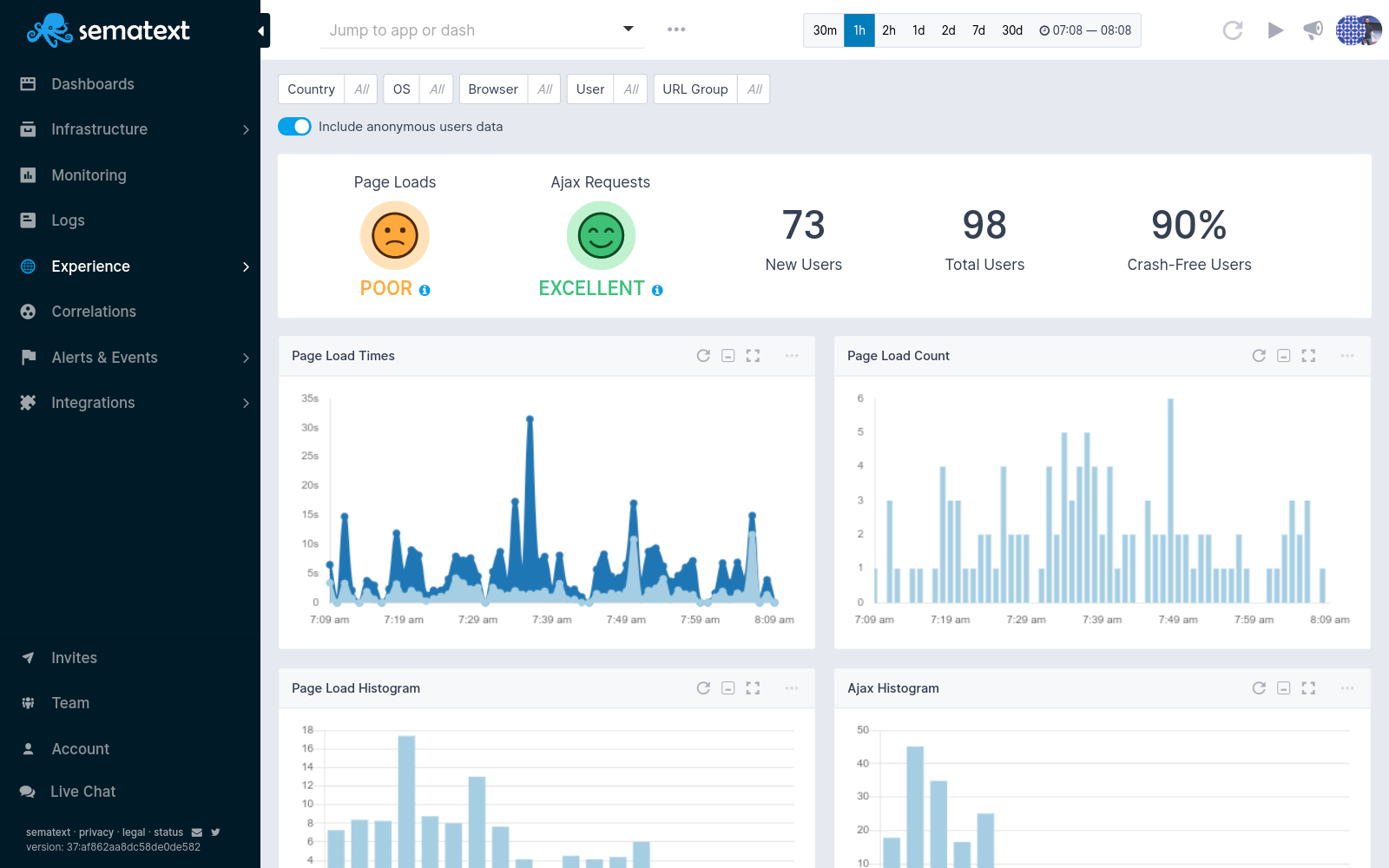 Sematext Experience is a Real User Monitoring solution that offers 100% visibility into the areas of your website or webapp that affect your users' experience.
We developed Sematext Experience so DevOps and BizOps can work together and get actionable data that provides both teams with in-depth insights, to ensure your customers are always satisfied while interacting with your software-based business.
Sematext Experience allows you to inspect individual sessions to get page-level specifics and assess user satisfaction to prevent customer loss due to poor performance. Furthermore, you can set up alerts for Apdex score & page load time and receive real-time notifications whenever performance anomalies are detected, thus enabling you to troubleshoot them faster. 
Features
Single page application support 

Real-time automatic alerts

Individual session performance

Inspect Page load events

Monitor your Apdex score
Read more about what our RUM solution can do for you!
Pros
Combine the power of metrics, logs, and real user monitoring under one roof with

Sematext Cloud

Map out business journeys in real-time 

URL grouping for both page-load events and HTTP requests

Has a solution for synthetic monitoring
Get started with Sematext Experience!
2. Dynatrace RUM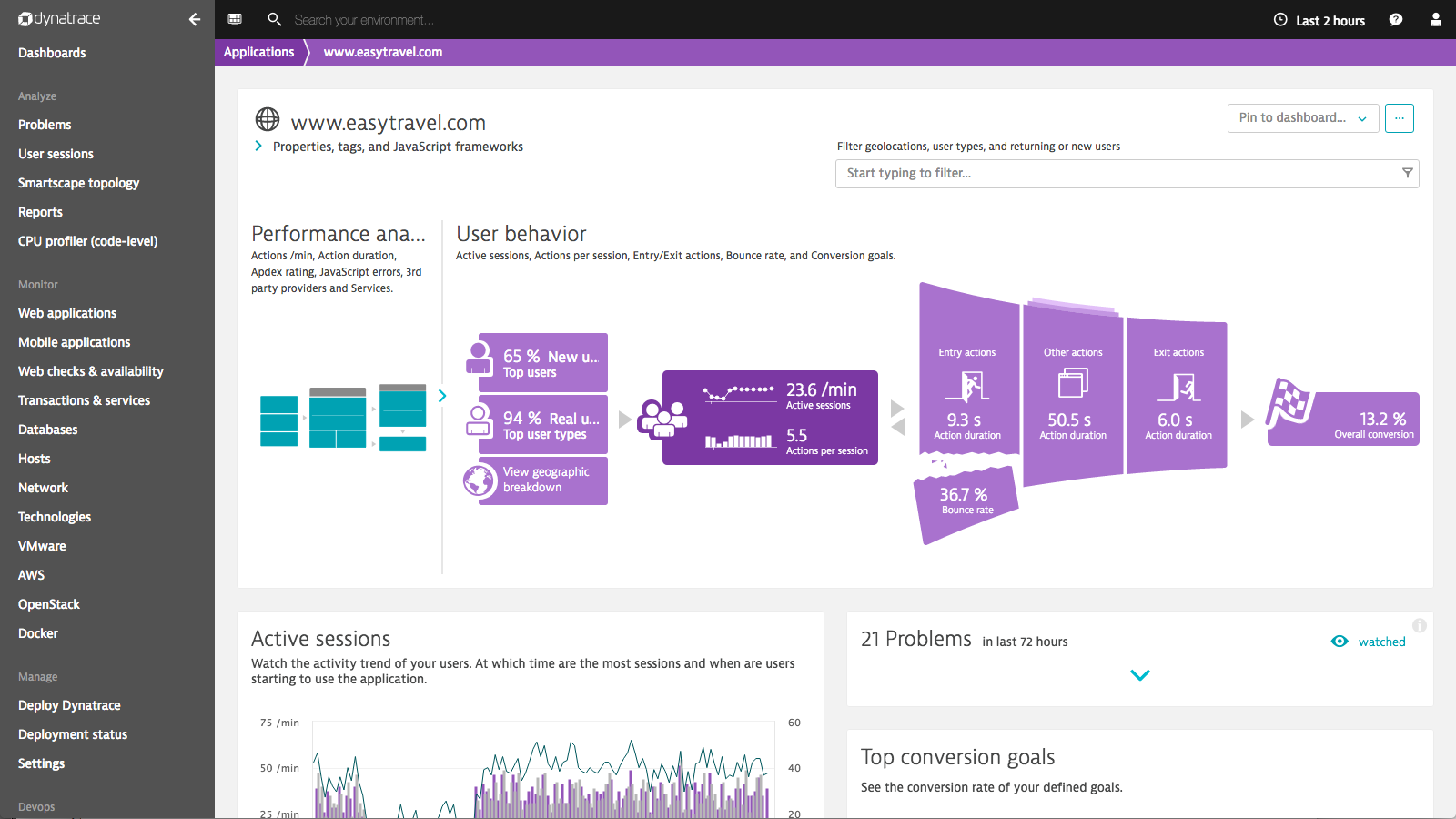 Part of Dynatrace's digital experience monitoring toolset, Dynatrace RUM is a powerful website monitoring service that offers complete real-time visibility of customer experience. You can monitor the activity of all mobile and web application users across all devices and browsers to assess and improve user satisfaction.
With Dynatrace RUM you can also collect business-relevant metrics, allowing you to correlate performance issues with potential business impact.
Features
Map the whole user journey

Replay individual customer sessions

Business-relevant, user transaction monitoring

Real-time AI-based analysis
Pricing
Pros
Intuitive non-technical dashboard usability

Interactive interfaces and visual reports for ROI tracking

Mobile Monitoring breakdowns
Cons
3. AppDynamics Browser RUM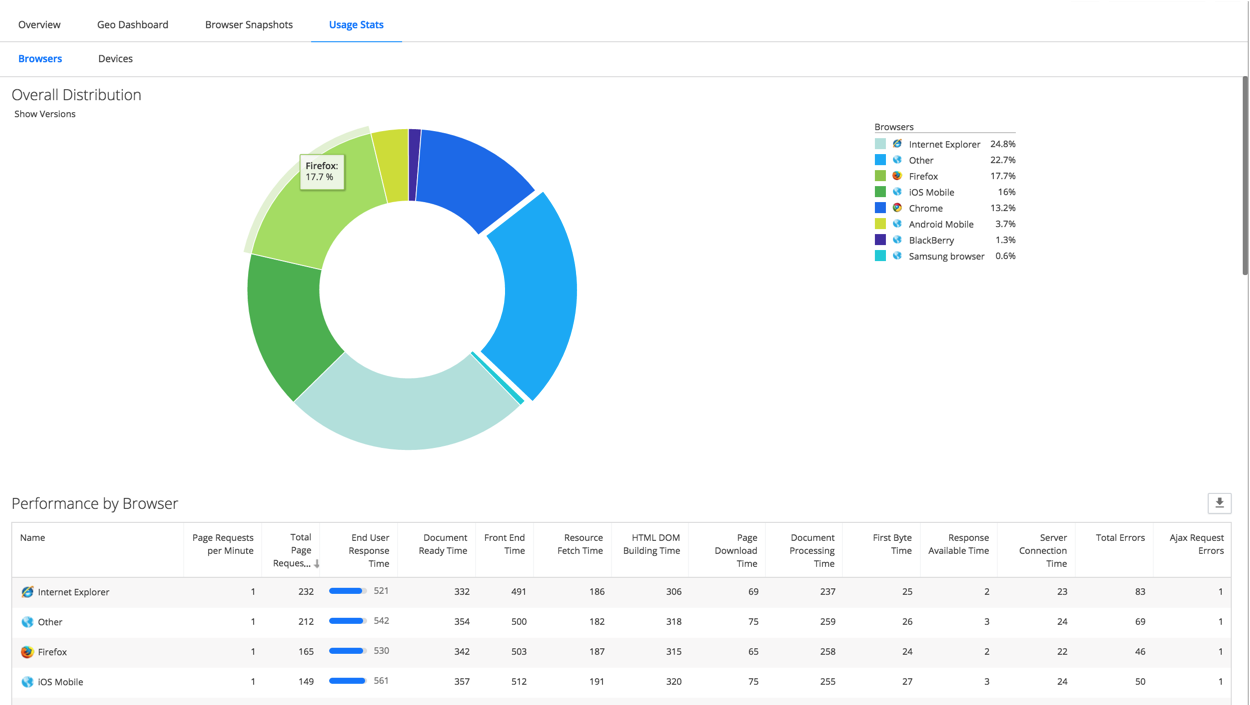 AppDynamics's RUM tool tracks customers' journey to provide full visibility into their interaction with your webapp. You receive browser-user insights to help you optimize web experiences. Self-learning algorithms use the app's behavior to dynamically baseline web metrics with automatic anomaly detection and resolution.
Features
Real-time intelligent alerting

Code-level insights

Business transaction correlation

Browser snapshot waterfalls

Dynamic performance baselining
Pricing
Available in two options: Lite (free) version and Pro version. Pricing available on request
Pros
Free training

Self-learning platform
Cons
4. SmartBear AlertSite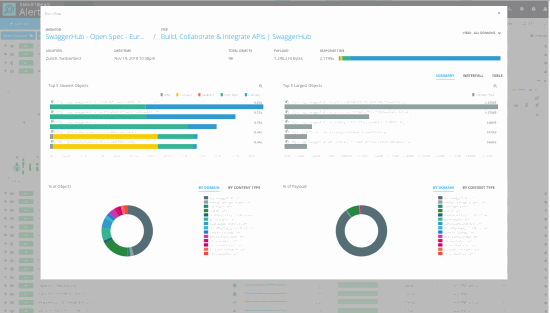 SmartBear AlertSite monitors health, performance, and user satisfaction. It's a robust tool that has impressive alerting functionality and powerful monitoring and reporting to help you improve your processes and deliver great user experience.
Features
Pricing
Pros
Intuitive UI

Customizable reporting

Hybrid deployment 

Strong internal monitoring with PrivateNode

Ecosystem friendly
Cons
RUM limitations

Root cause analysis limitations
5. New Relic Browser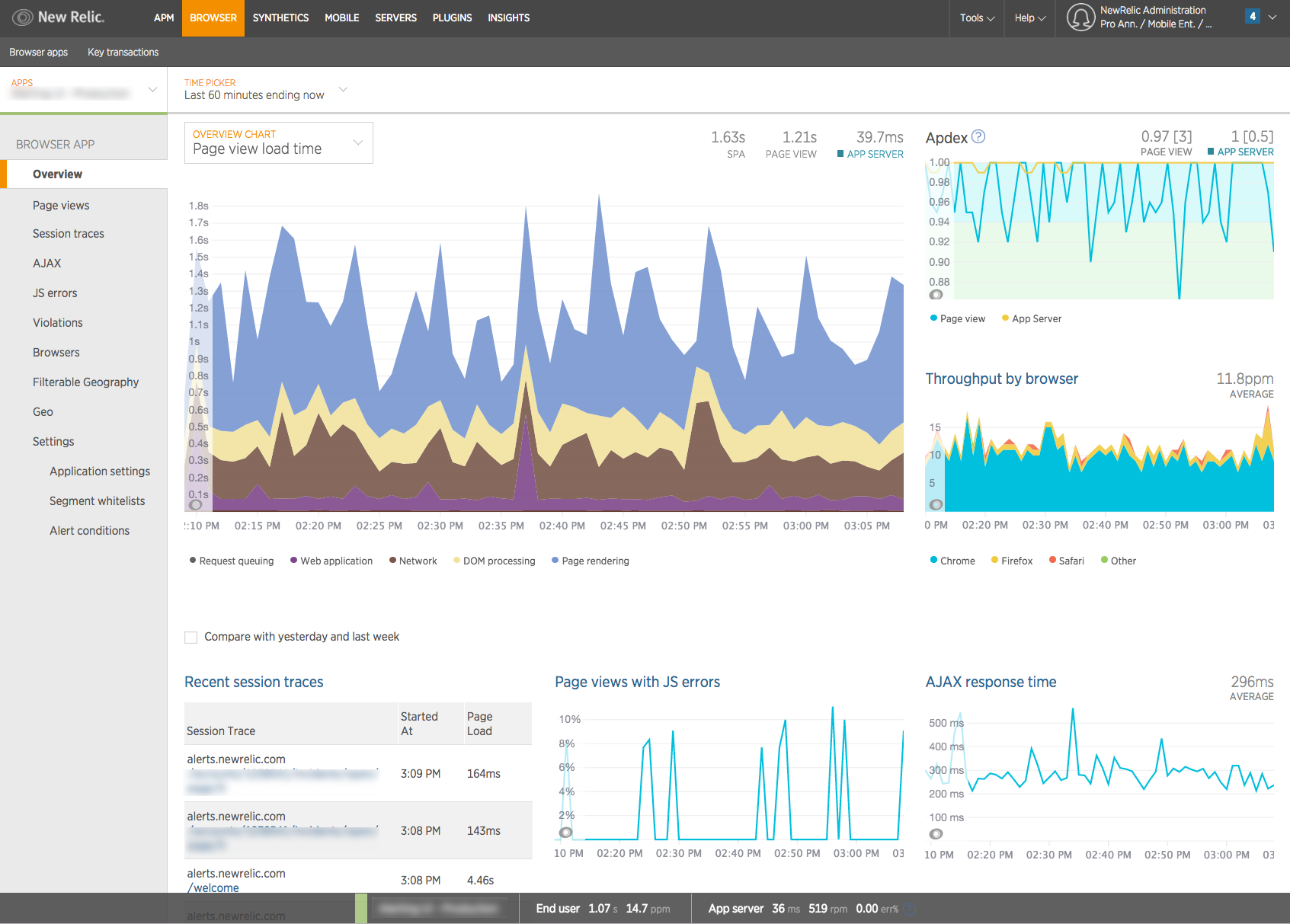 New Relic is mostly known for their APM tool, but they completed their monitoring tools set with a RUM solution, New Relic Browser.
New Relic Browser has advanced RUM features that give you access to insights from the users' perspective by focusing on browser performance. It monitors the entire life cycle of a page or a view, from the moment users enter the app until they disconnect. 
Features
Browser Pageviews and Page Load Times

Java Errors and Instance details

AJAX Timing and Call Reports

Browser Session Traces

Filterable Geography Analytics

Route changes in apps with single page application (SPA) architecture

Individual session performance
Pricing
Starts at $149/month for an annual plan. Also has a free (Lite) version with fewer features
Pros
Entirely customizable

Synthetic and real user performance

On-going data collection
Cons
Most features are available for Pro accounts only

Requires an agent
6. Pingdom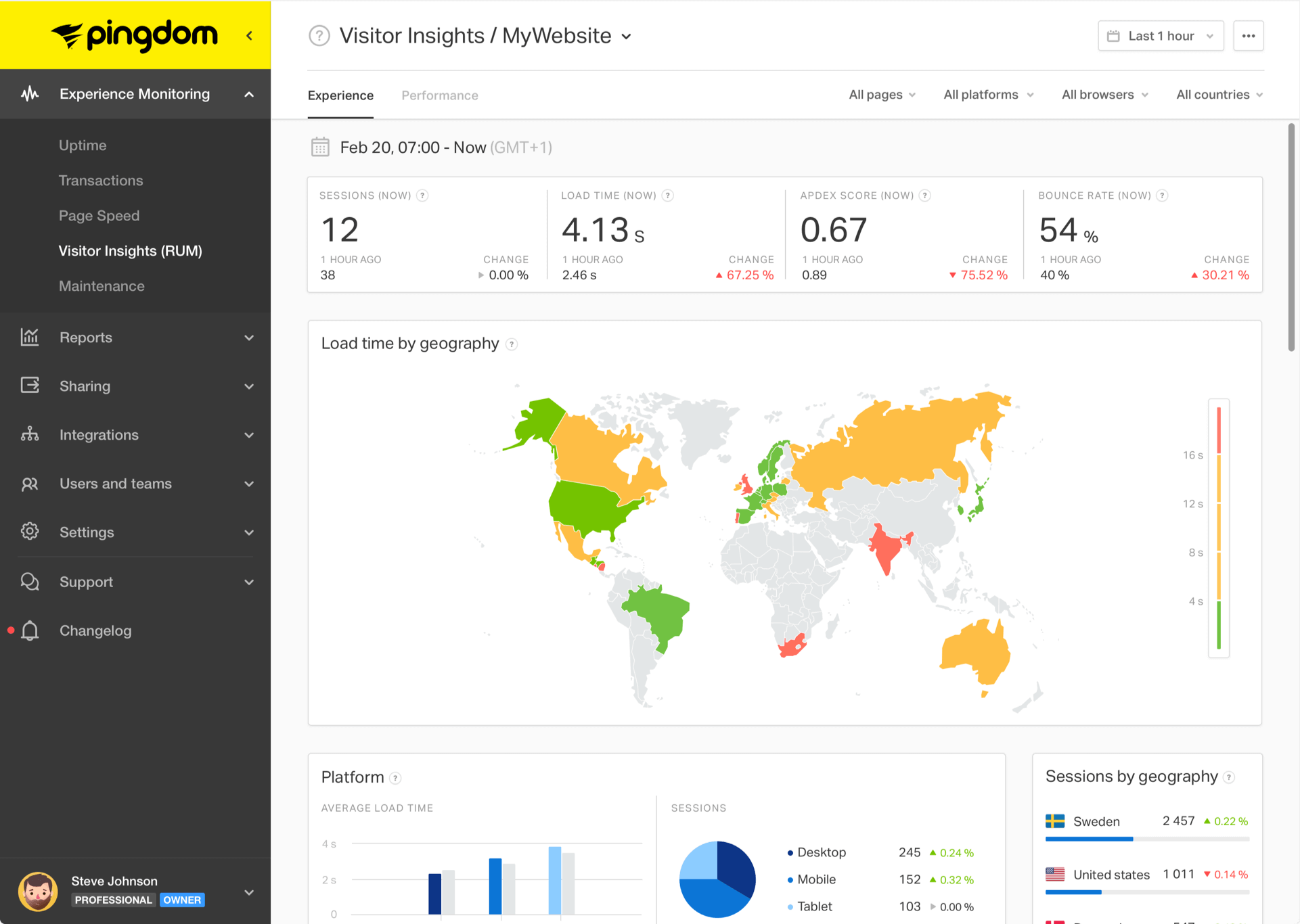 Pingdom is a unified performance monitoring tool that brings together transaction, uptime, and real user monitoring. 
Pingdom allows you to filter data from specific users to get greater insights on the regional performance of your website and make optimizations to deliver a better experience to your most valuable users. It's highly scalable, allowing you to monitor millions of pageviews without compromising your data. 
Features
Tailored incident management

Real-time data and alerting

Website and server monitoring

Mobile accessibility
Pricing
The basic setup starts at $11.95/month, up to $199 for the Pro account
Pros
Simple and intuitive user interface without much technical background needed

Customizable, fast and comprehensive alerting and reporting

Synthetic and end user monitoring

Notifications to multiple destinations (text message, email)

Cloud-based solution
Cons
Expensive if you increase volume or scale up

Lacks monitoring servers in Asia-Pacific

No crash reporting or error management
7. Akamai mPulse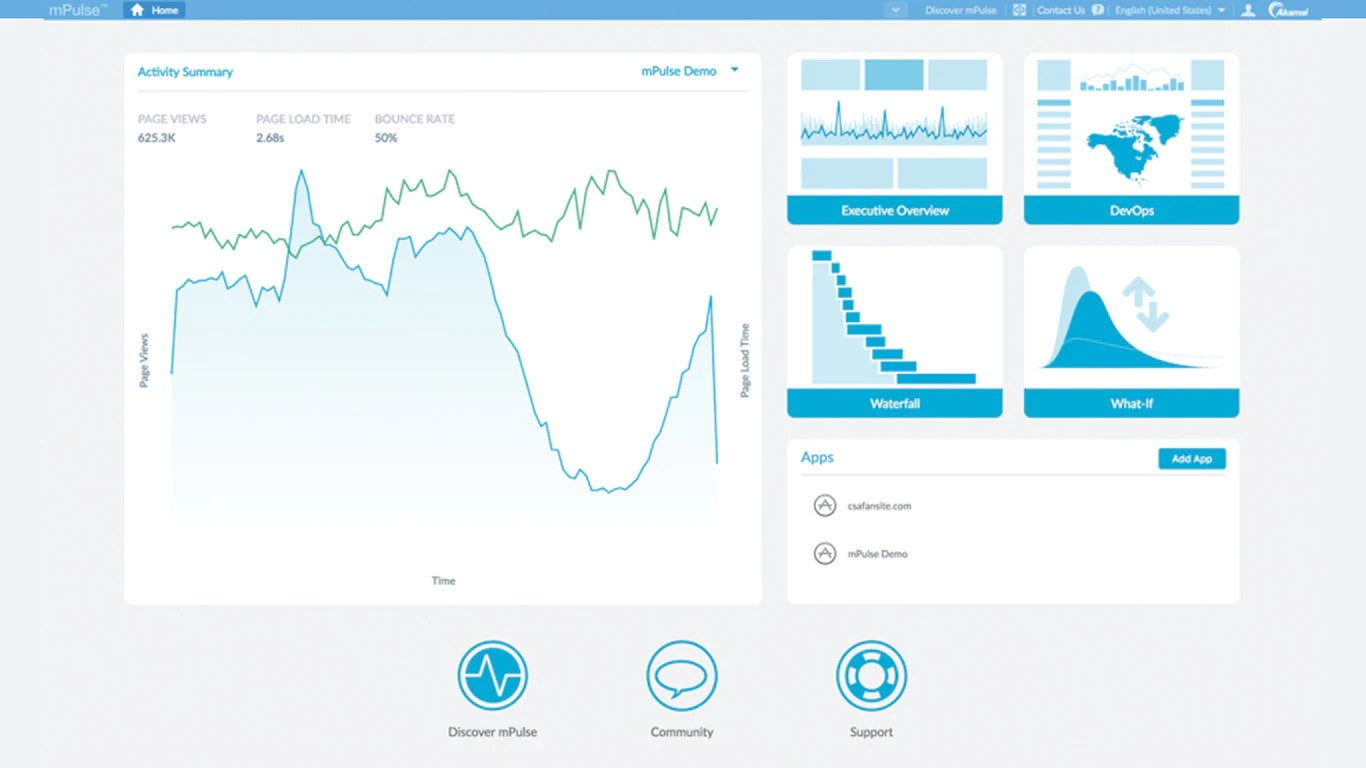 Akamai mPulse (former SOASTA) lets you dive deep into performance and error analyses to understand their impact on user experience metrics such as conversions or pageviews. That way, you to discover website performance issues, as well as optimization opportunities using data straight from the user's browser. 
Features
Real-time alerting

Advanced and custom metrics monitoring

Single page application support

Third-party visibility
Pricing
Pros
Single page application support
Cons
8. Raygun Real User Monitoring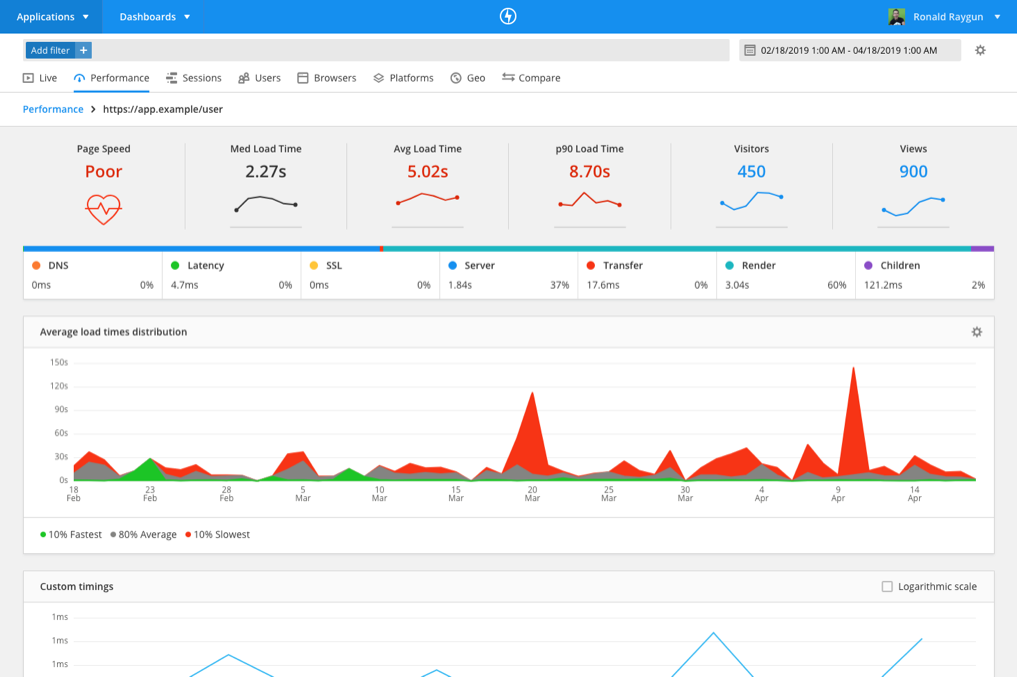 With Raygun's RUM tool you can see how visitors are interacting with your applications, as well as detect, diagnose, and solve performance bottlenecks they encounter along the way. Raygun works with real-time data from every user session and suggests the most "profitable" improvements you can make to ensure a smooth web experience.
Features
Pricing
Starts at $19/month up to $649 for large businesses
Pros
Individual session traces

Detailed user-centric profiles

Simple and easy to use interface
Cons
No resource loading time feature

No real-time monitoring

No Log Management solution that would allow you to bring RUM and Logs under one roof
9. Monitis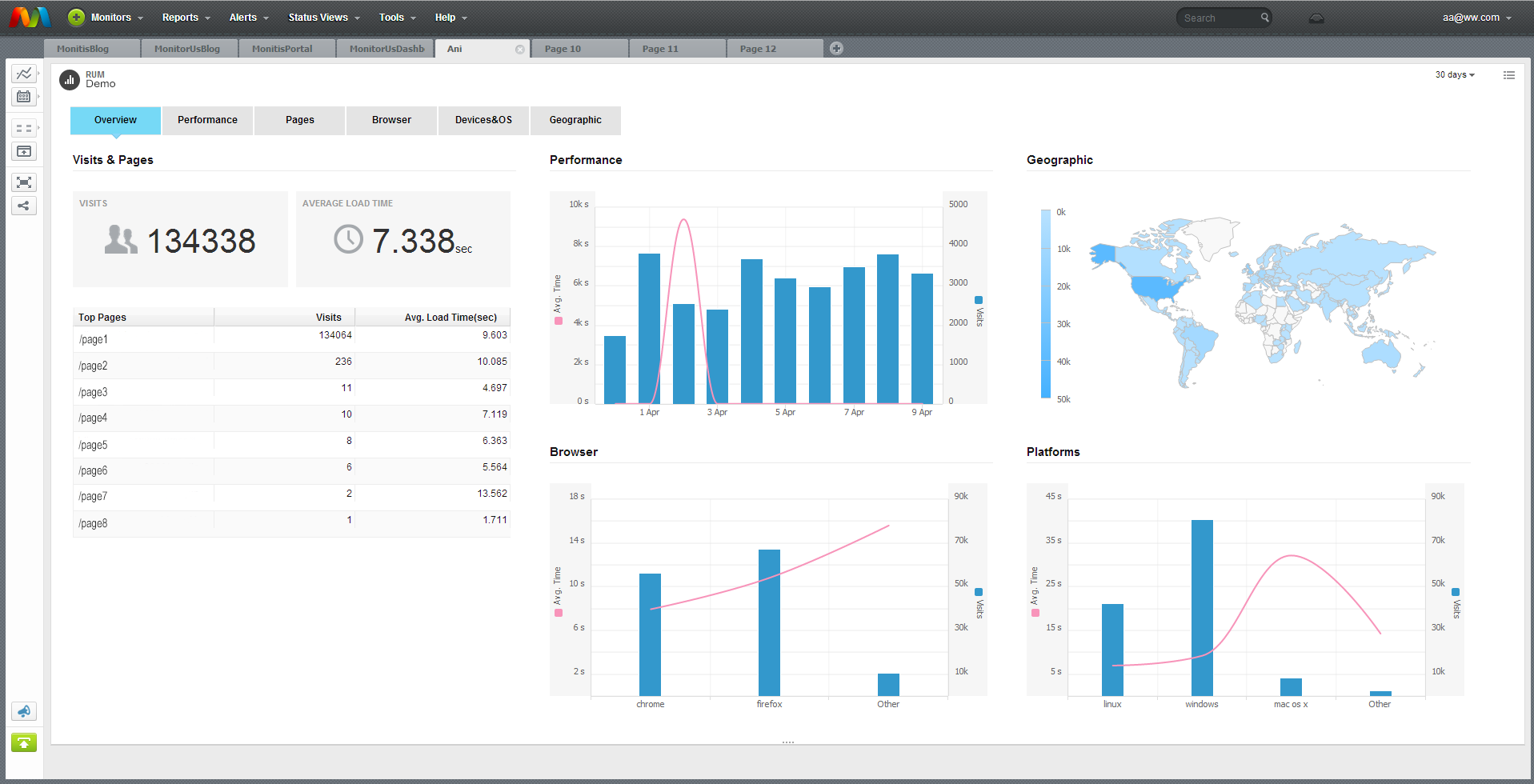 Monitis is a unified tool for monitoring the performance of websites, network, applications, and servers. The RUM capabilities collect data directly from users' browser about their interactions with the app or website. They deliver real performance insights from real users to a dashboard that makes it easy for you to spot both issues and opportunities.  
Features
Real-time alerting

Monitoring data is shareable

Event-based notifications

Interactive charts and reports

Notifications to multiple destinations (text message, email, Twitter, phone)

Frequent checks intervals – as short as 1 minute
Pricing
Fully customizable pricing plan available
Pros
Cloud-based 

Intuitive API
Cons
Can be difficult to set up and understand

Poor UI/UX
How to Choose a Real User Monitoring Tool 
Now that you've compared what each RUM tool offers, here are some points you need to consider before making a decision and a process you can follow on how to decide what real user monitoring solution is a good fit for you:
Features
As with any other tool, make it a priority to compare RUM solutions by features and functionalities. The most basic RUM tool should be able to:
Capture user journey (logical transactions)

Capture standard W3C Navigation metrics

Capture customer engagement metrics such as bounce rates, cart abandonment rates, conversion rates, etc.

Monitor any crashes by page level and via URL grouping

Monitoring your apdex score

Monitor HTTP requests
Advanced RUM capabilities help to optimize business processes. If that's your goal, look for a tool that can:
Capture user data, including geolocation, device type, browser, OS, etc.

Identify performance trends and outages

Generate intuitive alerts to reduce MTTR (Mean Time to Resolve)

Notify teams in case of performance anomalies

Detect application processes in need of improvement.

Combine the power of logs, RUM, tracing and spm under one roof.
Ease of Use
RUM solutions are maturing, adapting to the rapid growth of the software industry thus becoming more and more complex. 
However, that doesn't necessarily mean that they should be just as complex to use and understand. Usually, all you need to do to implement RUM is add a small unique script to your application code, for example to the head tag on your webpages.
Before deciding on a tool, understand how you can integrate it with your app, what are the requirements for implementation, what environments are supported, and if you can use it with mobile apps as well.
Standalone vs. Integrated Solutions
There are many processes that you can monitor to ensure end-to-end visibility into how your application or website performs and just as many tools. RUM is one of those tools. It helps keep an eye on your users' digital experience in real time and provides actionable insights into every aspect of your website or webapp performance. 
Each tool down the line has its purpose, but you can choose any combination that makes more sense to your monitoring strategy – you can use RUM alone or integrate it with other monitoring tools, such as synthetic monitoring, infrastructure monitoring or application performance monitoring tool.
We recommend choosing a tool that encompasses more than one observability product such as log management, spm, tracing, synthetic monitoring, and RUM.    
Data Reporting and Visualization
The built-in reporting functionality of a RUM solution is critical. It makes a world of difference if you have various report types you can choose from, as well as other custom reporting functions that help you build meaningful and comprehensive reports.
At the same time, check how easy it is to work with RUM data. It should allow you to export data in a format that can be easily integrated and displayed by other external tools such as dashboards.
Along with the reporting feature, a RUM tool should also come with data visualization capabilities. Without mapping out data in charts and graphs, it's difficult to spot performance trends and anomalies. 
Data Handling
RUM tools are different in terms of how often they collect data, how long they store it, and how exactly they capture and report it.
Frequency can vary from 24 hours to under 5 minutes. While daily updates have historical value, near real-time data is relevant for active operations management.
Being able to view data over long periods of time is very valuable to performance analysis as it enables you to evaluate historical and current trends. 
You should also learn how the RUM tool collects data. For instance, if it's capturing and reporting every visit, or it's reporting only a certain number of visits. 
Licensing Options
There are various RUM license models available on the market. Understanding the differences between them will help you choose one that both covers your monitoring needs and saves you money.
Depending on your monitoring needs, you can opt to use a RUM solution alone or in combination with other monitoring tools. On that note, some vendors offer standalone RUM solutions, while others include RUM for free as part of a digital experience monitoring tools package.
Other RUM services are based on user defined sampling to reduce license costs. They collect a subset of data instead of every page in the app.
What RUM Tool Will You Use?
It's not enough to deliver a great app or website if you don't make sure your users also have a pleasant experience. That means no performance issues, as they can easily turn around and go back the way they came, thus affecting your goals. 
Investing in a good RUM solution will pay off in no time. However, RUM doesn't replace traditional synthetic testing. Instead, it complements it by adding another facet to monitoring and giving DevOps more complete visibility. 
Real user monitoring, along with logs and metrics help paint a more complete picture of what your website or webapp is doing at any time. By combining them under one roof, you cover all the angles prone to performance anomalies and get in-depth, actionable insights faster. 
Check out Sematext Cloud, our full-stack observability platform that helps you stay in control of how happy are your customers.
Now that you know what to look for in a RUM tool and which are the best ones available in the market today, you just have to decide.