For those of you using Cassandra or considering it, we've got another Sematext user's Planet Cassandra case study for your reading pleasure.  In this Q&A/use case, Alain Rodriguez, main Data Architect for Teads.tv, talks about the business and technical needs that drove their decision to use Cassandra, how they are using Cassandra, how their Cassandra monitoring is done, and more.
Here's an excerpt related to Cassandra performance monitoring that's especially dear to our heart:
"Thanks to SPM we now have a very good view of what is happening in terms of Cassandra performance.  This kind of application is fully realized on outage or slowness issues.  With any outage we've had since we started using SPM, I always found the root cause have been able to fix or mitigate things.  Any downtime — even for just a few minutes — can lead to hundreds of thousands of dollars lost, plus a negative opinion of Teads by our customers and a negative impact on our image.  Today it is really worth it to invest in a good monitoring solution. I believe SPM belongs to be one of them."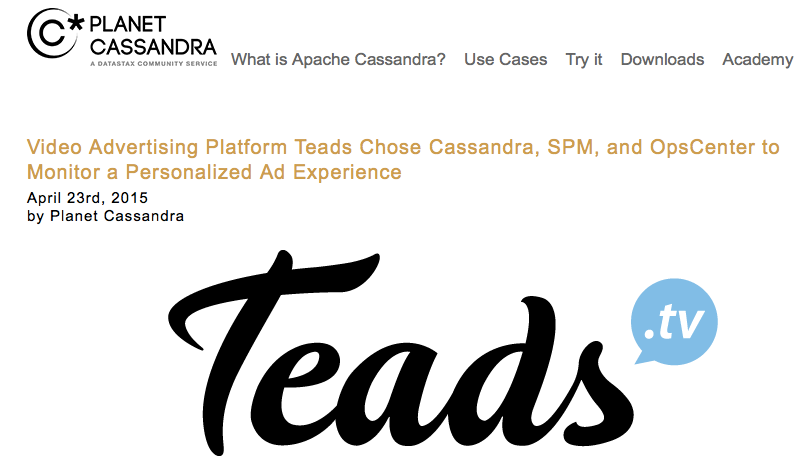 Here's the full post: Video Advertising Platform Teads Chose Cassandra, SPM, and OpsCenter to Monitor a Personalized Ad Experience
And here's our previous client Cassandra use case for Recruiting.com if you'd like another informed take on selecting Cassandra and using SPM for Cassandra monitoring.
If you'd like try SPM to monitor Cassandra yourself (or any number of applications like Hadoop, HBase, Spark, Kafka, Elasticsearch, Solr, etc.), check out a Free 30-day trial by registering here.  There's no commitment and no credit card required. Small startups, startups with no or very little outside funding, non-profit and educational institutions get special pricing – just get in touch with us.
---