The results for HBase version distribution poll are in.  Thanks to everyone who took the time to vote!
The distribution pie chart is below, but we could summarize it as follows:
A big chunk of HBase clusters, about 30%, are still "stuck" on HBase 0.94.x
Over 37% of the HBase clusters are on 0.98.x that, until very recently, was the latest stable version
Only about 7% of clusters are on the 0.96.x and we can assume these clusters will soon migrate to either 0.98.x or 1.0.x
Somewhat surprisingly, almost 20% of HBase clusters are already on HBase 1.0.0 even though 1.0.0 was released only a few weeks ago
It's great to see so many clusters moving to 1.0.0 so quickly! As for why there are still so many clusters using 0.94.x, which is several years old, see this comment on the HBase mailing list.  Here at Sematext we make heavy use of HBase and were on 0.94.x version for a long time, too.  A few months ago we've moved to 0.98.x and have been enjoying all its benefits.  Furthermore, we've recently updated SPM for HBase to monitor a pile of new HBase metrics that provide interesting new insights about our HBase clusters though some of the new metric charts.  For example, we are now able to see the dramatic impact of major compactions on data locality (and thus HBase performance!) — see for yourself – https://apps.sematext.com/spm-reports/s/VhOltU14Cy, or the number and size of HLog files over time — https://apps.sematext.com/spm-reports/s/7LU1qvs7ur.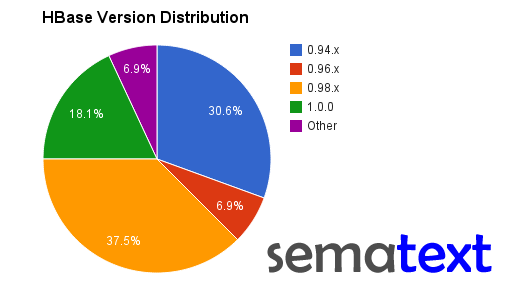 You may also want to check out the results of our other polls about big data technologies.
---